I am an "oily" -- someone who labors in the oil industry. Until mid-2015, I worked for the biggest and bluest oilfield service company -- Schlumberger (SLB) -- as a technical manager in their drilling fluids subsidiary, M-I SWACO. In late June 2015, I was getting on an airplane in Kuala Lumpur, Malaysia, to go see an oil company client in Thailand. Just as I was about to board, I received a call from my boss, saying that I needed to be in the corporate office the next day. The first thing that flashed through my mind was, "I just got fired."
Sure enough, when I arrived the next morning the boss met with me and the HR guy, and notified me that I was being retired and sent home. The great oilfield downturn had come to see me. I was luckier than most of my friends and colleagues who got similar news in the last few years -- I received a generous job buyout and a lifetime stipend. Still, the last three years have been a mind-altering and humbling experience, as the oil industry has shed over half a million staff and field personnel.
The story of the last three years is fairly well documented, and if you are reading this article, chances are you are very familiar with it. A very brief synopsis follows.
In late 2014, the Saudis opened the taps to shut down expensive sources of oil: Deep Water (DW) and the American "frack machine." They had other objectives -- mainly political -- but those were their primary targets. Soon massively oversupplied, the oil market reacted by dropping the price of oil to a low of $26.21 in February 2016.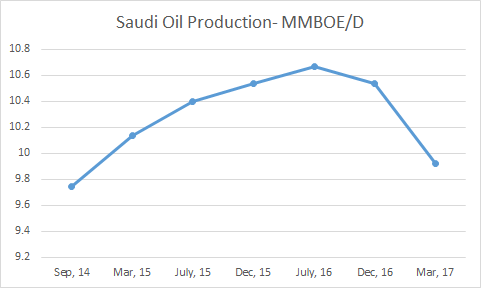 Source: Created by author.
Oil operators reacted to the crude price drop by cutting DW capex by hundreds of billions of dollars over the same period of time, which has continued until quite recently. The offshore service industry reacted to that by cutting their equipment, plant, and personnel budgets until they could barely meet even the reduced needs of the current market. It was survival mode.
In early 2016, the Saudis were about to take a victory lap as their objectives seemed to have been met and even exceeded -- they never wanted an oil price in the middle $20s. But then, the American frackers sharpened their pencils, talked with their bankers and found that, yes, they could drill at $40-plus per barrel. So, the Frack Machine told suppliers to cut prices, lubed up some rusty equipment, called back some laid-off drill rig and frack hands, and showed its muscle once again, driving American production to new highs. It's gotten to the point where we now find ourselves exporting oil to other countries. That's another thing that makes my head spin, as it would anyone who sat in the gas lines of the 1970s.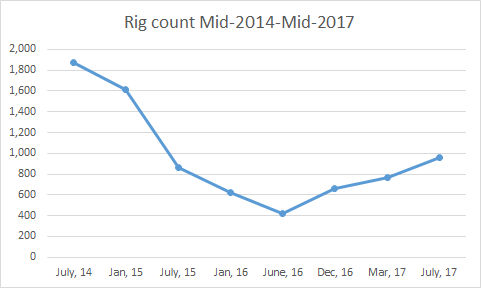 Source: Baker Hughes, chart created by author.
So that's where we find ourselves in the latter third of 2017. All energy and resources for the last several years have been put into regions where shale production is dominant, leaving the DW segment undercapitalized with respect to reserves replacement.
It is the general thesis of this article that over the next couple of years, the DW segment will come back strongly due to a need to replace lost production. This will be necessary because shale production will start to peak due to a variety of resource constraints --footprint, lease costs, rising interest rates, a more cautious approach by lenders, materials shortages (sand, water), rising prices for services, personnel, new drilling opportunities, and political push back for new wells and pipelines to serve them. Here is a link to a great article on this topic by a fellow Seeking Alpha contributor Chris Martenson, and one from Oil and Gas Journal.
This, in my mind, creates an investing opportunity in beaten-down oil service providers to the DW segment. Will the offshore industry be as massive as it once was? Of course not. We were fat on $100 oil. We've shed a lot of that weight, figuratively speaking. The industry is now lean and mean, waiting for capital to return. The good news is that it's starting to happen. Recent articles by regular SA contributors Daniel Jones and Fun Trading (both of whom I follow) document this nascent recovery in scholarly detail. It is not my goal to retrace their steps, but you should definitely read their work if you consider investing.
My role here and my principal reason for becoming an SA contributor is to provide an ex-insider's perspective on the oil industry, to sort of be a "color commentator," if you will. With nearly 40 years in the business, I know this industry on an elemental level and hope to apply this perspective to aid you in making investment decisions.
Why drill in deep water?
First, let me define some terms to help you understand the points I will make below.
Clastic. This refers to a type of petroleum reservoir comprised of detrital sediments that accumulate over time; typically sandstone. Shale is also a clastic, but its grain structure is so tightly compressed that it has little or no matrix permeability.
Matrix permeability. This refers to the rock's flow characteristics and is measured in Darcy units.
Stimulate. That's what fracking is -- an attempt to massively increase the near-well bore flow characteristics to increase production from the well.
The short answer is that if you want big discoveries, you must drill in prolific reservoirs that are capable producing thousands of barrels per day for a long period of time, reservoirs that are typically the target of DW exploration. Part of the reason for this is that many of these DW reservoirs are clastic (sandstone) and have some matrix permeability already. What this means is that unlike most shale reservoirs, where the permeability lies in tiny, vertical fractures, sandstone reservoirs have at least some horizontal connectivity back to the well bore. When you stimulate (frack) this type of reservoir, the increase in permeability is huge, literally achieving gains of 1,000s of times. Part of the reason shale is so drilling-intensive is that it lacks that horizontal permeability. Fracking overcomes this for a while, but in the end -- usually two to three years usually -- Mother Nature takes over and these wells play out.
OK, that's it for the tech stuff. If you want more you're going to have to take a class. If you didn't understand any of this, then I will ask you to take my word as an industry veteran -- and the word of virtually every major oil company on the planet -- that DW is where the big finds are.
But it's expensive
Sure, but not like it was three years ago. Not even close. Rig rates have dropped by two-thirds or more. Other services -- mud, cement, down-hole tools, etc. -- have also seen similar price drops. The result is that a prospect that required $100/bbl oil to drill previously can now be drilled economically in the $40-$50 range. And that's just where oil has been the last year and half, so with that guidance operators are able to plan with some assurance that the rug won't be pulled out from under them financially on their projects. As an example, I worked on many GoM DW projects in the late 1990s and early 2000s that were sanctioned (approved for development) in an era of $20-$30 oil. It can be done again. It will be done again.
How can you take advantage of this turnaround?
Let's start with this recent post by SA editor Carl Surran. It's pretty well laid out here. And it bolsters my idea that capital is slowly starting to be allocated back to the DW sector once again.
So I am bullish on the prospects of the DW service providers over the next couple of years. I think Transocean (RIG), Diamond Offshore (DO), Schlumberger, Baker Hughes General Electric (BHGE), Tetra Technologies (TTI) -- which I covered in an article the other day -- as well as oil operators British Petroleum (BP) and Chevron (CVX) are particularly well-poised to see rebounds in their share prices, as currently sidelined DW projects gain sanction and the oil price recovers into the low $60s by the end of 2018, due to declining stockpiles and strong demand from the global economy.
To be sure, some legacy overhangs cloud the long-term prospects of some these companies. This has been well-documented in the articles I reference above, but deserves another mention since I am making a bull case for service providers in particular. Service companies are historically the absolute worst at perceiving demand, building equipment, laying in inventory, and hiring people in anticipation of future work, only to be caught with huge equipment inventories when things turn down. Going primarily on the forecasts of their oil company clients, rig contractors ordered a bunch of half-billion-dollar DW and ultra-DW rigs from shipyards around the world. It was worse in the debacle of 2014 than other times because the run-up had lasted so long that we had forgotten oil is a cyclical business. It doesn't just go up forever. Remember the old adage: "Those who forget the lessons of history are doomed to repeat it." Never truer than in 2014.
A rising tide lifts all boats. What I am saying is that due to an increase in spending in the DW sector over the next few years, the balance sheets of the drillers and service providers are going to look a lot better and their stock prices should recover. There is currently a lot of industry consolidation taking place and the scrapping out of rigs whose useful life has passed. This has the effect of reducing the DW fleet, creating a threshold for price improvement as new tenders are issued. Many of these companies are near historic lows and are oversold beyond belief. I think there is an opportunity now to invest in them during this bottoming phase that might not come again for a good while.
A point worth noting is as follows: It could be that not all of these companies in the space will survive. Some have huge legacy debt, as I have mentioned that may ultimately sink them. But, with risk comes reward. Those that have made it this far, as the industry begins a slight upturn, will find their financial positions improved with better contracts. The ones I've referenced in this article are ones I believe are in a good position to be one of the survivors that emerge ready to work, and provide profits to their shareholders.
Disclosure: I am/we are long RIG, BP, TTI, BHGE, ETP.
I wrote this article myself, and it expresses my own opinions. I am not receiving compensation for it (other than from Seeking Alpha). I have no business relationship with any company whose stock is mentioned in this article.
Additional disclosure: I may initiate positions in ESV and DO in the short term.