Industrial property is among the most stable, low-volatility asset classes in the United States as evidenced by the sector's historical occupancy rates of roughly 88%-92% (source: Reis Inc.). The tradeoff for the differentiated stability is that industrial property does not enjoy the higher yields of the riskier sectors.
A fundamental reason for the industrial sector's stability is its responsiveness to demand and the associated lack of overbuilding. Because of the sector's short development cycle (six to nine months), industrial markets tend not to get over-built. Instead, the supply of buildings tends to stay in-line with demand. Here is a snapshot of the historical industrial construction trends (from 1996-current):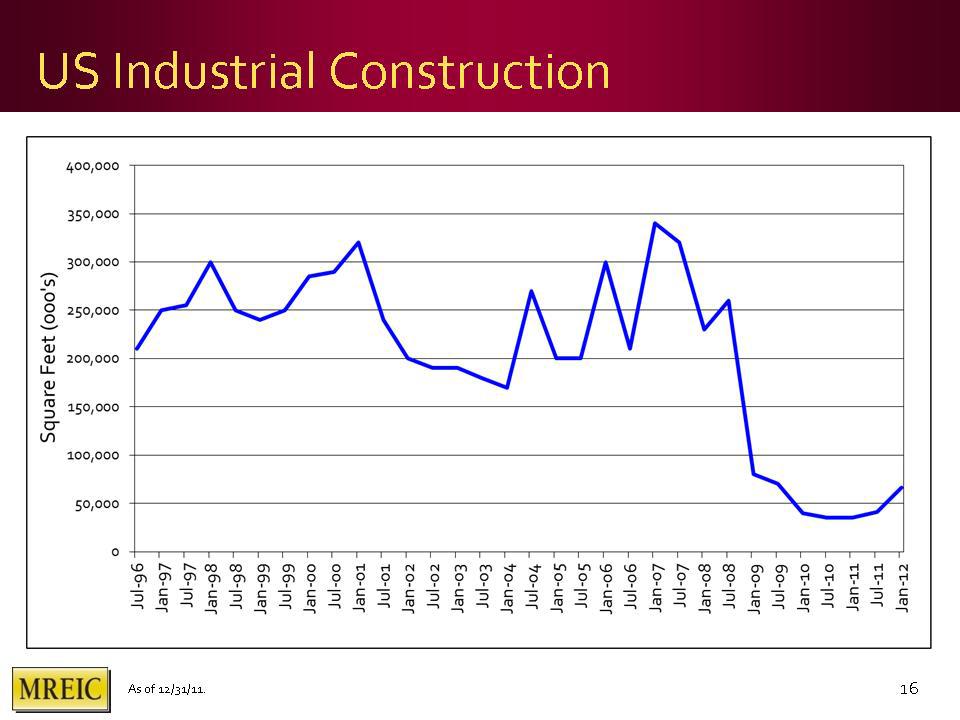 As a result of limited construction (since the recession) and improved economic conditions, industrial occupancy rates (now around 90.5%) have begun to increase. Here is a snapshot of the industrial sector's occupancy rates from 1983-2012: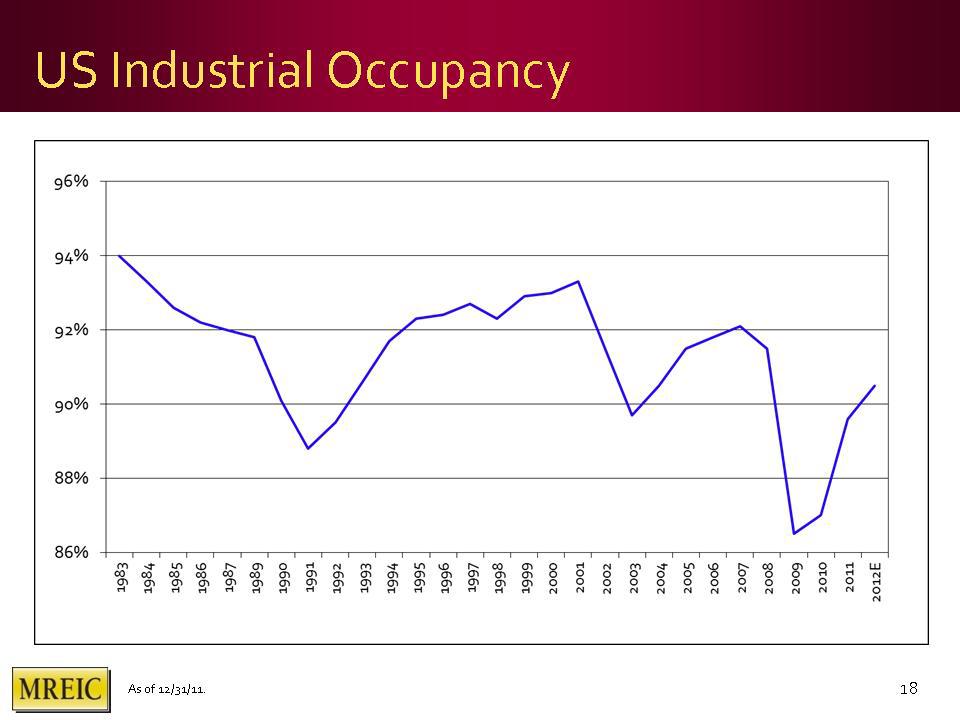 Industrial REITs
The FTSE NAREIT All Equity REIT Sector is comprised of 126 REITs with a total market capitalization of $454.58 billion (as of February 29, 2012). The Industrial sub-sector is comprised of eight REITs with a total market capitalization of $20.54 billion (as of February 29, 2012).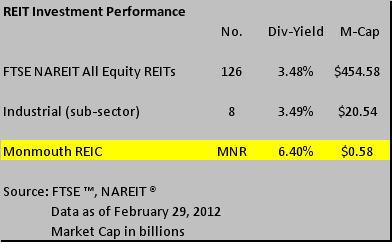 Monmouth Real Estate Investment Corporation
As one of the oldest REITs in the United States, Monmouth Real Estate Investment Corporation (NYSE: MNR) is celebrating its 45th year as focused net-lease industrial REIT. Based in Freehold, N.J. (in Monmouth County), the "small fish" REIT has differentiated its platform by investing in long-term leases with high-quality tenants. Although the $667 million market capitalization is not considered a big prize catch, Monmouth's portfolio make-up is all of a blue-chip fish.
The sound Monmouth portfolio is made up of 68 industrial properties and one shopping center. The eight million square foot portfolio is leased to high-quality tenants such as FedEx (NYSE:FDX), Siemens (SI), Anheuser-Busch (NYSE:BUD), Caterpillar (NYSE:CAT), Coca-Cola (NYSE:KO), Keebler-Kellog's (NYSE:K), Sherwin-Williams (NYSE:SHW), United Technologies (NYSE:UTX), and others.
Most of the eight million square feet is located on the east coast. Here is a snapshot of the 25 states where Monmouth owns facilities: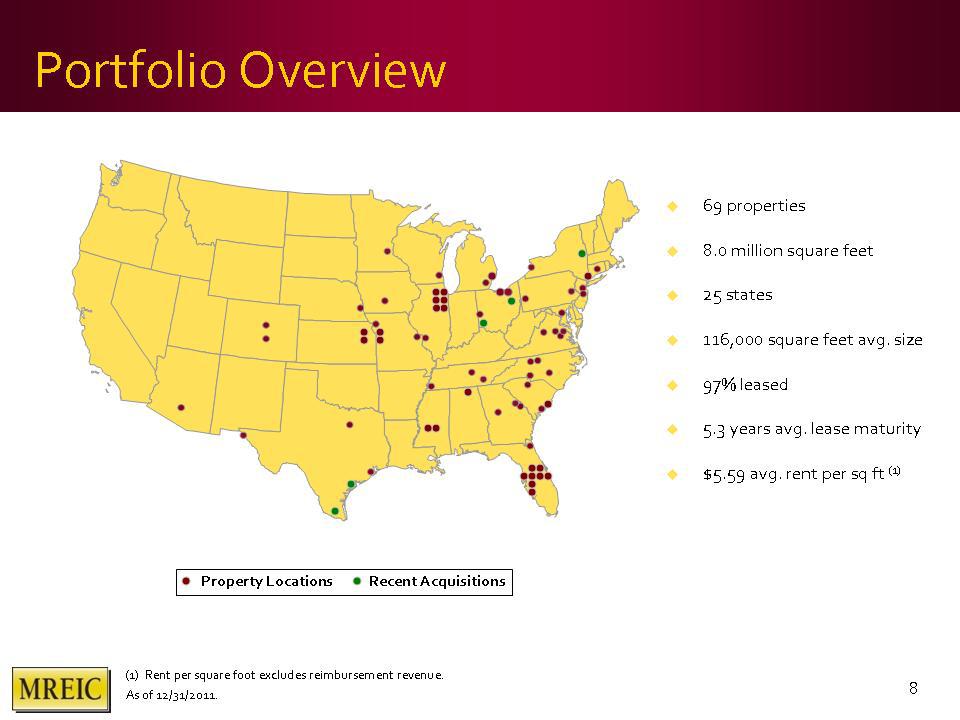 Monmouth's well-balanced portfolio provides exceptional diversification and stability. Here is a snapshot that provides evidence for the REIT's differentiated geographic and income model: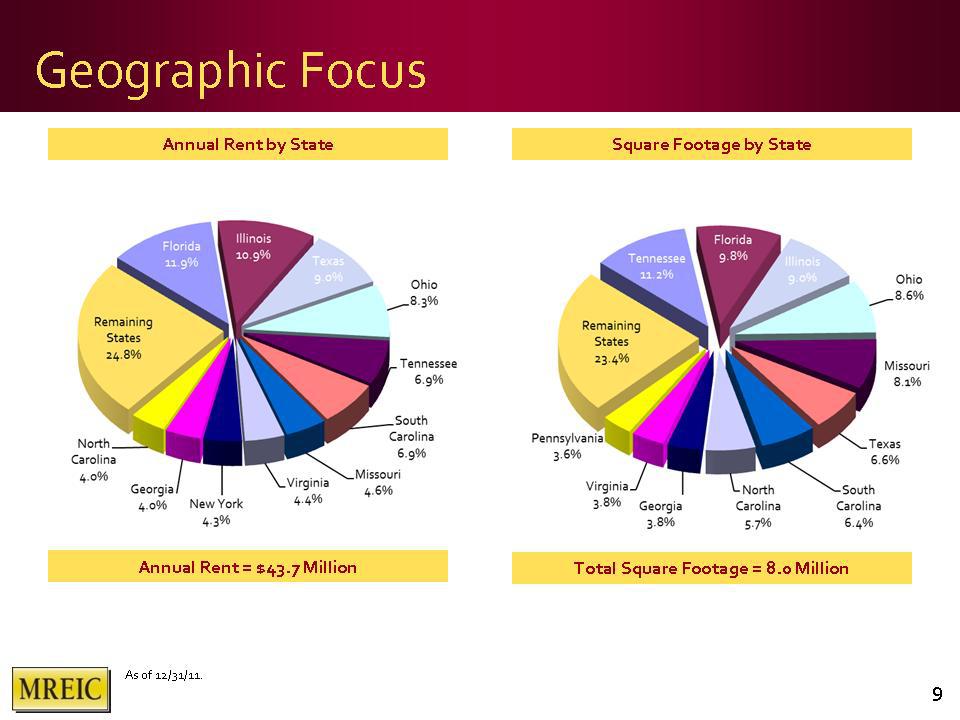 Monmouth's portfolio is perhaps one of the most sought after portfolios in the REIT universe. Ninety-two percent (92%) of the gross income is generated from investment grade rated tenants. Fifty-three percent (53%) of the annualized rent is leased to Fed-Ex (S&P: BBB). This high-quality portfolio provides for a distinguishable "margin-of-safety" that is illustrated below: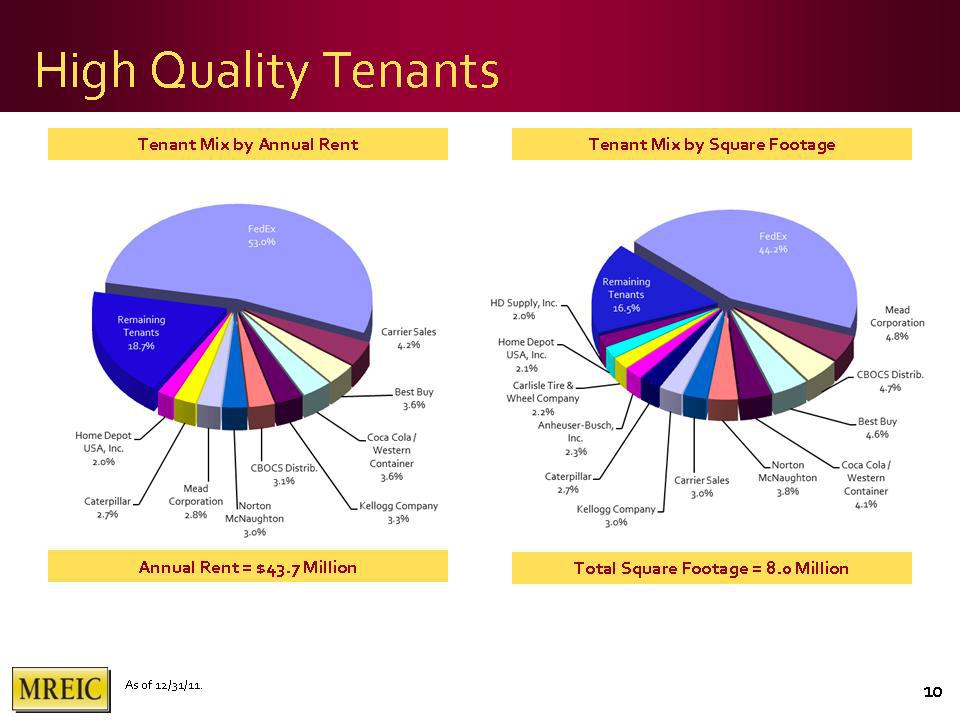 Recent Results
During 2011 Monmouth acquired 561,000 square feet of high-quality assets - an 8% annual increase (in GLA). In addition, Monmouth's market capitalization has increased by around 9.5% to $667 million (most recent). As of December 31, 2011, Monmouth's gross leasable area was over eight million square feet: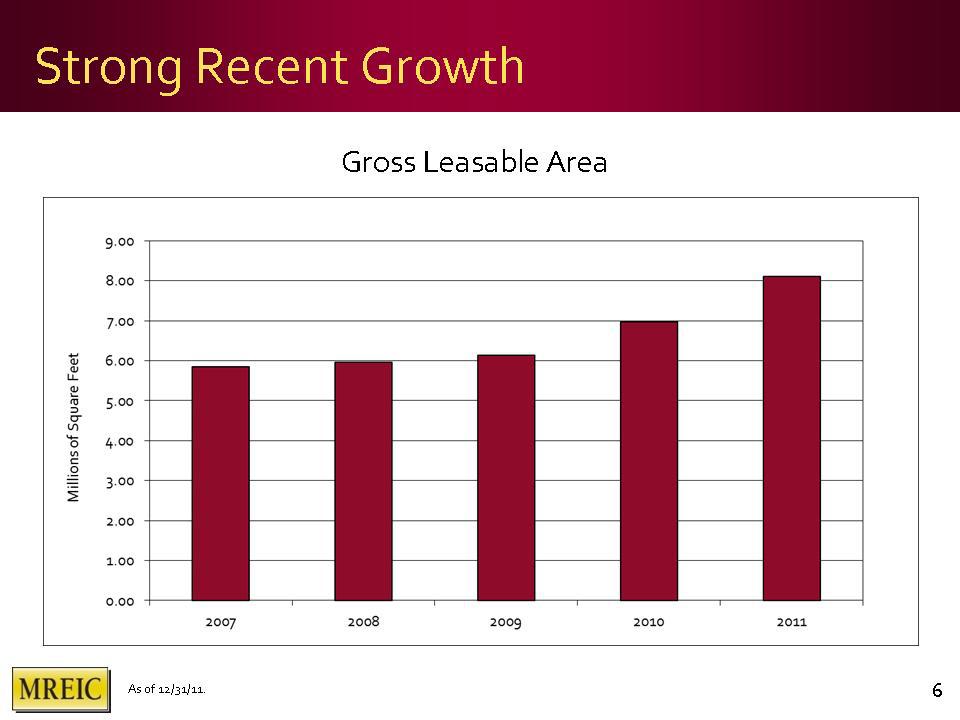 In 2011 Monmouth's occupancy increased 100 bps from 96% to 97% and the industrial REIT renewed 100% of its expiring tenant leases. In addition, Monmouth has minimum rent roll down risk making for solid long-term earnings prospects.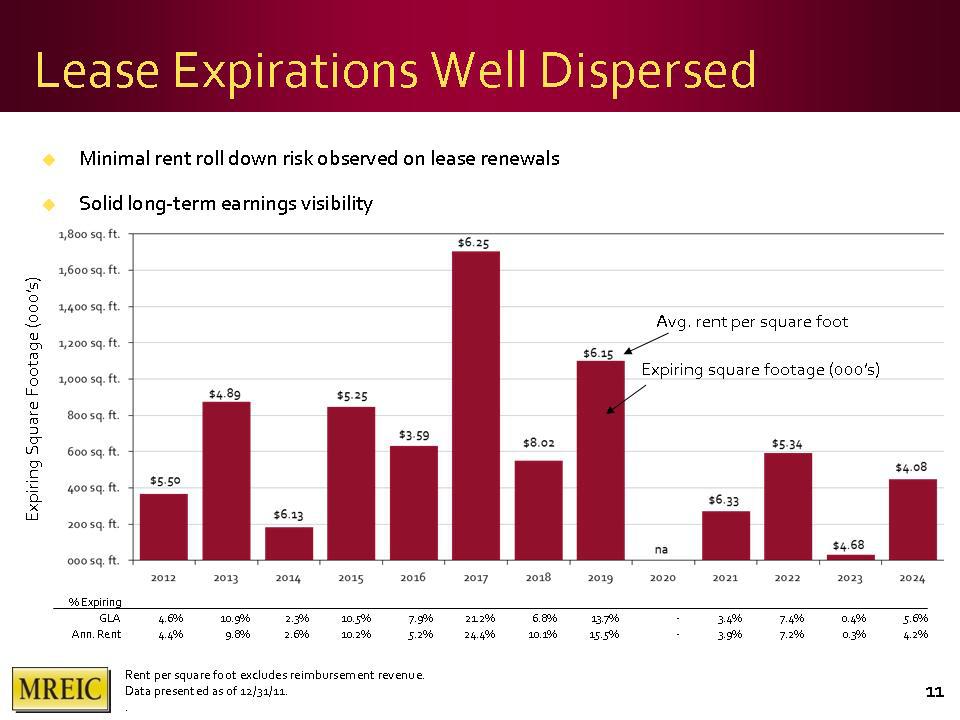 Monmouth's average lease maturity is 5.3 years and the REIT's average building size is 116,000 square feet. Average rent per square feet is $5.59. The latest acquisitions include properties leased to Best Buy (370 k SF in Cleveland, OH), FedEx (46 k SF in Corpus Christi, TX), Edgepark (75k SF in Albany, NY), and Siemens (51k SF in Lebanon, OH). Collectively, these four (4) facilities have increased Monmouth's GLA by seven percent (7%). Monmouth's levered returns on new acquisitions have averaged between 12% and 14%.
Monmouth's has maintained a conservative capital structure. As of Q1-12, Monmouth's market cap consists of $251 million in debt, $53 million in preferred equity, and $ 363 million in common stock. The conservative balance sheet provides for a 36.3% net debt / total market capitalization. In addition, debt / EBITDA is 6.2x and Interest coverage is 2.6x.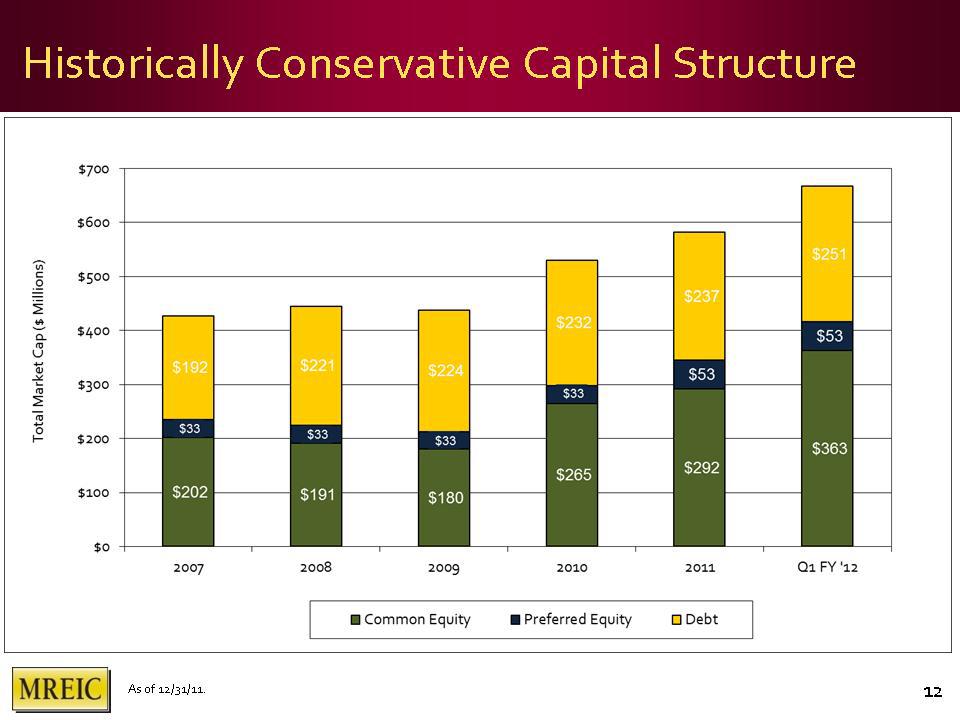 Monmouth's liquidity is differentiated by its $ 45 million in owned REIT securities. This nine percent (9%) asset allocation includes REIT stocks owned by a broad spectrum of REIT sectors - including 37% in preferred and 63% in common. Here is a snapshot of Monmouth's liquidity attributes: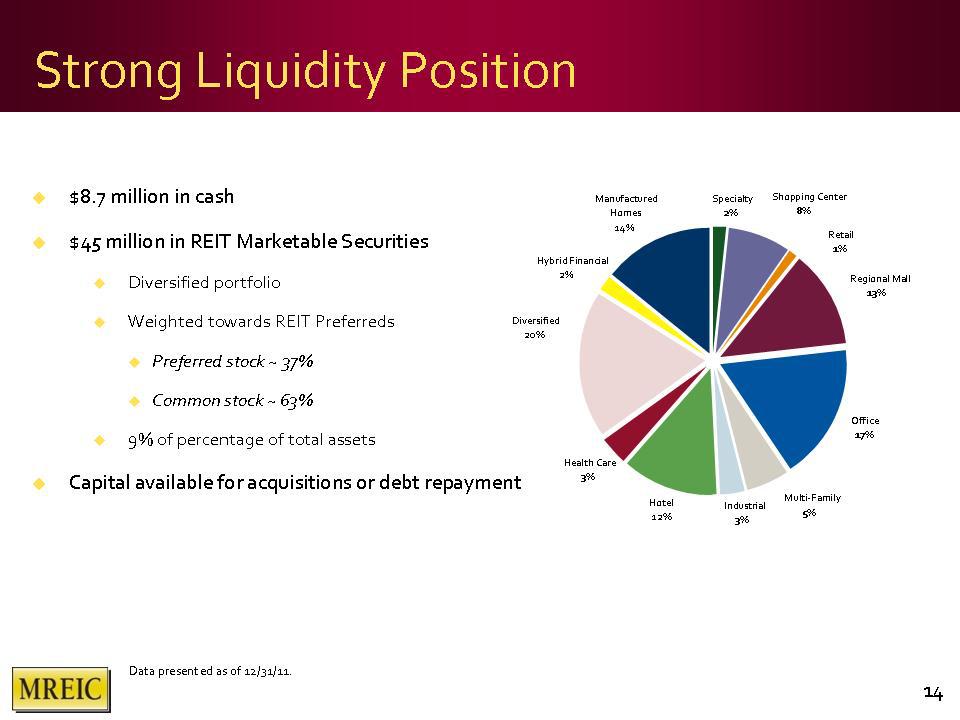 Monmouth's Funds from Operations (FFO) for fiscal 2011 was $22.9 million or $.65 per common share. Here is a snapshot of historical FFO results: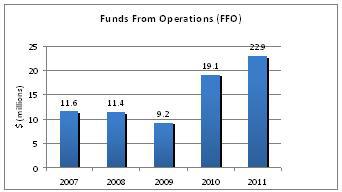 Monmouth has achieved exceptionally sound dividend results as evidenced by a 2.5% increase in dividends per share since 1991. Here is a snapshot of the REIT's dividend history: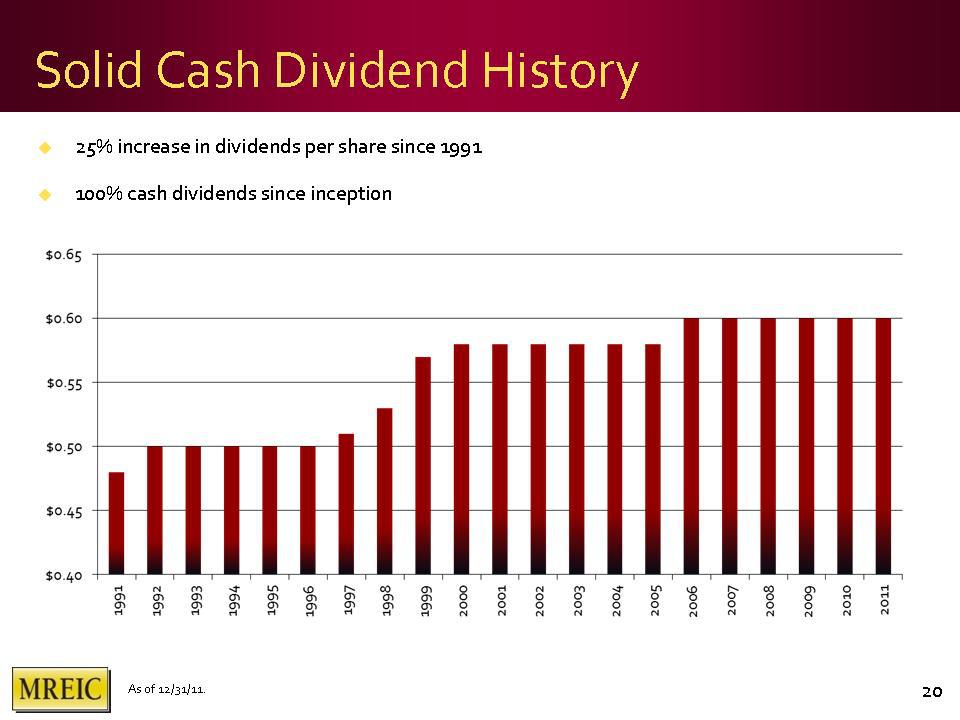 Peer Group Results
Compared with the peer group, Monmouth is considered a small fish in the sea; however, the small fish can certainly swim upstream. Here is a snapshot of dividend results for Monmouth and its peers: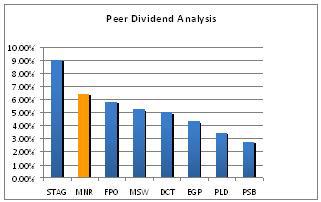 Because of Monmouth's conservative balance sheet fundamentals, the prize fish should also sustain its dividend. Here is a comparison of Monmouth's risk-aligned net debt / market cap (with its peer group) ratio: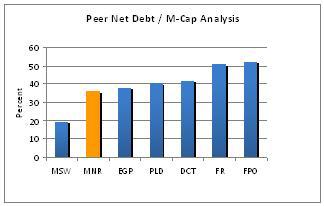 Land a Small Fish and a Big Dividend
In summary, a prize fish is measured by weight (dividend) and size (capital appreciation) and a trophy fish is measured by the combination or total return. Monmouth has delivered some exceptional returns and its track record for providing dividends and capital appreciation has been exceptional. Monmouth's one year total return was 22.6%. It's three year total return was 101.3%. The ten year total return was 210%.
Monmouth's differentiated brand can be best described by the REIT's COO, Michael P. Landy:
Our business model is to invest in single-tenant industrial properties secured by long-term net-leases to investment grade tenants. This provides investors with a total return vehicle that performs well throughout the business cycle. As one of the oldest REITs Monmouth is a multi-cycle tested company and our consistent performance speaks for itself. Real estate ownership provides an attractive hedge against inflation and that is perhaps the most important aspect investors should consider given the current environment.
Monmouth's institutional ownership now includes over 100 institutions and that broad base ensures access (by Monmouth) to capital markets and reduced overall costs of capital (going forward). In addition, Monmouth was recently (in 2011) included in the benchmark MSCI REIT Index - a widely followed index that results in greatly increased liquidity and greater share demand. Monmouth's stock closed (last business day) at $9.05 per share and the 52-week high was $9.69.
Investors have been increasingly interested in allocating capital to the wider net that the MSCI REIT Index funds provide. Conversely, individual investors should also be compelled to cast a net aimed at the Monmouth industrial REIT. This high-quality brand is distinguished by a well-diversified portfolio with risk-averse fundamentals -measured by extraordinary total returns. This sound investment selection is deemed a prize catch and one that will balance your diversified portfolio and make you sleep well at night.
Footnote: I wrote a previous article, Industrial REITs Making Waves in the made in America Surge, and Monmouth was mentioned. You can read more here.
Disclosure: I have no positions in any stocks mentioned, and no plans to initiate any positions within the next 72 hours.