Knock, Knock... Some Muni Opportunities
Summary
Discussion of the broad equity markets.
Deep dive into municipal bonds and the need for active management.
Where to find municipal bond opportunities.
Please Note: This article was first published for Income Idea subscribers.
As a contributor to Seeking Alpha and the author of Income Idea, where we focus on income generating ideas from closed end funds, ETFs and covered calls, I sometimes find the struggle talking about securities when there is arguably little value.
In the bull market of the last 9 years very few long term discount opportunities were left unturned and we are now in an environment where even "junky" high yield closed end funds which ordinarily trade at 10% discounts are now trading at or near parity to NAV.
In my last macro article titled, "Are We There Yet?" we looked at some of the concerning macro trends such as the record consumer and government debt along with the stalled auto sales and increasing consumer delinquency and default rates.
While the media headlines are focused on the market cap weight indexes such as the S&P 500, the equal weight versions of those indexes are continuing to diverge and are lagging by wider margins. Simply put, the performance of the FAANG stocks, Facebook (FB), Apple (AAPL), Amazon (AMZN), Netflix (NFLX) and Google (GOOG)(GOOGL), are not amazing representations of the US and global markets as a whole.
Over the last few weeks while the S&P 500 flat-lined, both Gold (GLD) and Silver (SLV) have been making nice gains, in a few cases having meaningful technical breakouts. (Just like they did nearly 10 years ago?)
For an income investor however, short of writing calls on those gold and silver positions you are not going to generate an income. We discussed doing this in last Friday's Covered Call Friday article, "Covered Call Friday - SLV & BBRY"
So if we are potentially at the top of the equity market and you need income, what are you to do?
How about some plain vanilla municipal bonds?
While municipal bonds are not sexy or exciting (short of a Puerto Rico or Detroit), as boring as they are, tax efficient investors have enjoyed their stability and income. This does not even account for the municipal bond tax benefits.
Since 2007, municipal bonds even outperformed the S&P 500 on a total return basis for more than 5 years!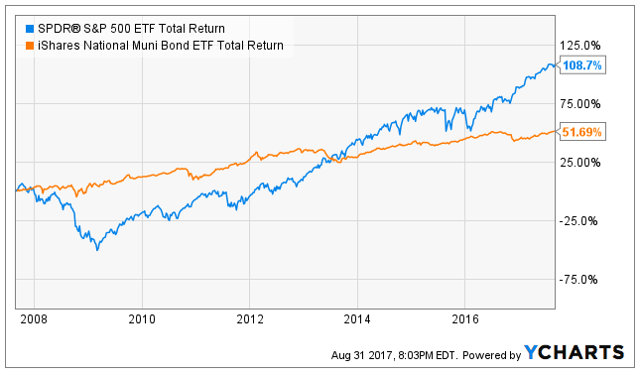 Picking a good municipal bond fund, you know, those "expensive" mutual funds, would significantly close the gap to equities over a complete bull market.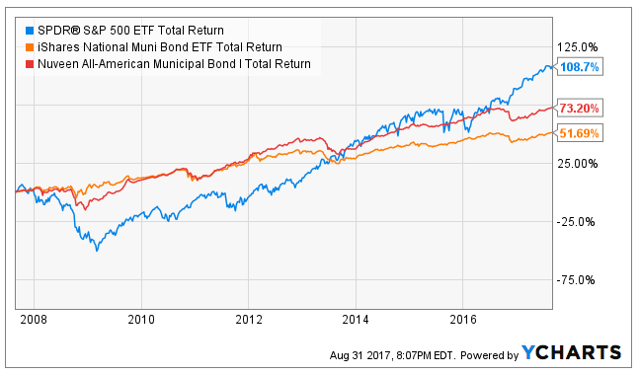 Or perhaps choosing a good quality closed end fund would close the gap even more?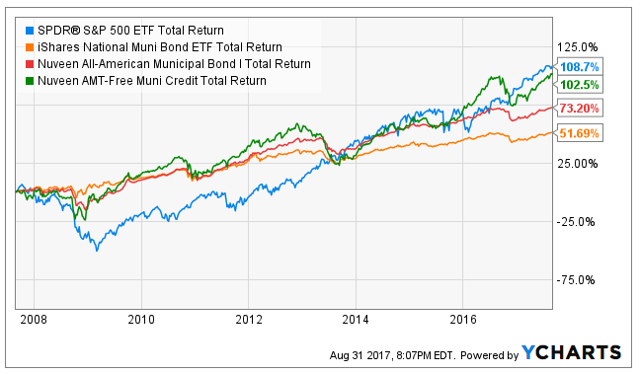 Equity-like returns out of a municipal bond fund? Without even accounting for the tax benefits of the municipal bond distributions?
This is not to advertising or recommend those funds, although I have owned the Nuveen All-American Municipal Bond Fund (FLAAX) (FAARX) for a number of years and have written about the Nuveen AMT-Free Muni Fund (NVG) in "NVG: A Muni CEF Cornerstone, But Beware The Name."
The reason I bring this up is that over a complete market cycle, bonds can still provide significant returns with far less hoopla and volatility.
Why Munis?
There are a number of reasons to consider munis, from the underlying security to their favorable tax treatment. One reason to look at them now however is perhaps also the exact push back that can be given against bonds as a whole.
Declining Interest Rates.
Without a doubt over the last decade as interest rates have fallen, existing higher yielding bonds became pricier. Yes, a good amount of the total return from bond funds has been the capital appreciation.
This is precisely why I think munis make sense to look at today.
Scratching your head? Let me explain.
At least over the last 50 years, municipal bonds yielded a lower rate than US Treasuries.
This was fairly straight forward and common sense as even for the given difference in the "risk free rate" of US Treasuries, municipal bonds' interest is in most cases federally tax free. For many people, a 4% muni yield was worth at least a 5% treasury yield on an after tax basis.
Investors paid a premium for munis.
Below is a long term chart comparing the 10 year treasury yield to the now discontinued 20 year general obligation bond buyer index.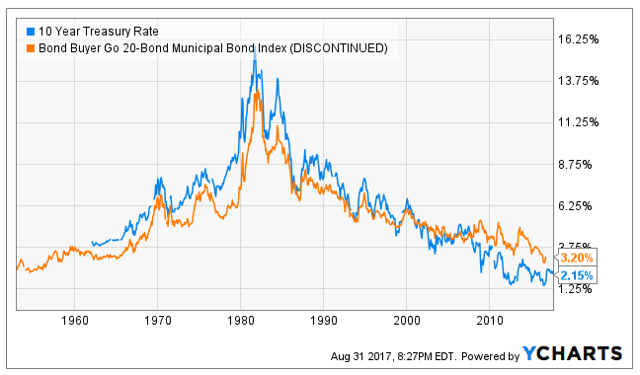 You can clearly see up until the tech bubble and then the 2008 GFC, long term muni bond yields were lower than even the intermediate 10 year treasuries.
In the last 10 years however, between international treasury purchases along with the Fed's massive move to buying treasuries, muni bond yields are higher than the the treasuries.
I believe, like many in the fixed income world, that even if the US Treasury rates rise for some reason (if you believe in the "health" of the economy), munis are still trading at a historically significant spread to taxable income.
On the flip side, if the economy does enter into a recession in the next few quarters or later in 2018, municipal bonds still have an opportunity to capitalize on even further underlying price appreciation.
Muni Issues
I do believe we still have issues in the municipal markets that need to be taken into consideration.
The reality is, municipal defaults are a reality and Detroit and Puerto Rico were the large recent examples.
As big as they were however, the overall muni markets did not come crashing.
There are areas of concerns that typically come up as comments and questions in my muni fund articles. Those would be around Illinois and Chicago general obligation credit in particular.
To that, we can also add the "spend spend spend" states of California, New York and New Jersey.
Most recently I would add and caution to the need to research Texas munis for municipalities which were hit by Hurricane Harvey.
As the information on the bond markets is typically much harder to get, there is far more inefficiency in the markets and thus ripe for opportunities. Those opportunities however will be much harder for retail investors to find and why I suggest actively managed funds to access the muni space.
Yes, yes, you can buy a low cost ETF... but a few charts above we clearly saw an un-levered "high fee" open end mutual fund walk all over it.
Just off the top of my head I picked some of the funds I have worked with or seen in the past sold through the advisor channel. A share funds with their 12b-1 fees still outperformed the iShares National Muni ETF (MUB) with its .25% fee.
Perhaps more interestingly, BlackRock's own National Municipal Fund (MDNLX)(MANLX) with a .70% net expense ratio, outperformed the firms ETF offering.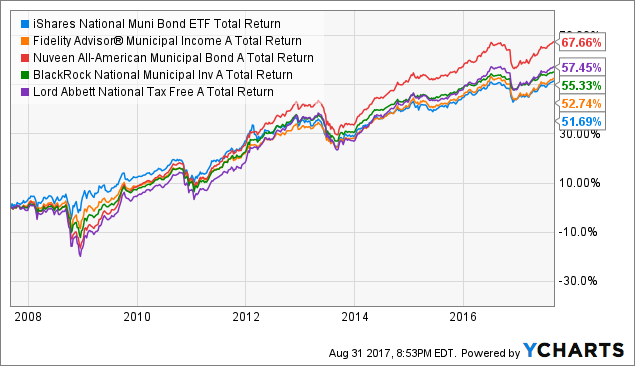 MUB Total Return Price
data by
YCharts
Closed End Funds
One area in particular where I believe we can still find some gold is in the closed end fund space.
While many closed end funds have significantly closed their discount to NAV this year, one area which has been seemingly overlooked is the municipal bond CEF space.
As per CEFConnect there are 80 municipal closed end funds which are not in the "high yield" space.
While the average discount to NAV for those 80 funds is 1.69%, the average discount for the top 50 CEFs sorted by discount is a noteworthy 4.40%.
Over the next few weeks as we head into September, we will be sifting though those investments to find some opportunities.
Can't wait to get started? Keep in mind we have already identified a few over the last few weeks.
VFL: Good Things Come In Small Packages (Income Idea) (Free Article)
NVG: A Muni CEF Cornerstone, But Beware The Name (Income Idea) (Free Article)
NEA: Nuveen Quality Muni Inc. Fund: Quality Still Shines? (Free Article)
Thanks for being a subscriber and looking forward to our investment journey.
Income Idea
Interested in sustainable income ideas? Please consider subscribing to my premium marketplace service, Income Idea.
Income Idea subscribers receive detailed analysis along with discussion beyond the research numbers. More importantly, a more detailed discussion of whom the investment works best for, whether it is the right time to invest it in or not, and actionable strategies for implementation if it belongs in your portfolio.
I believe in active management that works, and I am here to help you find those opportunities. Please follow me here on Seeking Alpha as we look for those opportunities and sort out the good managers from the mediocre.Simply click the "Follow" button next to my name at the top of the article or on my profile page.
This article was written by
Intrepid Leader at an RIA.  My firm and I simplify the lives of busy clients by providing ongoing financial planning and asset management. this is done by providing our clients customized, ongoing comprehensive financial planning, and customized investment advisory services tailored to the clients' needs. As a fiduciary, we have a legal obligation to put the needs and interests of our clients above our own. Specialties: fee based comprehensive financial planning, retirement planning, life insurance and protection planning.
Analyst's Disclosure: I am/we are long FLAAX. I wrote this article myself, and it expresses my own opinions. I am not receiving compensation for it (other than from Seeking Alpha). I have no business relationship with any company whose stock is mentioned in this article.
Seeking Alpha's Disclosure: Past performance is no guarantee of future results. No recommendation or advice is being given as to whether any investment is suitable for a particular investor. Any views or opinions expressed above may not reflect those of Seeking Alpha as a whole. Seeking Alpha is not a licensed securities dealer, broker or US investment adviser or investment bank. Our analysts are third party authors that include both professional investors and individual investors who may not be licensed or certified by any institute or regulatory body.