Summary
This week the MSCI US REIT Index is trailing the S&P 500, giving back some of the relative gains from last week.
We finally saw some signs of life from lodging and specialty REITs, particularly the prison-related ones.
Economic data is still pointing to a steady growth economy which could indicate a quicker pace of rate increases.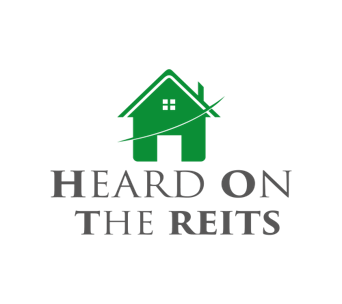 This week's Heard on the REITs weekly is based on data through end of day Thursday August 31 st. We apologize for releasing it a day early but the family is taking some time off this weekend for Labor Day and I won't be available to send it out over the weekend. Whatever we miss on Friday will be mentioned in next week's version. Apologies for the inconvenience.
Through Thursday, the MSCI US REIT Index (RMZ) was down 0.1% compared to a 0.6% gain on the S&P 500 (SPY). As is usually the case, sectors that lag over a specific period tend to rebound in subsequent periods. This week, Specialty and Lodging led the way followed by Timber, on the back of a delayed decision by the US on soft lumber duties imported from Canada. Specialty REITs were led by The GEO group (GEO) with a 6.4% return on the week and CoreCivic (CXW), whose price spiked by 6.2%. Lodging was led by Pebblebrook Hotel (PEB) with a return of 4.4% and InnSuites Hospitality (IHT) with a 3.6% return. We haven't mentioned lodging names in quite a while and are still underweight but watching closely for sustained increases in RevPAR.
And the same holds true for individual names. After gaining 11%+ last week, Power REIT (PW) declined 15.8%.
Declining sectors included mREITs, which were impacted by a 22.5% decline on RAIT Financial Trust (RAS). Since our calculation is not market-weighted, a decline of this magnitude influences the average. If we remove the impact of RAS, mREITs were still down but by a more palatable 0.7%.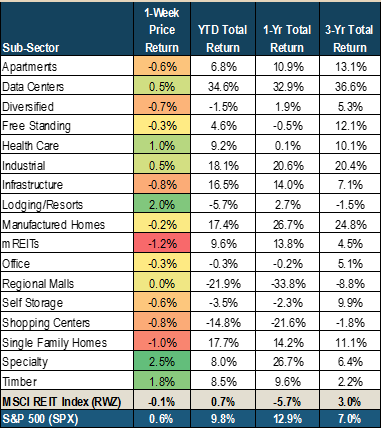 Note: 1-Week Price Returns are based on the average returns all REITs within each sector. Not market-weighted.
Within the ETF space, the largest drop was in the UBS ETRACS 2x Leveraged Mortgage REIT ETN (MRRL), with a decline of 2.4%. Other than that, performance was bland this month with most ETFs performing within 40bps of each other.

News
Colony Northstar (CLNS) is merging with two non-traded REITS to become one of the largest CRE Mortgage REITs. The other two REITs are Northstar Real Estate Income Trust and NorthStar Real Estate Income II. Combined they will have assets of $5.5 billion. The new company will be listed as an externally managed REIT. Colony Northstar shareholders will own approximately 37% of the new company.
New Residential (NRZ) and Altisource (ASPS) announced a brokerage agreement that will cover the mortgage servicing rights for approximately a $6.1 billion portfolio. Essentially Altisource will provide the listing services for the REO properties included in in these portfolios.
TIER REIT (TIER) and Parkway Properties (PKY) both reported that its properties in Texas received minimal or no damage from Hurricane Harvey.

National Securities upgrades

Rexfor Industrial Realty (REXR) to a buy rating and a price target of $32. That's 6% above the price at time of this writing if anyone is wondering.

The US postponed a decision on anti-dumping duties on softwood lumber coming from Canada. Already this year, lumber prices have increased 15% due to uncertainty over supplies. Not only does this affect the US Timber REITs, but recall that many builders are complaining about a shortage of supplies that are contributing to new housing inventory shortages. So the Single-Family REITs and Apartment REITs could benefit if new housing inventory remains low or becomes less affordable.

We reported in our Heard on the REITs service that

Crown Castle International (CCI) increased their borrowing capacity by $1 billion to $3.5 billion, all of which is currently available.
Gramercy Property (GPT) to acquire a 9-property portfolio at a 6.3% cap rate. The company is looking to make more acquisitions and is likely to exceed forecasts.
Dividends Last Week and Next Week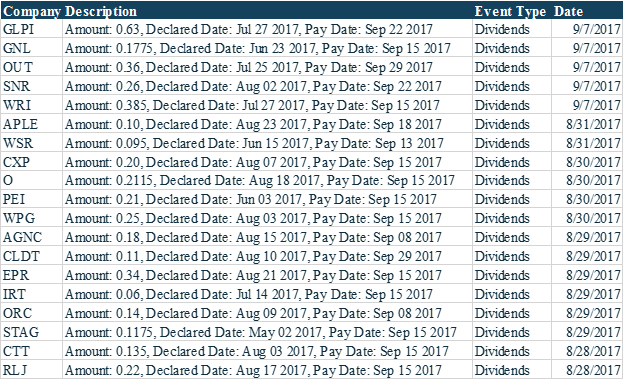 REITonomics This Week
ADP Nonfarm Employment Change came in above the 200K mark again, reinforcing the strength of the labor market and the likelihood that Friday's jobs data will also be strong. We interpret this as an indication that the Fed will have the flexibility to raise rates again later this year without much of a reaction from the markets.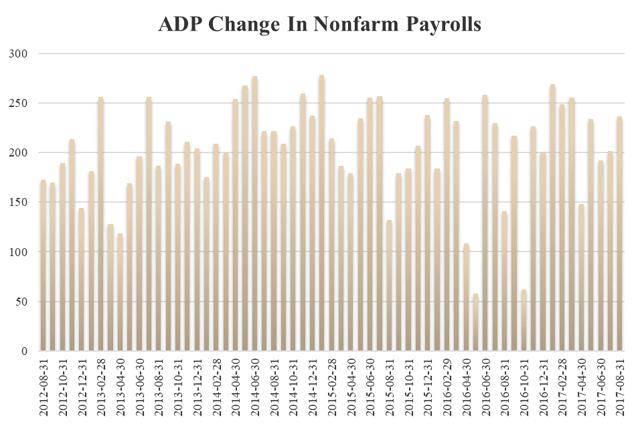 GDP was revised up to 3% from 2.6%, due to better than expected consumer spending and business investment. We believe that while consumer spending makes up over 70% of the economy, growth is more directly impacted by business investment. Therefore, the upward revision was welcome news and we expect to see stronger growth in the second half of the year because of it. Trump has trumpeted his own horn already despite his administrations reform score of zero.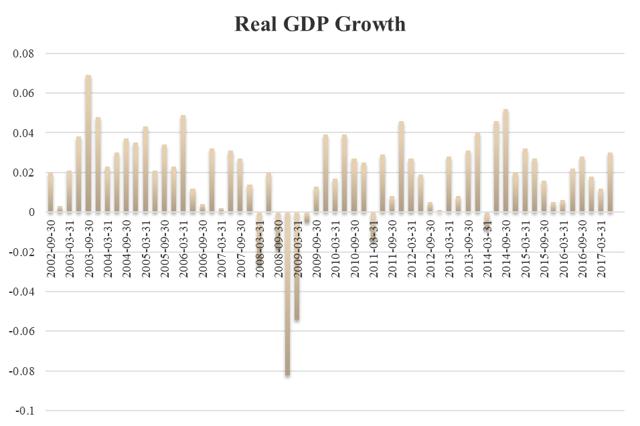 Continuing Jobless Claims continue to stay below the 2M mark and combined with the ADP data above, is a strong indication that the Fed will raise rates even if inflation stays benign.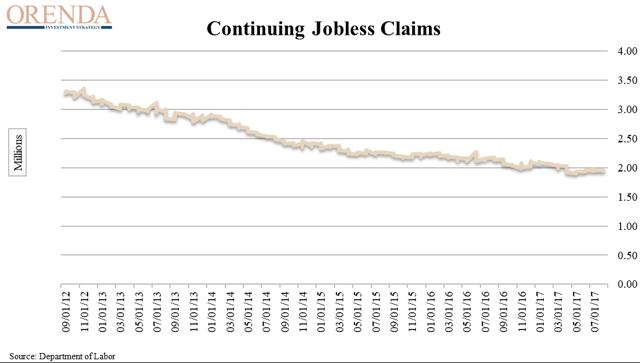 And speaking of inflation, the Fed's 'favorite' measure of inflation increased just 1.4% in July, well below the 2% target inflation rate and worse, it looks like it's on a declining trend.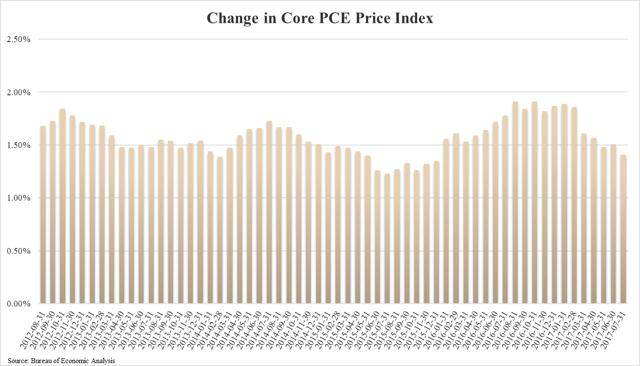 The pending homes sales index was reported at 109.1, which is a 0.8% decline. Despite a strong market, monthly data on housing continues to ebb and flow with no real trend emerging. We have mentioned inventory issues that are driving up prices despite low sales figures. In regards to pending home sales, we still think there is an affordability issue that is limiting the number of sales.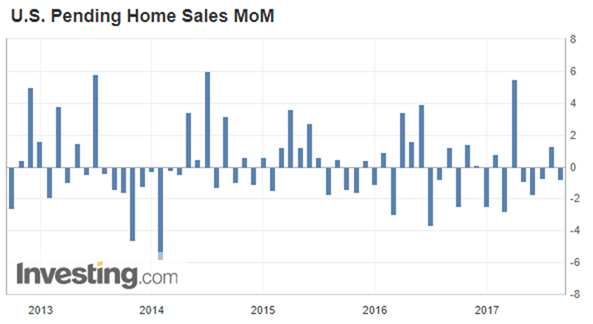 REIT Data
The data below doesn't change much from week to week but we will continue to include it so readers don't have to go searching for it in previous versions.
The average dividend yield versus payout ratio is shown below. After declining 30% on average over the last year, Regional Mall REITs still sport he highest dividend yield among the equity REIT sectors that excludes mortgage REITs. Regional malls currently pay a 7.5% dividend yield on average and a very reasonable 65% payout ratio.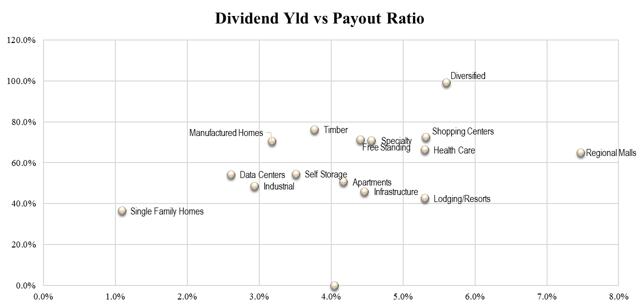 Comparing price multiples to potential returns based on analyst estimates, Regional Malls also look attractive with a P/FFO multiple of 10.8 - and a potential return of 20.6%. The sector with the highest potential return based on analyst estimates continues to be Infrastructure REITs with a target return of 23.7%. Their P/FFO multiple of 16x is much higher than the Regional Malls but still reasonable in our view.
Industrial REITs, with YTD returns of 18.1%, now seem to be fairly valued and aren't expected to have much upside according to the consensus estimates.
Manufactured Homes, on the other hand, have returned 21% to shareholders over the past year and the valuations seem to have reached extreme levels – ditto for single family homes but fundamentals are still there for more upside.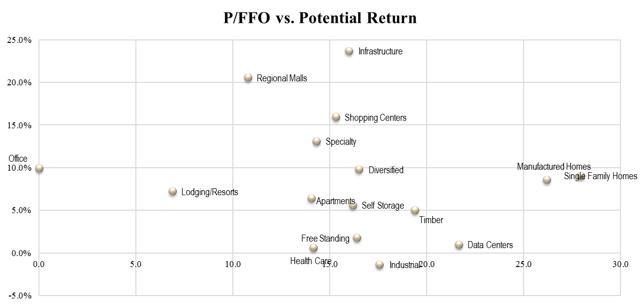 Note: Some adjustments were made to normalize the average numbers such as removing data points where P/FFO was negative due to negative FFO/share or where a low FFO would lead to an abnormally high P/FFO in a small population size.
As we continue to refine our offering, we will provide AFFO when it is viewed as a better indication of a company's current cash flow.
Market Cap Breakdown of REIT Sector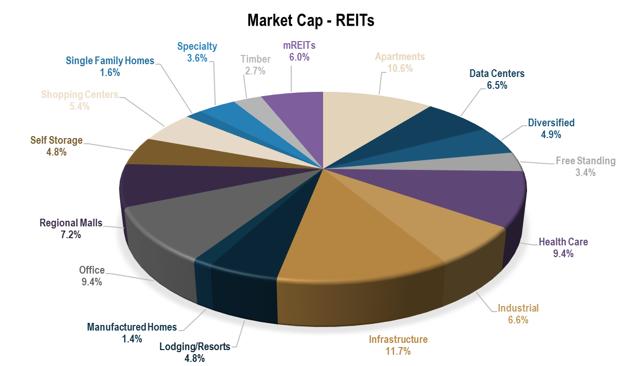 We have recently revamped our Premium Service to focus exclusively on REITs. So for the month of September, we are offering an annual price of $500. That's $100 off the regular annual price and a $400 savings to the monthly subscription price. This is limited time offer, so consider subscribing today.
The following samples were published for free, but these highly analytical reports will only be available in the Premium service from now on.
Sample Premium Research Report
Disclosure: I am/we are long BXP. I wrote this article myself, and it expresses my own opinions. I am not receiving compensation for it (other than from Seeking Alpha). I have no business relationship with any company whose stock is mentioned in this article.
Additional disclosure: Long:
BXP
SLG
DRE
MNR
KIM
REG
SPG
GGP
SRC
O
ACC
EDR
UMH
AMH
AAT
HPT
CUBE
HTA
SNR
WY
AMT
UNIT
CCI
DLR
QTS
CXW
BXMT
Editor's Note: This article covers one or more microcap stocks. Please be aware of the risks associated with these stocks.