Hurricane Harvey has had a catastrophic effect on many in the state of Texas this past week. The storm dropped up to 40 inches of rain in areas of Eastern Texas and has at least 39 confirmed deaths at this point. It is also expected to be the fourth most expensive hurricane in terms of damages and the most since Sandy in 2012. (Figure 1.1)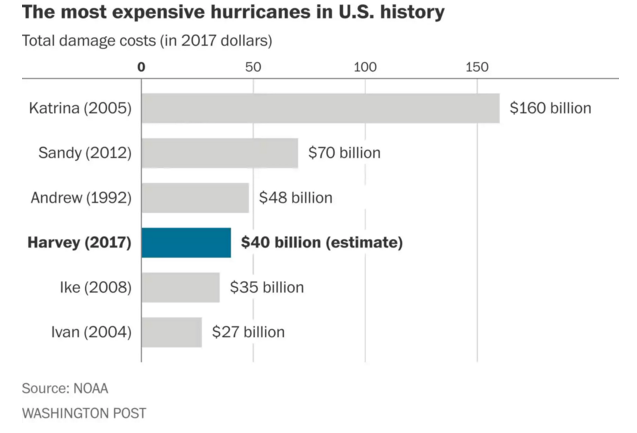 Regular personal homeowners' policies have wind coverage but do not have flood coverage. Homeowners have to purchase flood coverage from the government-run National Flood Insurance program. In the eight counties most directly affected by Harvey, only 17% have flood insurance policies and only 15% in the city of Houston. To compare to other cities at risk of hurricanes, 57% of households are now covered in New Orleans and 28% in Homestead, a city in South Florida.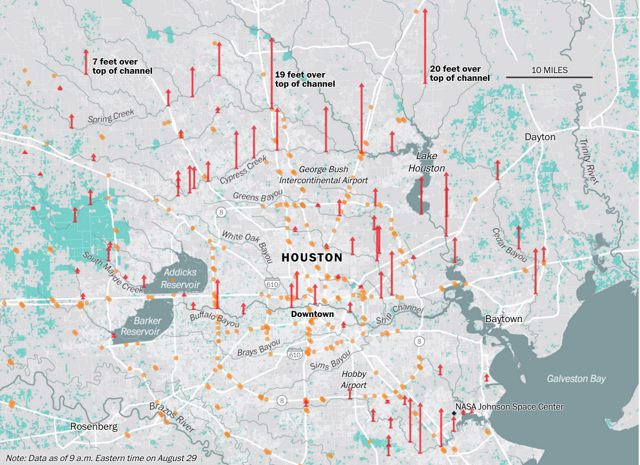 Figure 1.2
This map shows (red square) gauge station sites where water had topped channel banks and (orange circle) high water locations along roads. It also includes (blue square) flooding observed from satellite imagery. Arrow heights indicate water level in feet over the top of the channel. The following shows data as of 9 a.m. Eastern time on Aug. 29.
One of the main reasons for this low number was that many of the areas affected are densely populated but not in the high-risk flood zones, as seen in Figure 1.2. The top three writers of personal homeowners policies in Texas are State Farm, Allstate (NYSE:ALL), and Farmers.
Many personal homeowners insurers will not be on the line for damages since flood insurance was so scarce around the areas and even though wind coverage is common, most of the damage was from flooding. While that is true, commercial and auto insurers usually do include flood insurance in their policies, which could result in meaningful losses. The largest policy writers for commercial are Hartford (NYSE:HIG) and Travelers (NYSE:TRV), while for auto are ALL and Progressive (NYSE:PGR).
PRICE REACTION
Chart 1.3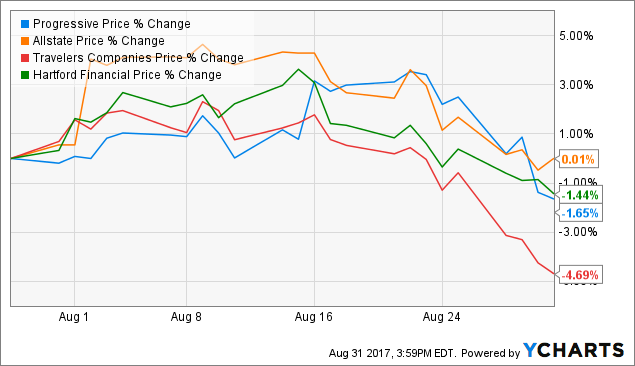 PGR data by YCharts
As seen in chart 1.3, the prices have reacted how you would expect to the news of how devastating the storm was. Figure 1.4 shows the weekly performance of the ten largest US insurers.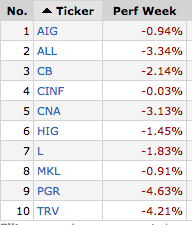 Figure 1.4
There has been a significant reaction to this event even though some of these companies don't have significant exposure.
Now, this wasn't the first ever hurricane to hit the mainland US so we can see if history will give any clue as to how these stocks might react a few weeks or months later.
On October 29, 2012, Hurricane Sandy destructively hit the New York/New Jersey area. Chart 1.5 shows (post-Sandy) the stock prices of the same companies as chart 1.3.
Chart 1.5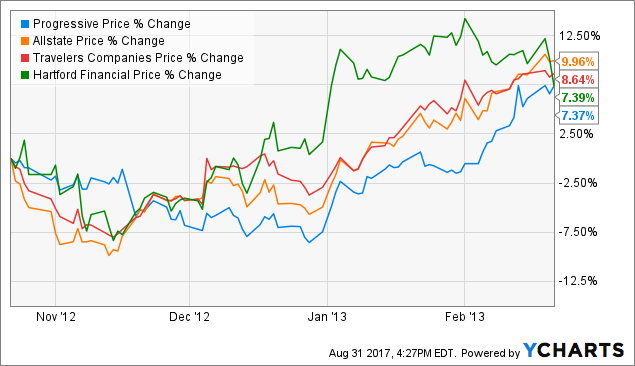 PGR data by YCharts
After an initial drop of 2-9% in the month after, the stocks rebounded and performed well the following months. This could be because investors realized the companies weren't affected as severely as expected or from the increased premium they would then be charging.
Chart 1.6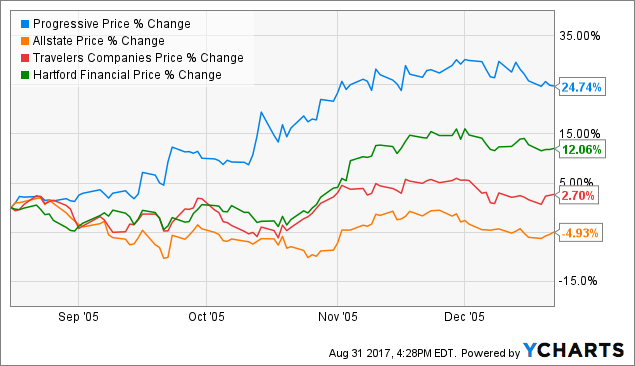 PGR data by YCharts
Chart 1.6 shows that the stocks reacted in a similar manner after Katrina. Knowing the history of events like these could lead one to believe the stocks may act in a similar way this time around.
Disclosure: I/we have no positions in any stocks mentioned, and no plans to initiate any positions within the next 72 hours.
I wrote this article myself, and it expresses my own opinions. I am not receiving compensation for it (other than from Seeking Alpha). I have no business relationship with any company whose stock is mentioned in this article.