We believe ShiftPixy (NASDAQ:PIXY), is a struggling business and a good short sell idea. For the reasons explained in this article, we expect a 50%+ decline in PIXY within the next year from its current price of around $4.00. If you can find borrow, we recommend shorting shares or selling your shares if you own the stock.
ShiftPixy is a staffing agency for part-time, "shift" workers. Its staffing services are mainly to businesses that make significant use of part-time employees and are in the restaurant and hospitality industry. ShiftPixy helps its clients manage their employees and regulatory requirements such as paid time off (PTO) laws, insurance and workers compensation, minimum wage increases, and the Affordable Care Act (ACA) compliance.
We believe as investors see how ShiftPixy continues to lose money without meaningful growth, the stock will slide to sub $2 per share within a year. With the increased expenses after going public and its recent attempt to rapidly expand in New York City, the company will experience a slight increase in revenues, but at the expense of bigger losses, and in the long run could eventually become delisted and go to zero. ShiftPixy's CEO and Co-Founder has also been involved in "bad" investments in the past that lost investors a lot of money and the SEC had to step in, and its co-founder did 15 months jail time for tax evasion.
ShiftPixy's CEO Has A Checkered Past
ShiftPixy's CEO Scott Absher has been involved in some bad investments before ShiftPixy.
Mr. Absher naturally doesn't mention he was a part of these businesses in his LinkedIn profile. It only says his work experience is the CEO of ShiftPixy.
The following are two of Mr. Absher's previous bad investments.
Bad Investment #1: EntreMetrix
Mr. Absher founded a company called Neotactix, later known as EntreMetrix. As shown in Mr. Absher's profile on Bloomberg:
Scott W. Absher serves as the Chief Executive Officer of EntreMetrix. Mr. Absher has been the Chief Executive Officer of NeoTactix Corp. (alternate name Entremetrix Corp.) since February 2004 and serves as its President.
Neotactix (aka EntreMetrix) got delisted in 2008 by the SEC as a pump and dump. As reported:
"Washington, D.C., March 20, 2008 — The Securities and Exchange Commission today continued its highly successful pursuit against stock market e-mail spam by suspending trading in the securities of three companies that haven't adequately disclosed information to investors and have been the subject of spam e-mail campaigns and promotional videos on the Internet site YouTube. The videos often repeat information in the companies' press releases and are posted to coincide with traditional spam e-mail campaigns.

The Commission issued an Order finding that each of the companies subject to today's trading suspension — NeoTactix Corporation (NTCX), Graystone Park Enterprises, Inc. (OTC:GPKE), and Younger America, Inc. (OTC:YNGR) — has inadequately disclosed its assets, business operations, and current financial condition."
EntreMetrix YouTube ads: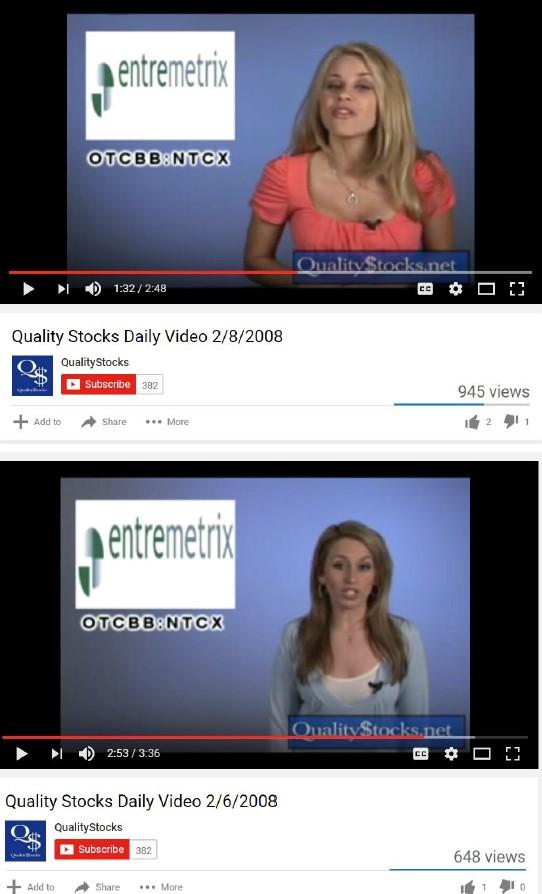 Entremetrix has the same phone number as ShiftPixy. It certainly isn't a positive that Mr. Absher kept the same number from this business. You can see it's the same number from this website. And from PIXY's Yahoo finance profile page.
Bad Investment #2: DRINKRITE
Mr. Absher was the president of a company called DRINKRITE that scammed people in Alabama. On June 25, 2013, the Alabama Securities Commission issued a Cease and Desist Order against Scott Absher, and other "Respondents" from further offers or sales of any security in the state of Alabama. As shown in the order:
Scott Absher was the president of DRINKRITE as shown in the Order:

Investors in Alabama were bamboozled to invest in DRINKRITE, and lost almost their entire investment. As shown in the Order:


More info on DRINKRITE can be found in this article titled: Costa Mesa Con Artist Caught In Water Filtration Scam.

Mr. Absher hired a family member, Mark Absher, to be the company's in-house legal counsel. Mark Absher's LinkedIn profile is here.
The co-founder of ShiftPixy, J. Stephen Holmes, was sent to jail for 15 months for lying on his tax return. From this 8-K filing:
As a condition of certifying ShiftPixy's Common Stock for a NASDAQ listing, co-founder and shareholder, J. Stephen Holmes, and ShiftPixy mutually agreed to the disclosure by ShiftPixy in this Form 8-K of his prior conviction for acts related to making false statements in relation to two quarterly IRS Form 941 Employer Federal Quarterly tax returns, one in 1996 and the second 1997, for a company for which he was at the time an officer.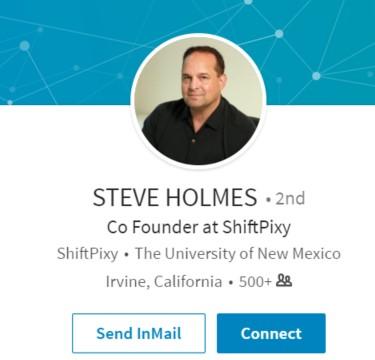 This PR from the Department of Justice states:

The Kind Of Business ShiftPixy Describes Itself Can Be Misleading
In its announcement that it will present at the Drexel Hamilton 2017 TMT Conference on September 6, ShiftPixy is described as: "an on-demand human capital platform that syncs work opportunities from shift-based employers with ready-for-hire workers." But as we show in this article, that can be misleading as to what the company really does. ShiftPixy likely wouldn't have been able to have its IPO if it just described itself as a staffing agency focused on part-time workers. There are many larger, more established companies that already do that.
In fact, we asked Garth Russell of KCSA, ShiftPixy's outside investor relations firm:
"Is the company more geared towards doing employer paperwork? Is it more of an outsourcing firm to get that work done for the company?"
He simply responded: "Yes."
We asked:
"Is ShiftPixy making money by connecting employers to employees?"
He answered: "No, they make their money by doing the HR portion of the company, like you said earlier, that's their business. Connecting the employers to the employees is a benefit of the system."
The company talks highly about its new technology. This got retail investors interested in the stock and allowed it to have a Reg A+ IPO. Our report shows how comically dysfunctional the app is and it has a miniscule amount of downloads.
ShiftPixy's CEO, Scott Absher, explains: "Our society is moving towards an on-demand lifestyle from Netflix to Uber to GrubHub, and now ShiftPixy."
However, there's a problem with this analogy. Those other companies he mentioned all already have their product instantly ready. For example with Uber (UBER), Uber drivers already know how to drive and already have a car, so they can easily provide transportation to a nearby Uber rider.
Hiring part time employees is a more lengthy and complicated process. ShiftPixy's idea is to have part-time workers with one client company have the option to do more part-time work with another one of their client companies. But with this model, unless the job is unskilled manual labor, it won't be able to provide an employee immediate work. For example, if a mechanic doesn't show up for work, they can't just put a part-time worker at McDonald's (MCD) to go work there.
It's tough even if someone works in a related field, for example, an employee working part-time making burgers at McDonald's might use ShiftPixy to fill a shift at Burger King. He still needs to be trained to make the specific burgers at Burger King, how to follow their procedures, and use the machines. Therefore, ShiftPixy's product (the part-time worker) isn't instantly ready. This makes it much harder for ShiftPixy to put its on-demand plan into practical action.
ShiftPixy's Reg A+ IPO
PIXY had an IPO using the new Reg A+ method, which targets retail investors. It is a crowdsourcing form of IPO, as explained here. PIXY opened its IPO at $6 per share on the Nasdaq on June 30th, 2017. It's currently down 40% from that price. However, make no mistake, there is plenty of meat on this bone as its market cap is still over $100M.
The company had to cancel its Reg A+ IPO the first time because it failed to raise enough money. This is explained in a May 22, 2017 article from crowdfundinsider.com. Below is the headline of the article:

On its second try, ShiftPixy was able to raise enough money to go forward with the IPO.
ShiftPixy's App Is Comically Dysfunctional, And The Amount Of Downloads Is Miniscule
On the company's website, shiftpixy.com, the way to become a part-time employee or "Shifter" for ShiftPixy is to download the app and sign up.
In order to try and become a ShiftPixy shift worker, the website guides you to first go to the "Sign Up" tab on the top of the page, as shown in the screen shot below:

Then this takes you to a page that guides you to download the app. This screen shot is shown below: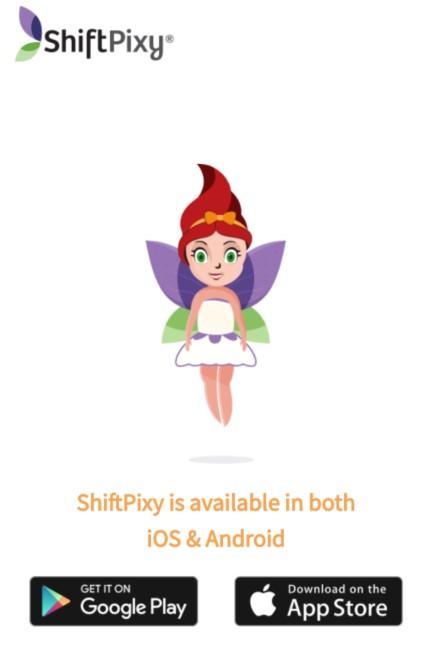 The website doesn't guide you to become a ShiftPixy shift worker other than through the app. If the only way to sign-up to work for ShiftPixy is through the app, then it must be a good app, right? No, it isn't. As we will show below, there are very few people downloading the app. Not only that, the app is comically dysfunctional.
Here is the ShiftPixy app page of Google Play for the Android mobile device. Below is a screenshot of the app description:
What is quite eye-opening are the miniscule numbers of installs from Google play. As shown below, the amount of installs so far are only between 100 and 500.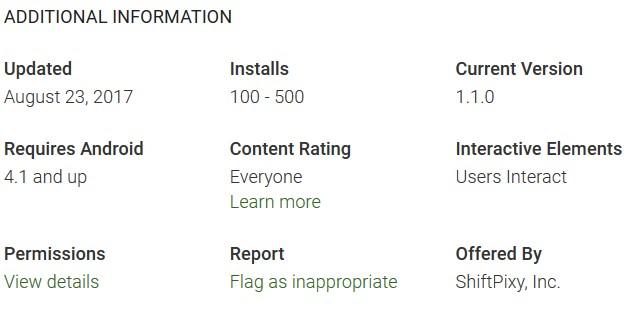 Also shown above, the data was updated on August 23rd. This app was launched on August 3rd. That's a 20-day period, which is plenty of time for most of ShiftPixy employees and employers in its ecosystem to learn about and download the app.
The following picture shows the downloads of the ShiftPixy app for the iPhone. It's from the app data website App Annie.
The above picture shows that on August 3, 2017, when the app was first released, it was ranked about 600 in number of downloads. Then the next day, it was lowered to a 1000 rank, only to be unranked the next day. This shows that after the first day of the app release, downloads are almost non-existent.
Here's What Happens When You Use ShiftPixy's App
I downloaded the app as part of my research. Here is what happens when you try to use it. It first asks you to sign up through email, Twitter, or Facebook. I signed up through email. Then it says something like "where are you looking for work?" and it lists about 6 cities in Southern California. Then you pick a city, I randomly picked Mission Hills, CA. Here is what the next screen says: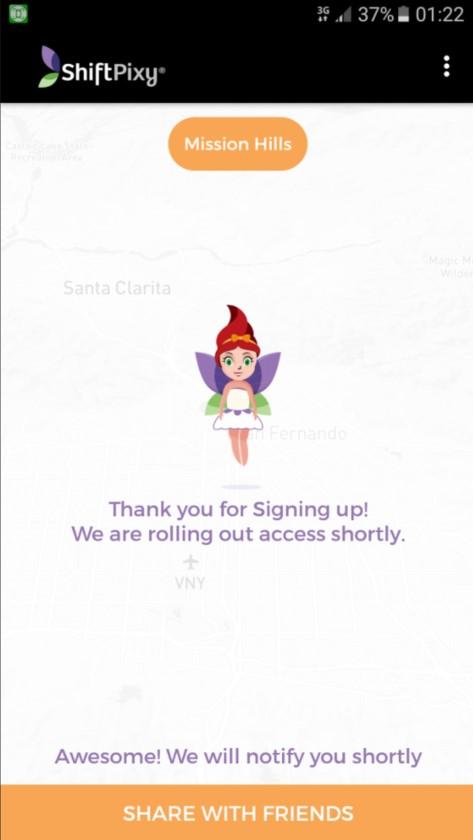 The above picture is a screen shot from my phone. And the app is stuck on that screen. Every time I reopen ShiftPixy, it goes to this screen. You can't add cities, go back to the previous screen, change it or do anything. All you see from here on out, is this screen. That is the extent of the features of this app.
I asked ShiftPixy's investor relations person, Garth Russell of KCSA, about my experience with the app and asked what is going here. Here's what he had to say about it:
It all goes back to getting employers first. It has very little to do with getting employees first, they need jobs first. If they get employers on, they are supporting the employees and they'll get an instant base of employees as well. So the focus right now is getting employers, that's what's key. The employees are important and a function of what they're trying to do, but attracting employees, they're not trying to do that one person at a time, signing onto the app.
ShiftPixy's CEO Talks Up The Company's Technology
Here, is a video of Scott Absher interviewing with Small Cap Nation right before the IPO. Below is his picture from the interview:
Mr. Absher says ShiftPixy is an "innovation" on how employers and employees interact. He speaks a lot about ShiftPixy's technology, and uses a lot of buzz words, with statements like:
We've taken individual clients on a multi-tenant technology platform
We want to engage millennials on a mobile level
We're incorporating a lot of artificial intelligence to move and make matches
Mr. Absher said in the above video:
"if someone is a part time worker (for ShiftPixy), they don't have to work in traditional retail or restaurant for part time work. They can pick up their phone, they load an app, and they can start picking up part time work and earn their income that way. That leaves small businesses, a brick and mortar business at a deficit because they don't have that technology, they don't have that way to connect.

What we did with Shift Pixy, is take everything we knew about the compliance process for the employee/employer relationship, and distill it down and deliver it through this mobile architecture.
If It Has A "Mobile Architecture" Now, Then Why Is ShiftPixy Opening New Office Locations?
On August 10th, 2017, ShiftPixy released a PR announcing that it has opened an office in New York City's historic Grand Central Station. There's no information about what the rent is going to be but we know that location is some expensive real estate.
In the video interview we link to above, Mr. Absher talks a big game about their "cutting edge" technology and how their ecosystem and mobile app has an advantage over brick and mortar staffing agencies. If that's the case, then why does the company have plans to open this and other new brick and mortar offices? Where is the edge here? If the company is getting an edge over the competition in the mobile space, then opening up offices would just put them on a level playing field with more established staffing companies, with the expenses of running an office.
The reality is the company is opening up a NYC office because they are trying to expand their staffing services to companies in that area. Mr. Russell, the company's IR, said:
The New York office is for sales to the employers as well as supporting those employers. If you want to tap into the New York market and on the east coast, it's better to have an east coast presence. While its virtual, they still need that kind of interaction.
After New York City, the company plans on opening office in other cities like Orlando, Dallas and Chicago. This is stated in the company's IPO prospectus.
Their revenues have been declining quarter over quarter for the last two quarters, Q2 and Q3. That shows they have recently been having trouble growing their business where their headquarters are located in Southern California. Therefore, they need to take a risk and expand to New York City in order to try and find growth. But this will cost the company a lot of money and increase their already substantial losses.
ShiftPixy's Financials
ShiftPixy is losing a lot of money. ShiftPixy's investment banker for the IPO, WR Hambrecht, provided a financial report from Zacks Research here. This report was published on June 5, 2017. Zacks had very high revenue estimates for Q4 2017.
The following are the estimates from Zacks Research:
● $60 million by Q4 2017
● For 2018, expects sales growth of 94% to $300 million in gross billings.
These estimates are shown below:
From the latest 10-Q, the Q217 statements of operations, quarter ending May 31, 2017 and 2016 are: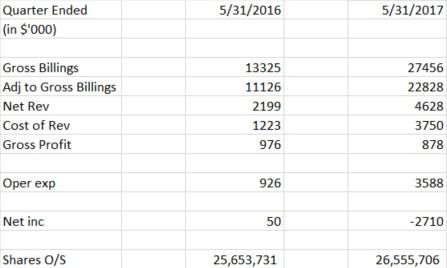 Looking at the above financials, ShiftPixy missed Zacks revenue estimate in Q317, it only received $27M in revenues instead of Zacks $30M estimate. It also missed income estimates. Zacks estimated a small loss of -$0.01 per share, but ShiftPixy instead lost -$0.10 per share.
As shown in the estimates by Zacks, ShiftPixy has lost money every quarter except it broke even in Q117, and for Q217, it made a small $0.01 per share profit. Since Q117, the company had declining revenues the following two quarters. We can assume that the company's staffing services is not better than the competition if they haven't been increasing revenues very much or have declining revenues in the past two quarters. Those numbers speak loudly.
Year-on-year revenue growth has been big, more than doubled from 5/31/16 to 5/31/17. However, quarter-on-quarter growth has become stagnant or declining, it isn't growing like it was in 2016.
Upon bringing up this concern with the IR person, Mr. Russell, he said:
Now that the app's out there, they see themselves ramping up with employers. They have the app, the additional funds for sales and marketing and to support their growth.
We believe that more funds will increase revenues and we'll see that in the upcoming quarters. But we'll also see increased losses. Note that Zacks did adjust downward the company's earnings estimate for Q417 after the company missed its estimates in Q317. Zacks estimated that for Q417, the company will have $34M in gross billings and a net loss of $3.5M or $0.12 per share. That is because spending on employee on-boarding and product development will be heavy, according to Zacks.
With the company now having increased operating expenses after going public, which includes the CEO's new $750k annual salary since the company went public (when it was a private company he was making $250K), new expenses like investor relations, filings, investor conferences, etc., and the rent from the New York office, the losses will mount up. ShiftPixy lost $2.7M in Q317. It only takes a few of those quarterly losses to burn through the $12M the company raised in its IPO.
The PIXY Stock Price Is Getting Close To The Outstanding Warrants Exercise Prices
PIXY has warrants that aren't too much lower than the current share price. From the latest 10-Q, the following are the warrants outstanding as of May 31, 2017: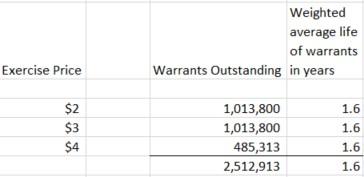 These warrant holders had their positions before the June 30th IPO. We don't know whether they have been exercised or not yet, we'll get that information in the next quarterly report.
Excessive Executive Compensation
Since going public, ShiftPixy has taken the opportunity to increase the executives' salaries. The Company has tripled the CEO's salary.
Previous executive compensation:
Mr. Absher's new compensation is stated in the offering filing:
As of March 2017, the salary of Mr. Absher is $750,000 per year.
So now that the company is public and can just sell shares to generate cash, that entitles the CEO to triple his annual salary? We don't think that's right. We believe a CEO's salary should be increased upon the accomplishments of the company's business.
The CFO's pay is more reasonable, but we don't know how much compensation in stock options he will receive. From the filing:
We entered into an agreement with Mr. Stephen DeSantis to serve as the Company's CFO effective March 1, 2017. Mr. DeSantis's salary is agreed to be set at $200,000 per year, provided, however, that the Company anticipates increasing Mr. DeSantis' salary over the course of the year. Additional compensation in the form of stock options are anticipated to be awarded in a manner consistent with the plans of the Company to award executive management generally.
Conclusion
Based on the evidence, we have come to the conclusion that PIXY is nothing more than a tiny, struggling staffing company, trying to give the impression that it has cutting-edge technology that will disrupt the industry. We don't believe its technology is disruptive. If it was, then the company would have growing revenues, but its revenues have declined or stayed the same for the past four quarters. We believe that the majority of PIXY investors haven't taken the time to look at the details of the business.
The strongest piece of evidence is the shoddiness of the company's app, and its miniscule amount of downloads. The company claims its technology is what sets it apart from its competition. But in reality, it's only a story that is told to retail investors to buy the stock; this would be congruent with the CEO's actions with the companies he has ran in the past. We believe ShiftPixy will have big quarterly losses with its highly-paid executives and recent New York expansion, and is on its way to massive share dilution and share price depreciation.