As you can see in my summary, I believe that it may be to invest in the yen - since it's undervalued and it can be used to hedge against a correction in the stock market. If you believe bonds will poor future returns that may also be another reason to invest in the yen since the yen tends to appreciate in risk-off periods.
As you can see below, the USD (using Proshares US Dollar ETFs as a proxy - which tracks the dollar compared to other world currencies) has had significant downward momentum since about the beginning of 2017.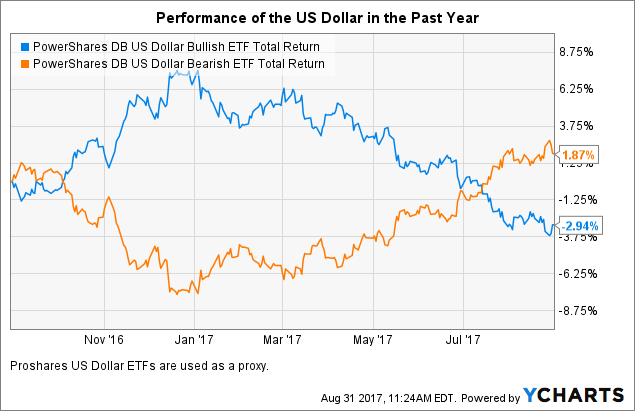 UUP Total Return Price data by YCharts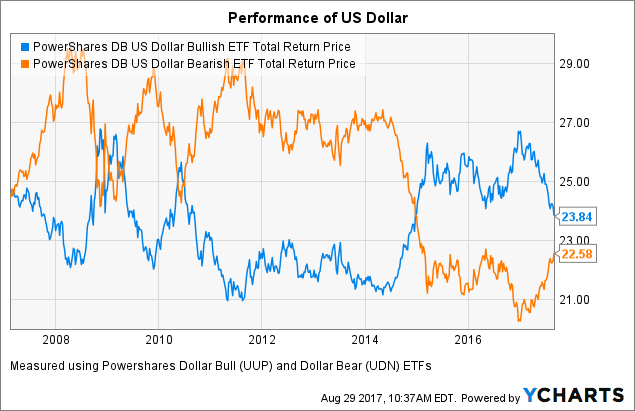 UUP Total Return Price data by YCharts
How have foreign currencies performed?
If you look at the returns of foreign currencies (I've used CurrencyShare's ETFs to chart the total returns of cash including interest - although the expenses may cause some tracking error) in relation to the dollar, you can see that they've offered a wide range of returns, and some have had a high degree of volatility.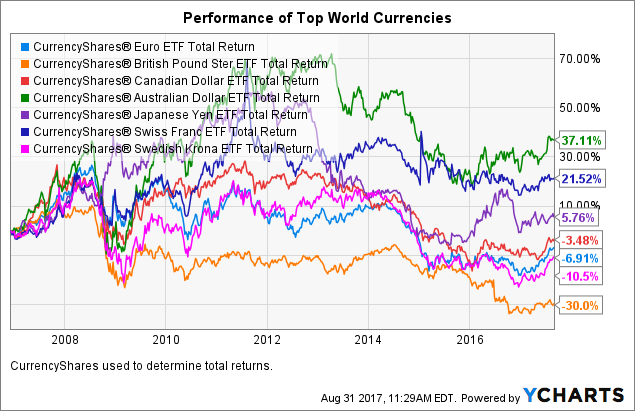 FXE Total Return Price data by YCharts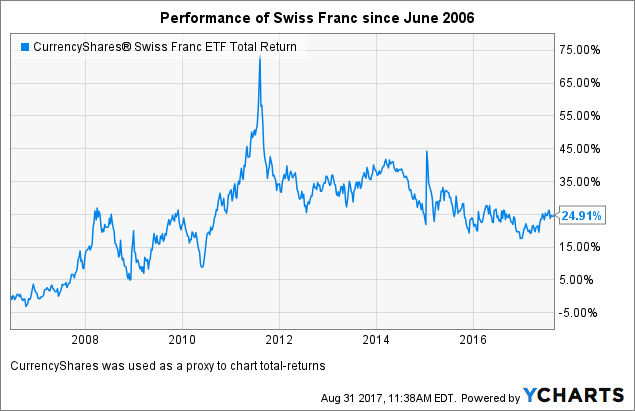 FXF Total Return Price data by YCharts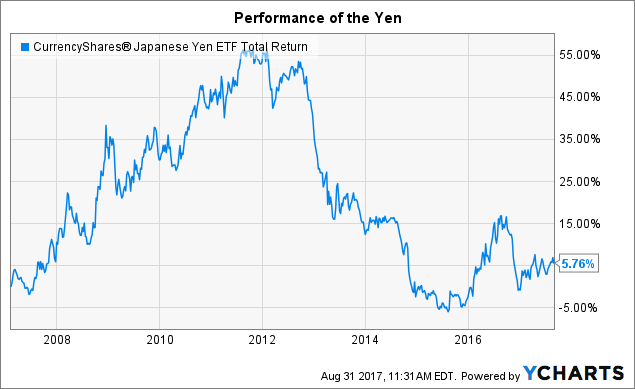 FXY Total Return Price data by YCharts
If you look at the chart above, you'll see that the performance of the yen went up to almost 55% from Feb 2007 to late 2011, and after then it's since heavily declined in value - but it's starting to rebound and may be undervalued.
Some investors may be worried that the market might be headed into a risk-off period. Some currencies are stronger during risk-off periods and are regarded as safe havens. During risk-off periods, the yen (FXY) and the Swiss franc (FXF) on average appreciate against the US dollar - researchers (De Bock and de Carvalho Filho 2013) have found these two currencies to be the only one where that happens.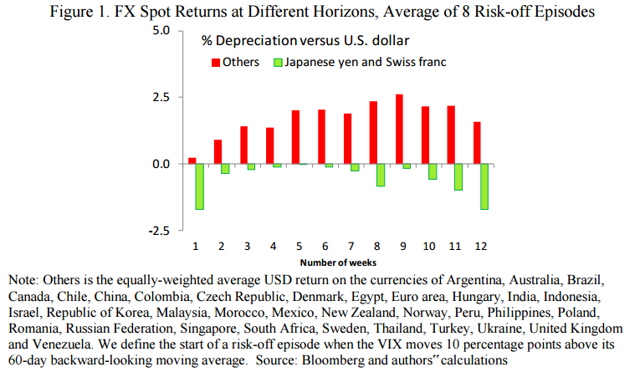 Source: IMF: De Bock 2013
"Using a broad dataset of 32 assets over the period of 1964–2014, we examine the relationship of these assets with the US equity market during financial crises to determine which of them are safe havens for US investors, hedges, or speculations.

US Treasuries and Japanese yen are the strongest safe haven investments in months characterized by large declines in market value or excessive volatility."

Kateryna Anatoliyevna Kopyl, John Byong-Tek Lee (2016) in Financial Markets and Portfolio Management
If you were to value currencies on a PPP basis, the Japanese yen (FXY) is undervalued by -7.07%. This means that not only is the Japanese yen a safe-haven currency, but it means that it's currently undervalued. This is in comparison to the Swiss franc (FXF), the only other safe haven currency, which is overvalued on a PPP basis by 22.64%.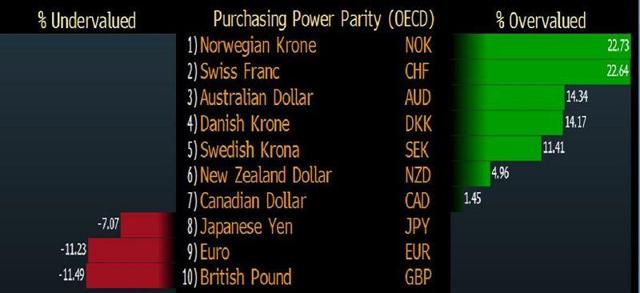 Source: Bloomberg
The yen was still described to be a safe haven currency even after a rocket passed over it by Mitul Kotecha, head of Asia FX & Rates Strategy at Barclays Plc. Some investors may worry that the US equity market may enter into a correction in addition to the decline of the US dollar and bonds. Since the yen tends to appreciate during risk-off periods, it's a perfect candidate for those worried about equity risks and US dollar depreciation.
Even when there was a Tsunami in Japan the yen still appreciated.
Some explanations for a currency to be safe-haven currency that were given by De Bock were:
interest rates - high-interest currencies are unlikely to be safe-havens, as interest rates are often correlated with high inflation. Currency traders usually borrow in low-interest rate currencies to buy high-interest rate currencies during risk-on periods, during risk-off periods they exit out of the high-interest currency (likely a more risky currency) and buy back the low-rate safe-haven currency.
Current account balance - countries with a large deficit are more likely to depreciate in value.

Large positive net foreign asset positions/reserves means it's less likely to have any issues with debt service payments or have any liquidity issues

Japan's net foreign asset position was a record 325 trillion yen ($3.2 trillion). It is the world's largest creditor and has a 1.5x larger position than China, the world's second largest creditor. It has been the world's largest creditor for 23 years in a row. Its holdings of US Treasuries has risen significantly since 2000 as well.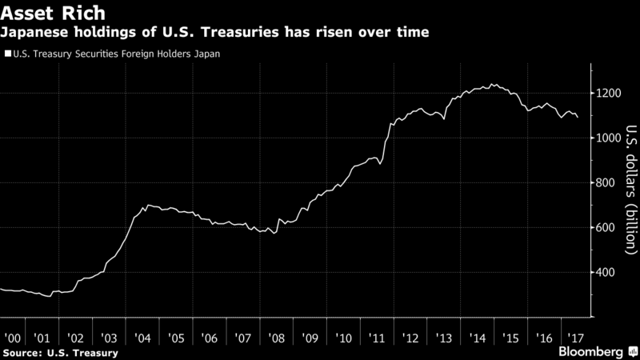 Source: Bloomberg
In conclusion, if you're worried about a cool down coming to the US equity market as well as the decline of the US dollar you may consider investing in a safe haven currency like the yen or the Swiss franc. The yen is currently undervalued on a PPP basis making it a more attractive pick.