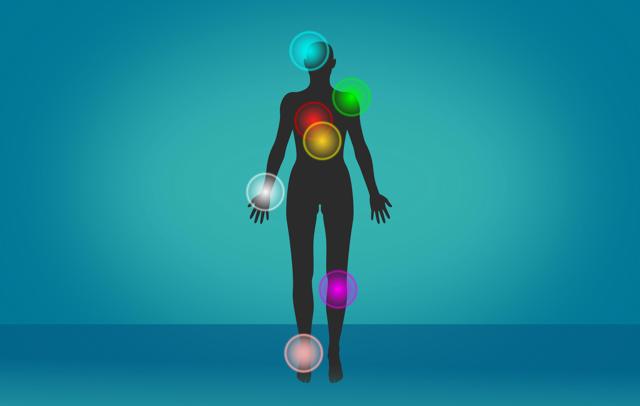 Image author: Jack Moreh. Source: Freerangestock Free Commercial Images
Please skip the intro if you have read my previous articles.
"It's far better to buy a wonderful company at a fair price than a fair company at a wonderful price."

- Warren Buffett
What is a wonderful company, and what is "quality" from an investing standpoint? The most constructive definition to address this question is Warren Buffett's concept of "economic moat", a long-lasting competitive advantage that allows a given company to harvest above-average returns on its capital, even when faced with economic downturns or powerful competitors.
A quality investing strategy should therefore capture the fundamental nature of Buffett's philosophy. Here, our aim is to identify quality stocks - or "compounders" - at reasonable prices by calculating a simple Quality Score based on 11 fundamental factors.
These qualitative and quantitative factors are the ones that (possibly) best define the elusive "quality" dimension of a specific company, according to Buffett and to other investors in "high quality" companies like Charlie Munger, Chuck Akre and Joel Greenblatt. To calculate the Quality Score, we try to answer questions addressing the following aspects:
1. Presence of durable competitive advantages;
2. favorable market dynamics and relative positioning;
3. favorable and defendable market share;
4. capacity to grow and compound value over time;
5. presence of abundant and recurrent sales with low cyclicality;
6. resilience to technological change and to obsolescence;
7. presence of multiple cash flow generators;
8. presence of pricing power;
9. strong cash-generation ability;
10. presence of highly productive assets, as measured by Gross Profits to Assets; and
11. presence of high and persistent Returns on Invested Capital.
To calculate the Quality Score, one (1) point is awarded when the answer is fundamentally positive ("yes"); minus one (-1) point is subtracted when the answer is essentially negative ("no"); no points are added or subtracted (0) when there is too much uncertainty, or when negative and positive factors are essentially in equilibrium. "Quality companies" are the ones with a Quality Score of "6" or above. Let us then calculate the Quality Score for Zimmer Biomet Holdings (NYSE:ZBH).
1) Does Zimmer Biomet have strong and durable competitive advantages over competitors?
Yes: 1 Point
The company's history dates back to the Prohibition, when the Zimmer Manufacturing Company first started producing metallic splints in Warsaw, Indiana. Zimmer was spun off from Bristol-Myers Squibb (NYSE:BMY) and began trading as an independent company in 2001; fourteen years later, it acquired Biomet. The combined entity is now a worldwide leader in musculoskeletal healthcare that enjoys significant competitive advantages arising from multiple sources.
Its strongest competitive advantage is based on the very lofty switching costs imposed on the surgeons using the company's products: these highly specialized professionals require specific instruments and a lengthy training process on how to use a particular product from a given company, and they're unwilling to relearn all that's needed to perform a successful surgery. This fact also creates very tight and long-lived professional relationships between the company's sales reps and the surgeons.
The company also benefits from its deep know-how translated on a plethora of valuable intangible assets, and from a profitable and entrenched position (conveniently protected by barriers to entry) that allows Zimmer Biomet to either acquire smaller rivals or to heavily invest in R&D.
Another advantage arises from Zimmer's size, which results in economies of procurement and scale; besides wielding more influence with stakeholders, larger players can spread costs over wider bases and they also display a greater capacity to implement attractive pricing strategies. Propelled by healthy organic growth and by a series of acquisitions, Zimmer Biomet is now one of the largest standalone orthopedic companies in the world.
2) Does Zimmer Biomet operate within an attractive market?
Yes: 1 Point
The market for medical devices is very attractive: it enjoys very high barriers to entry, it is growing, and it is also "quasi-oligopolistic". Let's break these features into smaller pieces:
Barriers to entry: Players in the industry must always instruct and guide the medical practitioners on new diagnostic and therapeutic procedures, and they must also build up the required infrastructure to implement these procedures. Besides such barriers, there are also significant economic and legal "upstream" hurdles such as tricky approval conditions, lack of reimbursement options and difficulties in attaining adoption by healthcare institutions. Any newcomer to the industry must first demonstrate compelling long-term clinical evidence before seeing their device achieve sustainable acceptance, a costly and protracted process that frequently ends in disappointment. Dominant players like Zimmer can become immovable objects once established.
A growing market: Fuelled by ageing populations in the developed world - and by recently acquired wealth in populous countries like China, Indonesia and India - the medtech industry is poised to see continued growth for many years into the future. As stated by an EvaluateMedTech Preview report, the worldwide medtech market will grow at a CAGR of 4.1% annually through 2020, pushing industry sales to a mammoth USD 477.5 billion.
Some other estimates expect a stable CAGR of 4.6% per annum. This is an attractive, largely non-cyclical arena. Coupled with the rising obesity pandemic, the ageing demographics will also directly benefit Zimmer: for instance, nearly 20% of adults in the United States suffer from knee pain, and about 13% of women and 10% of men aged 60 years and older have symptomatic knee osteoarthritis; also, more than two-thirds of Americans are overweight or obese, a condition that greatly increases the stress on the knees and the (eventual and consequential) need for replacement surgery. On the other side of the health spectrum, athletic participation trends are also on the rise both in developed and in developing nations, a societal phenomenon that will equally contribute to a steady stream of knee injuries and other traumatic events. The incidence of hip fractures (a frequent and severe cause of death and morbidity among the elderly) will also rise in absolute terms; assuming no changes in the sex and age-specific incidence, the amount of hip fractures is estimated to reach 2.6 million per year by the year 2025 (and 4.5 million by 2050), a trend that will undoubtedly generate a massive and growing market for Zimmer's hip implants.
Quasi-oligopolistic market: Some of ZBH's markets resemble rational oligopolies. That's the case regarding the USD 30 billion global orthopedic devices market, an arena where only five large firms dominate approximately 60% of the share; the reality that there are only a few leading companies in an area focused on a highly prevalent phenomenon (musculoskeletal conditions) is a demonstration to the lack of truly attritional competition between players. The Big Five wield their might across the whole commercialization chain. Of course, within a capitalist system there's always competition; however, the mergers and acquisitions of the last few years have probably bettered the industry's already attractive Herfindahl-Hirschman Index (data from 2012 point to a HHI figure around 0.08, revealing an "unconcentrated" industry).
3) Is Zimmer Biomet a dominant company within its markets?
Yes: 1 Point
With roughly 40% market share, Zimmer Biomet is the global leader in knee prostheses. Dominating approximately one-third of the market, the company is also one of the top players in hip joint replacement together with Johnson & Johnson (NYSE:JNJ). On the whole, Zimmer commands 15% of the overall orthopedic market, only behind JNJ but slightly ahead of Stryker (NYSE:SYK). Smith & Nephew (NYSE:SNN) and Medtronic (NYSE:MDT) arrive next, with 7% and 6% of this market, respectively.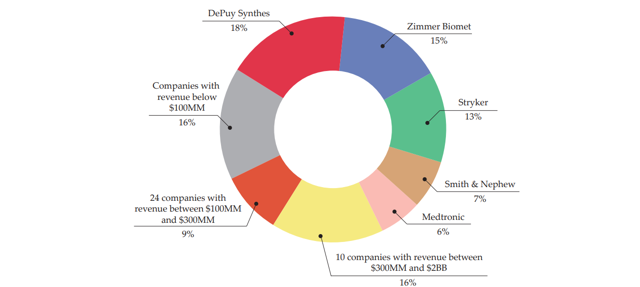 Total Market Share: Largest Players and All Others. Source: The Orthopaedic Industry Annual Report from Orthoworld
As stated by The Orthopaedic Industry Annual Report, Zimmer and Stryker seem to be slowly capturing share from JNJ's DePuy Synthes division, despite some (apparently transient but relevant) hiccups caused by the integration with Biomet: Zimmer's recall of the Persona Trabecular Metal Tibial Plate, a total knee replacement device, opened the gates for other strong contenders to grab market share. However, it is still very difficult to extricate a medtech player from its acquired position once it gets established across the therapeutic workflow. On the other hand, surgeon's influence is slowly waning over time as they adhere to larger healthcare organizations: Zimmer will have to inevitably crank up its operational efforts in order to retain its large pool of practitioners.
Above: Sales Performance - The Top Five Companies in Orthopedic Devices. Source: The Orthopaedic Industry Annual Report from Orthoworld
Despite its sizable SETS (Sports Medicine, Surgical, Extremities, Trauma, Biologics and Foot & Ankle) business, ZBH only controls about 10% of the general trauma market. But the company commands a more respectable 20% of the extremities market. Zimmer also expanded its Spine portfolio when it acquired Austin, Texas-based LDR Holding in 2016. The acquisition solidified the company's position in the USD 10 billion spine market and is expected to improve its standing in cervical disc replacement procedures.
4) Does Zimmer Biomet have a clear runway to grow and compound value over an extended time frame?
Yes: 1 Point
As seen above, medtech companies will benefit from solid demand in the decades ahead by riding a trend that will probably counterbalance future price declines across the industry. These predictable deflationary forces will be generated by the single vendor relationship models through which healthcare providers expect to cut costs and promote value-based services. Zimmer's two main growth drivers will be (obviously) its unremitting investments in R&D and the acquisition of promising companies or technologies. The company also intends to unlock the operational and commercial synergies brought about by the previous acquisitions, and to foster cross-selling opportunities - a deed that should be feasible since Biomet's portfolio was quite complementary to Zimmer's. Its net operating synergies are expected to reach a minimum of USD 350 million (pre-tax) by the end of the third year post merger.
Zimmer Biomet's Growth Drivers | Acquisition of Promising Technologies
Acquisitions in this highly differentiated, fast-paced industry became a strategic imperative to larger companies like Zimmer - in reality, rolling out novel devices across distinct therapeutic fields is the only reasonable strategy to maintain relevance with a focus on the longer term. There's a race to gain scale fast and ensure market share gains. Despite the attrition, levelheaded acquisitions are a sensible way to drive value creation and to use the ample free cash flow generated by the company. Notably, Zimmer still remains committed to generate USD 2 billion in annual free cash flow by 2020.
The firm uses acquisitions to realize portfolio diversification to take the edge off competition and to expand its R&D capabilities. Obtaining nascent technologies through acquisitions is often less time-consuming than developing a new device from scratch, but it comes bundled with the unavoidable integration risks. However, the acquirer also gets new customer relationships and new geographies to settle. Zimmer Biomet was very active throughout the last few years with the purchase of LDR Holding, RespondWell, CD Diagnostics, Cayenne Medical (which brought a portfolio of advanced soft tissue solutions to address the all-important sports medicine market) and Medtech SA.
The acquisition of France-based Medtech SA allowed Zimmer to finally enter the robotics surgery arena, a field where Intuitive Surgical (NASDAQ:ISRG) is still the undisputed king. Robotic surgeries (a fast-growing market) was responsible for nearly 100,000 procedures worldwide in 2016 alone. Medtronic and Stryker are also making moves into this promising space. The acquisition brought with it a flexible robotics platform used for minimally invasive surgeries of the brain, nervous system and spine. Zimmer now intends to use this same platform to amplify and develop additional applications across different anatomical regions.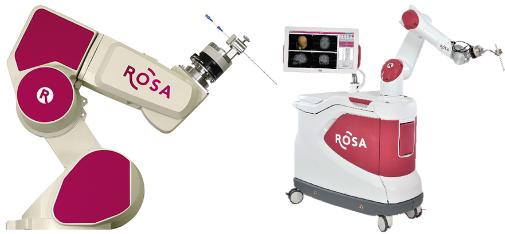 The ROSA robot developed by Medtech SA. Source: Medtech SA
On the other hand, CD Diagnostics is a company focused on biomarker testing and immunoassays designed to better inform therapeutic decisions and reduce complications, namely periprosthetic joint infections (PJIs), one of the most destructive and costly complications following total joint arthroplasty (TJA). The diagnosis and management of PJI is quite challenging for practitioners; these common infections are also a huge burden for patients and for just about every healthcare system in the world.
With the Synovasure Periprosthetic Joint Infection test, Zimmer (which partnered with CD Diagnostics to develop and market this test) aims to create value by tackling these highly problematic outcomes, and at the same time ensure that surgeries using the company's devices are carried out successfully. The addressable market is massive and, crucially for potential sales, the Synovasure is the first and only test specifically designed and validated for the diagnosis of PJI.
Total Hip Arthroplasty (THA) radiographic images. Procedures such as these can be severely affected by Periprosthetic Joint Infections. Source: The Cleveland Clinic
Zimmer Biomet's Growth Drivers | Value-Based Services
Nowadays, medtech companies need to demonstrate real economic and clinical added-value. In fact, healthcare reimbursement is now a function of clinical and economic outcomes; this new value-based paradigm also contemplates patient outcomes from the moment of the surgery, all the way through discharge, and also during the rehabilitation period. To address this necessity, Zimmer has acquired RespondWell, a telerehabilitation platform that will be embedded into the company's Signature Solutions portfolio. This novel approach will enable healthcare facilities to offer differentiated and individualized care through a suite of products and services (that include analytic tools) in order to capture value across the continuum of care. Zimmer's Signature Solutions intends to become a wide-ranging offering designed to assist organizations both large and small in today's more demanding context.
Zimmer Biomet's Growth Drivers | Innovative Tailored Products
But Zimmer is not relying solely on services and acquisitions to foster growth. Over the decades, the company has launched a large number of organically developed products; however, along this front, the company is lagging both Stryker and Medtronic. During the last 10 years, on average, Zimmer only invested approximately 4.8% of total sales in R&D, a more modest figure than Stryker's 5.8% or Medtronic's 8.8%. Granted, many of Medtronic's products are even more complex than both Stryker's and Zimmer's.
Despite that gap in R&D spending, the company was able to roll out 50 new products in 2016 alone. Zimmer's design philosophy is to develop devices capable of shortening hospital stays, of reducing morbidity, and also of promoting speedier recovery periods. One of the innovative products launched recently is the PrimaGen Advanced Allograft, a product that's now part of Zimmer's Spine portfolio. An "allograft" is a tissue graft (of bone, for instance) from a donor to a recipient of the same species. By contrast, an "autograft" is a graft that is transferred from one anatomical area to another area of the same individual's body. According to Zimmer, the PrimaGen offers the same bone-healing properties as an autograft but with a lessened risk of co-morbidity. This allograft also exhibits better handling and delivery characteristics.
Zimmer also rolled out the Comprehensive Vault Reconstruction System (or VRS), which is the first patient-matched glenoid implant. "Glenoid" is the bone cavity where the humeral head connects with the scapula, forming the shoulder joint. According to the company, the VRS "is cleared to specifically treat patients with a severely deficient rotator cuff and extensive bone loss which precludes the use of a standard glenoid baseplate. The VRS uses CT imaging and advanced 3D reconstruction techniques to allow surgeons to personalize each patient's implant." Pointing the future, this promising product is an important step toward effective tailored therapies.
Comprehensive Vault Reconstruction System. Source: Zimmer Biomet
Strengthening such customized approach, the company's novel OsseoTi Porous Technology (launched in 2015) also uses CT data intertwined with 3D printing technology to build a structure that emulates the inner architecture of human bone. According to the company, the technology generates "a single porous architecture that allows the creation of complex shapes, while maintaining the consistent porosity and strength necessary to facilitate bone and tissue in growth and implant stability." The technology is used in total hip arthroplasty procedures. The company enhanced three successful hip systems with the addition to the portfolio of the Echo Bi-Metric Microplasty Stem, the G7 Dual Mobility Construct and the Arcos One-Piece Revision System.
Zimmer aims to diversify its portfolio and reinforce its leading position across the hip and knee spaces. With that purpose in mind, the firm also launched the Vanguard Individualized Design (ID) Knee Replacement, a total knee replacement solution that will enable surgeons to tweak the balance of ligaments with simplified soft tissue preservation, as well as achieve a personalized fit with knee bearing options. Provided there's no damaging recalls, the tailored products mentioned above should solidify Zimmer's status as the musculoskeletal leader in the large joint arena.
5) Does Zimmer Biomet rely on a large amount of recurrent sales of relatively small unitary value?
No: -1 Points
Zimmer Biomet is in a tendentiously non-cyclical business: it is clear that many patients cannot postpone their surgical interventions even during the harshest of economic downturns. However, the company is also quite dependent on prostheses and costly procedures that - despite improving dramatically the patient's quality of life - are not always strictly necessary to keep someone alive (albeit not thriving).
For instance, surgical interventions of the knee are often somewhat discretionary in nature, and those are not performed until all the other non-invasive clinical interventions are exhausted. Such interventions are also deemed "elective", meaning that they're scheduled well in advance within a non-emergency medical context. Nowadays, in their relentless effort to reduce costs, insurers are applying much narrower sets of criteria on what interventions are covered, and on their clinical validity or frequency.
For better or worse, Zimmer has remained faithful to its large joint business. Such strategy allowed the company to secure its preeminence in the core franchises (knees and hips) at the expense of extremities and trauma, which are faster-growing areas. Both Stryker and Johnson & Johnson took advantage of this evolving dynamic. The financial crisis and its fallout have demonstrated the weaknesses in Zimmer's approach, given that the market for elective knee and hip surgeries has suffered a marked deceleration. Compared to its peers, Zimmer's sales are therefore more sensitive to the economic cycle and are not (definitely) of small unitary value: companies like Becton Dickinson (NYSE:BDX), or even Medtronic, are much more reliant on consumables than Zimmer.
6) Is Zimmer easily adaptable and resilient to technological disruption or obsolescence?
Neutral: 0 Points
Advancements in the medtech arena are mainly evolutionary, not revolutionary (and even more so in the orthopedic space). Such evolutionary path results in an uneven balance in market access conditions between incremental improvement and breakthrough technologies, which decreases both the impact of technological advancement and the regulatory risks that surround the introduction of new products.
Zimmer is poised to benefit from this phenomenon, but it still needs to contend with medtech's typically short product cycles - located at the cutting edge of science, this industry is locked in a constant arms race as every player strives to offer the best and most effective therapies for the cost incurred. Moreover, the medtech arena is not at all immune to the forces shaping today's healthcare, which include mounting tendencies like the so-called "evidence-based medicine" (an approach to medical practice designed to optimize decision-making by emphasizing the use of proven clinical evidence), the value-based approach, or even the ongoing consumer empowerment (increasingly engaged patients are now better informed about clinical added-value).
Therefore, to maintain the status quo, Zimmer must strike a delicate balance between technological development and cost-effectiveness. The company also needs to avoid self-inflicted injuries, like product recalls or unbridled litigation. But, when considering the whole healthcare industry, orthopedic device makers are certainly less subjected to technological disruption than cardiac device makers - like Medtronic or Boston Scientific (NYSE:BSX) - or than biotech companies or other drug manufacturers.
When looking at a given patient with a given clinical condition, one can say (albeit in a very simplistic and broad manner) that there is a spectrum of increasing sensitivity to tech disruption between gross anatomy on one side and subtle physiology on the other. Broadly speaking, products that are dedicated to solve anatomical problems are less prone to technological disruption or obsolescence than products - like immuno-oncology drugs - dedicated to solve multifaceted (and sometimes ill-understood) pathophysiological problems. A couple of extreme and contrasting examples: the humble hypodermic needle has maintained its basic design since 1853, but the latest oncology drug or fancy electrophysiological device can suddenly be rendered obsolete in a matter of years or even months. Accomplishing truly disruptive innovation in orthopedic devices will continue to be very challenging for the reasons mentioned above, a fact that will (most probably) benefit Zimmer when faced with capitalism's creative destruction.
7) Is Zimmer Biomet a diversified company with multiple cash flow generators?
Neutral: 0 Points
Zimmer owns one of the largest and most differentiated product portfolios within medtech. That said, there's a glaring dichotomy between product categories because the company is still highly dependent on knee (36% of sales in 2016) and hip (24% of sales) products; the Spine and CMF (Craniomaxillofacial and Thoracic) category only accounts for 9% of sales, whereas Dental and "Other", which includes bone cement and office-based technologies, are responsible for 10% of sales.
Portfolio shifts among selected medtechs. It is clear that ZBH is less diversified than its closest competitors. Source: Pulse of the Industry - Medical Technology Report 2016, EY Global Life Sciences
In contrast to Stryker, during the last decade, the company did not make significant inroads into areas other than large joints. As a result, Stryker became a more diversified company, and one that was able to sail more smoothly during the Great Financial Crisis. However, the growing S.E.T. category (Sports Medicine, Surgical, Extremities, Trauma, Biologics and Foot & Ankle) now accounts for 21% of sales, an evolving figure that will likely contribute to a more well-balanced portfolio in the years ahead.
Source: Zimmer Biomet
The company also gathered the largest number of orthopedic practitioners using its products, a notorious advantage in a sector where market share shifts like your average tectonic plate. By geography, the bulk of Zimmer's sales also derives disproportionally from the Americas (62%); Europe accounts for 23% of sales, and Asia Pacific for only 15% of total sales. Within the latter, Japan is responsible for an unbalanced 44% of sales; however, having reported year-over-year (2015-2016) sales growth of 22% and 25%, respectively, Zimmer seems to be making strides both in Asia Pacific and in Europe.
8) Does Zimmer exhibit a high degree of pricing power?
Yes: 1 Point
High switching costs, overwhelming barriers to entry, and a dominant position in the orthopedic market have all afforded Zimmer a fair degree of pricing power (or "market power"). A subtle concept, a company's market power must be estimated through market share, returns on capital and gross margins.* Zimmer is a leading medtech player that historically has maintained high returns on capital; hovering around a juicy 74% during the last 10 years of activity, the company's gross margins also reflect Zimmer's market power.
In general, margins are very succulent amongst the most dominant players in the industry and Zimmer is no exception to this rule. However, the company's gross margins reached a nadir of about 69% in 2016 and have been gradually declining since 2007. In conjunction with the wear and tear caused by Zimmer's M&A activity, that's probably a manifestation of the growing emphasis healthcare organizations are placing on cost effectiveness. During the first quarter of 2017, gross margins were certainly affected by such deflationary pressures; generated by logistic issues, larger transport expenses, and M&A assimilation difficulties, Zimmer's SG&A also rose slightly.
Margin erosion is also affecting peers Stryker and Medtronic (both are very acquisitive companies), but seems to be sparing Smith & Nephew and Wright Medical (NASDAQ:WMGI) (which have been much quieter regarding large acquisitions). However, Zimmer's margins are expected to improve in the next few years as the company works with the FDA to fix manufacturing and regulatory issues.
The company was also affected by recalls and nagging supply-side problems, and it is now investing about USD 170 million to improve its supply chain. These operational and regulatory troubles should be solved in the medium term, but investors should probably monitor whether or not there's an escalation of the problems with the FDA.
*That's because market power is the ability of a company to lift prices over marginal cost - without losing market share - while maintaining intra-industry high returns on invested capital. The problem with assessing market power (via the Lerner Index, for instance) is that it is almost impossible to collect reliable, upfront information on prices and on costs.
9) Is Zimmer Biomet a very cash-generative business?
Yes: 1 Point
Cash is king, of course, and companies that deliver more of their earnings in cash should be rated more favorably (all else being equal).
Free Cash Flow to Sales: Zimmer's current FCF/Sales ratio is 14.8%, a figure that translates a very healthy conversion of sales into free cash flow; on average, this figure has been around the 16.3% mark in the last 10 years of activity. From a Quality Investing standpoint, the minimum threshold is 5%.
Cash Conversion Rate: Zimmer's CCR - as measured by Free Cash Flow/Net Income - averaged 105% from 2007 to 2015. This is a very healthy conversion rate by any account, and it probably means that Zimmer is able to retain cash before paying for expenses to suppliers and other third-parties. By this metric, Zimmer is in fact a very cash-generative business.
Free Cash Flow Generation: Zimmer has always been FCF-positive during the last 10 years of activity; however, it was substantially more impacted by the Great Financial Crisis than rivals Stryker, JNJ, Medtronic and Smith & Nephew (Wright Medical reported negative free cash flow during the period, though). In 2016, cash reserves at Zimmer fell by USD 825 million; on the other hand, the company produced USD 1.63 billion from its operations, resulting in a healthy Cash Flow Margin of 21.24%. The company also deployed USD 1.7 billion on investing activities, and paid approximately USD 743 million in financing cash flows. In 2016, Zimmer increased net income by 108% (from USD 147 to USD 310 million) mainly through revenue growth (from USD 6 billion to about 7.7 billion). The 28% growth in revenues was enough to offset a substantive growth in debt and SG&A. The latest quarter saw revenue increasing by 1.1% while organic revenue remained fundamentally flat year over year.
Dividends: Besides reducing its debt burden, the company intends to keep delivering dividend growth in the high single digits. In 2016, the company reported a dividend of USD 0.96 per share (a 0.9% yield translated in a payout ratio of 27.11%), representing a 9.09% increase over the previous year. For 2018, the consensus points toward a dividend of USD 1.04 per share. The company pays a dividend since 2012.
10) Is Zimmer a highly productive company relative to its total assets?
Neutral: 0 Points
As a very general rule, quality companies are those with assets less than three times total gross profits (without being dogmatic here, this ratio can be a pretty good pointer of quality). There's no hard-and-fast rule, but the calculation should be made both with and without goodwill just to make sure the firm is not overpaying for acquisitions over time. In Zimmer's case, the company has not taken goodwill write-downs (a very reassuring fact considering its M&A flurry). On average, goodwill was responsible for about one-third (34%) of Zimmer's total assets throughout the last decade.
Gross profits scaled by total assets have hovered in the mid-thirties percentage range during the last decade. Without goodwill, the ratio has averaged 52.7% throughout the same period. By this parameter, Zimmer has only been moderately productive at leveraging its assets when goodwill is included; lately, Zimmer's ratio has been penalized by the acquisition of Biomet, which resulted in a precipitous drop during 2015. The megadeal brought a large amount of assets that are not yet producing the intended profits, mimicking the situation faced by Becton Dickinson (following the acquisition of CareFusion) and Medtronic (after the deal with Covidien). It is encouraging to note that the Gross Profits to Assets ratio improved since the acquisition, though. Nowadays, the most productive company within the medtech landscape is Edwards Lifesciences (NYSE:EW), but this specialist in heart valves owns a much narrower portfolio and it is not as acquisitive as the larger players.
11) Has Zimmer maintained high Returns On Invested Capital for the last 10 years?
No: -1 Point
Capital allocation at Zimmer has been barely accretive to long-term value creation. Management effectiveness could have been much better. However, just like any other large player in the medtech arena, Zimmer is being forced to acquire a steady stream of smaller companies in order to stay competitive in this rapidly consolidating sector. Such acquisitions are decretive to returns since they need further investments until the roll out phase of new products. Not surprisingly, tuck-in acquisitions have been faster at creating value for shareholders.
Zimmer's ROIC averaged 9.61% in the last 10 years of activity, a figure that reflects its acquisitive penchant; subtracting goodwill from the calculation only yields an average ROIC of 13.4% - a barely respectable figure. Much higher returns on capital are not expected within the next five years because it is going to take a long time for Zimmer to reap the benefits of all the latest consolidation. Consolidating forces in the industry are generating below-average ROICs, but this trend will surely revert in the next few years. (Weighted Average Cost of Capital was estimated at around 8.0-9.0% for the period).
Valuation and Conclusion
Relative Valuation: Zimmer is now trading below its five-year average and below the industry's average values as well. The market seems pessimistic but, having made significant strategic changes, the company's long-term perspectives are now possibly brighter - not darker - than they were in the recent past (provided execution remains on track).
Yes, its P/E looks inflated, but the forwarding looking P/E ratio is only 13.7, well below the S&P 500 estimation. Currently, it is trading at a premium to the S&P 500, though.
Absolute valuation: Zimmer's free cash flow generation increased by 46% from 2007 to 2016; revenues have grown by approximately 97% in the same period. But the cash flows have been a bit lumpy, reflecting both the detrimental effect of the Great Financial Crisis and Zimmer's acquisitive drive: the sample's standard deviation reaches a value of 220 dispersed around an average of 760 (expressed as millions of US dollars).
Zimmer Biomet: Free Cash Flow in millions from 2007 to 2016 (years 0 to 9)
These are fairly variable cash flows that will possibly become steadier during the next five years, as the company further integrates and synergizes, and as the volume of surgeries increases - it is reasonable to assume that Zimmer won't find another Biomet-sized target, and that Baby Boomers will provide a stable tailwind as they reach the age for elective surgery (and for both primary and revision surgeries).
At the beginning of this decade, the prevalence of total knee and total hip replacement in the US population was 1.52% and 0.83%, respectively. This prevalence was higher among women than among men and increased with age: it reached 5.3% for total hip replacement and 10.4% for total knee replacement at 80 years of age.
Importantly for Zimmer's perspectives, secular trends point toward a rise in the prevalence over time of large joint surgery and a shift to a younger age - of course, for valuation purposes, this rise cannot be precisely assessed but, using industry estimates, Zimmer's annual sales growth should fall between 6% and 8% through 2022.
Source: EvaluateMedTech
The volume of employed implants should also improve by 3-5%, with the increase in volumes probably counteracting a low-single-digit annual decline in prices. The valuation must also consider a cost of equity between 8.5% and 9.5%, and the USD 350 million in net EBIT synergies, provided Zimmer's stays on course. Operating income and operating margins will possibly perk up by 8-10% and by 2-3%, respectively. With all the current geopolitical and economic instability (Brexit, China, Russia, Brazil, deleveraging in Southern Europe, Kim Jong-un playing with missiles over Japan), it's safer to assume that foreign exchange issues won't abate anytime soon. The discount rate was set between 9% and 11%. For Zimmer, the valuation model results in a present-day fair value estimate range between USD 115 and 135. There's seems to be some upside, but there's also an inordinate amount of uncertainty - industry forecasts are glowing, but the devil is in the details regarding Zimmer's performance.
Considerations on Financial Health: In order to keep improving its credit rating, Zimmer has now paid USD 1.5 billion in debt incurred with acquisitions and - according to statements - is making progress toward realizing a gross debt-to-adjusted EBITDA ratio of 2.5 by the end of 2018. The company now has a total debt/total equity ratio of 1.04, and a total debt/total capital ratio of 0.51. These are not scintillating numbers at all, but debt should still be manageable: Zimmer sports a strong Piotroski F-score of "7" (one of the highest among its peer group) that was only penalized by a year-over-year worsening in working capital and by a larger number of shares currently in issue. However, the company needs to tread very carefully because it also exhibits a poor Altman Z-score of "1.79", which sits right on the borderline where bankruptcy becomes a possibility. To compound the worries, Moody's (NYSE:MCO) also judged Zimmer's share buyback program as credit negative and reiterated its Baa3 ratings on the company.
Considerations on Downside Risks: First of all, the company needs to improve its standing before the FDA; the process may take many months to conclude and there's no assurance that it will be fully addressed. Down the road, Zimmer must also cope with the slowly changing healthcare paradigm - any more missteps and unforced errors, and the company will be trampled by both Medtronic and Stryker. Zimmer must look at Boston Scientific as a case in point: after a string of mismanagement practices and M&A errors, this supposedly robust stalwart (as one of the Big Three in cardiac devices) suffered a few devastating blows from Medtronic and Abbott (NYSE:ABT)/St. Jude (NYSE:STJ). After acquiring Guidant, Boston Scientific was plagued by warning letters issued by the FDA, by product recalls, and by an ungainly debt burden. With its competitive forces drained, the company found itself unable to innovate meaningfully and powerless to acquire promising companies. From 2005 to the present day, an investor in Boston Scientific would see a CAGR of -2.27%. Unfortunately, investors can draw many parallelisms between Zimmer and Boston Scientific. In fact, from 2005 to 2017, Zimmer only returned a CAGR of 3.77% against the S&P 500's CAGR of 7.94%.
Boston Scientific's dismal performance against the Vanguard 500 Index Fund (2005-2017)
Conclusion: At the crossroads of key demographical and epidemiological trends, the medtech industry will undoubtedly generate great riches. Zimmer is a major player within this structurally advantaged industry - a growing industry which is extremely hard to invade and settle, but where the foremost players occupy almost insurmountable vantage points. There's no Amazon (NASDAQ:AMZN), Salesforce (NYSE:CRM) or Uber (Private:UBER) coming down the pike to disrupt their business. But there are powerful competitors looming nearby.
With reason, concerned investors might find Zimmer exasperating and there's in fact good reasons to think that the company's performance will remain sluggish in the medium term. Just like with Medtronic, investors might arrive too soon to the party (but Medtronic probably remains a much better investment). Management's dull forecasts reinforce this assumption: there are regulatory risks at play, as well as deflationary forces, supply issues, macroeconomic worries and unfavorable currency gyrations. And the firm is still battling a slump in the large joint front amid the departure of long-time CEO David Dvorak.
The company must improve capital allocation, must do a better job at producing, selling and distributing its products, and it must generate more profits from its enviable assets. In the end, Zimmer is probably undervalued but it is not a definitive "buy" - it's a "hold". The Quality Investing score for Zimmer is 5 out of 11, failing as an investment of the highest quality. For all its current troubles and missteps, investors must realize that Zimmer still retains the potential to compound and generate sustained value. But it is not there quite yet.
Disclosure: I am/we are long MDT, EW.
I wrote this article myself, and it expresses my own opinions. I am not receiving compensation for it (other than from Seeking Alpha). I have no business relationship with any company whose stock is mentioned in this article.