An old stock market saying is "the bull market climbs a wall of worry." I think the same thing can be said for memory chip pricing. Doomsayers have tried to indicate that a memory price slump is upon us or is right around the corner. I believe the August year-end earnings that will be announced by Micron Technology (NASDAQ:MU) on September 26, and perhaps pre-announced at an investor conference on September 6, will prove otherwise. Micron and other memory vendors should enjoy at least another quarter or two of stable to upward trending memory pricing.
What are memory chip buyers saying? For any who have joined this party late, the major memory buyers are squealing over memory price steadiness. They had become complacent about annual decreases in memory pricing. Here's Apple (AAPL) on their August 1 earnings call:
We also have a more difficult memory pricing environment this year than a year ago.
And here's Hewlett Packard Enterprises (HPE), which has made memory mentions a regular feature of calls as they hook up 128 terabytes of memory to a prototype of The Machine:
There's a component of that that's one-time cost and then you have the operational headwinds, which is primarily the commodities cost increases. Again, most of that is memory. So that has a heavy impact on the server margin.
And here's Cisco (CSCO) with an earnings call littered with references to how memory pricing has affected their margins:
While our total gross margin was solid, our product gross margin is continuing to be negatively impacted by memory pricing which we expect to continue in the near term.
Based on this sampling of large customers, I would say that analysts and pundits who are saying memory prices are dropping, or are about to drop, are engaged in fake news.
So what are spot prices doing? Readers are aware that I have a "screen scraper," which pulls nightly memory chip pricing from a number of online sources. Last night, for the first time since July 17, all individual chip prices and the DXI index were flat to green. There were no cells with a red background indicating a nightly decline. And despite the previous investor relations regime at Micron instructions that we should ignore the spot price, I believe spot has an interesting correlation with Micron's stock price.
Here's DRAMeXchange's DXI index vs. Micron's stock price: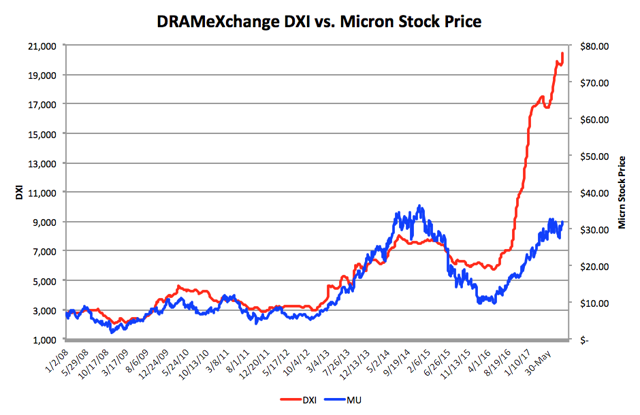 Here's the average of the six DRAM chip prices reported by DRAMeXchange vs. Micron's stock price: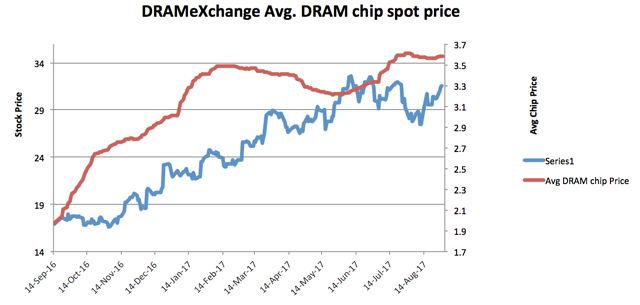 And here are the three NAND average chip prices vs. Micron's stock price: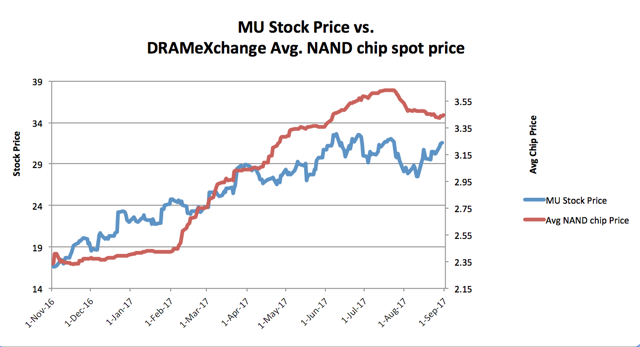 And what about chip contract prices? Of course, it's not the spot prices that most large memory chip buyers pay. Contract prices are reported on a monthly basis by a number of services, and those are a lot closer to reflecting the revenue trends Micron and its competition are seeing.
Here are a couple of charts by Bernstein showing the spot vs. contract pricing trends: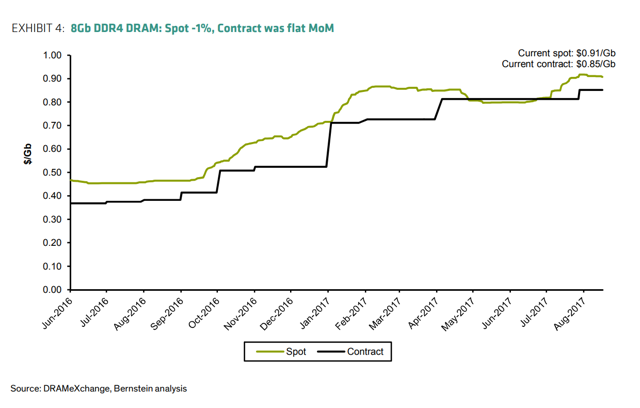 Conclusions: Micron is going to report another barn-burner quarter on September 26, and should have another strong quarter's guidance for us.
My model is showing well in excess of $2 in EPS for 4Q of 2017 vs. guidance centered on $1.80. Since a significant beat seems in the cards, I would expect Micron CFO Ernie Maddock to pre-release some broad outlines at the Citi conference on September 6. I was at that conference last year when Ernie pre-released and my jaw dropped not only at the number but at Micron's new transparency. Hopefully, I will find time to dust off my model and write another article on that. Good luck to all!