Welcome to the August 2017 edition of Electric Vehicle (EV) company news.
Global electric car sales as of end July 2017
Global electric car sales finished July 2017 with over 88,000 sales for the month, up 43% on July 2016. Of note, 64% of all global electric car sales in 2017 are pure electric.
China electric car sales were 44,700 in July 2017, up 37% on July 2016. Electric car market share in China is currently at 1.6%.
Current subsidies in China were reduced by 20% in 2017 and will be reduced by 40% in 2019 and 100% by 2021. A Zero Emission Vehicle (ZEV) credit system in China is expected to be introduced very soon.
Europe performed well with 19,600 electric cars sold in July 2017, 41% higher than in July 2016. Europe electric car market share is currently at 1.6%.
US electric car sales were 15,607 for July 2017. US electric car market share is currently at 1.1%.
Note: An acknowledgement to Jose Pontes of EV Sales and EV Volumes for his excellent work compiling all the electric car sales quoted above.
Global EV sales by manufacturer to end July 2017 and YTD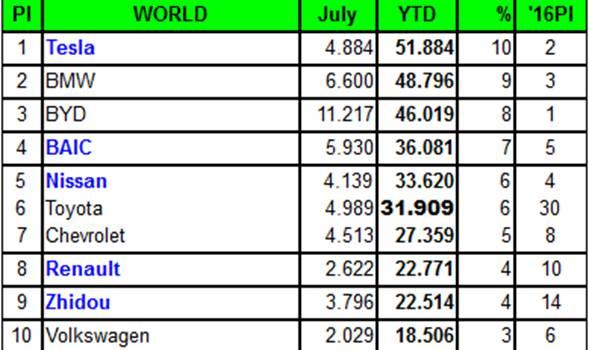 Source: EVSales
EV growth forecasts - 31% CAGR to 2020, then 46% CAGR to 2025

The graph below shows EV growth rates are forecast to increase and follow an "S" curve pattern. Once electric car prices are about the same as ICE cars, and there are around 200 electric car models (around 2020), the growth rate is forecast by UBS to increase at a CAGR of 46% from 2020 to 2025. China and Europe are expected to lead the way.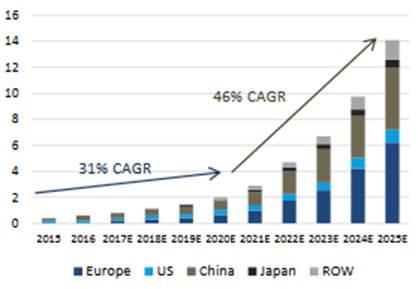 Source: UBS
Note: The left column is electric car sales millions pa.
Comparison to the above EV penetration forecasts
| | | |
| --- | --- | --- |
| | 2020 | 2025 |
| Matt Bohlsen | 5% | 20% |
| Goldman Sachs | | 22% |
| UBS | 2% | 14% |
EV market news for August 2017
On August 1, Kirill Klip, International Lithium CEO, wrote a great blog, "Lithium Race At IMF: "Electric Cars Can Replace Motor Vehicles In The Next 10 To 25 Years." A worthy read.
On August 3, Epoch Times wrote a good article titled "Hitching a Ride on the Electric Vehicle Revolution." A key quote was:
Faced with increasingly strict emissions standards, the entire auto industry is going electric. Top automakers such as Volkswagen, Ford, and Toyota have invested heavily in EV and battery technologies. Volvo announced last month that all of its new models would have electric motors beginning in 2019. Even Bugatti, manufacturer of the world's fastest production car, admitted to Autocar magazine last month that its next vehicle would have to be a hybrid. Governments are also mandating the change. On July 25, the United Kingdom announced a ban on the sale of new gasoline and diesel vehicles beginning in 2040, a few weeks after France enacted similar measures. By 2020, there could be between 9 million and 20 million EVs deployed.
Below is a nice graph from the above article:
Expected growth of electric vehicles - Roskill and UBS estimates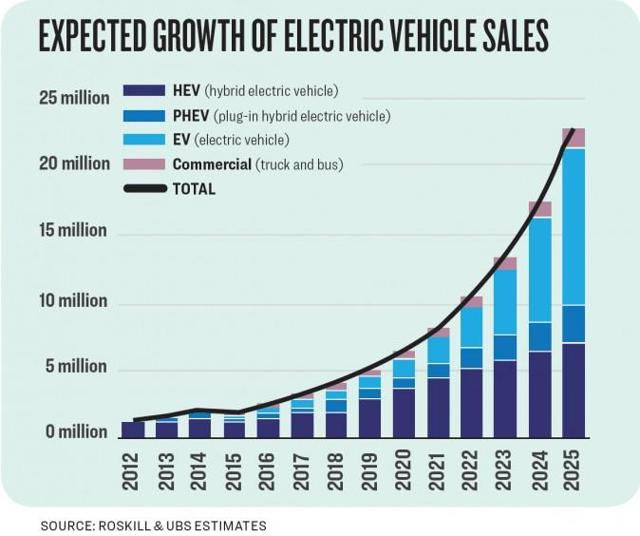 Note: I am not yet sure if the above chart is new sales each year or cumulative electric vehicles on the road.
On August 3, Bloomberg Technology reported:
"Electric-car revolution shakes up the biggest metals markets. The revolution in electric vehicles set to upturn industries from energy to infrastructure is also creating winners and losers within the world's biggest metals markets. The outlook for greener transportation got a boost this year as the U.K. joined France and Norway in saying it would ban fossil-fuel car sales in coming decades. That's as Volvo AB announced plans to abandon the combustion engine and Tesla Inc. unveiled its latest, cheaper Model 3. For some of the metals, it's a complete game changer."
The graph below gives some guide - of interest "graphite" will see the largest volume increase from EV batteries. I have recently modeled the EV metals demand relative to total industry demand to see what metals will be impacted by increasing EV penetration rates. You can read my results and discussion here on my Trend Investing subscription from US$40 per month - "A study of the effects of EV penetration on demand for the EV metals."
EV metals demand graph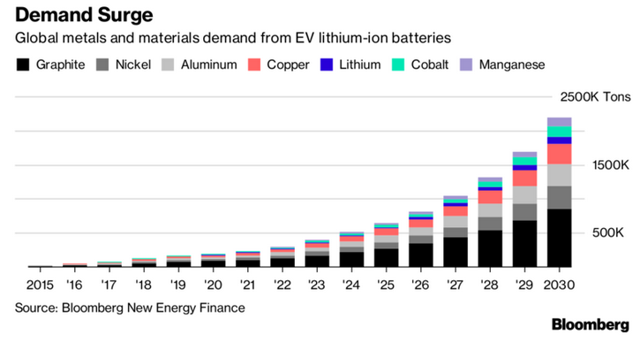 Source: Bloomberg technology
On August 4, Fortune reported,
"Germany's answer to Tesla's gigafactory is on its way. A German consortium (TerraE Holding GmbH) is preparing to set up major lithium-ion battery cell production facilities at two locations. Its factories will be so-called foundries – customers will come with their own specifications, and the factories will build them."
On August 7, Bloomberg wrote,
"Electric car boom drives rush to mining's $90 billion hub. A scramble by the lithium market's biggest players to tie up supply of the high-tech metal is gathering pace in the 170-year-old heartland of Australia's $90 billion mining industry."
On August 8, The Guardian wrote a good article - "The car is dead, long live the car, thanks to Tesla." Key quotes include:
But ultimately, the game is up for the internal combustion engine. It still seems incredible that in the 21st century we propel ourselves along using the energy provided by controlled explosions in metal cylinders. But the industrial fallout from switching to electric cars will be colossal. The significance of the new Tesla is not that it is made by Elon Musk's startup, but that it represents an embodiment of what cars will be from now on – vehicles powered not via a series of controlled explosions but by smooth, silent, high-torque, non-polluting motors. The automobile industry, in other words, has just had its "iPhone moment".
EV company news for August 2017
Tesla Inc. (NASDAQ:TSLA)
Tesla is currently the number 1 electric car seller in the US with 22% market share, and also still number 1 globally with 10% global market share.
On August 7, Teslarati.com reported, "Tesla Model 3 has an 80.5 kWh battery and 258HP according to EPA document."
On August 7, Tesla announced, "Tesla to fund Model 3 production with $1.5 billion bond offering."
On August 8, Teslarati.com reported, "Tesla CEO Elon Musk thinks demand could reach 700,000 Model 3s per year."
On August 29 Teslarati.com reported, "Finnish Tesla Model S taxi driver crosses 400,000 km, 93% of battery life remains. The simplified nature of electric cars makes their true cost of ownership far cheaper than that of an ICE car." Very impressive!
Tesla Model 3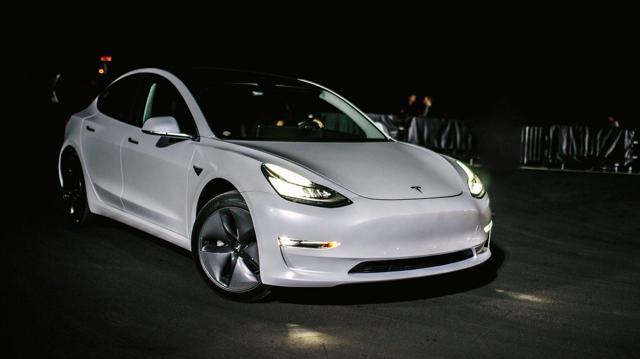 (Source)
BMW (OTCPK:BMWYY)
BMW is currently the number 2 global electric car manufacturer still with 9% global market share.
On August 29, GreenCarReports reported,
"2018 BMW i3 electric car range adds sportier i3s version. A new i3s model (for Sport) has been added, with revised suspension and a Sport mode added to its drive-mode options. The 2018 BMW i3 will formally debut next week at the Frankfurt auto show."
BYD Co. (OTCPK:BYDDY, OTCPK:BYDDF, HK:1211)
BYD is ranked number 1 in China with 21% market share and number 3 globally, with 8% global market share. BYD had a stellar July 2017 sales result, selling about double any other top manufacturer. It certainly bodes well for a strong finish to 2017.
On August 23, Bloomberg reported,
"Buffett-backed BYD wins first overseas contract for monorail. The Shenzhen-based company will construct a monorail in Iloilo, the Philippines, and expects the first phase of the 20-kilometer (12-mile) system to start operations in 2019, it said in a statement Wednesday. The company didn't provide an investment amount."
BYD Song - China's No.1 selling EV in July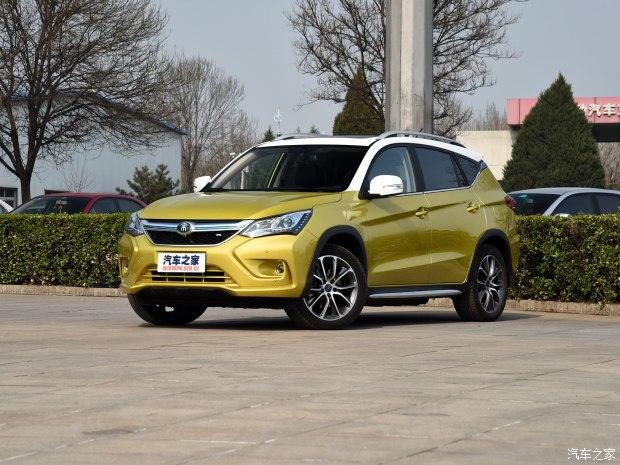 Source: EV Sales
Beijing Automotive Group Co. (BAIC) (OTC:BCCMY, HK:1958), Shanghai Automotive Industry Corp. [SAIC] (CH:600104)
BAIC is currently the number 2 selling electric car manufacturer in China with 17% market share and the global number 4, with 7% market share. SAIC is ranked number 4 in China with 9% market share.
No news this month from BAIC or SAIC.
Renault (OTC:RNSDF)-Nissan (OTCPK:NSANY)/Mitsubishi (OTCPK:MSBHY, OTCPK:MMTOF)
Nissan is currently ranked number 5 for global electric car sales, and Renault is ranked global number 8. The Renault Zoe is by far the number 1 electric car model in Europe with 12% market share of new sales so far in 2017. According to EV Sales, the Renault Zoe has "orders currently outnumbering production." The Nissan Leaf is the number 2 seller in Europe with 8% market share. Counting other models Renault-Nissan has an impressive 22% market share of electric car sales in 2017 in Europe.
On August 8, 88IV reported, a Chinese private equity firm "GSR Capital acquires Nissan's battery business. The acquisition covers Automotive Energy Supply Corporation (("AESC")), Nissan's battery manufacturing operations in the US and UK, and part of Nissan's battery development and engineering operations based in Japan. AESC's lithium-ion batteries already power more than 270,000 Nissan LEAF vehicles." The deal was previously reported by Bloomberg in May to be worth near USD1 billion. GSR has the backing from the Hubei provincial government. Bloomberg states: "The central Chinese province - home to the Three Gorges Dam and the nation's second-largest carmaker, Dongfeng Motor Group Co. - recently earmarked 547 billion yuan ($80 billion) for investments in areas like clean energy to modernize its economy."
Toyota (NYSE:TM)

Toyota is currently ranked number 6 in the global electric car manufacturer's sales ranking, with 6% global market share. The Toyota Prius Prime/PHV is still the number 1 selling global electric car in 2017.
On August 4, BNN reported,
"Toyota, Mazda to build US$1.6 billion plant, develop electric cars. Toyota Motor Corp and Mazda Motor Corp plan to build a US$1.6 billion U.S. assembly plant, the two said on Friday, as part of an alliance that will also see the Japanese automakers jointly develop electric vehicle technologies. The plant will be capable of producing 300,000 vehicles a year, with production divided between the two automakers, and employ about 4,000 people. It will start operating in 2021."
On August 30, Automotive News reported,
"Toyota pushes deeper into ride-hailing with Grab (Taxi) investment. The carmaker will invest an undisclosed amount in Grab, Southeast Asia's leading ride-hailing operator, and said it will work with the company to provide services in the region. The latest deal comes a year after Toyota bought a small stake in Uber Technologies as part of alliances it is stitching to explore new revenue models. Toyota is also collaborating with U.S. car-sharing company Getaround."
General Motors/Chevrolet (NYSE:GM)
GM/Chevrolet is currently the number 2 ranked electric car seller in the US with 21% market share. They are currently the number 7 global electric car manufacturer with 5% market share. The Chevy Bolt was the number 1 selling electric car model in the US in July with 1,971 sales.
On August 25 GreenCarReports reported,
"2017 Chevy Bolt EV battery may fail due to faulty cell; new pack needed for a few GM electric cars (updated). The specific problem is a malfunction in one or more of the 288 battery cells that delivers incorrect data to the battery management system. Fewer than 1 percent of Bolt EVs produced are subject to the problem, according to GM, which will replace the entire battery pack for affected vehicles."
Volkswagen Group (OTCPK:VLKAY), Audi (OTCPK:AUDVF), Porsche (OTCPK:POAHF)
Volkswagen is currently the number 10 top-selling global electric car manufacturer with 3% market share.
On August 28, GreenCarReports reported:
"Transparent solar cells to let Audi capture energy from glass roofs. Audi and Chinese firm Alta Devices team up to develop a glass solar roof panel. The solar cell is completely transparent, which means passengers' views wouldn't be obstructed looking through a panoramic sunroof. Audi plans to fit the transparent cells in a panoramic glass roof that would power accessories in the car."
Daimler-Mercedes (OTCPK:DDAIF, OTCPK:DDAIY)
On August 14, Automotive News reported,
"Could Smart get any smaller? As brand goes all-electric, two-thirds of U.S. dealers drop out. Daimler's microcar brand Smart announced in February it would drop gasoline-powered models in the U.S. and Canada and move exclusively to EVs this summer after exhausting inventory of the old models."
No great surprise that dealers don't want to sell EVs.
Geely Automobile Holdings Ltd (OTCPK:GELYY, HK:0175), Volvo (OTCPK:VOLVY), Kandi Technologies Group (NASDAQ:KNDI)
Last month Volvo stated, "all its new cars from 2019 would be available with an electric drivetrain." Volvo was bought by Chinese billionaire Li Shufu's Geely holding company in 2010. His businesses include Chinese car maker Geely, electric car business Lynk & Co, Lotus, and the London Taxi Company, which earlier this month renamed itself the London Electric Vehicle Company. You can read more here - "London's Iconic Black Cab Company Rebrands for Electric Future."
Ford (NYSE:F)
On August 22, Ford announced,
"Ford furthers global electrification expansion; signs MOU in China with Zotye Auto to explore new all-electric vehicle JV."
Key points were:
"Proposed 50:50 joint venture would produce all-electric vehicle s sold under an indigenous brand for Chinese customers.
The new JV would develop, produce, market and service all-electric passenger vehicles.
Ford is committed to providing consumers in China and around the world with a comprehensive range of electrified vehicles."
Honda (HMC, OTCPK:HNDAF)
Some news I missed in July - Electric Vehicle News reported: "Honda teams up with Hitachi in EV motor joint venture." The companies "announced the establishment of a joint venture company for the development, manufacture, and sales of motors for electric vehicles on the premises of Hitachi Automotive Systems in Hitachinaka-shi, Ibaraki Prefecture."
Autonomous Driving/Car Play and IT connectivity
Currently, Alphabet Inc. (GOOG, GOOGL) and Tesla are leaders in autonomous vehicles. Note that the new Model 3 will come as standard with WiFi. Apple (NASDAQ:AAPL) is doing well with on-board entertainment Apple Play, as is Google with Android Auto. Nvidia (NASDAQ:NVDA) is a leader in supplying GPU chips for modern cars at various levels of autonomy and safety. All the above should benefit from the switch to EVs and higher-tech vehicles. Investors may like to read my recent article "Companies to benefit from the future smart car boom."
On August Automotive News reported,
"BMW and Daimler may consider merging car-sharing units. German carmakers Daimler and BMW may be in talks to combine their car-sharing services Car2Go and DriveNow, the CEO of car rental company and DriveNow partner Sixt hinted."
The Daimler Smart Vision EQ Fortwo is a self-driving electric matchmaker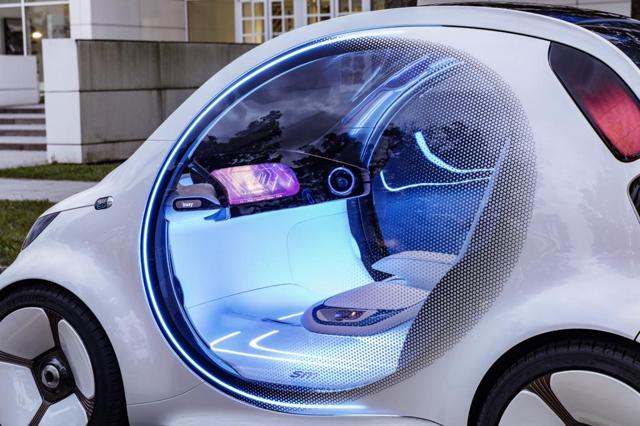 Source: GreenCarReports
Other EV companies I am following include Chery Automobile Co. Ltd. (private), Faraday Future, Fiat Chrysler (NYSE:FCAU), Fisker (private), GreenPower Motor Company (GPV), Hyundai (OTC:HYMTF), Kia (OTC:KIMTF), Lucid Motors (formerly Atieva) (private), Mahindra & Mahindra (OTC:MAHDY), Mazda (OTCPK:MZDAY), Nio (formerly NextEV), and Subaru (OTCPK:FUJHY).
The list of countries and cities banning (or soon to ban) petrol and diesel vehicles include at least - Britain, Germany, France, Netherlands, London, Paris, Stuttgart, Mexico City, Madrid, and Athens. Added to this are countries pushing hard to become 100% EV - Norway, China, and India. There are probably many more, but I have only just recently started this list.
Conclusion
July 2017 electric car sales grew 43% on July 2016 sales. EV sales market share now exceeds 1% in all major regions US (1.1%), China (1.6%), and Europe (1.6%).
August has been another great month for the EV sector. The Finnish taxi driver doing over 400,000 kms in his 2014 Tesla Model S and still having 93% battery life remaining is now proof of how EVs are incredibly long lasting and cheap to maintain.
The UBS EV growth forecasts of 31% CAGR to 2020, followed by a staggering 46% CAGR to 2025, should give investors plenty of confidence in this rapidly growing sector. My view of 20% EVs by 2025 is echoed by Goldman Sachs's view of 22% EVs by 2025.
My highlights for August were the following quotes:
"Tesla CEO Elon Musk thinks demand could reach 700,000 Model 3s per year."
Epoch Times "Hitching a Ride on the Electric Vehicle Revolution." - "By 2020, there could be between 9 million and 20 million EVs deployed."
The Guardian - "The game is up for the internal combustion engine. The automobile industry, in other words, has just had its "iPhone moment"."
That really says it all.
As usual, all comments are welcome.
Disclosure: I am/we are long GOOG.
I wrote this article myself, and it expresses my own opinions. I am not receiving compensation for it (other than from Seeking Alpha). I have no business relationship with any company whose stock is mentioned in this article.
Additional disclosure: The information in this article is general in nature and should not be relied upon as personal financial advice.
Editor's Note: This article discusses one or more securities that do not trade on a major U.S. exchange. Please be aware of the risks associated with these stocks.