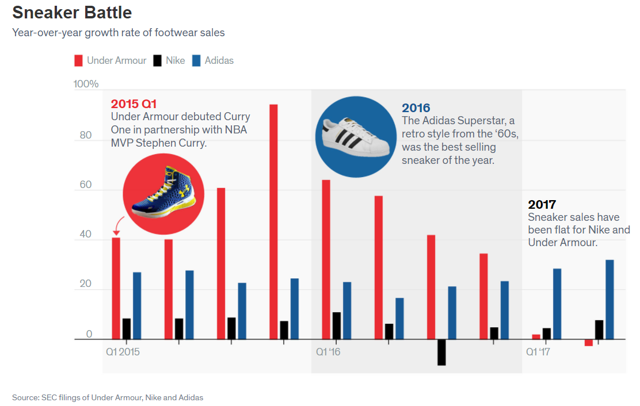 Source: Barron's Next
Since 2016, Adidas (OTCQX:ADDYY) has rapidly expanded their footwear sales, while Nike (NYSE:NKE) and Under Armour (NYSE:UAA) have remained relatively flat. Adidas has revived their retro style while simultaneously releasing new shoes that are dominating the market. Adidas's popular Boost technology has created buzz with every new release. At the same time, they have been trailblazers, showing their willingness to work with non-athletes like Kanye West and Pharrell Williams. This is something familiar to the Adidas brand as they were the first athletic company to sign a non-athlete, Run DMC in 1986. Adidas has begun to reuse this formula and as a result, they are finding great success.
Adidas Revenue Breakdown, Source: Adidas Q2 Filing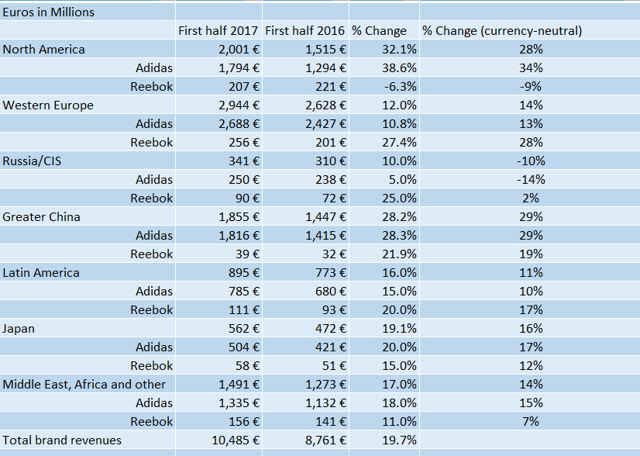 Adidas' revenue growth in the first half of 2017 has been substantial in comparison to 2016 numbers. They have shown great strength in both China and North America. As Adidas is a German company, growth in markets outside of Western Europe is a great sign for the brand's momentum.
A lot of this revenue growth is coming from the running segment of Adidas' business. The 27% growth in running revenue has been driven by their boost franchises. On the Q2 conference call, CEO Kasper Rorsted made it clear that there is still a Boost capacity constraint. Despite growing the Boost business 100% over the same quarter last year, they still may not be able to reach demand levels until 2019. Some may believe it is negative that they are unable to meet demand because they are not maximizing revenue potential. I actually believe this will allow Boost to be a catalyst for a longer period of time as there is still an element of exclusivity in purchasing them. As long as there are limited releases within Boost franchises, the status and popularity of the Adidas brand will continue to rise.
When comparing the breakdown of Nike's year-over-year revenue growth to Adidas' first half 2017 over 2016 growth, it is clear Adidas' growth is significant. Nike is nearly unchanged in North America and their revenue has been driven by discounting.
Nike Revenue Breakdown, Source: SEC Filing


On Q2 earnings, Adidas now expects sales to increase at a rate of between 17% and 19%. Previously, they had set sales growth guidance at between 12% and 14%. Note that this is on a currency neutral basis. Gross margin is expected to increase by up to .8%, rather than previous guidance which expected an increase closer to .3%. Adidas believes that their gross profit margin could be above 50% by the end of 2017. Nike has seen its gross profit margin decline below 45% over the last four quarters while Under Armour's has fallen below 46%.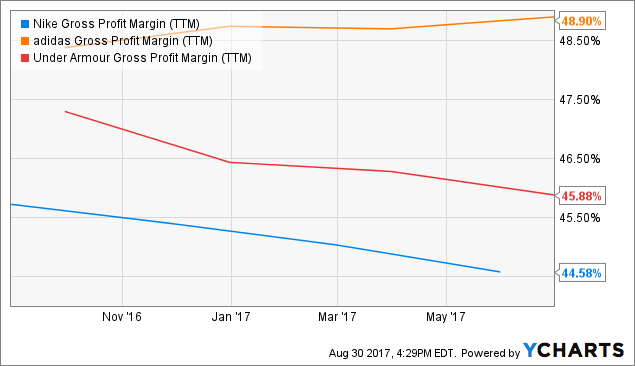 NKE Gross Profit Margin
(TTM) data by
YCharts
When examining P/E ratios, it becomes clear that Adidas has actually become more of a growth story than Under Armour. Adidas is growing at a time that P/E ratios have expanded throughout the entire market, this part of the reason it has settled above 40. I believe that Adidas does have the ability to live up to this multiple even if others may think it is high. Nike has continually failed to put out products that can compete with Adidas' boost technology. Qualitatively, as a recent college graduate, I know this to be true. There is no question that Nike has lost its luster with younger generations and has failed to innovate recently. Adidas also is seeing rapid growth in their e-commerce business. CEO Kasper Rorsted discussed that 100% growth seen in North American e-commerce along with 80% growth in Chinese e-commerce. Adidas is focusing on the expansion of their e-commerce business as they continue to close brick and mortar stores which should help drive higher margins. You are not overpaying for Adidas when considering the value of the brand name, Boost technology, strong management and current partnerships with the like of Pharrell Williams and Kanye West.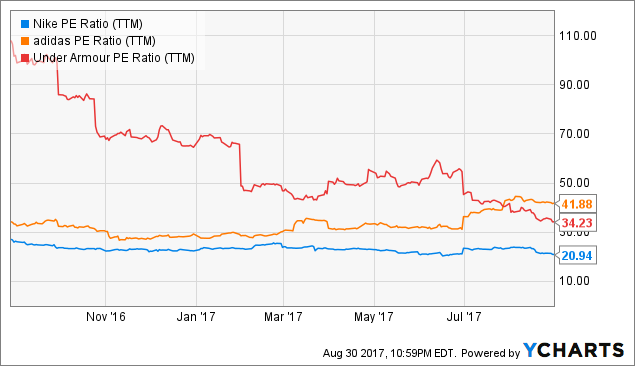 NKE P/E Ratio
(TTM) data by
YCharts
NPD group reported that Adidas has nearly doubled its U.S. market share to 11.3%. If Nike does not innovate, Adidas will continue to take more market share in North America and around the world.
"According to data from retail researcher NPD Group, its U.S. market share for sneakers is now up to 11.3% as of May 2017, almost doubled from 6.3% last year. It's now expanding its sneaker lines to take market share in areas like running."
Adidas is currently unable to meet the demand for certain Boost franchises, and they have still cut into Nike's market share. As they ramp up production of Boost products, this market share will only grow larger.
For evidence of Nike's stagnation and lack of innovation, investors need not look further than Finish Line's (NASDAQ:FINL) recent earnings. Same store sales at Finish line fell 4.6% year over year. They now expect second quarter earnings to fall between 8 and 12 cents. Analysts had initially forecasted an EPS of 37 cents for this quarter. Nike makes up about 70% of Finish Line's revenues. I am not attributing all of Finish Line's woes to Nike as many brick and mortar retailers are struggling to stay afloat. The reason that this EPS cut is so important is that it points to major discounting of Nike products. Due to failures in innovation, they have been forced to drive sales through price cuts. This is not a sustainable strategy for Nike. Finish Line Chairman Glenn Lyon said that he does not expect to receive any help from Nike for at least 12 months.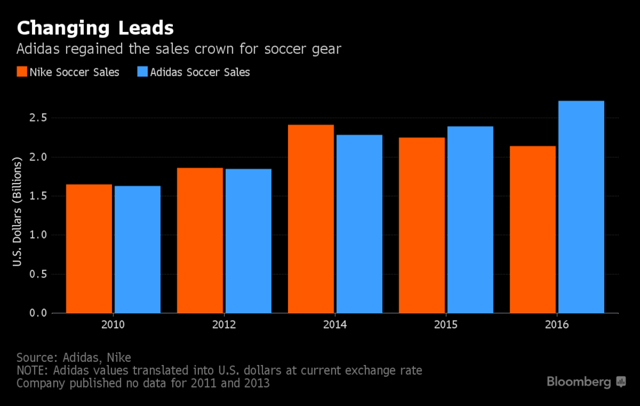 Source: Bloomberg
Nike's lack of innovation is not the only reason that Adidas is expanding, it has just made it much easier for Adidas to gain market share. I believe that Nike is too far behind the eight ball and they will not be able to catch up to Adidas. As Adidas continues to work with non-athletes like Pharell and Kanye West, Nike will continue to fall further behind. With the 2018 World Cup on the horizon, investors should prepare to see a rise in soccer sales. Adidas has struggled greatly in Russia following sanctions in 2014. These struggles should have no impact on their potential success at the World Cup in Russia. Adidas' sponsored teams performed very well in the 2014 World Cup. Adidas also found themselves to be the sponsor of all four teams that made up the 2017 Europa and Champions league finals. As they are providing the game ball for the 2018 World Cup and sponsoring multiple high profile teams, I expect to see Adidas gain solid exposure during this one-time event.
Note that I am giving an overall outlook on Adidas' future growth and I'm not speaking to the potential impact that FX may have. I believe that all signs point to rapid growth for the Adidas brand, which will be driven by footwear in North America, China, and Western Europe. Boost technology and Adidas' work with non-athletes has accelerated their growth rapidly. Morgan Stanley recently said that Nike has lost their core sneaker customer to Adidas. Adidas will continue to ramp up their production of Boost, taking more market share from Nike. Investors can look to Finish Line to see how much Nike's stagnation has hurt them. With 2018 World Cup approaching and Adidas' reputation skyrocketing is an opportunity for greater growth in coming years.
Editor's Note: This article discusses one or more securities that do not trade on a major U.S. exchange. Please be aware of the risks associated with these stocks.