Background
On August 31st, Goldman initiated its coverage on Momo (NASDAQ:MOMO) and gave a target price of $56 a share, implying 55% upside. Based on Yahoo Finance, the average target price from 16 analysts is $49.46. So what do these analysts see in Momo and why does the company have the potential to soar even higher?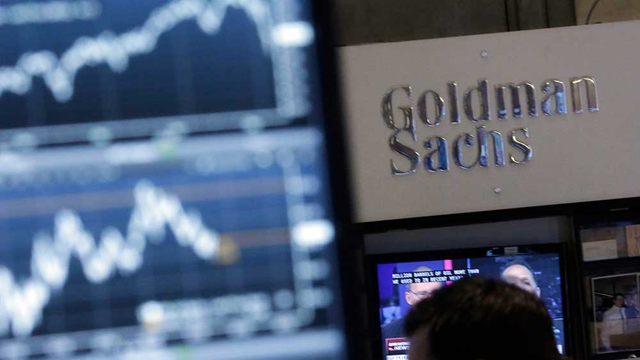 In my recent article "Why Momo Plummeted 20.1% After Company Beats, And What Investors Should Care About", I tried to explain the share price drop after the earnings results. I pointed out that the main reason could be the flattish paying users (4.1 million) for the live streaming business in Q2 compared with Q1 (4.1 million). For more information on Q2 results and the recent share price movement, please refer to my last article on Momo.
In this article, I will give more thoughts on paying users and how it links to Momo's recent initiative to build a pan-entertainment mobile platform.
Momo generated about 83% of its total revenue from live streaming business (2017Q2). As the primary revenue and earnings driver, the disappointing live streaming paying users created concerns about the growth of the business. I will try to argue that the flattish number could indicate the beginning of a healthy long-term trend for Momo.
Surprisingly, with its flattish paying users, its revenue from live streaming increased 22% sequentially to $259.4 million in Q2, which is driven by the increase in average revenue per paying user (ARPPU).
Exhibit 1. Live streaming paying users and ARPPU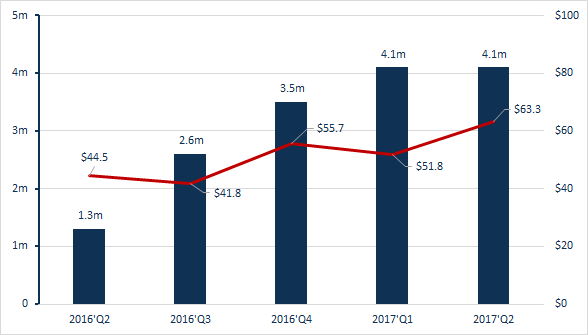 Source: Momo's 6-K
Momo app's MAU actually increased 7.2% sequentially, or 22.1% YoY.
Exhibit 2. Momo MAU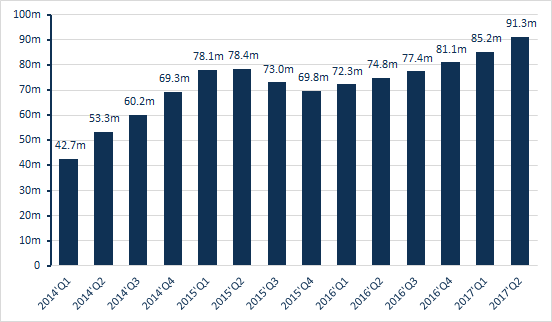 Source: Momo's 6-K
These are all from my last article; nothing new here. However, what do these numbers tell us? To understand why I think the flattish paying users might be good for Momo, we need to understand the live streaming business first.
How does Momo make money from live streaming showroom?
The live streaming showroom was a business model started by Six Room (a Chinese live streaming platform) in 2009. In a typical virtual showroom, there will be the performer(s) and audience. Audience purchase virtual gift from the live streaming platform if they like the performers. What sets this cyber shows apart from tradition TV shows is in cyber showrooms, performers interact substantially with the audience, providing the audience a more interactive environment. Purchasing gifts is not mandatory; you can still watch the show without buying. But buying some expensive gifts makes you look good! The performers will get paid by receiving virtual gifts; the amount is less than the amount paid for the gifts, so the platform gets to keep the rest.
However, only a small percentage of users purchase virtual gifts, and even a smaller percentage of users contribute most of the revenue.
Exhibit 3. Live streaming spend distribution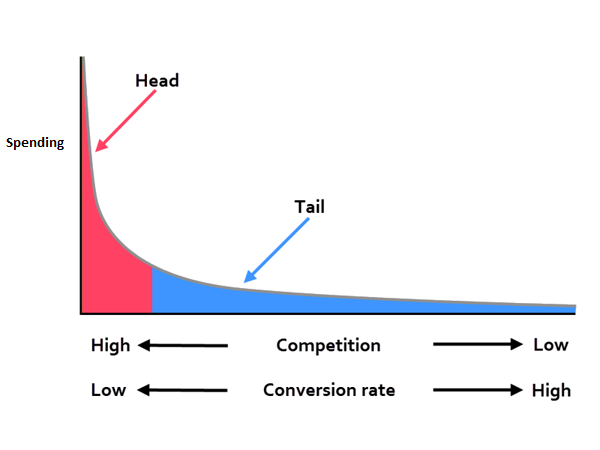 The head users contribute most of the spending on the live streaming platform while the tail users, though account for a bigger proportion of total users, spend just a little on the platform. The amount of the head users determines the success of a live streaming platform. And it is this type of users all streaming platforms compete for.
Before we get to the question why the flattish paying users could be good, there is one more piece of information we need to know. On July 12, 2017, Momo launched its newest version, Momo 8.0. The new version adopted a modular design for the home page featuring all the major existing social and entertainment offerings on the platform. Now the Momo app offers six services: live streaming, Kuai Liao (Quick Chat), the werewolf (a popular social game), Pai Dui (online party), Dian Dian (stranger matching based on interest tag), same-city short video. Apparently, Momo shows it is not only a live streaming company, but it is also something much more, much bigger. In its Q2 conference call, the co-founder, chairman, and CEO of Momo, Tang Yan, said "we've never been positioning Momo as a live streaming company. We have always been positioning Momo as a social company."
Exhibit 4. Momo 8.0 homepage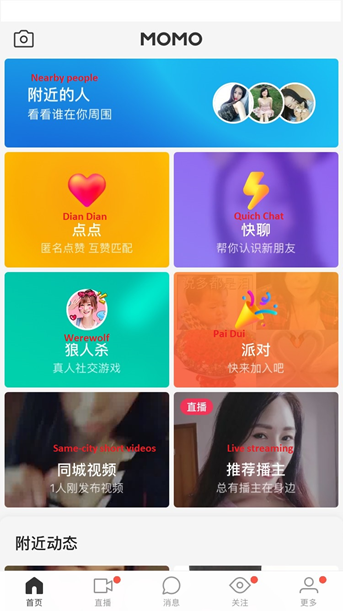 The reason behind this move is also evident; new service means potential new revenue and profit. The possible way to monetize these new services include allowing users to purchase gifts (just like how they make money from live streaming), subscription to provide users some privilege (e.g., shorter matching time), and advertising embedded in the short videos.
Why is the flattish live streaming paying users beneficiary for the platform?
Based on the information above, we can conclude that some tail users were diverted to other services from live streaming. The number of head users actually grew in Q2. You can imagine that 100 users who spend $10 are now replaced by another 100 users who pay $50 (I made these numbers up just to show the idea), resulting in a higher ARPPU.
So what can Momo do with these less-generous users? Make them spend on other newly-introduced services! For example, the Quick Chat allows strangers to video chat through a matching process. To speed up the matching, users can buy a red packet and show it on the screen. If another user sees this red packet, he/she can choose to chat with the red packet buyer and receive the red packet. Now the Quick Chat offers three sizes for the red packet; each contains ¥0.5, ¥0.9 and ¥2.9. Though it sounds like a tiny amount, a typical user can buy red packets multiple times in a month. This model is different from the subscription business, which you pay only one time for a period. However, we should note that currently Momo does not record any of red packet revenue because the company does not share any of the amount received by the users. The users receive all of the ¥0.5, ¥0.9 and ¥2.9. But it won't be difficult to take maybe 10% of the purchase.
Also, on the Q2 conference call, the management mentioned it had 800,000 users buying red packet on a monthly basis. This number is impressive given Quick Chat was introduced with version 8.0 only about a month ago on July 12. While 800,000 users bought red packets, the total amount of red packets purchased could be multiple of 800,000. This is only one example of Momo's monetization potential with its new offerings on the platform. While head users spend the massive amount in the live streaming show rooms, the tail users can also play with Momo and spend some money. And ultimately, Momo should have diversified revenue streams from users with different interests and intentions.
Conclusion
While some investors consider the slowing live streaming business (regarding paying users) a warning sign, I would argue the head users actually grew in Q2. For the tail users, now Momo 8.0 provides them more places to spend their time and money, which presents the company an enormous potential monetization opportunity. Flattish paying users, increasing ARPPU, rapidly growing MAU, along with version 8.0, will open a new era for Momo and its investors.
Disclosure: I/we have no positions in any stocks mentioned, and no plans to initiate any positions within the next 72 hours.
I wrote this article myself, and it expresses my own opinions. I am not receiving compensation for it (other than from Seeking Alpha). I have no business relationship with any company whose stock is mentioned in this article.