The Wall Of Worry Is Finally Fixed
Includes:
BXUB, BXUC, CAPX, DDM, DHVW, DIA, DMRL, DOG, DXD, EPS, FTA, IVE, IVV, IVW, OTPIX, PPLC, PSQ, QID, QLD, QQEW, QQQ, QQQE, QQXT, RPG, RPV, RSP, RYARX, SDOW, SDS, SFLA, SH, SPDN, SPLX, SPUU, SPVU, SPXE, SPXL, SPXN, SPXS, SPXT, SPXU, SPXV, SPY, SPYG, SPYV, SQQQ, SSO, TQQQ, UDOW, UDPIX, UPRO, VFINX, VOO, VOOG, VOOV
by: Clif Droke
Summary
Investors finally capitulate after the August correction.
Bearish sentiment spikes after weeks of relative neutrality.
Smart money takes a bullish stake in OEX options.
It was Calvin Coolidge who famously asserted, "The business of America is business." In doing so he perhaps unwittingly highlighted the philosophical basis for the next four generations of central bankers, legislators and bureaucrats to vigorously promote the interests of the financial sector. For better or for worse, America's is a financial economy dependent upon the health of Wall Street.
In the 4-5 years following the 2008-09 credit crisis, Fed monetary policy was the main impetus pushing equity prices higher. After the completion of QE in 2014, the forward momentum generated by years of monetary stimulus noticeably slowed and stocks became mired in a directionless trading range for almost two years. Since the November 2016 presidential election, however, a new phase of the 8-year-old bull market has been underway. This one is marked not by central bank intervention, but by the promise of reduced government regulations and lower taxes.
Although Washington has yet to deliver on the promised tax cuts, President Trump has been rolling back regulations at a fevered pace not seen since the Regan Administration. As I mentioned in my previous commentary, according to an Associated Press report as reprinted in U.S. News & World Report, the Trump administration has withdrawn or delayed 860 proposed regulations in its first five months alone. The aim of this massive regulatory overhaul is to boost economic growth, which almost certainly will be the case, though it may take time before the measure bears fruit.
How much these regulatory reductions have benefited corporations thus far is debatable. But whether or not the market is discounting the positive effect of lower regulations, there's no denying that the Congress's inability to enact new taxes and regulations this year is a great benefit to the financial market. Ironically, the constant opposition generated by having the always controversial Trump in the White House has become a de facto realization of the Jeffersonian ideal, namely "that government governs best which governs least."
With that said, let's examine what stock investors are likely to encounter in the foreseeable future.
Equities confirmed an immediate-term bottom this week after a majority of the six major indices closed decisively above the 3-week (15-day) moving average. Internally, the market could still use some improvement, however, as new 52-week lows on the NYSE have still been somewhat elevated. Nonetheless, the overall market is strengthening almost daily as evidenced by market breadth (below) and price indications.
The NYSE advance-decline (A-D) line has again showed leadership, which is critical for confirming a low after a market decline. Relative strength in the A-D line tells us that the market is gradually returning to a healthy internal condition after the temporary weakness earlier last month.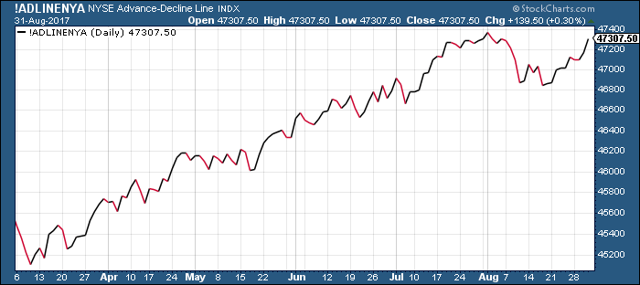 Source: StockCharts
The main driver behind the latest broad market rally, though, is sentiment. Investor psychology is ideal for a rally, and stocks have been obliging as retail investors become more bearish. The biggest improvement in market sentiment is in the AAII bull/bear ratio, which fell to its lowest reading in several months.
Bearish investors now greatly outnumber bullish investors, according to this week's AAII sentiment poll. To be exact, the bearish percentage rose to 40% - the highest since April 5. Meanwhile the bullish percentage fell to 25% - the lowest since May 17. This tells us that the cracks in the stock market's wall of worry, which were visible last month, have finally been repaired.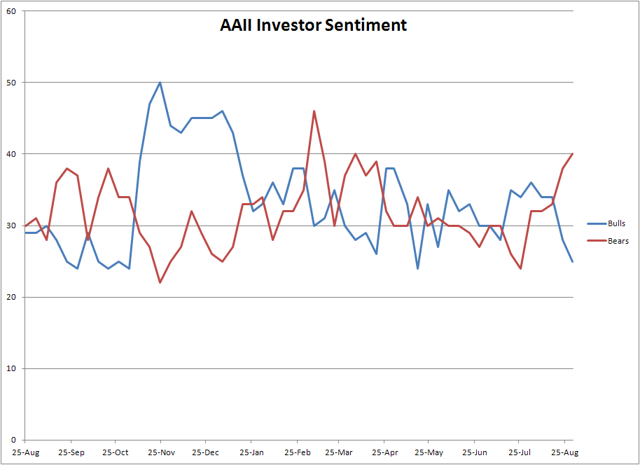 Source: Created by the author with data from AAII.
What's more, the CNN Money Fear & Greed Index still shows that more investors are currently bearish than bullish. This helps ensure the stock market's "wall of worry" remains strong, providing a bulwark against bear raids and helping to sustain the market's upward trend.
Another consideration is the vivid improvement in the OEX put/call ratio. OEX options are mainly the province of informed "smart money" investors. The OEX crowd has an historical tendency to be correct in their options trading positions, as the recent increase in call options prior to this week's rally proved. The graph below shows the propensity of the put/call ratio to fall to historically bullish levels as the smart money reduces hedging and increases call buying in anticipation of higher equity prices for S&P 100 stocks.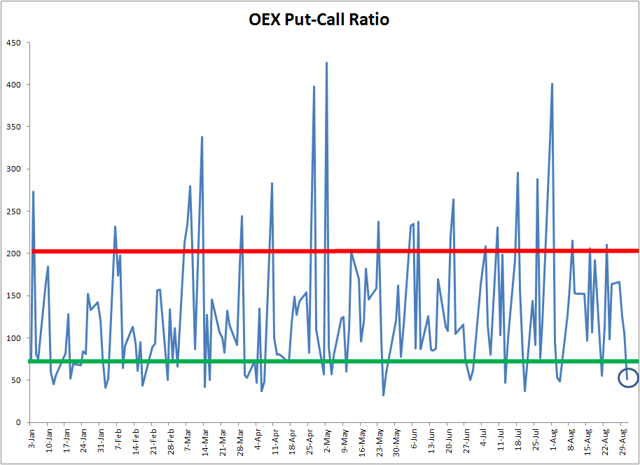 Source: Created by the author with data from CBOE.
With the stock market's wall of worry now in much better shape, investors should be able to breathe easier as we head into September. While volatility could still be a factor in the near term, the market's psychological profile suggests that any pullbacks from here will be quickly countered with strong support from the smart money on Wall Street.
Disclosure: I/we have no positions in any stocks mentioned, and no plans to initiate any positions within the next 72 hours. I wrote this article myself, and it expresses my own opinions. I am not receiving compensation for it (other than from Seeking Alpha). I have no business relationship with any company whose stock is mentioned in this article.