Is Now The Time To Reconsider REITs?
The Fed is raising rates. Find out why this environment may be right for REITs.
By Walter Stabell III, Senior Client Portfolio Manager. Posted on Expert Investment Views: Invesco US Blog.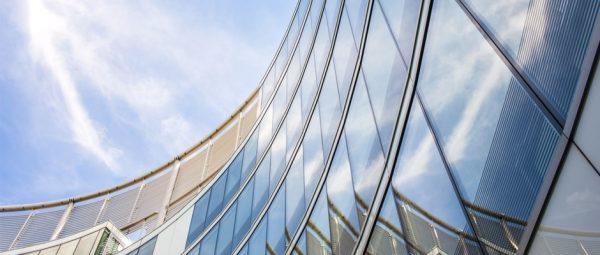 For eight years after the global financial crisis, income-seeking investors had a dilemma - yields on most traditional bonds had fallen precipitously. To obtain a yield anywhere close to pre-recession levels, one had to assume greater risk. Now, the tables have turned. With the Federal Reserve (Fed) hiking interest rates, there's a new concern for investors. Given that bond prices tend to fall when yields rise, is there an income-generating investment that may also hold its value in this environment?
Are REITs right for rising rate environments?
Real estate investment trusts (REITs) can complement diversified portfolios by providing potential diversification from traditional stocks and bonds and supplemental income potential in low interest rate environments. At Invesco Real Estate, we believe REITs can play the same role when rates are headed up as well. As we'll discuss below, REITs outperformed both stocks and bonds during the rising rate environment of 2004 to 2006.
Different property types; different demand drivers
Before we analyze past performance, it's important to understand the unique characteristics that drive REIT performance. Within the REIT universe, there are different property types with different demand drivers:
Residential. Apartments, single-family rentals and manufactured housing fall in this category. As in retail (shown below), income is earned by rents paid by tenants. These REITs generally have the shortest lease structure, typically six to 12 months. Also, the main demand driver for residential REITs is employment.
Retail. These invest predominantly in shopping centers, regional malls and freestanding retail stores, and make money through the rents charged to tenants. These REITs generally have longer lease structures of at least three years and also tend to be driven by employment and income levels.
Office. These invest primarily in office buildings and receive income from the companies renting space. These tenants usually sign long-term leases of five years or more.
Health care. A fairly new subsector, health care REITs invest in hospitals, medical facilities and nursing homes, for example. Income is earned through occupancy fees, government program reimbursements and private payments.
Industrial. Demand for these assets, such as warehouses and distribution centers, tends to be driven by general economic activity, including global trade and inventory buildup. Industrial buildings can be constructed fairly quickly and tend to have leases around six years.
Infrastructure. Another fairly new subsector, infrastructure REITs include data centers and cell towers. These REITs are considered nontraditional REITs as their demand tends to be driven more by the secular trends of cloud data storage and smartphone adoption.
Timberland. Timber REITs own and manage timberland properties. They also specialize in harvesting and selling timber, homebuilding and cellulose products. Therefore, they are typically driven by construction and paper product demand.
REIT breakdown by property type (by percentage)

Sources: Invesco Real Estate, NAREIT, as of June 30, 2017
Mortgage REITs - a different beast
Instead of owning property, mortgage REITs generate income through buying or originating mortgages or mortgage-backed securities, then collecting the interest payments. For mortgage REITs, the dynamic is slightly different - when interest rates are higher, homeowners are less likely to prepay their mortgage, which extends the duration of their payments and the cash flow to the REIT. As such, these REITs tend to be more sensitive to changes in interest rates and can behave more like bonds.
What drives REIT performance?
While there are considerations to each of these that may make one or the other more desirable at a given point in time, it is important to remember that REITs are not bonds and generally don't behave like them over the medium to long term. This is because the landlords of the underlying commercial real estate assets, such as multi-family housing, office buildings and shopping centers, can raise the rents of these assets over time. Long-term REIT performance is driven by the changing dynamics of fundamentals of the underlying assets and cash flow.
Why does this matter in a rising rate environment? The Fed typically increases interest rates in response to improving economic conditions, such as a better employment picture and increasing personal incomes - and these conditions can also lead to increasing demand for office space and housing, which supports higher rents.
The chart below shows that during the last interest rate hike between June 2004 and June 2006, REITs significantly outperformed stocks.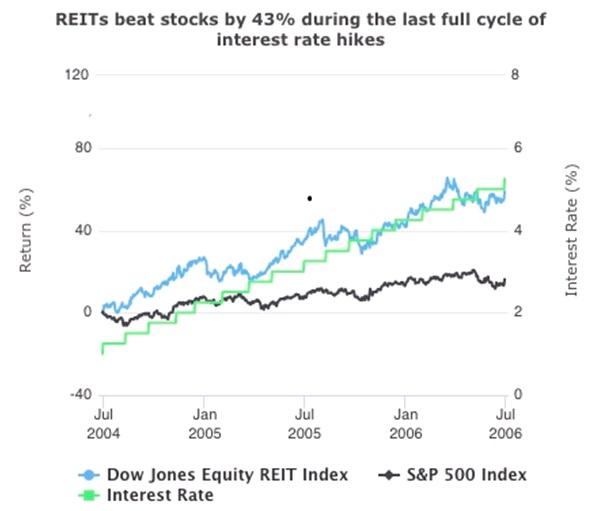 Source: Bloomberg L.P., from April 29, 2004, through June 29, 2006. Past performance is not a guarantee of future results. An investment cannot be made directly into an index. Interest rate quoted is the Federal Funds Rate set by the governors of the Federal Reserve.
Déjà vu all over again?
Now that the Fed has embarked on another round of raising interest rates, we believe portfolios can still benefit from the characteristics that REITs may provide outside of traditional stocks and bonds: current income, potential diversification and a possible hedge against future inflation. The US economy, while not setting any records, is continuing to expand. Unemployment remains near a 10-year low, and equity markets reflect growing corporate profits.
Of course, all investments require due diligence. It's important to talk to your financial advisor about whether REITs are right for you, and if so, which portfolio manager has the expertise to find opportunities in today's environment.
Experience our high-conviction approach
We understand the challenges you face in seeking growth, limiting volatility and generating income. Discover more about our real estate strategies and how our high-conviction approach to investing may help you achieve your unique investment goals.
Invesco Global Real Estate Income Fund (MUTF:ASRAX)
Invesco Global Real Estate Fund (MUTF:AGREX)
Invesco Real Estate Fund (MUTF:IARAX)
Invesco US Real Estate Securities SMA
REIT Income Portfolio
PowerShares Active U.S. Real Estate ETF (NYSEARCA:PSR)
Important information
Blog header image: dies-irae/Shutterstock.com
A real estate investment trust (REIT) is a closed-end investment company that owns income-producing real estate.
Cash flow is the net amount of cash and cash equivalents generated by a business.
The Dow Jones Equity REIT Index is designed to measure all publicly traded US real estate investment trusts classified as equity REITs according to the S&P Dow Jones Indices REIT Industry Classification Hierarchy.
The S&P 500® Index is an unmanaged index considered representative of the US stock market.
Please note that the products listed are not available to all investors. Please contact your financial advisor to see which products are available to you.
Investments in real estate-related instruments may be affected by economic, legal or environmental factors that affect property values, rents or occupancies of real estate. Real estate companies, including REITs or similar structures, tend to be small- and mid-cap companies, and their shares may be more volatile and less liquid.
Mortgage- and asset-backed securities are subject to prepayment or call risk, which is the risk that the borrower's payments may be received earlier or later than expected due to changes in prepayment rates on underlying loans. Securities may be prepaid at a price less than the original purchase value.
The opinions expressed are based on current market conditions and are subject to change without notice. These opinions may differ from those of other Invesco investment professionals. All data provided by Invesco unless otherwise noted.
The products listed are subject to certain other risks. Please see the current prospectus or offering document for more information regarding the risks associated with an investment in the fund.
The information provided is for educational purposes only and does not constitute a recommendation of the suitability of any investment strategy for a particular investor. Invesco does not provide tax advice. The tax information contained herein is general and is not exhaustive by nature. Federal and state tax laws are complex and constantly changing. Investors should always consult their own legal or tax professional for information concerning their individual situation. The opinions expressed are those of the authors, are based on current market conditions and are subject to change without notice. These opinions may differ from those of other Invesco investment professionals.
| | | |
| --- | --- | --- |
| NOT FDIC INSURED | MAY LOSE VALUE | NO BANK GUARANTEE |
All data provided by Invesco unless otherwise noted.
Invesco Distributors, Inc. is the US distributor for Invesco Ltd.'s retail products and collective trust funds. Invesco Advisers, Inc. and other affiliated investment advisers mentioned provide investment advisory services and do not sell securities. Invesco Unit Investment Trusts are distributed by the sponsor, Invesco Capital Markets, Inc., and broker-dealers including Invesco Distributors, Inc. Each entity is an indirect, wholly owned subsidiary of Invesco Ltd. PowerShares® is a registered trademark of Invesco Ltd., used by the investment adviser, Invesco PowerShares Capital Management LLC (PowerShares) under license. PowerShares and Invesco Distributors, Inc., ETF distributor, are indirect, wholly owned subsidiaries of Invesco Ltd.
©2017 Invesco Ltd. All rights reserved.

Is Now The Time To Reconsider REITs? by Invesco US