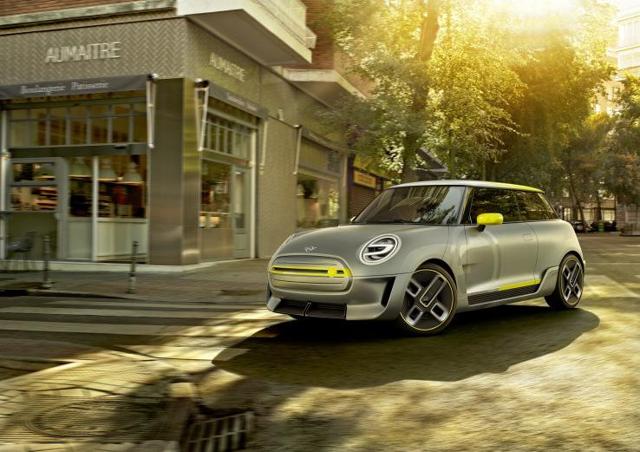 The MINI concept electric car is to be shown at the Frankfurt Motor Show and Techcrunch says it "Screams EV"
I've been on the record for some time now that hydrogen fuel cell technology will be overtaken by battery electric cars (BEVs). First Toyota announced a full electric vehicle program, although they continue to push hydrogen. Then Daimler pulled out of the hydrogen race in preference of BEV developments. Here I review what is happening with the automotive members of the Hydrogen Council which was established earlier this year. Six automotive companies (German, Japanese and Korean but no US companies) are members: Audi (FRA:NSU)(OTCPK:VLKPY), BMW Group (OTCPK:OTCPK:BMWYY), Daimler (OTCPK:DDAIY), Honda (NYSE:HMC), Hyundai (OTC:OTCPK:HYMLF) and Toyota (NYSE:TM).
Here is what I can glean about each automotive member of the Hydrogen Council's approach to low emissions vehicles.
Hyundai : It is Hyundai's turn to make the switch in focus from fuel cell to BEV. The company is reported to be placing electric vehicles at the core of its new low emissions programs, and that it plans to compete with the Tesla (NASDAQ:TSLA) Model 3 in its long distance premium program, with an electric vehicle with 310 mile (500 km) range. While Hyundai is not abandoning its fuel cell program, the emphasis is shifting towards electric cars with 8 new electric models and 2 new fuel cell vehicles in its new product planning. Hyundai has made significant progress in development of its fuel cell vehicles with a new SUV model planned for release next year, but one has the sense that the Tesla launch of the Model 3 is changing the BEV game and Hyundai like many companies, is determined to participate in the competition. Hyundai Executive VP Lee Kwang-guk has stated: "We're strengthening our eco-friendly car strategy, centering on electric vehicles".
Toyota has a nationally significant part in branding the 2020 Olympic Games in Tokyo as the "hydrogen society". Toyota aims to have 100 fuel cell buses in operation for the Tokyo Games and to use the Olympics to promote its fuel cell Mirai for use by Olympic officials and visitors. So there is a very public hydrogen vehicle program in planning for 2020.
However, there are starting to be stories about Toyota's electric vehicle programs and hints about revolutionary solid phase Lithium battery developments. Note that these stories about solid phase lithium batteries are not being confirmed by Toyota at this stage.
It could get awkward if the electric vehicle developments are in full flight in 2020, which now seems likely as Toyota has a fully electric vehicle planned for release in China in 2019. Indeed Toyota has announced that it will include battery electric vehicles in its Olympic offerings.
Sometimes it is hard to discern what is really going on, but my take on Toyota is that the emphasis is shifting towards BEV developments for long distance cars, which must impact its fuel cell program.
Audi : In a feature section on the Audi website: "Audi Future Ideas: Audi meets University: the mobility of tomorrow" there is an extended discussion about electric cars. There is one sentence referring to their fuel cell program. Siegfried Pint from Audi says: "I also see fuel-cell technology playing a role, albeit in smaller numbers". Elsewhere Audi states that by 2025 "a third of the vehicles that we produce will be electric cars" and in relation to fuel cells it says they will "bring a production fuel cell vehicle to the market by 2025. This is a technology that has not yet managed to break through, mainly due to lack of infrastructure. Yet we are nevertheless banking on the advantages of emission-free hydrogen technology.."
Given Audi's parent Volkswagen's (OTCPK:VLKPY) view about electrification, it is hard to see Audi being a major driver of fuel cell vehicles for much longer.
BMW : Sometimes an image says it all. In reporting year to date sales in August, an image of an electric charger was used as the highlight and the headline was "Sales of BMW Group electrified vehicles top 50,000" The summary caption indicated year-to-date electrified sales increase 74.8% to 50,711 and only then was it stated that BMW Group delivered 1,401,551 vehicles in year to date. This indicates the focus of the company now.
The concept version of the electric MINI due for release in 2019, but on show at the upcoming Frankfurt Motor Show, is built on a new flexible vehicle architecture design for electric drive trains that will be used on all future BMW electric models. With so much focus on electric cars, it is hard to see how a fuel cell BMW is going to be noticed.
However, at the upcoming Frankfurt Motor Show BMW will show its X7 fuel cell concept car.
Daimler : Given that Daimler CEO Dieter Zetsche said in March that the fuel cell is no longer playing a central role in Daimler, it isn't clear what Daimler's role will be in the Hydrogen Council going forward. However, Daimler plans to release its Mercedes-Benz GLC F-Cell EQ Power crossover SUV at the Frankfurt motor show this month. An admission concerning availability of hydrogen refuelling means that this vehicle has a plug-in battery to provide 30 miles all electric power.
Honda ; The Honda link on the Hydrogen Council website takes a reader to "Honda Electrified, Electrification is the future …." While the fuel cell offering is mentioned, it is hard to miss the positioning.
However, the Honda all electric Clarity has only an 89 mile range. This fits with the view of a BEV being suitable for short range driving, while hydrogen fuel cell cars will do the long distance clean energy transport. Given what other car manufacturers are doing (including the other car manufacturers in the Hydrogen Council described above), a BEV with range is now emerging as a core for most offerings. The Honda positioning of the Clarity Electric is looking dated, although there is still a stable of other electric cars with short range.
Details of 2018 Nissan Leaf to be released next week
It isn't surprising that Nissan has rethought its Leaf, which has been attractive only to owners who are diligent about range anxiety, as the range of the 2017 model is 107 miles. Next week the details of the 2018 Nissan Leaf will be released. There have been a series of leaks which suggest a substantial increase in range (200 miles?) and incorporation of driver assist features, no doubt to provide another alternative to the Tesla Model 3.
In all of the above, the Tesla Model 3 looms large.
Hydrogen Council activities
The Hydrogen Council, a CEO level group supporting hydrogen development, especially in the transport industry, with a clear purpose to lobby governments in recognition of the huge infrastructure investment needed to establish a hydrogen supply network. There has been little information available about the Hydrogen Council, although the Linked In site indicates now 16 energy, transport and gas industry multinational companies as members. In addition to the 6 automotive manufacturers discussed above, the other members are Alstom (OTCPK:OTCPK:ALSMY), Anglo American (OTCPK:OTCQX:NGLOY), ENGIE (OTCPK:OTCPK:ENGIY), Iwatani (JP:8088), Kawasaki (OTCPK:OTCPK:KWHIY), Air Liquide (OTCPK:OTCPK:AIQUY), Plastic Omnium (OTC:OTC:PASTF), Shell (NYSE:RDS.A) (NYSE:RDS.B), Linde Group (OTCPK:OTCPK:LNEGY), and Total (NYSE:TOT).
Shell has just produced a report "Shell hydrogen study: Energy of the Future?" with the Wuppertal Institut.
Here is what the introduction says "… hydrogen has so far failed to gain commercial acceptance either generally or in individual application areas as a new energy source."
The report has a great deal of useful information about hydrogen as a fuel. One critical issue is that currently 95% of hydrogen production involves fossil fuels (11% coal, 16% oil and 68% gas). Only 5% is produced by electrolysis using electricity. This explains the focus on tail pipe emissions (water) of a fuel cell vehicle as indicating that hydrogen is a clean fuel. When production of the hydrogen is considered, currently hydrogen is not a clean fuel.
Conclusion
This article started life as an assessment of the switch in focus by Hyundai, which has a long history in fuel cell vehicles, towards electric vehicle production. Along the way I looked at the automotive members of the Hydrogen Council and it became clear that, perhaps with the exception of Honda, the other companies are all dramatically changing their focus to electric cars for long range driving. Tesla seems to be the presence that has caused the industry to reorient, as the Model 3 has range and is aimed squarely at mass consumption. The momentum building in the electric car area is impressive and leads one to not only realise that electric cars are becoming mainstream, but also that fuel cell hydrogen cars have almost certainly lost the race for relevance. I have discussed elsewhere what rapid adoption of electric cars means for the oil industry.
I am not a financial analyst but I am interested in structural change in the transport sector. If my commentary gives you a different perspective on your transport investments please consider following me.
Editor's Note: This article discusses one or more securities that do not trade on a major U.S. exchange. Please be aware of the risks associated with these stocks.