Introduction
Activision Blizzard (NASDAQ:ATVI) is a primarily a video game developer founded less than a decade ago through the merger of Vivendi Games and Activision. It operates through five business units: Activision, Blizzard Entertainment, Major League Gaming (a professional eSports organisation), Activision Blizzard Studios, and King Digital Entertainment (a social games development company).
The company owns and operates record breaking franchises, including the beloved Call of Duty, World of Warcraft, StarCraft, Diablo, Overwatch, Destiny and King's social behemoth Candy Crush Saga. With a market cap of $47 billion, it is one of two dedicated gaming companies on the S&P 500, along with EA (EA) at $36 billion. The gaming development industry is highly competitive, with a number of players, including Konami (NYSE:KNM), Ubisoft (OTCPK:OTCPK:UBSFY), Capcom, and Sony (NYSE:SNE).
Gaming Continues Breakneck Growth
Overall sales, including hardware, software, and accessories, rose 19% Y/Y to $588M, according to NPD Group, while PC and console software were up 14% and 17%, respectively. A large portion of that increase across the board belonged to ATVI's Crash Bandicoot renaissance, with the game's sales in its second month since release edged out only by Nintendo's new release Splatoon 2 in July sales.
Looking forward, Newzoo predicts that the global video game industry will grow at a CAGR of 6.2% from $101.1 billion in 2016 to $128.6 billion in 2020. The interesting segment, though, is mobile gaming, with its revenue set to grow 68% from $38.6 billion in 2016 to $64.9 billion in 2020, with its share of the total market increasing from 29% to a full 50% over that time frame.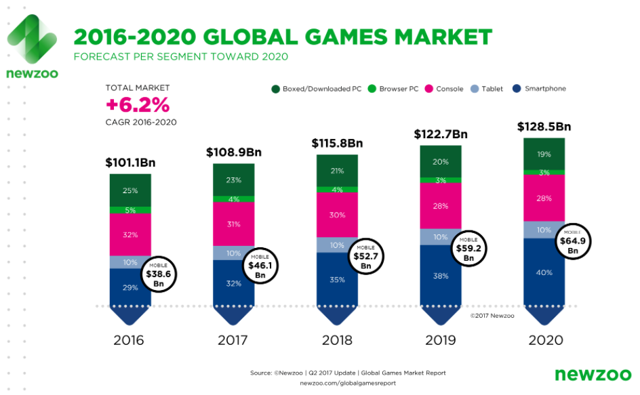 (Source: newzoo report)
Tangentially, eSports are a major growth driver, with the spin-off industry operating as a distinct but intrinsically linked part of the gaming world. ESports are organised, multiplayer gaming competitions. Tournaments and leagues exist for a number for different games from across multiple genres (first person shooters, strategy, sports), though some tend to lend themselves better to the competitive format than others. Audiences watch both live in stadiums and at homes via live streams, cheering on particular teams or individuals who often play for prize money.
The global eSports economy experienced year-on-year growth in 2017 of an incredible 41.3%, as ultra competitive gaming and the commercialisation of audiences as well as players becomes crashes into the mainstream. The global eSports audience will reach 385M in 2017, with 191M Enthusiasts - defined as those that watch eSports more than once a month and/or participate in (amateur) eSports leagues. This places it as a similar size to basketball with an estimated 400M fans and growing much more rapidly.
As countries become richer, leisure time increases, and gaming is proving to be the leisure activity of choice in the modern world. The gaming world shows no signs of slowing down, especially in the mobile and eSports segments, which are at the forefront of a landscape that is making gaming both more competitive and intertwined with the great downtime bastions of old, social media and television. The question, though, is whether ATVI can capitalise on these movements, or be consigned to the history books.
ATVI's eSports Investment
Its latest quarterly report puts its investment in the sector modestly: these opportunities are "still relatively nascent, but we view them as potentially significant sources of future revenues".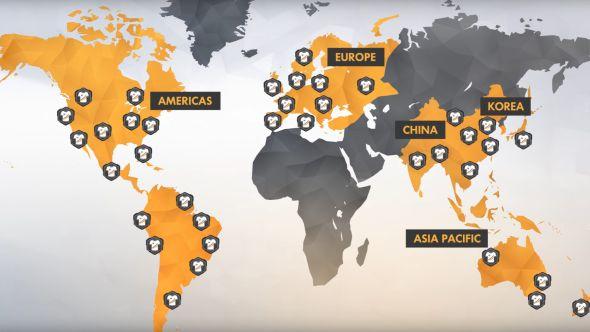 (Source: Overwatch League City Map)
In fact, ATVI has just completed the sale of its first Overwatch league; an ambitious project to craft a network of city based, entrepreneur driven teams, much like the NBA and NFL, though on a distinctly global scale. What Activision Blizzard is attempting here is ground-breaking, it is the first attempt to directly marry the power of online gaming with the traditional model of geographically partisan support groups. The frenzied state of fandom, combined with parochial allegiances that have seen the NBA morph into both a mega-industry and standard water-cooler chat, is the goal for this project. Whilst Tencent's (OTCPK:OTCPK:TCEHY) League of Legends has dominated globally competitive tournament-based eSports, its teams are less explicitly connected to their region, and team names read much more like phone models than expressions of a team's origin. Even so, the 2016 League of Legends World Championship final demanded 43M unique viewers, dwarfing the 24.5M viewers that tuned into Game 5 of the NBA finals in 2017. That game generated $1.7 billion in revenue last year.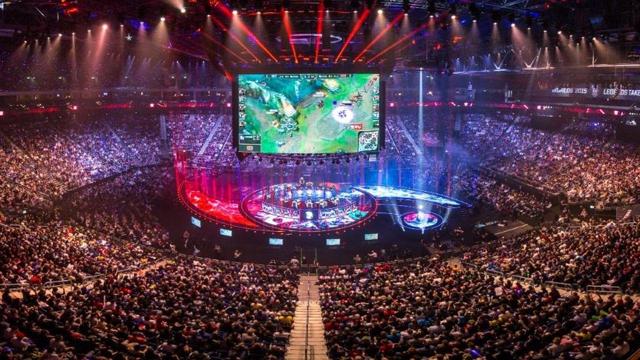 (Source: League of Legends World Championship)
While Overwatch is currently smaller than comparable League of legends, at around 30M monthly active users as opposed to League of Legends' 100M figure, ATVI has geared the game with inbuilt mechanisms for growth. For one, the company keeps the game fresh with new content such as playable characters and skins (aesthetic modifications). This is dissimilar to the traditional model of games in which user bases peaked early upon release and declined until sequels picked up the slack. As new hype is generated around each iteration of new content, the user base should continue to grow for a significantly longer lifespan. More importantly, though, the game is specifically designed to be highly watchable, rather than just playable - a key value driver for burgeoning eSports. After each game, highlight "Moments" are chosen which are highly shareable and accessible. ATVI has taken notes from traditional sports and adopted a highly successful model to capitalising on this phenomenon.
ATVI plans to split revenue with the teams, providing strong incentives for growth through owner investment. Money is made from "media rights and consumer products" according to the company, along with sponsorships and in-game merchandise. Overwatch isn't the only ATVI title amenable to this model either, both Call of Duty and Hearthstone have crossed over into eSports, with tournament sizes also growing rapidly.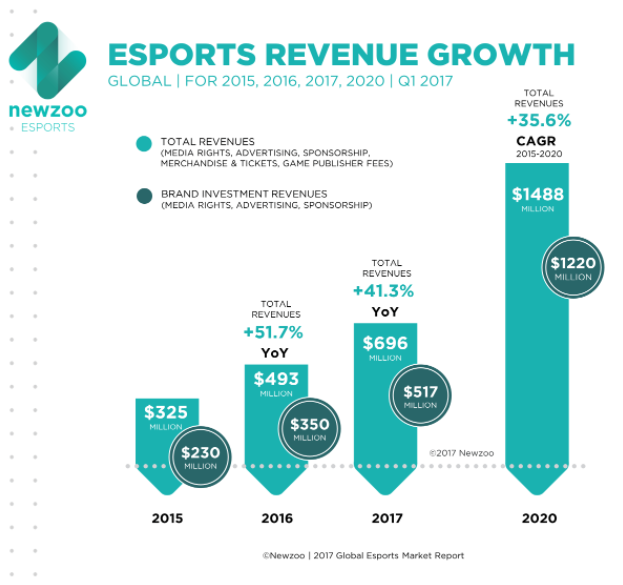 (Source: newzoo report)
The important factor to note is how much ATVI is willing to invest in this trend. A key signifier of this is personnel, and the company has made its intentions clear. Instead of a traditional gaming buff, last year, the company chose a former Fox Sports executive to head its eSports division. This, combined with high profile hires from ESPN, NFL, and Univision, suggests strongly that this is where Activision Blizzard will continue putting its resources; a strategic decision that implies a boldness to not try to hold on to previously successful models. Moving forward, the company has indicated an interest to move some of its titles into the virtual reality space, though, at this point, it is making no immediate moves due to the lack of consumers with the necessary equipment at this early stage. Though, as this trend unfolds, it will certainly be a boon to the game-watching industry, as vastly more immersive worlds will heighten the experience.
Mobile Gaming
ATVI has not been around for long in the mobile gaming industry. However, the skyrocketing share of mobile gaming as a proportion of total gaming makes it clear that this will be a determinant of success going forward. With the acquisition of King in 2015, ATVI shelled out 5.9 billion for a piece of this pie. That acquisition has so far paid off, with King's net revenue increasing 38% in the first half of this year as compared with the comparable 2016 period. This dramatically outpaced the less than 20% growth rate across all mobile games.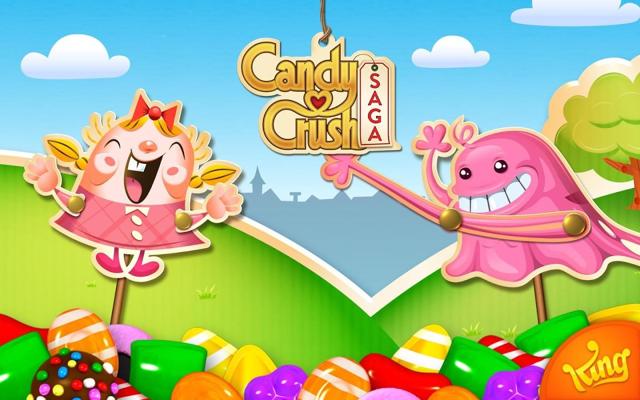 (Candy Crush Saga)
Again, the key is to look to the future and assess whether ATVI's investment in King will continue to generate new cash. A derivative of the ever popular and profitable Candy Crush Sage game called Candy Crush Friends Saga soft launched in May, as a way to squeeze spending out of consumers that loved the original game but hit in-game walls that require users to wait before continuing play.
Farm Adventure is also on its way as a re-energised version of Farm Heroes Saga, as well as Legend of Solgard, which mimics gameplay from ATVI's more traditional realm of PC gaming, using collectibles and long-term strategy in a method similar to Hearthstone. These new games in the pipeline are touted to be significant contributors to King's revenues, with their focus on long term investment matching an increase in mobile gamers increasing time spent on each game. Though a key risk will be to watch closely whether it can mimic the success of Candy Crush which has been holding up King's revenues, providing well over half in recent months.
Financial Information
ATVI's numbers have as much firepower as its titles, with a key highlight for the stock being its high free cash flow margins that warp its P/E ratio.
Price/Cash Flow can be considered a truer metric of a company's profitability, especially in the context of companies whose goodwill and IP figures make up a substantial proportion of equity, and for Activision Blizzard, it makes a substantial difference. ATVI's Price/Cash Flow metric yields a ratio of 16.82 compared with EA's significantly nearly double 32.61. This is in comparison with ATVI's P/E of nearly 42, and EA's 26% cheaper 31.2. If one were to simply look at the latter figures, ATVI could seem the substantially more expensive buy, but due to heavy amortization and depreciation practises, net income has not reflected ATVI's strong cash generation margins. This difference in accounting practice becomes clear upon examining both company's annual reports. ATVI is heavily discounting the value of the intangible assets purchased as part of the King acquisition. The company has estimated the useful life of King's current 314M monthly active user base at a lowly two years, depreciating over $300M per year in this area alone. Add between $170M and $280M per year for the depreciation of franchises such as Candy Crush based on a useful life of 3-5 years, and the picture becomes clear that Activision Blizzard is offering conservative estimates on how long King will be able to sustain the titles that have been a cash generation machine for the last half decade.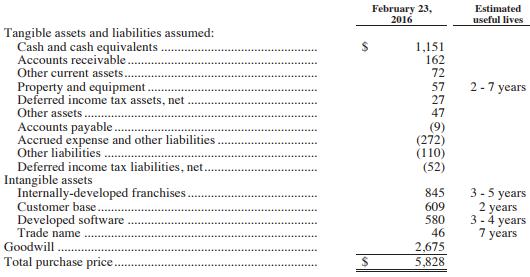 (Source: King Acquisition)
Discounted Cash Flow Analysis
Given the above picture of financial information, I have constructed a DCF analysis, using a projected EPS growth rate based on estimates provided by Reuters.
Symbol: ATVI
Growth Rate (Growth Stage): 21.46%
Discount Rate: 8.00%
Terminal Growth Rate:3.00%
EPS (Basic): 1.48
X: 1.125
Y: 0.954
Growth Value 2018 2019 2020 2021 2022 2023 2024 2025 2026 2027
$29.87 1.66 1.87 2.11 2.37 2.66 2.99 3.37 3.79 4.26 4.79
Terminal Value 2028 2029 2030 2031 2032 2033 2034 2035 2036 2037
$37.25 4.57 4.36 4.16 3.96 3.78 3.60 3.44 3.28 3.13 2.98
Fair Value: $67.12
Price: $65.56
Margin of Safety: 2%
This analysis suggests that if we are able to assume that ATVI will keep growing at a similar pace, its currently high P/E ratio obscures a stock that is currently slightly undervalued based on projected EPS growth. The inputted growth rate of 21.46% reflects a slight improvement to the last few years of EPS growth, based on ATVI's strong position in eSports and mobile gaming, a tailwind going forward, along with depreciation and amortization that is currently distorting earnings. This projected growth rate, despite being in line with history is still a large one that carries a degree of risk. Its upside is drawn from the potential ability of Overwatch and similar titles to accelerate the move from gaming to a spectator sport that will rapidly be monetized. It is already a billion dollar game in terms of yearly revenue, but adding a revenue stream of audience members and sponsors, for which investors have already paid $20M a piece to have just a single eSports team-sized slice. Downside risk is also bolstered by the upcoming release of two large franchise sequels: Call of Duty WWII and Destiny 2.
Conclusion
The gaming industry is poised to continue this period of rapid and steady growth, especially given the rise of eSports and the continued expansion of mobile gaming. ATVI has made strategic moves that signal it is ready to capitalise on these trends and is not afraid to make the necessary investments. This solid foundation, combined with conservative accounting practices that see its P/E ratio unreflective of a stock that trades at a considerably reasonable cash flow margin, yields a stock that has potential to be valuable over the coming years. However, its current price of just over $60 makes it is an expensive purchase. Any potential investor should consider the risks that gaming companies rely heavily on hits and popular titles that can break through and stand above a highly competitive market, though comparing this risk with the company's track record of solid titles and large possible upside in emerging sectors of the industry suggests Activision Blizzard is now a buy.
As always, thank you for reading. If you wish to follow our future articles, just click the "Follow" button next to our name at the top. If you would like us to cover a company, please let us know in the comments. Thank you for reading.