Welcome to the natural gas storage forecast edition of Natural Gas Daily!
EIA reported a +30 Bcf change yesterday, which was 1 Bcf higher than our forecast of +29 Bcf. Be sure to read our August 25 week storage report here. For the week of August 25, we expect an injection of 29 Bcf.
For the week of 9/1, we expect an injection of 72 Bcf.

On a fundamental supply and demand basis, below is how each fundamental factor fared vs. the prior week: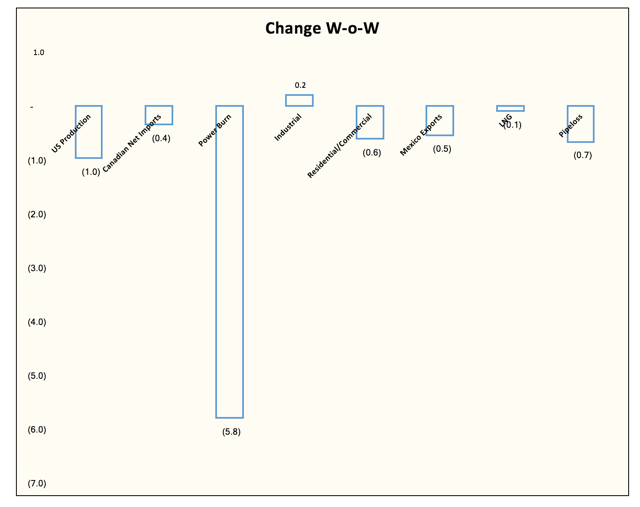 Source: HFI Research
This week's physical balance was thrown into complete chaos, thanks to Hurricane Harvey. For Lower 48 production, we saw weekly production average decrease by 1 Bcf/d, but towards the end of the week, production has already started to recover strongly. Canadian gas net imports also declined by 0.4 Bcf/d.
For demand, power burn was the biggest loser coming in at -5.8 Bcf/d week over week, and thus explains why we are seeing such a high injection figure this week. As of the latest daily figures, power burn has not recovered, and as summer is coming to an end, power burn is expected to drift lower in September.
Mexico gas exports also saw a drop of 0.5 Bcf/d week over week as operations on some pipelines were interrupted.
Despite weakening physical balances, natural gas prices shot up this week, and today's rally is led by winter contracts. In our premium NGF articles to HFI Research subscribers last week, we pegged a fundamental value of $3.30/MMBtu for November versus $3/MMBtu at the time. We said that winter contracts were undervalued. Today, November is trading closer to $3.15/MMBtu.
Here's a look at the balance last week versus the rest: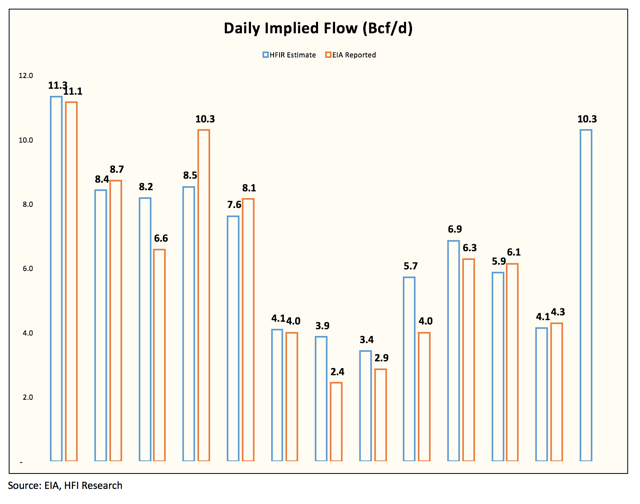 If EIA reports a storage injection of 72 Bcf, it would be compared to +38 Bcf last year and +58 Bcf for the five-year average.
For readers interested in our detailed natural gas daily write-ups along with trader commentary, we offer HFIR Natural Gas which is solely dedicated to natural gas research. We think you will find the premium dailies to be even more helpful than our public articles! You can sign up here!
Disclosure: I/we have no positions in any stocks mentioned, and no plans to initiate any positions within the next 72 hours. I wrote this article myself, and it expresses my own opinions. I am not receiving compensation for it (other than from Seeking Alpha). I have no business relationship with any company whose stock is mentioned in this article.