When I started writing here, the Sand in Shoes portfolio was an ugly duckling full of random and less than ideal stocks. Over the last almost four months it has transformed into a more beautiful and more diversified "Sleep Well At Night" SWAN of a dividend growth portfolio. There is still a lot of work to do, but already the portfolio looks quite a bit different. Every month I seem to make some major changes to the makeup of the portfolio and August was no exception. We'll start by looking at the dividend picture and the performance during the month.
August Activity
In August, the Sand In Shoes portfolio collected $114.34 in dividends. Also, new this month, there was $186.66 collected from the various fixed income investments I purchased in July. Also new this month, and a one-time event, I paid a $75 fee to my old brokerage house when I combined my old IRA with my new roll-over IRA. One stock was sold, a small percentage of the S&P 500 Index fund was sold, and two new stocks were purchased.
Let's start with the dividends collected. Here's how the dividend activity looked: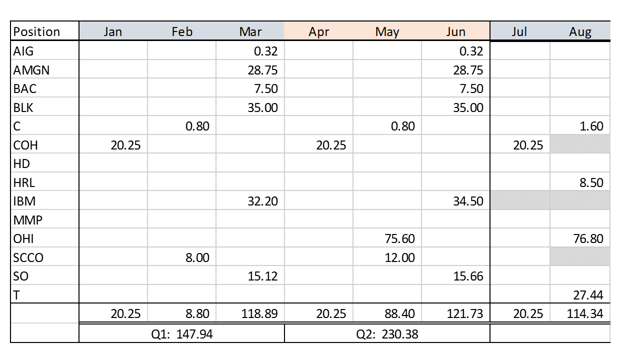 August Performance
Hormel Foods (HRL) reported disappointing earnings on August 24th, and shares are down 10% from their closing price on 7/31. Both my Small and Mid-cap funds had rough months (each down more than 2%) but the international equity portion was up 1.5% which helped offset those. My fixed income piece, in addition to spitting out a few hundred bucks cash was also up for the month, if only barely. All in all I came in pretty flat (up 0.08%) with no single piece of my portfolio really making that much of a difference.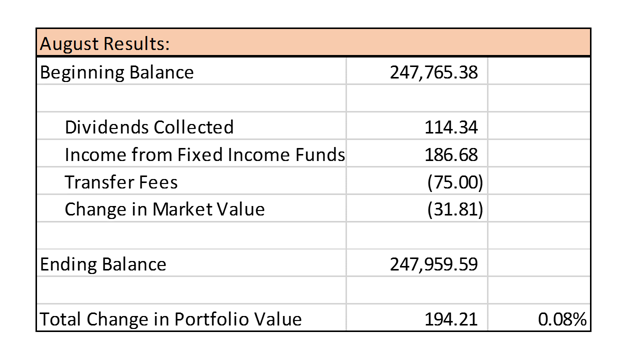 Individual Stocks
Below is the current list of my individual stocks in the Sand in Shoes IRA portfolio. I am now finally confident that all of these positions (with the exception of American International Group Inc. (AIG)) are solid dividend growth stocks. Though I do have to treat the bank stocks slightly differently. Neither of them has a long recent track record of raising their dividends annually (each just did so for the second consecutive year), but they have started again, and they are drastically increasing their payouts. In June, Bank of America (BAC) raised their dividend 60% and Citigroup (C) doubled theirs. So I'll give them a pass on the length of their dividend increase streak for the moment. I for one would like to see where this goes in the future.
All of the other stocks, save AIG and the banks, are at least Dividend Challengers meaning they have raised their dividends for five straight years or more. Even AIG has raised their quarterly dividend from $0.10 in 2013 to the $0.32 it pays now, though they have not done so regularly. They could mildly surprise with a raise this coming quarter, we shall see. It is such a tiny fraction of my portfolio either way I've probably already spent too much time thinking about it.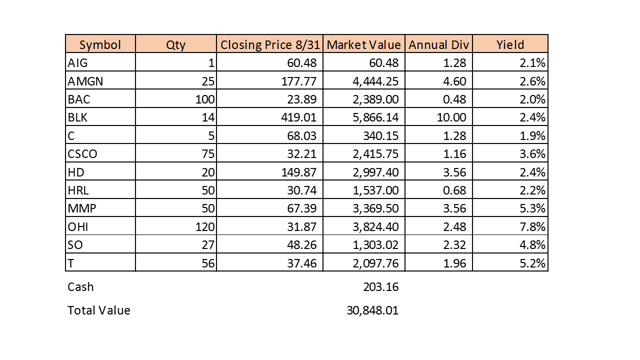 Projected Dividends
For the 3rd quarter I expect my dividend payments to come in just under $250 for the quarter. This means I still need to increase my dividend payments tenfold in the next ten years to reach my goal of $10,000 in annual dividend payments.
I indicated with a dark gray bar the positions that I have sold and from which I will receive no further dividends. I have not yet received any distributions from Magellan Midstream Partners (MMP), but I am expecting that to be at least $45 per quarter, which will make quite a difference. I also expect my first dividend from Cisco Systems (CSCO) in October, and the payment from these two newcomers, along with the regular increases, should push my Q4 to just under $300 for the quarter. Also, I expect I will add a new position per month, so depending on the timing of the dividends I may reach $350 or $400 for Q4. We'll see, but I'm getting ahead of myself slightly. Let's hit the $300 mark first and move on from there.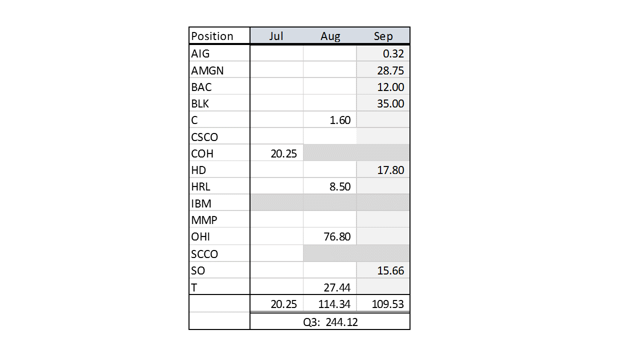 Sector Diversification
With the addition during the month of a Technology company (CSCO), and Energy company (MMP), but the sale of Southern Copper Corp (NYSE:SCCO), my lone Materials company, I now have positions in nine of the eleven sectors. My goal next month is to enter a new position in either the Industrials or Materials sector. Still, the makeup of my portfolio it is shaping up.
| | |
| --- | --- |
| Consumer Discretionary | 9.7% |
| Consumer Staples | 5.0% |
| Energy | 10.9% |
| Financials | 28.1% |
| Health | 14.4% |
| Industrials | 0.0% |
| Materials | 0.0% |
| REIT | 12.4% |
| Technology | 7.8% |
| Telecom | 6.8% |
| Utilities | 4.2% |
| Cash | 0.7% |
| | 100.0% |
Asset Allocation for the Portfolio
As mentioned above, the Small and Mid-Cap portion of my portfolio slightly underperformed the rest of it. Together these two asset classes are about $600 down from their 7/31 value. And now you can see (below) that whereas last month they were spot on their target percentages (5.0%), this month they are both just a bit below where I'd like them. If this continues next month I might decide to take whatever cash has been generated and bump up the number of shares I have in each fund.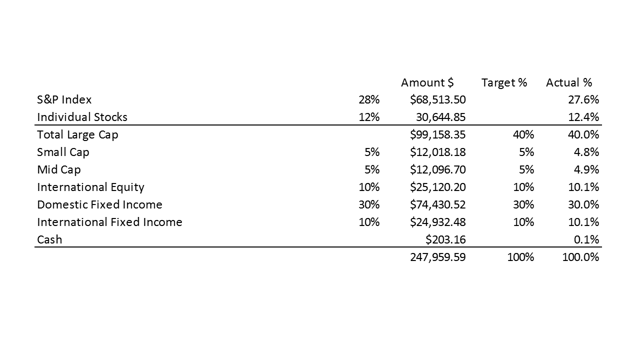 Everything else is looking pretty good, and I don't have enough cash to make much of a difference in anything yet so when and if I do decide to purchase a new Industrials or Materials stock I will need to sell off some of the S&P 500 Index fund as I did in August.
Sales and Purchases in August
After I used all of the cash that was rolled over from my old 401(k) and I made all of my purchases in July I had about $300 in cash. Early in the month I received about another $185 from some of my new fixed income investments, which gave me just under $500. On August 18th I sold enough shares of my S&P 500 Index ETF to give me another $1,950 in cash and turned around and purchased my 75 shares of CSCO for $2,300 giving me a cost basis of $30.55 per share. I didn't get the exact low, but I got pretty close. Something about a blind squirrel and nuts…? Can't remember.
Anyway, also during the month I was called out of my SCCO position and used the proceeds to purchase MMP, pretty close to a wash cash-wise. You can see the details of those trades and the reasoning behind them here.
Final Thoughts on the month of August
I could not be more thrilled with the progress I have made in transforming my ugly duckling into the SWAN it is becoming. I now have a pretty solid base of stocks that I think will all deliver to me ever growing streams of cash. There are only a few stocks left that I am even remotely considering getting rid of, most of them I plan on holding until and into retirement. Of course each individual stock will continue to be monitored, and if the story changes for any of them I won't hesitate to sell them and re-invest the proceeds into a better story.
Over the next two months my plan is to finally have stocks for each of the eleven sectors. Then I can start deciding if it is time for a second stock in my under-represented sectors or if the time is right to add to an existing position. Lots of exciting changes will be had in the coming months. I am looking forward to seeing what happens.
As always, thank you for reading and best of luck to you!
Disclosure: I am/we are long AIG, AMGN, BAC, BLK, C, CSCO, HD, HRL, MMP, OHI, SO, T.
I wrote this article myself, and it expresses my own opinions. I am not receiving compensation for it (other than from Seeking Alpha). I have no business relationship with any company whose stock is mentioned in this article.