U.S. oil production growth is the only piece of the supply puzzle oil bears continue to point to, as nearly all other supply has either been declining or flat. This is why the U.S. oil rig count, which has been a reliable indicator in the past, is so important.
I argued in my article seven weeks ago "Is Oil Boiling Under The Surface?," that the U.S. oil rig count has peaked and that it might even be rolling over for a ~100 rig decline through Q3 2017. It took a few more weeks for the rig count to finally start rolling over, but it's now in a downtrend, as the following graph illustrates: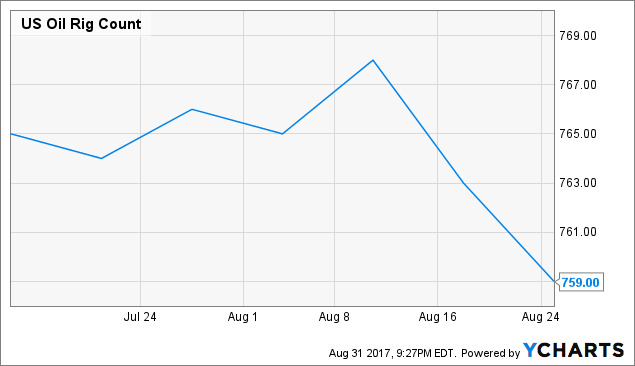 US Oil Rig Count data by YCharts
In order to see where the rig count goes from here, let's quickly review the historical relationship between oil prices and the rig count. The following graph illustrates this relationship throughout the last five years: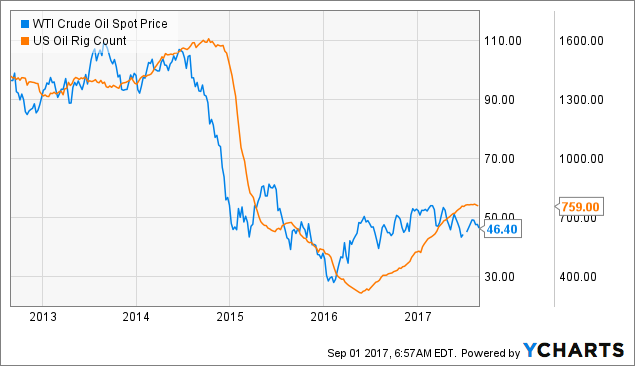 WTI Crude Oil Spot Price data by YCharts
Two observations:
The recent downturn in the oil rig count follows a substantial recovery from its low of 316 in May of last year to 759 as of last Friday. Zooming out further, the oil rig count has recovered one-third of the drop from its peak at just above 1,600 nearly three years ago.

The oil rig count lags oil prices by about four months, and even if oil prices change direction within that period, the rig count continues to resemble the price path from four months ago (e.g., Q3 2013, Q3 2014, Q3 2015 and Q3 2016).
This means, despite the volatility in oil prices since March, the oil rig count might continue lower through October. However, the counter-argument is also strong.
Counterargument
The argument against my prediction that the oil rig count will continue to decline is based on sound logic and is very possible, and it goes something like this:
In the last two months, the decline in U.S. oil inventories has accelerated and OPEC's compliance to production cuts has remained high. As a result, an increasing number of analysts are anticipating higher prices through year-end.
Given that fracking crews are in short supply, drillers might choose to sit through the recent oil price slump while holding on to the rigs they secured earlier this year.
Schlumberger's (SLB) Chairman and CEO, Paal Kibsgaard, also predicted continued growth in the rig count during the company's most recent earnings call:
Well, if you look at Q3 in terms of the business we expect to see continuation of the trends that we saw in the second quarter. So, for North America that means continued solid growth. We expect the rig count to continue to grow in Q3, although likely slow in somewhat in pace. We expect to see additional pricing and share gains in directional drilling and as I mentioned earlier we will continue to activate or reactivate frac capacity at the same rate as we did in Q2.
Furthermore, the Drillinginfo Index, an alternative to the widely followed Baker Hughes Rig Count, is showing a recovery in total rig count in recent weeks for a relatively flat reading in August: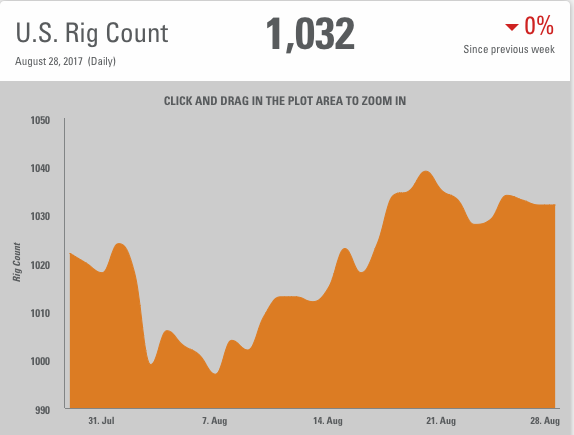 Bottom Line
Despite calls of higher oil prices earlier this year, prices have recently slumped again, finally stumping the persistent oil rig count growth in August. The quicker-than-expected decline in oil inventories, however, might soon lead to a rise in oil prices as drillers hold on to the rigs and fracking crews that they have under contract. This is why I expect the oil rig count decline to continue for another three to four weeks, but start rising again sooner than the historical price and rig count relationship would indicate.
A smaller-than-expected oil rig count decline would have significant implications for investors in energy services companies - such as Schlumberger and Halliburton (HAL), which have both suffered double-digit stock price declines in the last month - along with exploration and production companies, as oil prices failed to launch. If what the Drillinginfo Index is suggesting is correct, then oilfield service companies should continue to command strong pricing power and fundamentally positive outlook despite the recent oil price slump.
Follow For Free Articles
If you enjoyed this article, please scroll up to the top of the page and click the "Follow" button next to my name. Your support will allow me to invest further time and resources into creating proprietary research for you.
Premium Research
Despite my conviction in oil prices, I see even better opportunities elsewhere. If you are interested in learning about my investment strategy, having your questions answered promptly, as well as reading high-quality detailed research on Tesla, which will affect the future of oil markets, you can sign up for Tesla Forum here. I am confident that you will find my research to be very insightful, and I look forward to discussing ideas with you.
Disclosure: I/we have no positions in any stocks mentioned, and no plans to initiate any positions within the next 72 hours.
I wrote this article myself, and it expresses my own opinions. I am not receiving compensation for it (other than from Seeking Alpha). I have no business relationship with any company whose stock is mentioned in this article.