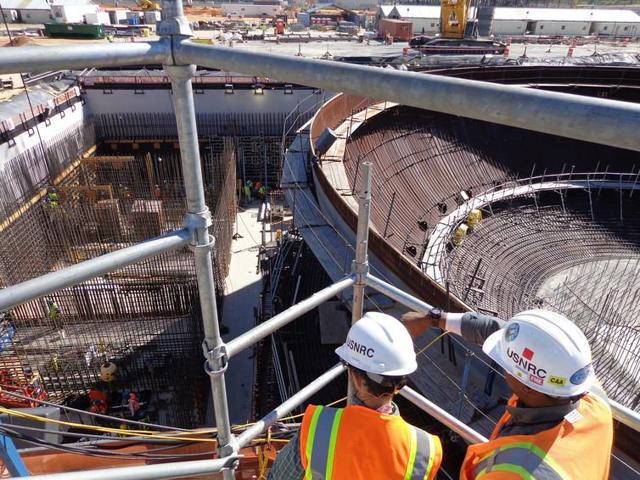 After Georgia Power, a subsidiary of Southern Company (NYSE:SO), announced its intention to continue construction of the nuclear reactors at Plant Vogtle Units 3 and 4, Moody's Investors Service published an Issuer Comment on August 31 stating that it regarded the decision as credit negative.
Moody's concerns about completion of Plant Vogtle Units 3 and 4 have been known for some time now, but the rating service felt compelled to reiterate and summarize its views in this new Issuer Comment.
Moody's views conflict with those of Georgia Governor Nathan Deal who praised the decision, saying:
"I'm extremely pleased to learn the co-owners of Plant Vogtle Units 3 and 4 have recommended completion of construction. Georgia Power, Oglethorpe Power, MEAG Power and Dalton Utilities have made the right decision for our state. These new units will provide clean and affordable energy to Georgians for more than 60 years while creating 6,000 jobs during project construction and 800 well-paying, permanent ones after."
Moody's concerns outlined
Moody's explained that in its view:
Georgia Power's rating outlook remains negative pending the review and approval of the utility's recommendation and related conditions by the Georgia Public Service Commission (GPSC), further clarification of the project's latest cost and schedule assumptions, the effect that the higher costs will have on Georgia Power's financial metrics and leverage, and the impact that the conditions incorporated in the recommendation to the GPSC will have on the utility's credit quality. We believe the decision to move forward has placed a material amount of additional negative pressure on the utility's credit quality.
The rating agency also raises questions whether Georgia Power will be able to recover costs related to construction:
On 31 August 2017, as part of its 17th semi-annual Vogtle Construction Monitoring Report (VCM) filing, Georgia Power recommended to the GPSC that it continue construction of two new nuclear units at the company's existing Plant Vogtle nuclear power plant under certain conditions. These conditions include approval by the GPSC that the revised costs and schedule are reasonable (as opposed to prudent) and assurances from the GPSC that Georgia Power will be able to recover costs resulting from potential adverse developments in the future, including: non-performance by Toshiba Corporation (Caa1 negative) under its $1.7 billion completion guarantee; the loss of federal production tax credits; and the inability to obtain additional Department of Energy loan guarantees on the project. Combined, these arrangements are designed to mitigate the rate impact of the project on customers. While recovery of such costs from customers would be credit positive, the conditions to transfer all of these costs to customers may not be approved.
In justifying its decision to view continuation of the construction project as credit negative, Moody's has expressed its concerns about management of the project. While it sees the hiring of Bechtel as a positive development, it writes:
By pursuing both new nuclear units, Georgia Power's business risk will increase materially, net of any mitigation associated with the above referenced conditions. A key risk going forward is a lack of a fixed price contract. Project management responsibilities have been transferred to Georgia Power's parent, Southern Company (Baa2 stable), and affiliate, Southern Nuclear (unrated), since the project's EPC contractor, Westinghouse Electric Company LLC (unrated), filed for bankruptcy protection on 29 March 2017 and rejected the EPC contract. We view nuclear plant construction as an activity well outside of Southern's core competency of operating regulated electric and natural gas utility businesses.
Rating in perspective
Currently, Moody's gives Georgia Power a Long Term rating of A3, which places it in the Upper Medium Investment Grade.
To put the rating in perspective, Moody's currently rates Duke Energy (NYSE:DUK) as Baaa1/Stable.
If Moody's drops Georgia Power's rating one notch, it will fall to Baaa1, the same as Duke Energy, which keeps it in Investment Grade, and three notches above Non-Investment Grade Speculative.
On August 25, Duke Energy dropped plans to build its Lee nuclear plant in South Carolina and its Levy nuclear facility in Florida. Both of these projects would have used the same Westinghouse AP1000 reactor design now planned for Plant Vogtle. Moody's has not indicated whether it will change its rating of Duke Energy based on these changed plans.
Credit concerns may affect negotiations over purchase of Santee Cooper
Even as work on Plant Vogtle continues, Southern Company is reported interested in purchasing South Carolina's state-owned electric utility, Santee Cooper.
Media reports say that five utilities are negotiating to buy the company from the state including Duke Energy, South Carolina's largest power provider, as well as Southern Co. and Dominion Energy (NYSE:D) (The other two utilities have not been publicly identified).
Although Santee Cooper, along with SCANA (NYSE:SCG), decided to abandon construction of the V.C. Summer nuclear project, not everyone in South Carolina agrees with that decision.
The (Charleston, S.C.) Post and Courier reports that South Carolina Governor Henry McMaster would like to conclude a sale that would include reviving the V.C. Summer nuclear project.
Southern Company could have an edge in negotiations to buy Santee Cooper if it was willing to restart construction, but this would also add to its costs, as the Summer project is also suffering from cost overruns and delays. Duke Energy has said it has no interest in restarting construction of the nuclear units. The main sticking point for any purchase of Santee Cooper is its $8 billion debt, which equals the state's annual budget.
Governor McMaster has stated that the state has no intentions of taking on the debt as any part of a deal to sell the utility. "We're not going to ask the state taxpayers to pay a penny in these negotiations or in any agreement," McMaster said after a meeting of the State Fiscal Accountability Authority Board.
Adding this much debt to Southern Company would certainly bring about another downgrade from the bond rating agencies, and with Georgia Power already credit negative, the combination might be too great for the company despite its great resources.
Other than buying Santee Cooper outright, The State newspaper (Columbia, S.C.) is reporting that utilities have discussed with the governor:
Buying the right to supply energy to 177,000 retail customers that Santee Cooper serves directly, mostly along the S.C. coast.
Taking over Santee Cooper's long-term contract to supply electricity to 20 S.C. electric cooperatives with more than 764,000 customers. That deal ends in 2058.
Buying Santee Cooper's transmission system, which transports electricity from the utility's generation plants to its substations.
Putting a nearby utility on the same power grid as Santee Cooper and, if possible, SCE&G, allowing the utilities to distribute energy more efficiently.
For Southern Company investors, they must continue to have faith that Southern Company's management, which has been successful so far, can continue make the deals that will strengthen the utility in the coming decades while protecting its dividend, which currently is about 4.8%.
Disclosure: I/we have no positions in any stocks mentioned, and no plans to initiate any positions within the next 72 hours.
I wrote this article myself, and it expresses my own opinions. I am not receiving compensation for it (other than from Seeking Alpha). I have no business relationship with any company whose stock is mentioned in this article.