Kamakura Reports Stable Corporate Credit Quality In August
Includes:
AIBEF, ASNA, CRF, DDM, DIA, DOG, DXD, EEH, EPS, EQL, FEX, FWDD, HUSV, IVV, IWL, IWM, JHML, JKD, OTPIX, PPLC, PPSC, PSQ, QID, QLD, QQEW, QQQ, QQQE, QQXT, RSP, RWL-OLD, RWM, RYARX, RYRSX, SBUS, SCAP, SCHX, SDOW, SDS, SFLA, SH, SMLL, SPDN, SPLX, SPSM, SPUU, SPXE, SPXL, SPXN, SPXS, SPXT, SPXU, SPXV, SPY, SQQQ, SRTY, SSO, SYE, TNA, TQQQ, TWM, TZA, UDOW, UDPIX, UPRO, URTY, USSD, USWD, UWM, VFINX, VOO, VTWO, VV
by: Donald van Deventer
Summary
The Kamakura Troubled Company index increased 0.03% in August to 7.84% at the end of the month.
This puts world-wide corporate credit quality at the 83rd percentile of the period from 1990 to the present, with 100 indicating "best" credit conditions.
The expected 10-year cumulative default rate for all rated firms world wide is now 14.09%.
Kamakura Troubled Company Index Increases 0.03% to 7.84%
Kamakura Corporation reported Tuesday that the Kamakura troubled company index ended August at 7.84%, an increase of 0.03% from the prior month. The index reflects the percentage of the Kamakura 39,000 public firm universe that has a default probability over 1.00%. An increase in the index reflects declining credit quality while a decrease reflects improving credit quality.
As of the end of August, the percentage of the global corporate universe with default probabilities between 1% and 5% was 6.50%, an increase of 0.02% from the prior month; the percentage of the universe with default probabilities between 5% and 10% was 0.92%, a decrease of 0.01% from the prior month; the percentage between 10% and 20% was 0.35%, up 0.03%; while the percentage of companies with default probabilities over 20% was 0.07%, down 0.01% from the previous month. The index ranged from 7.84% on August 31 to 8.90% on August 10. Volatility was slightly higher than the previous month.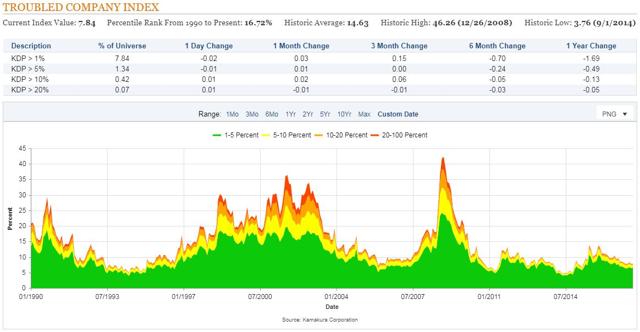 At 7.84%, the troubled company index declined slightly to the 83rd percentile of historical credit quality (with 100 being best all time) over the period from January 1990 to the present. Among the 10 riskiest rated firms in August, seven were from the United States, two from Great Britain and one from Singapore. During the month, there were two defaults in the coverage universe with Air Berlin (OTCPK:AIBEF) (ETR: AB1) being the most prominent. Ascena Retail Group, Inc. (NASDAQ:ASNA) continues to be the riskiest rated firm with a one-year KDP of 26.90%, up 0.70% over the past month.

Martin Zorn, President and Chief Operating Officer for Kamakura Corporation, said Tuesday:
"Credit metrics continue to be stable and benign during August with a decline in the number of observed defaults to a multi-month low. Overall government statistics show reductions in household debt burden although U.S. credit card debt is near the peak levels reached in 2008. U.S. student loans directly to the government now totals $1.1 trillion, representing about 30% of overall consumer credit. We continue to believe the biggest risk is the leveraged loan sector once interest rates begin to rise. Forward-looking tools are essential in this environment. The reduced form Kamakura Default Probability (blue) provided significant advance warning compared to a structural Merton default probability (orange) in the case of Air Berlin as can be seen from the chart below."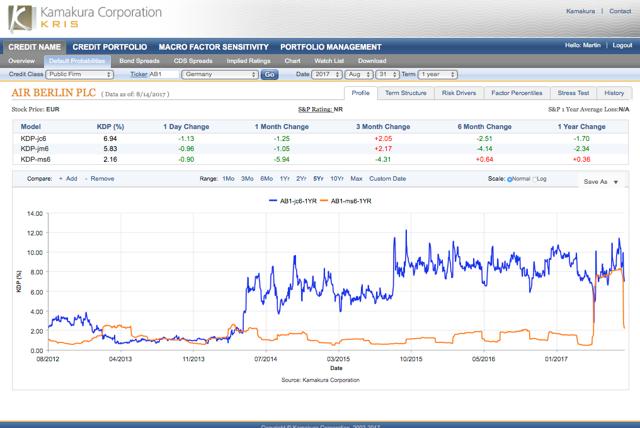 Looking at the long-term outlook for credit, the Kamakura expected 10-year cumulative default probability for all rated firms world-wide is now at 14.09%, as shown below: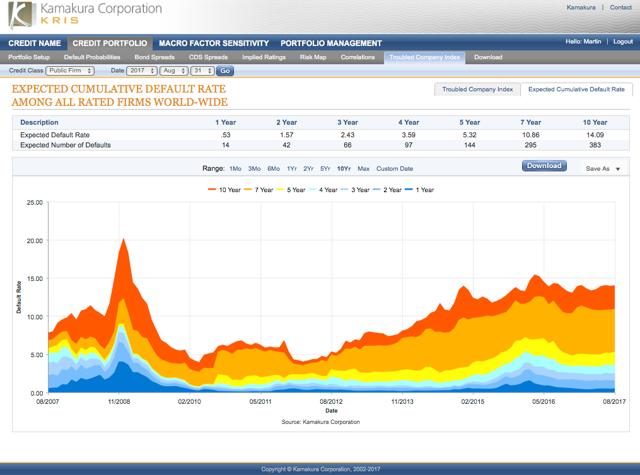 The Kamakura troubled company index measures the percentage of 39,000 public firms in 68 countries that have annualized one-month default risk over one percent. The average index value since January 1990 is 14.63%. Beginning in November 2015, the Kamakura index has used the annualized one month default probability produced by the KRIS version 6.0 Jarrow-Chava reduced form default probability model, a formula that bases default predictions on a sophisticated combination of financial ratios, stock price history, and macroeconomic factors. The KRIS version 6.0 models were developed using a database of more than 2.2 million observations and more than 2,600 corporate failures. The version 6.0 model was estimated over the period from 1990 to May 2014, which includes the insights of the entirety of the recent credit crisis.
The 68 countries currently covered by the index are Argentina, Australia, Austria, Bahrain, Bangladesh, Belgium, Brazil, Bulgaria, Canada, Chile, China, Colombia, Croatia, Cyprus, Denmark, Egypt, Estonia, Finland, France, Germany, Greece, Hungary, Hong Kong, Iceland, India, Indonesia, Ireland, Israel, Italy, Japan, Jordan, Kuwait, Luxembourg, Malaysia, Malta, Mexico, Nigeria, the Netherlands, New Zealand, Norway, Oman, Pakistan, Peru, the Philippines, Poland, Portugal, Qatar, Romania, Russia, Saudi Arabia, Serbia, Singapore, Slovakia, Slovenia, South Africa, South Korea, Spain, Sri Lanka, Sweden, Switzerland, Taiwan, Thailand, Turkey, the United Arab Emirates, the United Kingdom, the United States, and Viet Nam.
A complete technical guide is provided to subscribers which includes full model test results and parameters. The KRIS service also includes a wide array of other default probability models that can be seamlessly loaded into Kamakura's state-of-the-art enterprise risk management software engine Kamakura Risk Manager. Models available include the non-public firm default model, the commercial real estate model, the U.S. bank model, and the sovereign model. Related data includes credit default swap trading volume by reference name, market implied credit spreads, and prices on all traded corporate bonds traded in the United States market. Macro factor parameter subscriptions include Heath, Jarrow and Morton term structure models for government securities in the United States, Germany, the United Kingdom, Canada, Spain, Sweden, Australia, Japan, Thailand and Singapore. All parameters are derived in a no arbitrage manner consistent with the seminal papers by Heath, Jarrow and Morton and Amin and Jarrow. A KRIS Macro Factor Scenario Service subscription includes both risk neutral and "real world" empirical scenarios for interest rates and macro factors.
Disclosure: I/we have no positions in any stocks mentioned, and no plans to initiate any positions within the next 72 hours. I wrote this article myself, and it expresses my own opinions. I am not receiving compensation for it. I have no business relationship with any company whose stock is mentioned in this article.