MLPs continued to rally this week. Like last week, Monday was negative, but each day the rest of the week was positive. MLPs have traded up in 8 of the last 9 sessions, +6.0% over that time since hitting a fresh 52-week low back on 8/21. MLPs were resilient after early selling Monday and Tuesday, and followed through the rest of the week.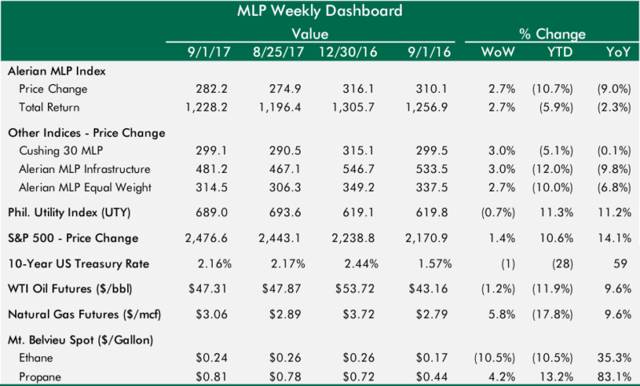 A larger-than-expected Harvey (confirmed as the largest rain event in U.S. history) did not weigh on midstream stock prices, even as the NGL, oil and refined product value chains were disrupted, and the ripple effects could move upstream as ports and petrochemical plant challenges linger.
Those disruptions were evident in commodity markets. Ethane spot prices dropped even as natural gas prices rallied, likely the result of the majority of U.S. ethylene cracker capacity being down for now. In addition, wholesale gasoline prices spiked on refinery outages.
Oil was down less than I would have guessed, influenced by bullish global data points that also may have helped propane rally. These cross currents will sort themselves out over the next few weeks as more clarity emerges on Gulf Coast ports and downstream outages.
Clutch City Response
Anyone who has spent time in Houston was not surprised to see heroes large and small emerge from the disaster. From Gallery Furniture owner Jim "Mattress Mack" McIngvale and Houston Texans star J.J. Watt to countless every day citizens finally finding a use for the lift kits on their massive trucks. Others have taken in neighbors with open arms and are organizing rebuilding efforts. An inspiring show of support for fellow Houstonians.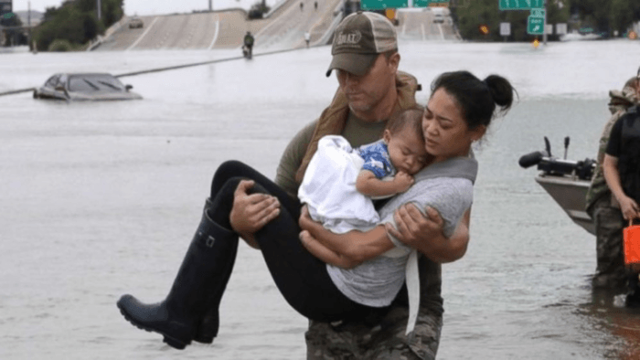 In addition to stunning personal donations from the likes of energy billionaire John Arnold, many midstream companies (Williams Cos. (NYSE:WMB), ONEOK Inc. (NYSE:OKE), Crestwood Equity Partners (NYSE:CEQP), Cheniere (NYSEMKT:LNG) to name a few) stepped up with large donations. Investment banks pledged trading dollars to organizations set to provide relief for hurricane victims. The response showed Houston still comes through in the clutch.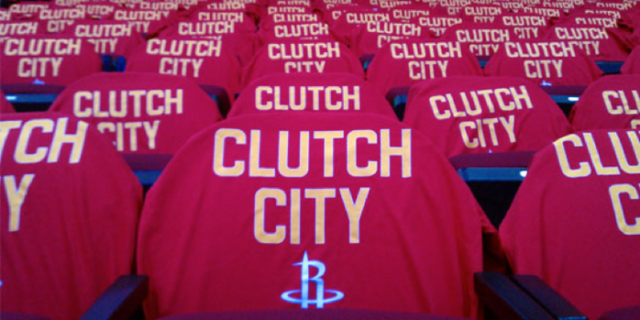 Our thoughts are with those that lost loved ones and those without homes following this disaster. Below I offer some charts and MLP sector navel gazing that hopefully distracts a bit from the ongoing devastation in Texas, where many of my readers live or have lived.
In the coming weeks, certain companies will emerge unscathed and may be able to gain market share in the wake of the storm. But for now, like in Game of Thrones, we are all fighting a common enemy, seeking to put the pieces back together and get critical infrastructure back in-service.
Midstream Sector Evolution
This week marked the 3-year anniversary of the peak of the MLP Index value (index is still down ~45% from the peak, not counting increasingly variable distributions). Also, another small MLP with less than 5 years as a public company announced a buy-in. It seems like a good time to assess the midstream universe as a whole and where MLPs stand within that universe.
Below is a chart that shows the market capitalization of the midstream sector on the eve of the OPEC non-cut in 2014 and as of today. MLPs used to make up 2/3rds of the market cap of that universe, but today represent just 55%.

The market share losses have gone to both U.S. and Canadian corporations, with Canada the only group to have gained absolute market capitalization. Canadian corps have grown by acquiring major U.S. natural gas companies and by not cutting their dividends, a reflection of lower risk contract structures and lower payout ratios heading into the downturn.
Canadian midstream companies are gaining interest from U.S. research analysts and larger institutional investors. The pending Alerian MLP Index reconstitution may even consider including some of them. We cover Canadian midstream companies at CBRE Clarion as part of our global listed infrastructure universe, and we expect that we will cover them more extensively here at MLPguy in the future, so stay tuned.
MLP Universe Update
Management teams or MLP investors will sometimes throw out a number when discussing the midstream sector, saying things like, "it's hard to compete when 100 MLPs are going after the same asset package". Next time you hear a number north of 100, refer to this site and say the number is actually closer to 60. Still probably too many, but not as many as there once were.
Below I break down the sector with several filters to get down to the number of realistic investable midstream MLPs. That number in 2014 was 77, and today it stands at 58, factoring in announced mergers (e.g., Andeavor Logistics (NYSE:ANDX)/Western Refining Logistics (NYSE:WNRL), Buckeye Partners (NYSE:BPL)/VTTI Energy Partners (NYSE:VTTI), and Arc Logistics Partners (NYSE:ARCX)). That's a decline of 25%, even with 12 new IPOs over the last 3 years.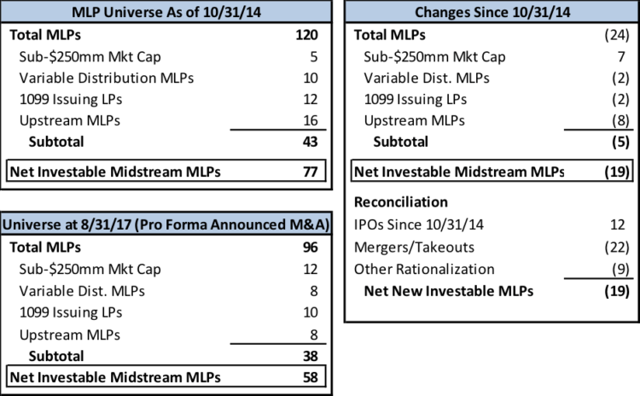 As an aside: upping the market cap ante to minimum of $500M would knock out another 6 MLPs, making the midstream MLP universe just 52 MLPs.
Status Update
We passed the end of another month this week, and it was a pretty awful one for MLPs. The Alerian MLP Index posted a -4.9% return, its worst month since January 2016 (-11.1%), although October 2016 (-4.5%) was close.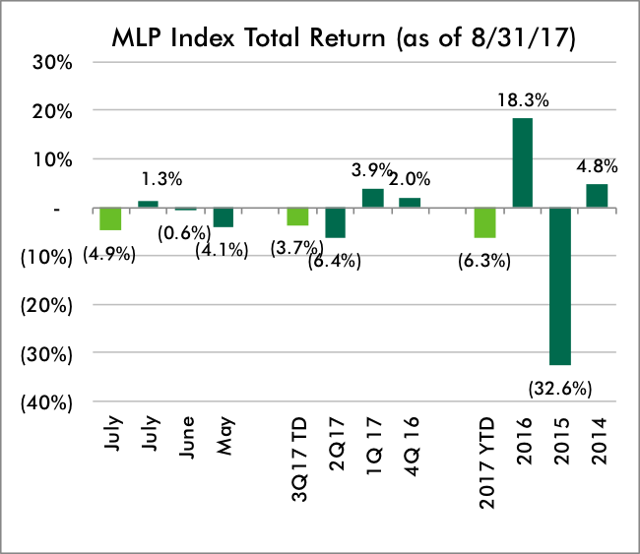 The silver lining: excluding returns of Plains All American Pipeline (NYSE:PAA) and Energy Transfer Partners (ETP), characterized to me as "a few bad actors" by one sage MLP CEO a few weeks ago, the MLP Index would have returned -3.9% in August, 100 bps better. Still not very good, but better. PAA's price action had the biggest direct impact, accounting for 81 bps of the difference, but ETP's $1B equity offering pressured other MLPs as funding sources in a zero sum fund flow situation.
Looking ahead, September has been hit or miss over the years. Two of the worst three months ever for the sector were Septembers (2008 - 17.2% and 2015 - 15.3%). In order to finish the quarter positive, September returns for the MLP Index need to exceed 3.9%, and that level of return hasn't happened in a September since 2010.
Winners & Losers
PAA's distribution cut and plan for de-leveraging announcement last Friday and its downgrade to junk by Moody's on Monday were not met with selling. Quite the opposite in fact, PAA was up every day this week. S&P maintained PAA's investment grade rating, which may have helped.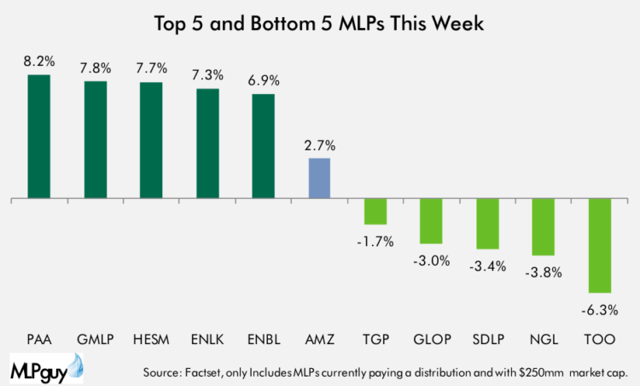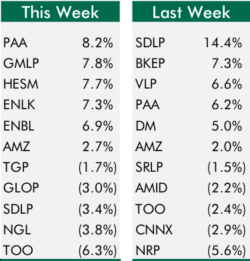 YTD Leaderboard
Looking at YTD returns, Sunoco LP (NYSE:SUN) and WNRL climbed the leaderboard, but remain well off the pace set by Noble Midstream Partners LP's (NYSE:NBLX) strong start. PAA's big week wasn't enough to escape the bottom 5. The bottom 3 each declined this week.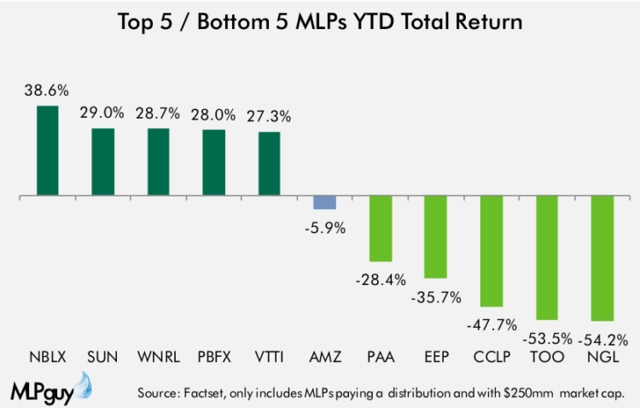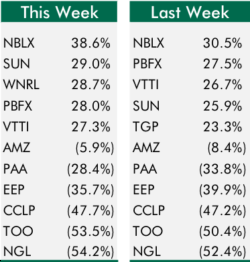 General Partners & Midstream Corporations
Median GPs and corps median performance underperformed the MLP Index this week, but not a single one was negative. Plains GP Holdings (NYSE:PAGP) led the way and was the only one to repeat in the top 5 from last week. The group rallied hard Thursday and Friday after the storm passed.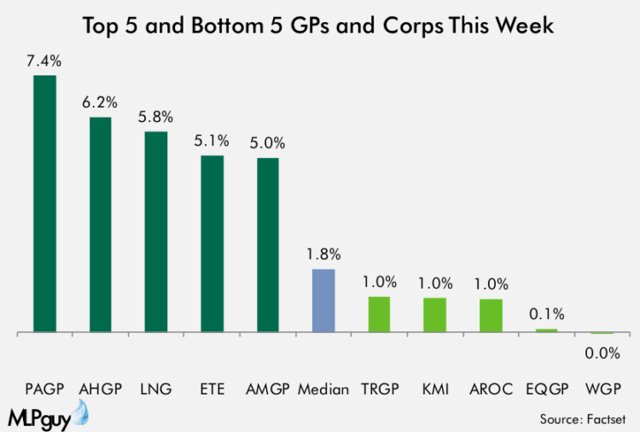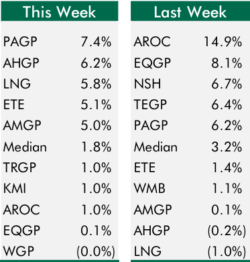 News of the (MLP) World
I was wrong when I predicted a boring week of transactions. I expected midstream companies to be evaluating the impacts of Harvey or taking off early for the holidays. Instead, we got an MLP takeout, a $1B drop-down (even if it was expected), and a couple of meaningful pipeline permits. Capital markets should re-start in the next few weeks, offering a fresh test for midstream sentiment.
Capital Markets
Growth Projects/M&A
Other