For dividend investors, the recent events that have occurred during Hurricane Harvey have put Exxon Mobil (XOM) back in the spotlight, but there is reason to believe that the short-term reactions we have seen in share prices will not be matched by the long-term trend activity that is most likely to unfold in the stock. Exxon does have a large asset exposure in the Gulf Coast portions of Texas, and this has led to significant shutdowns that will inevitably influence the earnings report that is released for the period. But the substantial declines we have seen in the stock are unwarranted, given the fact that US refining activity accounts for only a small portion. Ultimately, we believe that the total effects of Hurricane Harvey will have only a minor impact on Exxon's revenue performance and that these latest declines have created a buying opportunity for investors in search of strong dividend yields and exposure to the energy sector.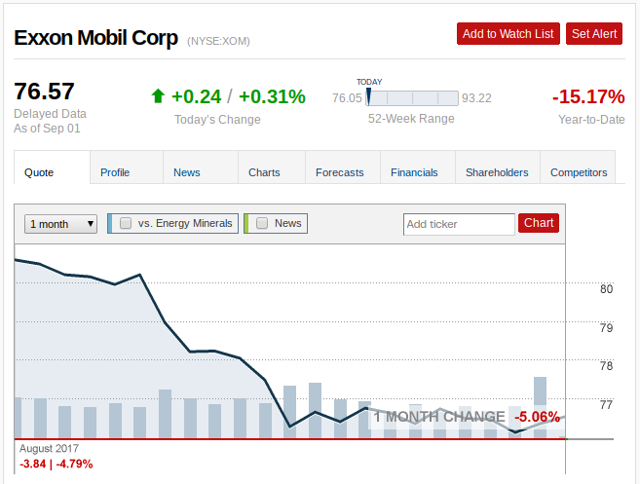 Whenever we see tragic events like those occurring in the Gulf Coast of Texas, it is not uncommon or surprising to see rising volatility in closely-related assets. Over the last month, XOM has lost more than 5% of its value and this came as the stock was already under significant pressure for most of this year. All told, we are looking at an XOM valuation that is lower by more than 15% YTD - and this is starting to look like a strong buying opportunity if you are a dividend investor with a contrarian outlook on the market. When we are looking at the broader context here, there are some key factors that must be understood. Oil refiners actually stand to benefit in ways related to the crack spread, or the price difference between unrefined crude and its refined products (i.e. gasoline). Oil prices remain weak while gasoline prices are rising, and this can result in advantages for the refining companies as the crack spread widens. So while it might appear that these are factors that would justify lower valuations in XOM, this is something that is simply not the case.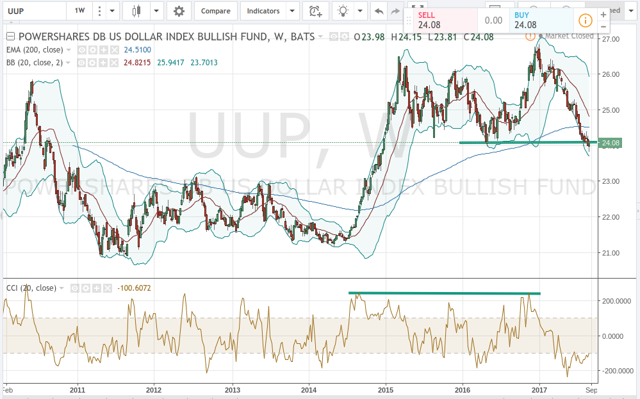 When we are dealing with an integrated company the size of Exxon Mobil, the reality is that we can expect the effects of an isolated geographic event to be limited in many ways. The company's revenue trends have shown segment consistency over the last few years. This has continued into 2017, where less than 10% of Exxon's reported earnings have come from downstream operations in the US. This includes the company's refinery operations, so any suggestion that this creates the potential for new stock weakness is overblown and unwarranted. Ultimately, the market's reaction to the recent events appears to be excessive, and these latest declines can be used as a basis for new long positions in the stock. Added supportive factors for XOM that must be considered here include the falling US Dollar. As measured by the PowerShares DB USD Bull ETF (UUP), the inability to hold long-term support levels above 24.10 portends major weakness in Dollar assets going forward - and this is something that should support the earnings outlook for Exxon Mobil in the quarters ahead.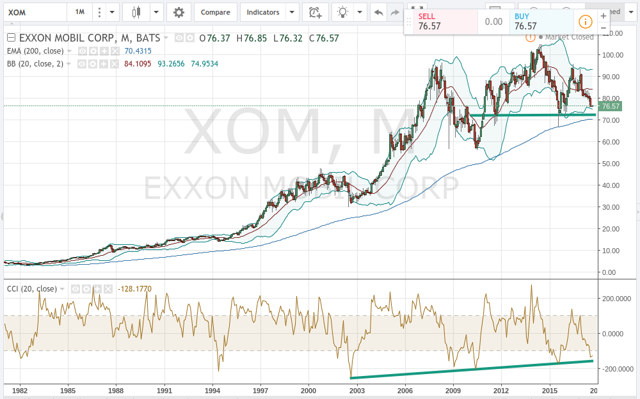 XOM Chart Analysis: Dividend Investments.com
Of course, we can see that the market has not been kind to XOM bulls this year, and the erratic price moves we have seen could take time to stabilize (especially after the uncertainties created by recent events). To the downside, the next level we are watching comes in at $72.10 as a break here would confirm a heavily bearish head-and-shoulders pattern on the monthly charts. Readings in the Commodity Channel Index are rising, however, and this could be enough to help markets find support in this area. The stock's elevated yields at 4.02% create an attractive incentive for dividend investors to start building long positions and wait for a needed reversal to unfold.
What is your position on XOM? We look forward to reading your comments. Stay tuned to Dividend Investors and receive our next alerts by clicking the FOLLOW button at the top of the page. Happy trading.
Disclosure: I am/we are long XOM.
I wrote this article myself, and it expresses my own opinions. I am not receiving compensation for it (other than from Seeking Alpha). I have no business relationship with any company whose stock is mentioned in this article.