A few days ago, my friend and Seeking Alpha contributor Eric Parnell wrote an article called "The Most Overhyped Company In The World". As usual, Parnell wrote a thought-provoking piece in which he did a fine job articulating the reasons to own (or not own) shares in Amazon (NASDAQ:AMZN). He explained:
"Don't get me wrong, for saying it is overhyped is not a criticism of the company. As mentioned at the beginning of my story, I love Amazon.com. I use their website regularly to buy products, I watch a bunch of their original programming as well as rent shows and movies, and I have owned a handful of Kindles over the years since their introduction changed book reading as we know it.

It is a great company that in my view has done a service to consumers across America in lowering prices and forcing long complacent bricks and mortar retailers to up their game by lowering prices, improving the shopping experience and becoming more innovative in serving their customers."
He added:
"Put simply, they succeed. A lot…Instead, it is a commentary on those analysts and investors that opine about the stock and the impact of what the company may be doing at any given point in time might have on any number of industries across the business landscape. Good company. Great performing stock in recent years. But way too much hype nowadays."
I agree with most of Parnell's thesis, I also love Amazon, and I rely on it every day for book sales and to purchase books, including a recent paperback I purchased, Be My Guest by Conrad Hilton.
As I read over the 400+ comments on Parnell's article, I began thinking to myself, "what is the most overhyped REIT in the world?"
To answer that question, I decided I would write an article along the same lines as Parnell. In other words, the use of the term "overhyped" is not a criticism of the REIT, but instead I consider the term more of a validation that the business model is working, and that I would like to own the stock, as soon as Mr. Market signals that the beauty pageant is over.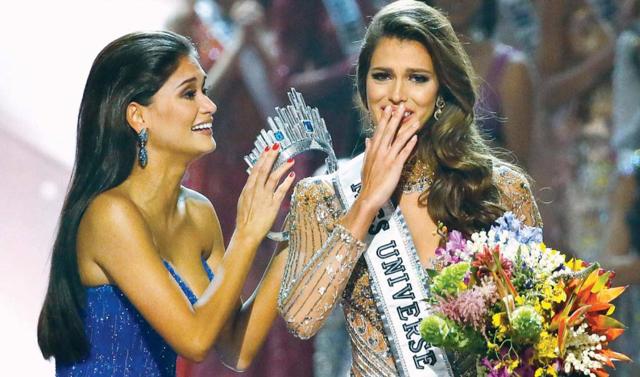 Prologis is a Global Leader on Logistics
Prologis, Inc. (NYSE:PLD) is engaged in the ownership, acquisition, development, management of logistics properties in the world's primary population centers. The company has a massive portfolio that is comprised of over 684 million square feet, 3,319 buildings, and over 5,200 customers.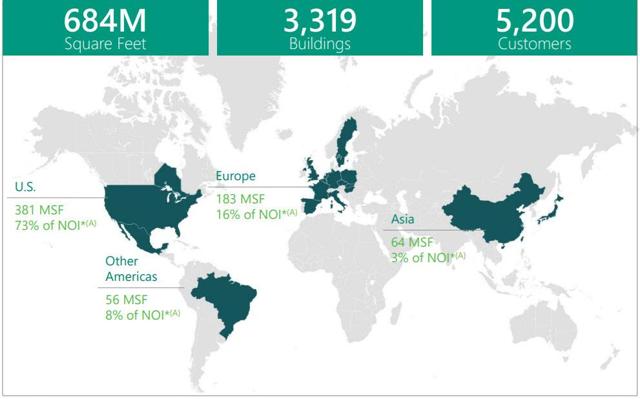 The company has two business segments, Real Estate Operations (ownership of industrial assets) and Strategic Capital (management of co-investment ventures).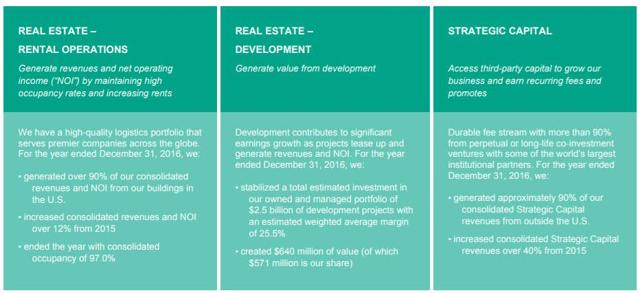 As illustrated below, PLD has a diversified portfolio with around 56% of exposure in the U.S., followed by Europe (27.5%), Asia (11%), and other Americas (7%).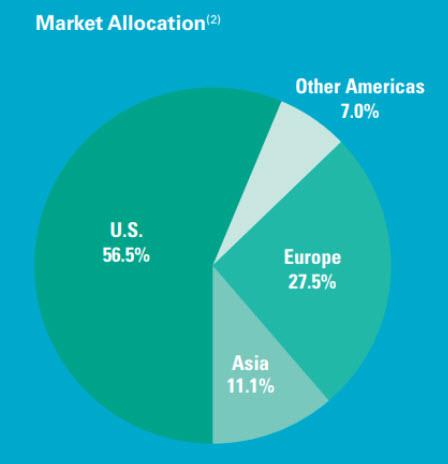 As Bill Stoller wrote, "much of Prologis' recent development has been focused on European markets where there is still a healthy supply and demand balance, and notable growth in markets in U.K., Germany and The Netherlands."
On an owned and managed basis, PLD has more than 5,200 customers, representing a diverse number of companies. Here's the top tenant list: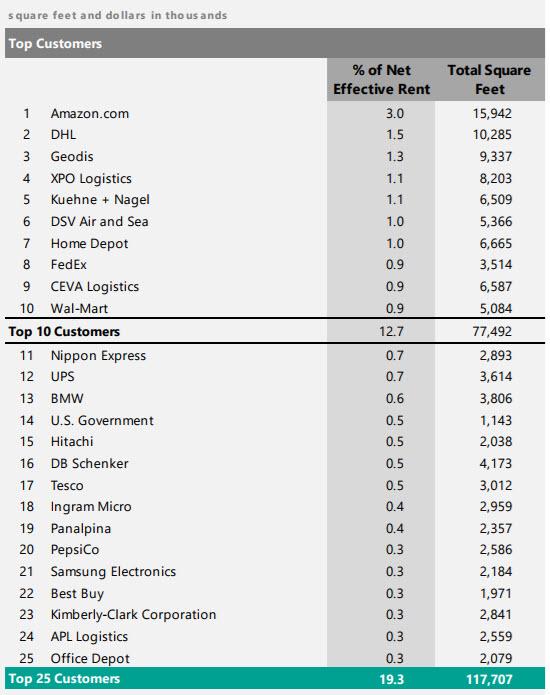 As you can see, Amazon is PLD's #1 tenant representing around 3% of PLD's rental revenue (and 15.94 million square feet). Hamid Moghadam, PLD's CEO, explained on the recent earnings call:
"E-commerce will remain the most significant of these drives as shopping habits continue to shift online, and will be future energized by millennials for entering their peak spending years."
So, there is actually some correlation between Eric Parnell's "overhyped" pick and mine - AMAZON. Of course, the real difference is that PLD owns buildings leased to Amazon and this e-commerce disruptor serves as a powerful source of rental income for PLD.
I found this comment by Moghadam (on the latest earnings call) interesting:
"But there are certainly some power centers and malls that…could be great logistics land. I think the value expectations of the owners and the realities of the economics of our business are pretty far and far. I think it will take a couple of years with those expectations and realities to match up. But I venture before too long, you'll see some still anchor Class B malls converted into logistics buildings, that is not too farfetched at all and we're definitely looking at some of them."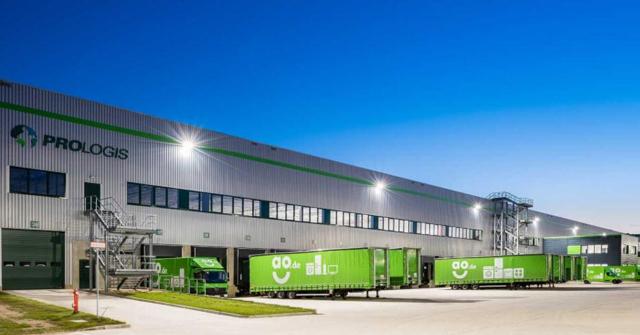 The Balance Sheet
PLD maintains a fortress balance sheet as evidenced by these credit ratings: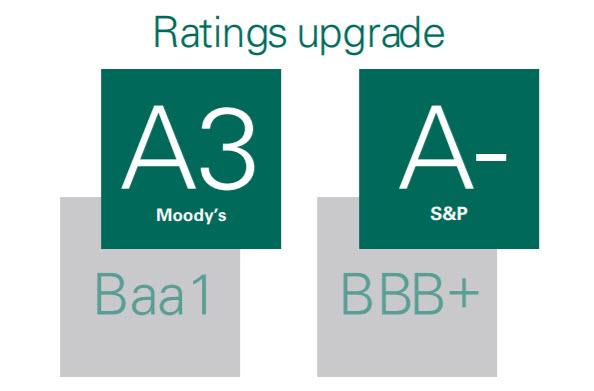 PLD continues to access debt globally at very attractive rates; in Q2-17, the company completed $2.9 billion of financing activity with the vast majority denominated in sterling and yen. As a result of this activity, PLD extended its term, lowered rate and increased its U.S. dollar net equity.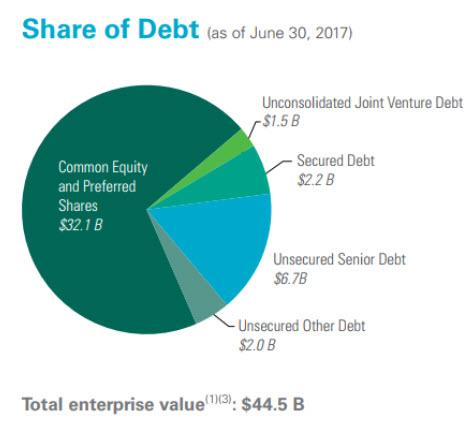 Leverage (following the USLF transaction) was approximately 25% on market capitalization basis and debt to adjusted EBITDA with gains was less than 4.5x. PLD's balance sheet has never been stronger with liquidity of $3.7 billion and significant built-in capital from future co-investment rebalancing. This makes PLD extremely well-positioned to self-fund future deployment for the foreseeable future. Here's a snapshot of unsecured debt: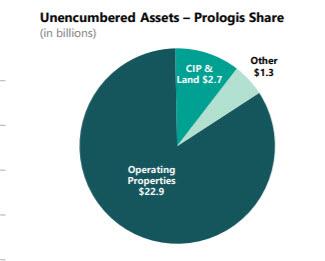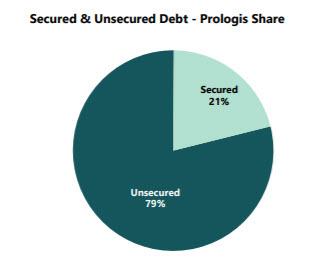 Here's a snapshot of PLD's floating vs. fixed-rate debt: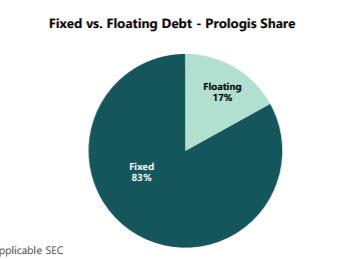 The Latest Results
PLD had another strong start in Q2-17 with core FFO per share of $0.84, which included net-promote income of $0.18. PLD's Core FFO excluding promotes of $0.66 per share was up $0.03 sequentially, driven by same-store NOI growth.
The company leased almost 47 million square feet during the quarter and has just 4% of the portfolio rolling in the second half of the year as customers are securing space well before leases expire.

PLD's strategy has been to push rents to maximize overall lease economics, and as a result, occupancy could decline modestly. Global occupancy at the end of the quarter was 96.2%, a sequential decrease of 40 basis points.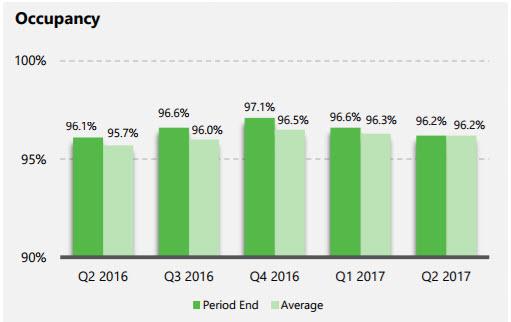 Market rent growth exceeded expectations, which helps drive the share of net effective rent change on rollover to a record 24% (the U.S. was 29%) - the sixth consecutive quarter above 20%.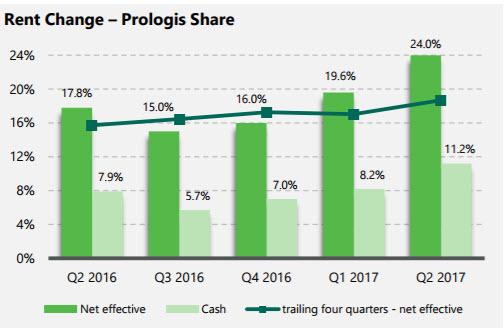 PLD's share of net effective same-store NOI growth was 4.6%, primarily driven by releasing spreads. U.S. led the way with growth of 5.2%.
PLD opted to increase the midpoint and nearing the range of its year-end occupancy forecast to be between 96.5% and 97%. The company now expects same-store NOI growth for the year to be approximately 5%.
Given the increase in market rents, PLD's in-place leases are now under-rented by 13% globally and 17% in the U.S. This further builds the company's organic earnings potential and will drive strong NOI growth for the next several years. Moghadam added on the earnings call:
"We see increased activity from our customers and a greater willingness to pay up for quality spaces and locations. Our initial forecast for 2017 called for market rent growth in the U.S. of 4%.

Instead, rent growth is on pace to approach 8% this year, driven primarily by high barrier coastal markets, such as New Jersey, Los Angeles, Seattle and the Bay area, where we have dominant market positions. Outside the U.S., market conditions are also favorable and the institutional capital continues to chase logistics product, driving cap rates to all-time lows."
Boom!
That's not just hype (fake news)….Prologis is in a perfect storm and this global logistics juggernaut should continue to see accelerated dividend growth ahead…
Drive for Show and Putt for Dough
It's not just hype, Prologis is delivering on its promise of dividend growth. Take a look at the historical quarterly earnings growth: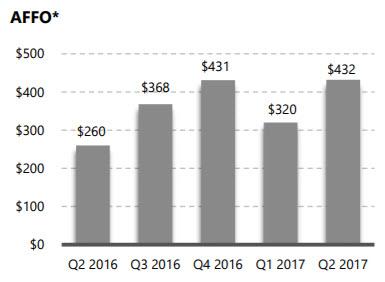 Now take a look at the annual earnings growth: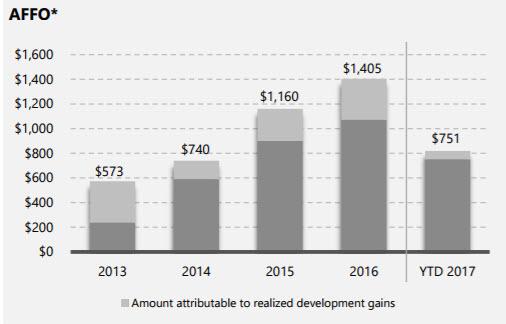 PLD is increasing its 2017 core FFO by $0.05 at the midpoint and nearing the range between $2.78 and $2.82 per share. The main drivers of PLD's guidance increase includes $0.03 from higher promotes and $0.02 from core operations. The company's revised guidance (excluding promotes) represents year-over-year increase of 9% at the midpoint. Take a look at my FFO/share forecast: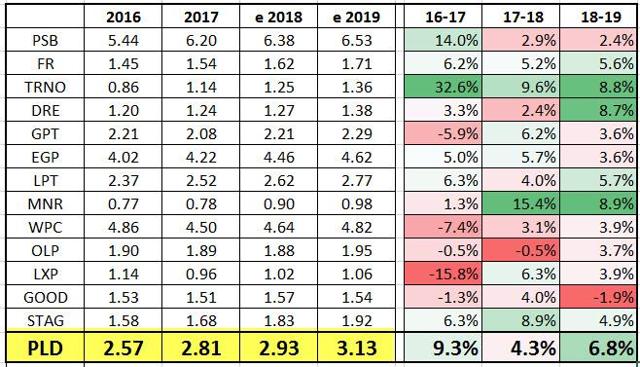 Now let's look at the dividend yield compared with the peers:

Don't shoot the messenger! I know 2.80% is not much of a dividend yield, but this REIT is clearly no "sucker yield" - as evidenced by the conservative payout ratio below:

Now let's look at the P/FFO multiple compared with the peers:

Clearly, PLD's valuation reflects the "hype" but remember that the biggest cheerleaders are the REIT ETFs, most hold large positions in the global logistics REIT:

Now you can see why this beauty queen has been in high demand:

The Bottom Line: Like Amazon, Prologis has generated some anticipated "buzz" and as any value investor would recognize, I am not a buyer of the shares until I see a definitive margin of safety. To generate wealth, I am more interested in owning "the next over-hyped" REIT - one that has all of the ingredients of success, without the "hype".
For those lucky investors who own Prologis today, congratulations. While there is plenty of "hype", the fundamentals are strong, suggesting that there is plenty of "bite". I'll just keep waiting until the beauty pageant is over…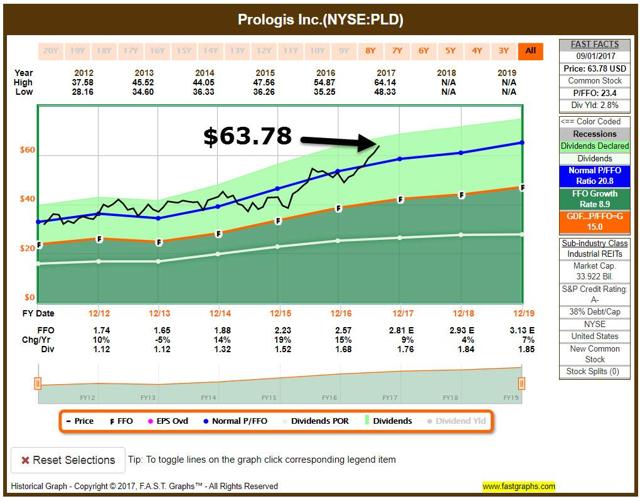 To learn more about my REIT Beat service, click here. You get a monthly newsletter, the "weekender" news, weekly picks (before the free stuff), and access to my chat room. For a limited time, I will also send you a FREE copy of The Intelligent REIT Investor.
Note: Brad Thomas is a Wall Street writer, and that means he is not always right with his predictions or recommendations. That also applies to his grammar. Please excuse any typos, and be assured that he will do his best to correct any errors if they are overlooked.
Finally, this article is free, and the sole purpose for writing it is to assist with research while also providing a forum for second-level thinking. If you have not followed him, please take five seconds and click his name above (top of the page).
Sources: F.A.S.T. Graphs and PLD Investor Presentation.
REITs mentioned: PSB, FR, TRNO, DRE, GPT, EGP, LPT, MNR, WPC, OLP, LXP, GOOD, and STAG.
Disclosure: I am/we are long APTS, ARI, BRX, BXMT, CCI, CHCT, CIO, CLDT, CONE, CORR, CUBE, DLR, DOC, EPR, EXR, FPI, GMRE, GPT, HASI, HTA, IRM, JCAP, KIM, LADR, LTC, O, OHI, OUT, PEB, PK, QTS, ROIC, SKT, SPG, STAG, STOR, STWD, TCO, UBA, UNIT, VER, VTR, WPC. I wrote this article myself, and it expresses my own opinions. I am not receiving compensation for it (other than from Seeking Alpha). I have no business relationship with any company whose stock is mentioned in this article.