I called the Euro (NYSEARCA:FXE) the long of the year in late April 17, when the Euro was near the bottom of the range near the 1.06 level. Fundamentally, my target for the Euro has been the top of the range at the 1.15 level, which has been reached and exceeded. The Euro breakout above 1.15 has not been supported by the fundamentals, thus, in my recent post, I suggested to evaluate the Euro rally based on technicals. Specifically, I pointed to these key technical levels: 1.20 and 1.25. So, here is the update:
The chart below shows that the Euro on intraday basis exceeded the 1.20 level, but failed to hold, and closed below the 1.20 level. On Friday, the Euro again attempted to break the 1.20 level, but failed again and closed lower.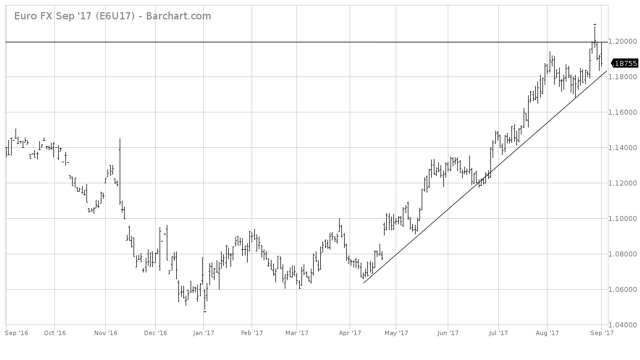 So, as I expected, the 1.20 level will be very important technically. Thus, as a short-term trade, the Euro is a buy above the 1.20 level to the next target level of 1.25.
However, fundamentally, the Euro rally is still not justified. Specifically, the short-term interest rates in the Euro-area continue to fall deeper into the negative territory. German 2-year Bund yields are currently -0.74, not too far from the record low levels.
Thus, it is more likely that the Euro will retest the uptrend support level near 1.18, and potentially reverse the uptrend if the support is broken, back to the 1.15 level.
So, to summarize, the Euro is a buy above 1.20, based on technical breakout. Alternatively, traders should want to for the Euro to retest the 1.15 level, at which point we will re-evaluate the technical/fundamental picture.
For the Euro ETF traders (FXE) the FXE is a buy above the $115 level, or wait for the retest of the $112 level to re-evaluate the strategy.
Disclosure: I/we have no positions in any stocks mentioned, and no plans to initiate any positions within the next 72 hours. I wrote this article myself, and it expresses my own opinions. I am not receiving compensation for it (other than from Seeking Alpha). I have no business relationship with any company whose stock is mentioned in this article.