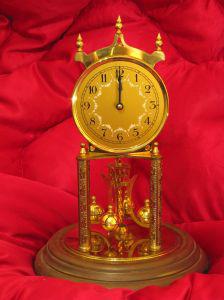 Today's bullish/bearish gold sentiments are mismatched. Bulls list gold's preservation and protection strengths, and bears point to its high price. To improve the debate, we need to get away from current events and examine history.
Here are three periods and methodologies that provide the perspectives needed.
The market-based period (1975 to current), using inflation-adjusted gold price
The past 37 years is the only U.S. period in which (1) the government didn't set gold's price and (2) citizens could own gold. The chart shows the inflation-adjusted gold price (annual average) compared to that of a 1-year U.S. Treasury bond (rolled over each year). The orange line shows where gold would have traded if it maintained its 1975 value.
Click to enlarge: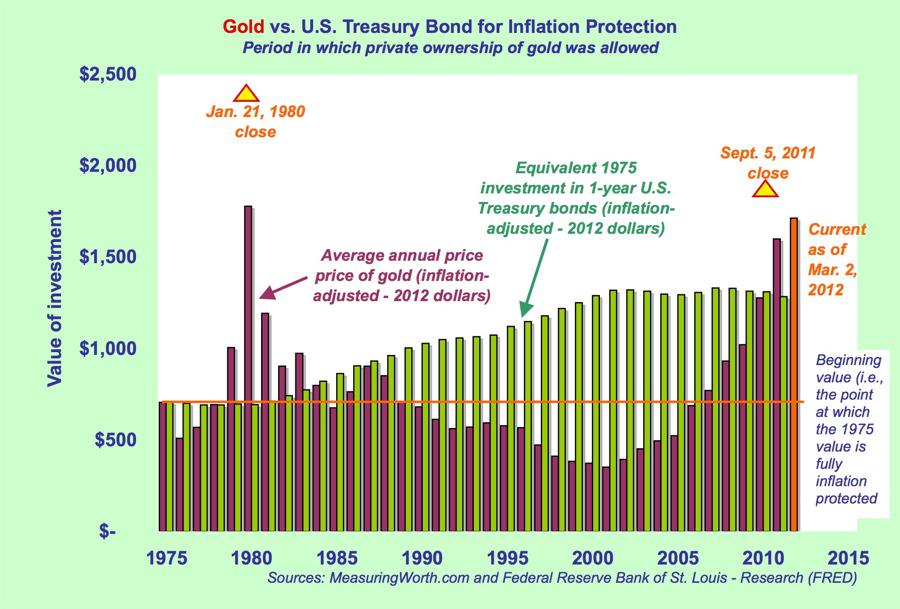 Note that once the 1980 peak passed, gold did a decent job of tracking inflation. Then, as inflation fell further and the problems of the late 1970s and early 1980s dissipated, gold lost favor and investors shifted to better performing investments. Finally, after the internet bubble popped, gold's current uptrend began, regaining its lost inflation-adjusted value by 2006.
At that point, the good five-year returns attracted speculative interest, and gold's rise continued. When the financial markets hit the skids and the Great Recession hit, gold took on the additional role of safe haven from not only inflation, but also economic, financial and international woes and fears (i.e., the premier safe haven). The additional buying pushed gold's price ever higher, eventually reaching the 1980 peak area.
This is where the bulls and bears collided. The former believed gold's rise was proof that the metal was a key holding in this uncertain period and beyond. The latter argued that gold had hit its upper price limit.
So, next, let's look further back…
The long-term, using dollars (1800-current)
For most of the 1800s, the U.S. had bimetallism, with gold and silver each having a fixed price. New metal discoveries upset the supply balance, so the U.S. chose to go with gold, only. Tripping up the hard monetary system were periodic financial crises, the various wars and the Great Depression (when private ownership was disallowed). Finally, U.S. inflation and international flows forced the U.S. to abandon the remnants of the gold standard, leaving gold's price to be based on market conditions. Private ownership was again allowed.
Click to enlarge: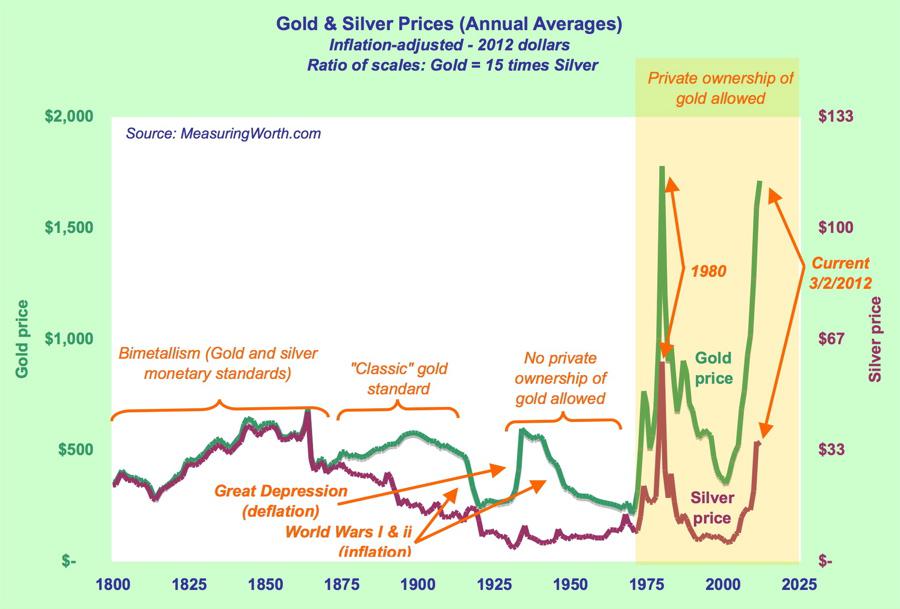 Note that gold, prior to 1975, had some large inflation-adjusted price movements even though the price was fixed. Changes due to the wars (inflation) and the Great Depression (deflation) were large influences and caused the government to suspend the gold exchange at the time.
With this graph, we can see the extent by which the 1980 and current gold prices exceeded the prior peaks. Because the 1800-1975 period covered so many differing periods, there must be something going on beyond the variability caused by 1980's and today's conditions. The next graph helps get at what's changed…
The long-term, using ounces (1790-current)
Many gold investors are unmoved by the above comparisons, arguing that gold should be viewed as the valuation standard, not fiat currencies. For example, when gold's price rises against all currencies, they argue that it isn't gold that has gone up inordinately, but that the fiat currencies are all showing their weaknesses.
So, let's flip the scale to ounces of gold and see what happens. The lines track the number of gold ounces required to buy $1,000 inflation-adjusted consumer goods.
Click to enlarge: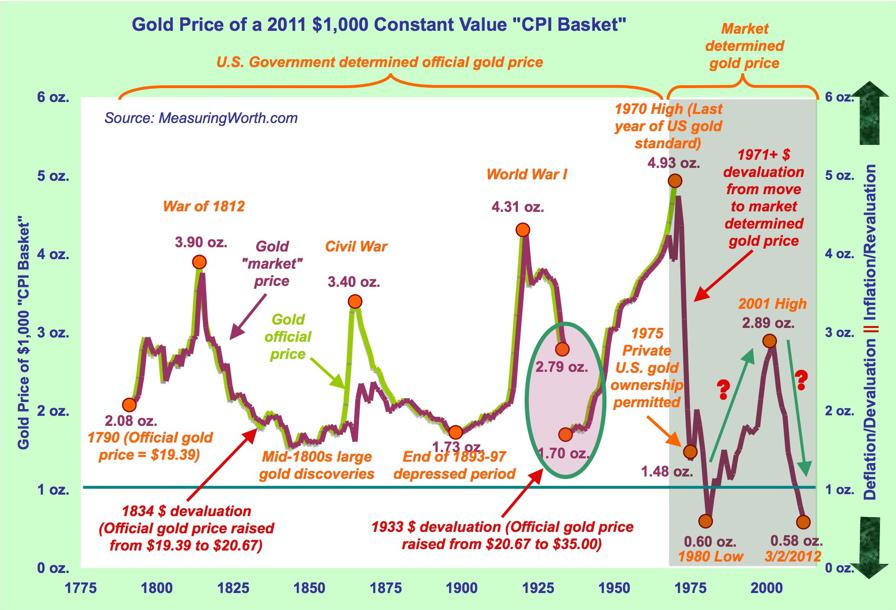 First, note that the green line (official price) deviates from the purple line (market price) twice: During the Civil War, when market trading was allowed, and at the 1975 cessation of an official price. The peaks and troughs show a wide range, created by various events. At the low end, the "consumer basket" could be had for about 1.75 ounces. During wartime, when goods were scarce, the price was much higher.
Now look at the shaded period beginning in 1975. In 1980, the basket's price dropped to a historically cheap 0.60 ounces, even though it wasn't a time of surplus. Then, it rose to a 2001 high of 2.89 ounces, even though that was neither a time of war or scarcity. Last, it has fallen to today's low level of 0.58 ounces, even though (again) it is not a time of surplus.
The red question marks on the graph highlight the conundrum. If gold is the holder of value and fiat currencies are not to be trusted, why the perverse moves? Why in weak times should the price of goods (in gold) be lower than in times of surplus? It never happened before, and it doesn't make demand/supply sense.
There is an explanation: While gold carries the aura of being a (the) value standard, it has become "simply" another investment choice. Rather than consumers using gold as a medium of exchange, investors are using it as a medium of investment. In rocky times, investors willingly "cash in" their other holdings, even as the prices (in ounces of gold) fall. In good times, they willingly reverse the process, "buying" other investments, even as the prices rise.
This dynamic is why we see bulls submitting proof of gold's superiority by pricing, for example, the stock market in gold terms. I read a recent comment that said we shouldn't talk about gold's price because gold is the price.
The bottom line
From the charts above, we know that gold's price is historically high. Moreover, in this era of no government control and free market trading, we are back to the first peak set in 1980. The question is: Is that 1980 high a true price barrier, or is it simply a product of that time, leaving today's uptrend free to top out at some other point?
To me, the key observation is that investors and speculators now determine gold's price, not consumers. Fortunately, unlike in 1980, we have a 37-year record to examine. This means we can evaluate gold using many of the tools and techniques applied to other investments.
From that process, here are the three points that lead to my conclusion:
First, as I described previously, the fundamentals have weakened, making gold's safe haven benefits less valuable. Thus, gold's price supports are weakening.

Second, the pricing of other investments, even in gold ounces, is improving. Therefore, although some gold bulls are advising buying more gold on the dips, many investors will likely stick to their diversification strategy as long as their other holdings show gains.

Third, gold's mini-blow-off last September is a classic sign of a top. Therefore, gold has probably begun a long-term downtrend. A confirmation will be a reversal of the recent rise (as I described previously, last week's drop could be the start of such a move).
Obviously, then, my conclusion is that gold is likely to fall from here. "Likely" because nothing in investing is for sure. The better way to look at gold, sitting near its all-time-high, losing its fundamental supports, underperforming other investments, and being watched closely by speculators and traders is that the risk is too high. Said another way, the return/risk tradeoff from selling or shorting looks attractive.
My choice is to buy an "inverse" exchange traded fund - i.e., one structured to be a short position in gold. The leading inverse gold ETF is ProShares UltraShort Gold (NYSEARCA:GLL). Very important: The ETF is leveraged 2:1 (hence, the name "ultra"). Therefore, a $5,000 GLL position is roughly comparable to a $10,000 short position.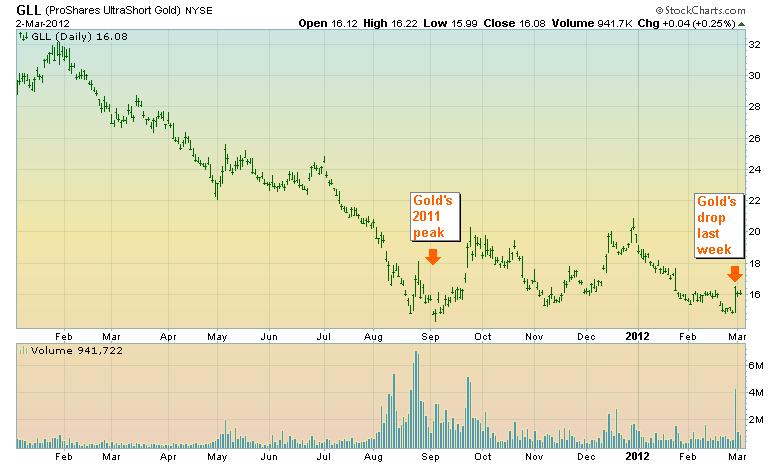 (Stock chart courtesy of StockCharts.com)
Disclosure: I am long GLL.