Tesoro Corporation, now known as Andeavor (ANDV), is nicely positioned to benefit from the disruption Hurricane Harvey has caused in the Gulf Coast refining operations (see my earlier Seeking Alpha articles on Phillips 66 and Exxon Mobil). While I don't understand the name-change, other than perhaps to confuse investors, it certainly has not affected the stock, which has been an excellent performer.
Refineries
Source: Andeavor
Andeavor operates 10 refineries in the western U.S. with an aggregate capacity of 1.2 million bpd. The company also operates a midstream logistics business through its MLP Andeavor Logistics (NYSE:ANDX). ANDX owns and operates 4,600 miles of crude oil and refined product pipelines. In addition, the partnership has 1.9 million bbls of crude oil and refined product terminalling capacity as well as 26 million bbls of storage capacity. All these assets will likely see increased utilization as a result of the Gulf Coast refinery shut-downs.
As mentioned in my earlier articles on Harvey, the RBOB gasoline futures contract has risen sharply since the untimely hurricane related shut-downs occurred. I say untimely because it couldn't have come at a busier time of the late summer driving season: the Labor Day weekend and the start-up of the college football season with many "away" opening games.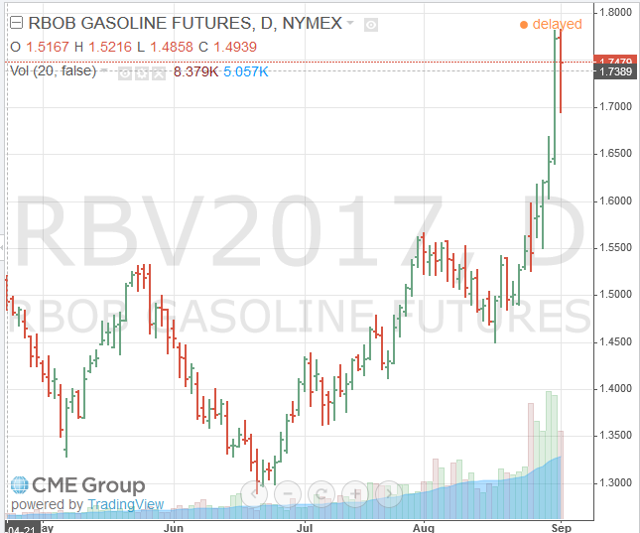 Source: CME
In addition to reaping higher margins on every gallon of gasoline it sells, the west coast refineries could enable exports into Mexico - a lucrative gasoline export market that has been exploited primarily by Gulf Coast refineries that have had gasoline production and exports shut-in. While both of these developments are likely to be short-term opportunities, they will in all likelihood substantially improve Andeavor's Q3 results.
Speaking of Mexico, note also that Tesoro (oops, I mean Andeavor...) has recently begun opening ARCO branded gasoline stations in Mexico. Greg Goff, chairman, president, and CEO, has this to say:
We are excited to have officially introduced the ARCO brand in Mexico. Opening our first ARCO station in Northwest Mexico is a natural and strategic link for our West Coast operations and integrated value chain, furthering our marketing integration in a growing market.
Andeavor has a wholesale marketing agreement with Profesional Fuels Solutions, S.A. de C.V. and plans to expand the ARCO brand to achieve a leading market position in the Mexican states of Sonora and Baja California. The company's refineries in the southwestern U.S. bode well for exploitation of the burgeoning Mexican market.
In an article in Barron's this week (see Underwater: Houston's Refiners, Not The Stocks), Barclays' analyst Paul Cheng highlighted Andeavor as his favorite refining stock. Me, I like Phillips 66 (NYSE:PSX) for the long term. That said, I can't argue with Cheng's choice of Andeavor over the short term. The company currently yields 2.3% and the outlook for dividend growth is better than average. It trades at an estimated 13x 2018 earnings.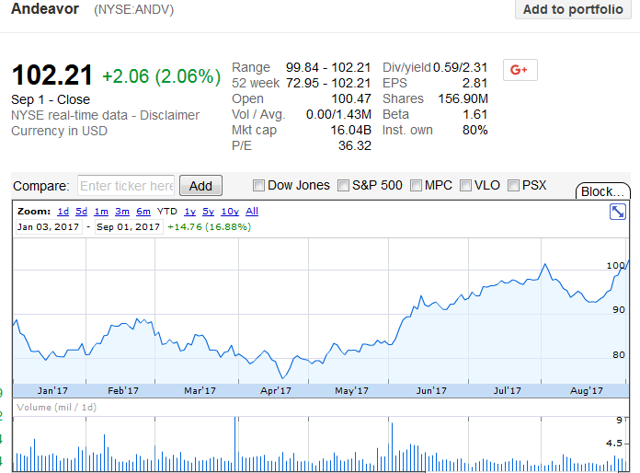 Disclosure: I/we have no positions in any stocks mentioned, and no plans to initiate any positions within the next 72 hours. I wrote this article myself, and it expresses my own opinions. I am not receiving compensation for it (other than from Seeking Alpha). I have no business relationship with any company whose stock is mentioned in this article.
Additional disclosure: I am an engineer, not a CFA. The information and data presented in this article were obtained from company documents and/or sources believed to be reliable, but have not been independently verified. Therefore, the author cannot guarantee their accuracy. Please do your own research and contact a qualified investment advisor. I am not responsible for investment decisions you make. Thanks for reading and good luck!