Summary
The model Team Alpha Retirement Portfolio (or TARP) has been around for six years and is still doing its job of creating income for a more secure retirement.
There are many folks who still have time horizons of 20+ years before retirement and are just now beginning to invest for the future.
It is time for a NEW model portfolio for everyone to gain knowledge from.
In my previous article, I asked my readership if they would like me to begin a new retirement portfolio from scratch. The response thus far has been 100% in favor of this undertaking.
The value that the original model Team Alpha Retirement Portfolio, or TARP, has had in helping regular folks become better investors cannot be ignored. The evolution of that portfolio has reached its goal for those close to or already at retirement. It is now time for a new model portfolio for today's market and for those folks who have a longer time horizon and are ready to begin investing right now.
To be sure, it will be a challenging endeavor, but if we work as a team, I believe we can meet the challenges even with the markets at record highs.
Team Alpha Retirement Portfolio II Is Ready To Go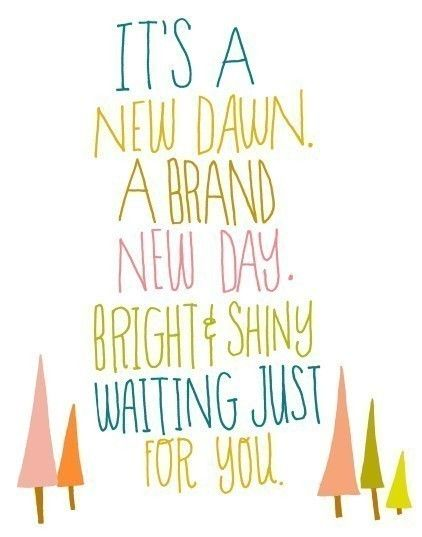 I am asking for everyone's help in filling this portfolio with solid stocks that pay reliable dividends for a more secure financial future. As dividend growth investors know by now, I believe that a solid strategy of buying and holding shares of quality, dividend-paying (and raising) companies over the long term is a sound approach with reduced risks. That does not mean this portfolio will forgo growth. On the contrary, I think this portfolio should reach for growth while growing a reliable stream of income. With a time horizon of 20+ years, many more folks who are just now beginning to save for retirement could find this new project quite helpful. With that said, let me show you how I will present TARP II: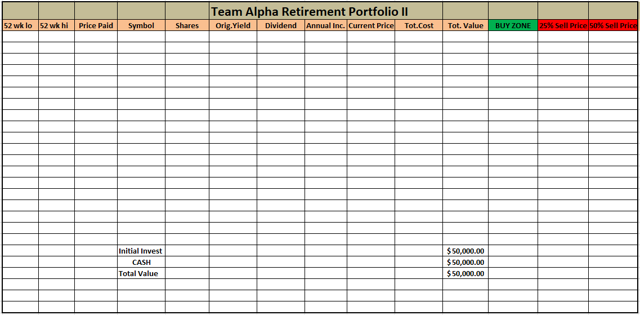 All I need to do is fill the chart with great stocks and spell out how this model portfolio will be managed:
I will start with $50,000 in cash, which I feel is a reasonable amount for an investor who has been working for 10-20 years, and has been saving only about $2,500-$5,000 annually, to finally invest for a future retirement.
Unlike the original TARP, this model will have $1,000 monthly (on the first of each month) to invest. That will make this more of a "living" model to reflect those who are continuing to work, with a time horizon of 20+ years to go before leaving the rat race.
The portfolio will have no more than 20-25 stocks because as most of you know, my brain will explode if I have to keep tabs on more than that!
The goal of this portfolio is two-fold: Grow a reliable stream of income that will grow each year by at least 10-15%, including the dividend increases given by the stocks it holds. Grow the total value of the portfolio by 2-5% at least, annually.
Utilize my simple strategy that's worked for me, and might work for you.
Dividends will be accumulated in CASH to be deployed into existing positions or to open new ones.
Monthly portfolio updates will be written about, as well as my usual research on various stocks within the portfolio, or ones to be considered.
My Simple Strategy
For me, this approach has worked personally, and has taken much of the minutia out of the way I have invested for many years. It is not perfect, and many will argue that I am ignoring important metrics to evaluate stocks to buy (or sell), but it needs to be remembered that while my simple strategy is easy to understand and implement, it does NOT mean doing the appropriate due diligence for each position is no longer required. THIS APPROACH IS A START that regular folks can relate to.
Take a look at the new chart and you'll notice on the left side are the 52-week high and low price sections for each stock. The "BUY ZONE" on the right will show a price that is basically the mid-point between the 52-week high and low share price. I will use red and green colors to alert me when a stock's CURRENT price has fallen to that mid-point. Red means it has not, and green means that it has. That does NOT mean I will automatically add more shares!
Now, if you look to the far right in deep red, you will see two columns that reflect share price appreciation from my cost basis for each position. The first column will show a 50% increase in price; the next column will show a 100% increase in price. While I will very rarely sell high-quality dividend winning stocks, I have a plan to take some chips off the table to either reduce my risk or to build cash to redeploy into other stocks. If the share price rises by 50% I would CONSIDER selling 25% of the shares held. If the share price doubled (rose by 100%), I would CONSIDER selling 50% of the shares held, which would basically take back the original investment and the rest would be virtually "free" shares that paid me an income!
Truth be told, when I was much younger, I did much more buying and selling to grow my dividend income because I had a regular paycheck. THAT is how this model portfolio will be managed as well. During these times, it will be rather challenging, but could become a wonderful learning experience.
This strategy gives no guarantees, and a considerable amount of discipline is required. It is not risk-free, and each investor MUST know how much risk they can tolerate. Buffett said if an investor "cannot handle a decline of 50%, perhaps they should not invest in the market at all." I won't go that far, but I will suggest that you visualize hefty drops in your portfolio value and really see how you might feel. Will you focus on the income, which hardly budged, or will you sell great companies because you cannot stand looking at your paper net worth drop precipitously?
OK, So Which Stocks Will The Portfolio Have?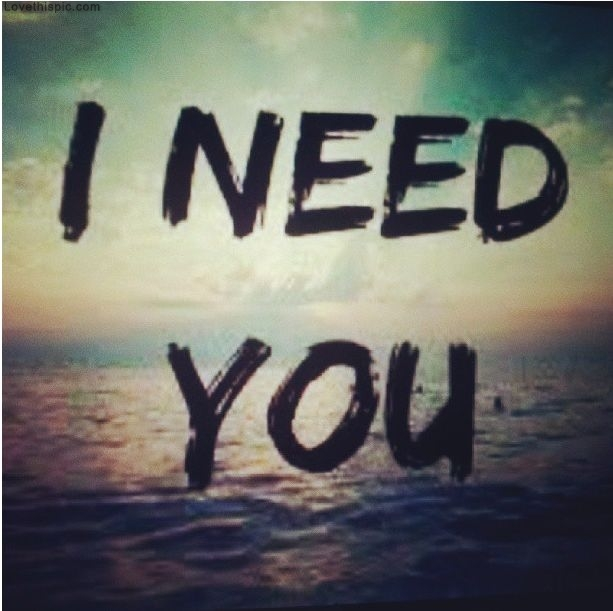 This is the fun part of investing! A beginning portfolio is like a blank piece of paper and can be filled with whatever we want. Of course, this is where YOU, the "TEAM" comes in. With comments and input from you, I will decide on which stocks will be held in the model portfolio, and how many shares of each.
The chart is pretty big, but I will start slowly, which I believe is the right way for anyone to start a new portfolio. For now I will only use individual stocks that fall into the following categories:
Large-cap dividend champions, aristocrats, and kings. These will be the CORE holdings of the portfolio!
Solid REITs with a great history of paying dividends, OR ones that have a great business model that could return both capital appreciation and income.
A few "dividend opportunity" stocks that might not be as consistent as the CORE stocks but offer a higher yield, with a higher risk. These might not be long-term holdings as these will require following them a bit closer than our beautiful blue chips.
A few non-dividend-paying, high-growth-potential stocks, with higher risk profiles, that can drive the total value of the portfolio higher and where we can glean larger profits to redeploy into our CORE stocks or open new positions.
Keep in mind that the original model portfolio has a bunch of great "CORE" stocks:
TARP I consists of the following stocks: Exxon Mobil (NYSE:XOM), Johnson & Johnson (NYSE:JNJ), AT&T (NYSE:T), Procter & Gamble (NYSE:PG), Coca-Cola (NYSE:KO), Realty Income (NYSE:O), Main Street Capital (NYSE:MAIN), Microsoft (NASDAQ:MSFT), Con Edison (NYSE:ED), Altria (NYSE:MO), Nuveen Floating Rate Income Fund (NYSE:JFR), Apollo Global Management (NYSE:APO), Apple (NASDAQ:AAPL), Ford (NYSE:F), and Bank of America (NYSE:BAC).
I see no reason at all not to have several of these stocks within TARP II, such as JNJ, T, MO, AAPL, PG, KO, XOM and O, just to name a few. After all, these companies have proven their value over extended periods of time, and while some might be overvalued with relatively high P/E levels, and some might be going through rough patches, I would think you would want to include a few in the new portfolio.
Keep in mind that it is my opinion that having a CORE of dividend aristocrats can form the foundation of any DGI portfolio for future income and a more secure retirement.
Give me YOUR stock selections within the comment stream!
The Bottom Line
As I have stated, once this portfolio is launched, I will be using Seeking Alpha "Instablogs" and "StockTalks" as well as timely articles to keep everyone updated and informed. If you follow me in REAL TIME, you will receive an e-mail with the "Instablog" and new article as soon as it is published (virtually real time!).
You might even want to send me a direct message if you have a question or some feedback beyond the comment stream. While I will never give any specific investment advice, I might be able to offer some help and a shoulder to lean on.
THIS ENDEAVOR WILL NOT COST YOU ANYTHING! I look forward to working as a team (or a "club" if you will) to hopefully help regular people become better investors!
Not To Bore You, But...
Knowledge is power, and many folks shy away from the investing world because that very world makes it more confusing each and every day in an effort to sell you something: stock picks, technical strategies, books, videos, subscriptions with "secret ideas," gadgets, and even snake oil.
My promise to you is that my work here will remain free to all of my followers, with the hope of giving to you some of the things that took years for me to learn myself. That being said, let me reach out to you with my usual ending:
**One final note: The only favor I ask is that you click the "Follow" button so I can grow my Seeking Alpha friendships. That is my personal blessing in doing this, and how I can offer my experiences to as many regular folks as possible who might not otherwise receive it.
Disclaimer: The opinions and the strategies of the author are not intended to ever be a recommendation to buy or sell a security. The strategy the author uses has worked for him, and it is for you to decide if it could benefit your financial future. Please remember to do your own research and know your risk tolerance. The long positions held are based upon what the model portfolio holds, and I personally could have held all of the stocks noted at one time or another
Disclosure: I am/we are long AAPL, APO, BAC, ED, F, JNJ, KO, JFR, MAIN, MO, O, PG, T, XOM. I wrote this article myself, and it expresses my own opinions. I am not receiving compensation for it (other than from Seeking Alpha). I have no business relationship with any company whose stock is mentioned in this article.
Additional disclosure: The portfolio is for educational purposes only, and not an actual portfolio. The long positions are based on the model portfolio.