Some large cap companies have begun moving away from reporting Non-GAAP earnings. This list should make most investors take note, primarily because it's becoming clear the SEC is.
Non-GAAP Reporting
The movement toward Non-GAAP reporting really began when pooling of interest accounting was discontinued and stock-based compensation "SBC" expensing became required. The impact of both was significant for certain companies, depressing earnings with non-cash charges to levels that made historic valuation models incomparable. Many investors view cash flows as the ultimate barometer for a company with growth rates thereof the valuation driver. Generally Accepted Accounting Principles "GAAP" moved away from both.
Thus began the era of dual presentation, and it grew like a weed. In 2015, only 12% of the S&P 500 reported GAAP only results in their public filings. Companies quickly decided that if SBC and amortization of intangibles could magically disappear, a number of other items could as well. The list became increasingly long: Litigation, impairments, retirement benefits, certain interest expenses, and restructuring costs, to name a few.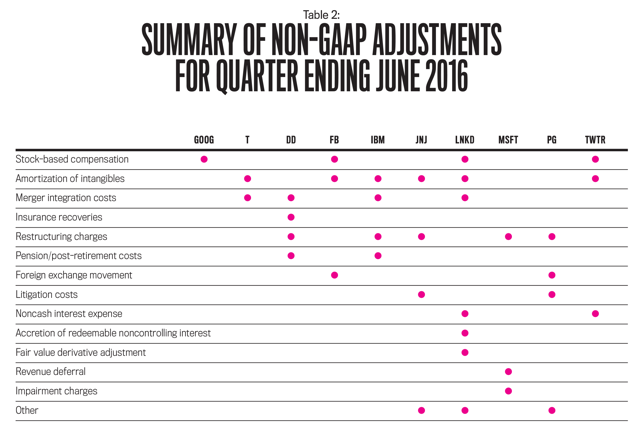 Source: Thomas A. King, CMA, CPA
The original rationale for dual reporting was lost in the rush by all toward modified reporting. Analysts enforced this trend by forecasting and producing reports valuing companies on the Non-GAAP approach. The difference between the two grew as well. In hindsight, it's become clear this enhanced reported approach has not enhanced investor comprehension.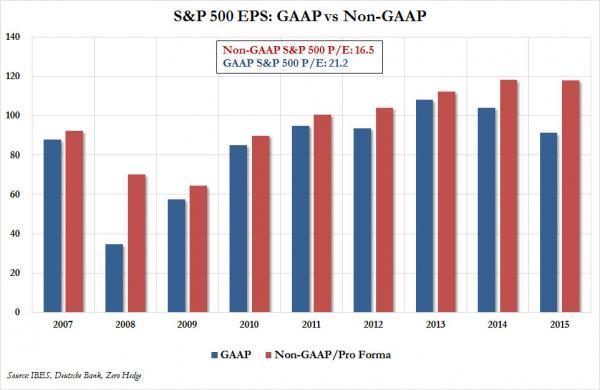 Stock-Based Compensation
The argument to report earnings ex-stock compensation expense is no longer worthy of debate. There was never really a question that SBC was an expense of the company, it was all about valuation of it. As Warren Buffett opined in his 2015 Berkshire Hathaway shareholder letter:
...it has become common for managers to tell their owners to ignore certain expense items that are all too real 'Stock-based compensation' is the most egregious example. The very name says it all: 'compensation.' If compensation isn't an expense, what is it? And, if real and recurring expenses don't belong in the calculation of earnings, where in the world do they belong?

Wall Street analysts often play their part in this charade, too, parroting the phony, compensation-ignoring 'earnings' figures fed them by managements. Maybe the offending analysts don't know any better. Or maybe they fear losing 'access' to management. Or maybe they are cynical, telling themselves that since everyone else is playing the game, why shouldn't they go along with it. Whatever their reasoning, these analysts are guilty of propagating misleading numbers that can deceive investors.
Well said. While the calculation of stock compensation remains up for debate, there are very few who actually believe it isn't a cost of employment. The original concern over historical comparisons is no longer compelling. This issue has been debated for over a decade and expensed for a similar period, so we clearly have enough comparable valuation data under this reporting standard. If the need to exclude the impact for comparison purposes has become irrelevant, why continue to add it back? The above list of companies are saying they won't, and the SEC has noticed.
SEC Paying Attention
Harvard Law School Forum published an article earlier this year reviewing SEC guidance on "new GAAP" transition disclosures and Non-GAAP measures. Its post included some interesting comments made at three conferences attended by senior SEC staff. The article is a very informative read, including the following comments worth considering.
According to Mr. Kronforst, the staff generally will not object to the exclusion of stock compensation expenses from Non-GAAP earnings presentations. Despite this statement, he did appear intrigued by an explanation from Microsoft's Chief Accounting Officer, Frank Brod, of why that company does not exclude compensation expenses from GAAP earnings. Investors have not asked for this carve-out, Mr. Brod explained, and the company believes that compensation reflects the true cost of doing business.
The two Chief Accountants declined to discuss what one non-staff panelist described as the "800-pound elephant in the room" - the recently reported spate of Enforcement Division letters that many companies have received.
Individually Tailored Non-GAAP Measures: The staff is still seeing problems with management's use of individually tailored

Non-GAAP measures

, such as adjusted revenue, that add in revenues whose recognition must be deferred to future periods under GAAP. Exceptions are those companies, like Microsoft, that wish to show the anticipated impact of their transition to the new GAAP revenue recognition standard (the example of a permissible presentation discussed at the AICPA conference, which Microsoft had cleared with the staff, was disclosure of Windows 10 revenue streams under the old and new standards; Microsoft will be an early adopter in July 2017).
Many companies appear to be heeding outgoing Chair White's warning, delivered in a June 2016 speech, that Audit Committees must be vigilant in overseeing management's use of Non-GAAP measures. For example, the DuPont VP and Controller, Jeanmarie Desmond, explained during the AICPA conference how management stepped back and took a hard look at the company's usage of Non-GAAP measures in the wake of the May 2016 CDIs, reviewing them with the company's Audit Committee. Microsoft's Frank Brod likewise stated that his company's audit committee is very active and engaged in the oversight of

Non-GAAP disclosures, noting that the company adopted a policy for such usage that was approved by the Audit Committee and which, among other things, provides for Audit Committee review of earnings releases prior to their issuance.
It is increasingly apparent that the SEC is concerned about Non-GAAP reporting abuses and is paying attention to what certain companies such as Microsoft are doing.
What Are These Five Companies Doing?
Apple routinely relies on GAAP earnings only. Its last quarter did not have any adjustment for

Non-GAAP, resulting in a dual presentation.

Amazon provides supplemental trended information that provides investor visibility for items such as the calculation of free cash flow "FCF" and the trended expense for SBC. It does not engage in dual reporting with a focus on

Non-GAAP EPS.

Facebook made the following statements during conference calls:

Q1 2017 earnings call transcript: "Before diving into the financials, I want to highlight that we are no longer reporting

Non-GAAP expenses, income, tax rate or EPS. Given that stock is an important part of our compensation structure, we believe that investors should focus on our financial performance with stock-based compensation included".

Q2 2017 earnings disclosure: We exclude the following items from our Non-GAAP financial measures: Foreign exchange effect on revenue. We translated revenue for the three and six months ended June 30, 2017 using the prior year's monthly exchange rates for our settlement currencies other than the U.S. dollar, which we believe is a useful metric that facilitates comparison to our historical performance.


Google earnings statements:

Q4 2016 earnings call transcript: SBC [stock-based compensation] has always been an important part of how we reward our employees in a way that aligns their interests with those of all shareholders. Although it's not a cash expense, we consider it to be a real cost of running our business because SBC is critical to our ability to attract and retain the best talent in the world. Starting with our first quarter results for 2017, we will no longer regularly exclude stock-based compensation expense from Non-GAAP results. Noncash stock-based compensation will continue to be reported on our cash flow statement, but we will no longer be providing a reconciliation from GAAP to

Non-GAAP measures that reflects SBC and related tax benefits.

Q2 2017 Google called out the impact of the EU fine which was reflected in their financial statements. The

Non-GAAP presentation of the fine was used to show the total impact of the accrual by line item.

Microsoft has not added back stock-based compensation to arrive at Non-GAAP earnings for several years. In recent quarters, it has added back restructuring costs and adjusted for the deferred revenue impact of adopting the new revenue recognition standards. In its June quarter, it restructured its sales force but chose not to add back that cost. Its only adjustment was the impact of its planned adoption (preapproved by the SEC) on July 1st of the new revenue recognition standards. In effect, its Non-GAAP reporting was a preview of GAAP reporting as of the next calendar day. During its webcast explaining the impact of its early adoption in August 2017, it stated:

On July 1, 2017, we adopted two new accounting standards that cover revenue recognition and lease accounting. We chose to adopt the new standards early, primarily to simplify the communication of our results by eliminating the need for

Non-GAAP revenue reporting
Summary
The trend away from Non-GAAP earnings has begun. Analysts have applauded those that have voluntarily made the shift which will add pressure for others to follow suit. The skeptic in me suggests that this is self-serving but nevertheless a good thing. It's self-serving because these established large companies have positive earnings and cash flow. They have a much lower expense burden for SBC than many of their competitors. If they can lead the movement back to valuations on GAAP earnings, they will likely benefit when investors see alternative investments having far less attractive valuation metrics. As an example, consider the amount of SBC expense as a percentage of revenues for a selection of companies for last quarter. This shift alone would be significant. It feels like this shift is beginning, and the impact on some companies will be significant.
SBC expense as percent of revenues. No adjustment provided in company guidance, earnings or in analyst forecasts.
Apple 2.6%
Amazon 3.1%
Alphabet 7.7%
Microsoft 3.6%
SBC expense as percent of revenues. Still being eliminated in company guidance, earnings and analyst forecasts.
It's time to move away from this alternative reality. When we do, there are a number of companies who will see their earnings drop by 10% to 25% of revenue. Until that happens, investors need to ensure valuation comps are apples-to-apples, rather than GAAP to Non-GAAP.
Disclosure: I am/we are long GOOG, MSFT.
I wrote this article myself, and it expresses my own opinions. I am not receiving compensation for it (other than from Seeking Alpha). I have no business relationship with any company whose stock is mentioned in this article.
Additional disclosure: I may go long any of the other companies mentioned in this article in the next 72 hours.