Tintri (NASDAQ:TNTR-OLD), the small-cap maker of all-flash storage solutions for enterprise datacenters, went public in June at $7 per share. You probably didn't notice. Raising only $60 million, it was nearly small enough to qualify as a "mini-IPO" (formally known as Regulation A+, or Title IV of the JOBS Act, allowing fewer regulations for micro-IPOs between $3 to $50 million in size). Tintri has received little fanfare and little press, and the stock hasn't performed well either. The company had originally intended to raise $109 million (implying a share price of ~$11) but settled for $7, and the stock trades below that now.
The company is gearing up for its first public earnings announcement this week, on September 7 after the bell. First earnings dates are historically major catalysts for newly minted IPOs, sending them soaring or plunging to the pits. Will Tintri survive?
The stock has recovered from its all-time lows near $5, and in recent days has even had a miniature rally in anticipation of this earnings date.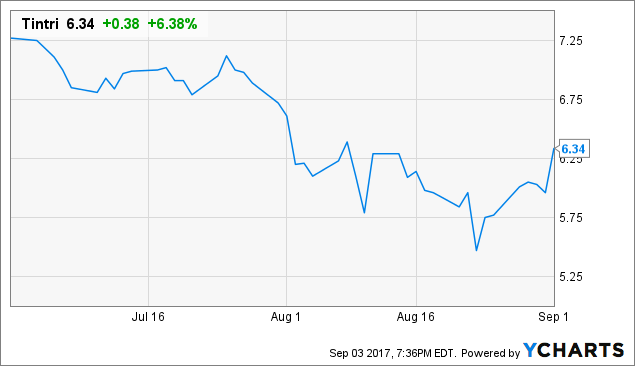 TNTR
data by
YCharts
Many traders will be tempted to get in ahead of the action in case Tintri catches a bid on the back of its Q2. But with new IPOs, the risk is large - who knows what lies behind the curtain? Snap (NYSE:SNAP), for example, cratered as much as 20% in after-hours trading after it missed estimates in its first quarter as a public company. And Snap had infinitely more hype than Tintri ever will, and hype and hope probably saved Snap from its lowest levels.
I would encourage investors to take a back seat and wait for fundamentals to unfold before initiating a position in Tintri. While its valuation is low compared to its storage peers, it's low because investors dislike uncertainty. Tintri's growth is not only sub par relative to peers, it's also burning cash twice as fast as they are. Investors are wondering what Tintri is burning money on if its growth is so lackluster, and this is not a good setup for a long position.
All-flash storage: business and financial overview
Much like Nutanix, which is my preferred company in the storage space, Tintri provides storage infrastructure for cloud-like capabilities within a company's own datacenters, an idea more commonly dubbed the "private cloud." And like Nutanix, Tintri wraps up its core hardware sales with an IT management and performance monitoring tools.
The below graphic from Tintri's S-1 shows the company's timeline and its growth in customer base:
Figure 1. Tintri S-1 timeline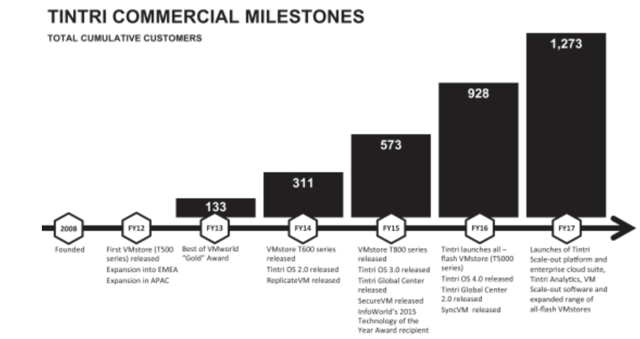 Tintri sells both directly to large enterprises and through distributor partners. Its latest customer count, as of April 2017, is 1,338 - though we note, this number is far below its peers in Nutanix (7000+), Pure Storage (3,700+) (NASDAQ:PSTG), and NetApp (no customer count reported, but revenue is 8x that of Nutanix and Pure Storage) (NASDAQ:NTAP).
Tintri specializes in the all-flash storage array, which, in its own words: "is a series of flash memory drives utilizing non-volatile solid state disk (SSD) storage with no spinning disks, arms or heads. All-flash array offers better use of data center space and power, requires less staff than hard disk drives (HDD), allows ultra-fast transfers for fastest data writing, reading and retrieving available today and allows real-time analytics."
No one denies the speed or performance of flash storage - it's commonly recognized as the superior method of data storage, reducing latency and maximizing uptime, and compatible with virtualization and hypervisors. But it's expensive. NAND flash, the raw component that is used to build flash storage systems, is in a global shortage, caused by the demand for increased storage capacity in personal devices: mobile phones, tablets, and laptops. Prices have spiked this year, with estimates reporting costs are up anywhere between 10-20%.
Due to high input costs, flash is in a tough business to be in right now - providers like Tintri, forced to choose between protecting its margins and the fierce competition in storage, often choose to cede on pricing and let margins suffer.
Tintri is growing quickly, make no mistake. Revenue grew 45% to $125.1 million in fiscal 2017 (the year ended January 2017). But growth appears to be decelerating quickly, as Tintri had achieved 73% growth the year prior. Furthermore, Tintri's growth pales in comparison to its peers. Nutanix, which posted ~$800 million in annual revenue, grew 62% in its last quarter. Pure Storage, which has about the same annual revenue as Nutanix, grew 38% in its last quarter.
These companies' y/y growth encompasses the entirety of Tintri's whole revenue.
When betting on the smaller horse, you'd better make sure it has something unique to offer. But in the flash business, Tintri offers nothing new - no particularly compelling software (like Nutanix's hyper-converged offering), no special hardware configurations, nothing - it's just flash, just like everybody else's, and it's getting more costly to provide.
Tintri's losses are also startlingly high. Losses are commonplace for tech IPOs, but the key is to see the path to profitability. With Tintri, that path is unclear.
Tintri posted a net loss of $105 million in 2017, or 84% of its revenue. Its GAAP operating margin of -81% compares poorly against Nutanix's -56%, Pure Storage's -34%, and NetApp's 12%.
Tintri also burned $70.4 million in negative operating cash flow, and free cash flow was -$74 million after taking capex into account. This level of losses hearkens liquidity into the discussion - how much longer can Tintri sustain losses?
As of April 30, Tintri only had $48.7 million of cash on its balance sheet (see below):

With IPO proceeds estimated at $53.8 million, Tintri only has $102.5 million in cash to play with - that's barely more than a year left of burn, and that's assuming the burn rate remains constant. If the pattern of typical tech companies holds for Tintri, it will burn much more than $70 million this coming year.
Expiration of its available liquidity will force Tintri into an unpleasant corner. It can choose between issuing debt (it already has $68 million on its balance sheet) if its creditors can stomach lending more money to a cash-eating company, or issuing a dilutive secondary offering. With its shares below its initial offering price, a follow-on may hurt the company even more in the long term, and deliver pain to existing shareholders.
Quarter read-through from storage peers
To look for clues into how Tintri might perform in its quarter, we can turn to the rest of the storage industry, all of which have reported Q2 earnings.
Nutanix beat earnings on August 30, reporting revenue of $226 million vs. analyst consensus of $218 million, but the stock has traded flat since
Pure Storage beat earnings on August 24, reporting revenue of $225 million vs. analyst consensus of $216 million, and the stock is up ~15% (though the announcement of a new CEO also contributed to the lift)
NetApp earnings were in-line on August 16, reporting revenue of $1.33 billion vs. analyst consensus of $1.32 billion, and the stock sank 7%
Results (and stock reactions) are rather mixed in the storage industry, so Tintri seems like a coin flip. Even positive earnings weren't enough to lift shares of NetApp and Nutanix.
First earnings are remarkably volatile for newly minted IPOs, as analysts aren't well-trained yet in what to expect. With losses mounting and its growth trajectory on uneven footing due to difficulties in flash and stark competition, I'd prefer to stay on the sidelines until the fundamental picture for Tintri becomes more clear.
Disclosure: I/we have no positions in any stocks mentioned, and no plans to initiate any positions within the next 72 hours. I wrote this article myself, and it expresses my own opinions. I am not receiving compensation for it (other than from Seeking Alpha). I have no business relationship with any company whose stock is mentioned in this article.