Expectations are low for HCM software vendor Cornerstone OnDemand (NASDAQ:CSOD). After having missed two earnings in the past twelve months (3Q16 and 2Q17), investors aren't expecting great things from a company whose growth has decelerated to 10% in the most recent quarter.
At some point in every cloud company's life, the growth engine will begin to slow down - hopefully after the company has become profitable. And at that point, investors must start looking at the company through the value lens, not through the growth lens. And while Cornerstone isn't fully GAAP profitable, it is generating positive OCF, and its growth hasn't fully cranked down either - the company is still projecting 14-15% y/y growth for FY17.
Value is rare in the SaaS space, and value software stocks don't tend to stay cheap for long. While this company isn't a horse to bet on long term - this stock isn't going to double or triple on the back of successive beat and raise quarters - there are gains to be made in a short-term rebound.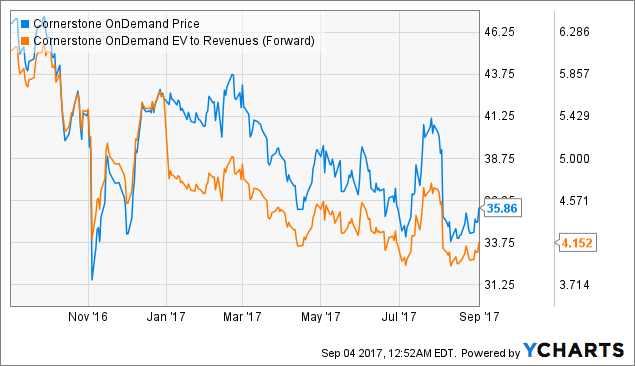 CSOD data by YCharts
It's evident from the 1-year chart above that Cornerstone is trading at the bottom of its trading range - while it should trade at a discount to its peers, 4x revenues is too low. A small rebound to 4.5x ($42) isn't a stretch, valuation-wise, and implies a ~20% return from current levels.
This article will refresh readers on Cornerstone OnDemand's business, discuss its position in the HCM software space, and review its valuation in the context of its recent results. Overall, Cornerstone, still generating small growth and growing its operating cash flow, makes for a perfect rebound play - and with expectations muted, a quarterly beat could send the stock into a new rally.
Cornerstone HCM Suite
Cornerstone's human capital management (HCM) software suite is a cloud-based (meaning users access it through the internet) solution for addressing enterprise HR needs. The platform consists of four modules, each of which can be used standalone or in conjunction with the others:
Cornerstone Recruiting: Tools for sourcing and recruiting new employees, including onboarding tools once the

applicants are accepted

Cornerstone Learning: Software for talent development, including virtual classrooms for online training
Cornerstone Performance: Performance management tool for employees, including features for goal setting, feedback monitoring, and compensation planning
Cornerstone HR: Catchall administrative tool that addresses vacation/time away reporting, organizational management, compliance, and records administration
Of the four modules, Learning is the one Cornerstone is most well known for. It's deployed by 85% of the company's client base, followed by Performance at 50%, Recruiting at 20%, and HR at 5%.
Each of the lesser-used modules are growth opportunities, especially the HR platform, the newest of the company's offerings. Though the modules are usable on a standalone basis, they are designed for interlinked use. From the perspective of an HR administrator, it's much easier to have all the tools under one vendor, giving Cornerstone excellent cross-sell opportunities.
Competition in HCM
Human capital management is a fiercely competitive arena in enterprise software. Perhaps the best-known competitor in the cloud space is Workday (WDAY), which also integrates its HCM capabilities with an ERP and financial system. On a revenue basis, Workday is approximately 3x larger than Cornerstone.
The HCM space has also seen a dearth of new entrants this year, and entrants that have just begun to make their mark. Microsoft (MSFT) rolled out its Dynamics 365 offering in early 2017, which, like Workday, offers robust HCM and ERP capabilities that can be rolled into a package or used standalone. Microsoft's Dynamics brand has become a major new force in the applications sphere - while Microsoft has traditionally focused on its OS (Windows) and core Office application suite, it has begun to venture into enterprise cloud apps. Its Dynamics CRM, in particular - released before its HCM and ERP offerings - have made a splash in the sales software market, taking deals away from the likes of Salesforce (CRM) and Pegasystems (PEGA).
Oracle (ORCL) has also begun to make a dent in the cloud apps sphere, with cloud revenues up 58% this year. While Oracle's HCM Cloud offering has been around longer than Microsoft's, it has just started to gain traction in the market. And with Oracle's deep discounting practices, it's more than willing to win deals by undercutting competitors on price. Oracle also has its on-prem PeopleSoft application to offer to clients less ecstatic about pushing their HR systems into the cloud.
SAP SuccessFactors (SAP) is the third giant in the space. The German software conglomerate acquired SuccessFactors in 2012 for $3.4 billion, highlighting SAP's increased push into the application layer. SuccessFactors is integrated with SAP HANA, the company's BI and analytics tool, and while all HCM clouds claim some compatibility with a data analytics feature, SAP HANA is one of the best known in the business.
Other competitors in the space are numerous: Ultimate Software Group (ULTI) is another publicly traded cloud HCM company, Saba Software, Information, iCIMS, and many others.
How does Cornerstone stack up against the competition? The company generally stands out with its Learning platform, while other HCM clouds lean on the strength of their HR administration features, a newer module for Cornerstone. Gartner has validated the company's strength in the learning space, placing it in the Leaders quadrant of its February 2017 Magic Quadrant for Talent, Learning, and Performance Systems (its two competitors in the Leaders quadrant are SuccessFactors and Oracle). Cornerstone has maintained this distinction for several years.
G2 Crowd, the popular software review site, also corroborates Gartner's findings. Cornerstone has earned an average of 3.9/5 stars; user reviews praise Cornerstone for helping them to turn paper-based employee training sessions into online content, as well as for its intuitive and modern user interface.
Financial overview
Now getting into the meat that investors scrutinize the most, let's see how Cornerstone has performed over the past few quarters.
In the most recent quarter, the company posted $116.7 million in revenue (+9% y/y), below the midpoint of its prior guidance for $115-120 million. Billings clocked in at $119 million, up 11.9% y/y. Operating losses of $18.1 million represented a negative operating margin of -15.9%.
For the full year 2017, Cornerstone guided to $477-487 million in revenue (+14% y/y at the midpoint), unchanged from its prior quarter guidance, and $117-120 (+10% y/y) million for Q3. Given that the company posted 12.3% growth in Q1, 9.0% in Q2, and is projecting 10% for Q3, its guidance implies a big Q4 to end up at 14% growth for the year.
Disappointed investors sent the stock down from $39 to $33 post earnings, but we've been here before with Cornerstone. Its November quarter disappointment sent the stock down from $39 to $31 at the time; and it recovered to $42 by mid-December.
Fundamentals still look solid at Cornerstone, with the company still maintaining double-digit growth in client counts from quarter to quarter:
Cornerstone also maintained a 95% dollar-based retention rate, illustrating a sticky revenue base and an important fact: HR platforms, laden with employee data and paper-heavy processes, are extremely difficult to rip out once installed. Implementations for HR suites often take months, and once in place, companies tend to use the same system in perpetuity as long as they keep receiving updates to meet their needs. While Cornerstone may not be growing as quickly as in the past, it doesn't have to win very many deals to continue seeing growth on the top line - because the installed revenue base will be slow, if ever, to leave.
Figure 2. Revenue growth by quarter


The chart above shows Cornerstone's quarterly revenue growth, from left to right with 2Q17 at the rightmost of the chart. While revenue growth has been a letdown for investors, the billings picture isn't as grim:
Figure 3. Billings growth by quarter

The company's 11.9% y/y growth in Q2 billings is actually its best in four quarters. While only a portion of these billings made their way into Q2 revenues, they set the company up with a strong revenue pipeline for the next four quarters.
Recall that Q4 tends to be the best quarter for most software companies, and Cornerstone is no exception, as can be seen from its prior Q4: $156 million (+10% y/y) in billings, its highest in history. With expectations so low for the company, it may be well situated for a Q4 rebound.
Valuation
The below chart shows how Cornerstone compares to its larger-cap peers in HCM application software:
Figure 4. Trading comps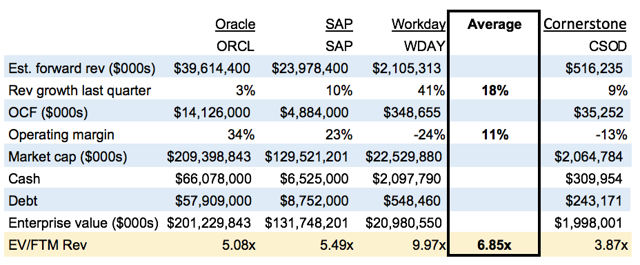 Even large, mature companies such as Oracle and SAP trade at higher EV/FTM revenue multiples than Cornerstone, which is an anomaly. Other non-HCM cloud application companies also sport high multiples (HubSpot (HUBS) trades at 6.5x; Coupa Software (COUP) trades at 7.4x; and BlackLine (BL) trades at 7.1x).
Few application software companies can sustain revenue multiples below 4x. The below chart illustrates two examples in Box (BOX) and Pegasystems, which have rebounded from multiples below 4x this year.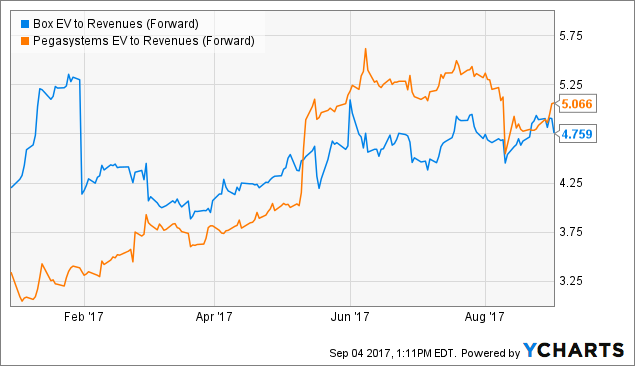 BOX EV to Revenues (Forward) data by YCharts
Cornerstone OnDemand's low valuation isn't likely to remain for long. While it's no long-term hold given the uncertainty in its product positioning over the next few years, investors can turn a quick profit on the likely rebound.