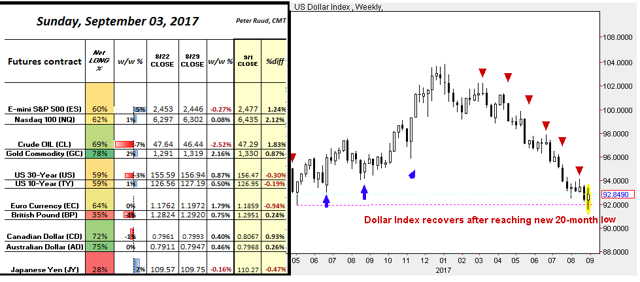 While it was a dull week for FX futures positioning heading into (August) month end, it was a much more interesting story in how the US dollar managed to overcome another spike down to fresh (20-month) lows on Monday, and then Friday's disappointing (US) jobs report. After what seemed like such a bleak start to last week, the Dollar Index (DX) actually finished modestly higher, not only highlighting bullish technical divergence (daily RSI), but hinting of a temporary base for the oversold greenback.
The latest Commitments of Traders (COT) report (as of August 29th) also pointed out the continued gradual unwind of the popular (Japanese) yen carry trade amid increased geopolitical tensions and overall nervousness for the US administration's policies. The recent CFTC data also revealed the sudden nervousness and negativity exuded by crude oil futures traders heading into the last week of the summer's driving season and, strangely, ahead of knowing the true disastrous impact from Hurricane Harvey. In other developments, US equity indices finished near all-time highs, gold confirmed a monthly (chart) breakout, and the loonie (Canadian dollar) finished the week at a 2-year high versus the USD.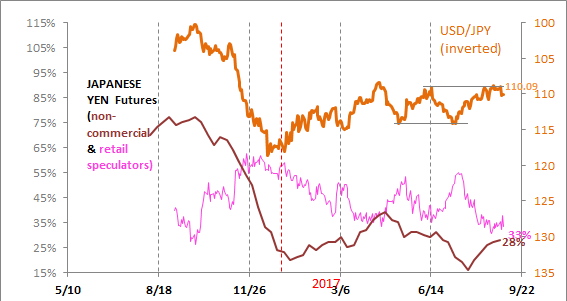 FX futures positioning in general was relatively subdued heading into end of August, despite a rather exciting week in price action. Data from the latest COT report depicted an exhausted short (US) dollar trade that stalled bearish bets with exception with the Japanese yen. Speculators there have been paring back bearish bets against the yen, as the percentage of long positions improved for the 5th straight week. This enabled the net percentage (of long positions) to edge higher to 28%, highlighting an improvement off the recent 2-year low. More importantly, it highlights the gradual reduction of the so-called carry trade that has continued ever since geopolitical tensions between the US and North Korea have begun to escalate.
Meanwhile, according to recent FX positioning data, the retail population continues to remain quite bearish on the yen, with roughly two-thirds of retail position short. That said, after briefly probing below 108.67, the latest oversold bounce does indeed solidify a base with technical significance in the USD/JPY pair. If a move beyond the key 111.00/33 region materializes, it could reignite the yen carry trade back towards the 114 handle. If, however, 110.56 (key Fibonacci retracement) continues to cap price action, then all bets are off!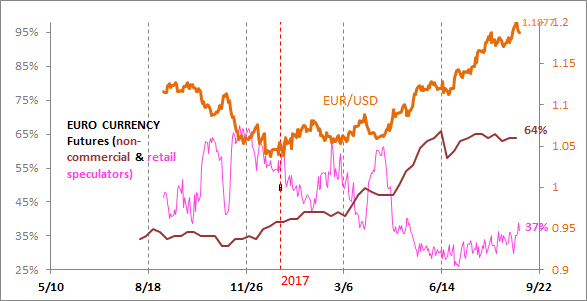 The EUR/USD edged higher into the period covered by the most recent COT report (8/22 to 8/29), as euro bulls briefly broke above the key 1.20 mark for the first time since late 2015. The 10-month improvement in euro positioning has stalled out, however, and could be subject to pulling back even further given retail traders have seemingly started buying the single currency as of late. That said, the overall trend up in the EUR/USD remains intact until key support at the 1.17 handle is compromised to the downside.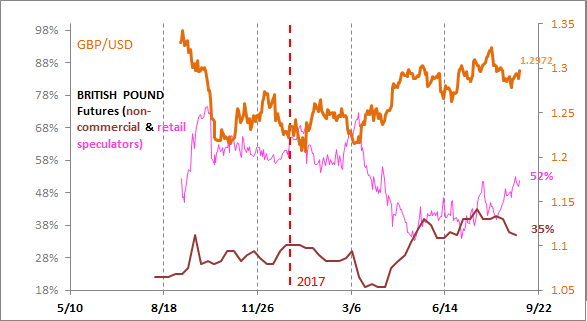 British pound (futures) sentiment by large speculators dipped again slightly. The bump up in gross shorts positions allowed for the net long percentage to inch down for the third straight week, reaching a net long percentage of 35%. The GBP/USD, meanwhile, managed to advance roughly three-quarters a percent in that period (8/22 to 8/29). The move down in speculative sentiment, however, is occurring simultaneously while retail optimism towards the sterling has moved higher. This hints of additional downside for the British pound versus the USD, and suggests that a clean break of 1.2775 to the downside could clear the way for the key 1.26 region (GBP/USD).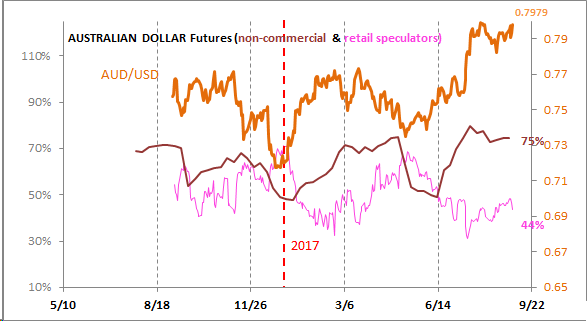 Australian dollar sentiment by large speculators versus the greenback has stalled out at 75% (net long), after plateauing at 78% a month ago. According to the latest CFTC data, speculators continue to grow net longs, however, because of a proportionate move up in gross shorts, the net long percentage remained unchanged for the week. Price action in Australian dollar futures has continued to hover near the 80 cent threshold and technically looks like it's likely consolidating for the next possible re-test of the July high at .8066. Moreover, if retail traders continue to sell into the Aussie as they did in the back half of last week, the AUD/USD could have the fuel needed to break .8066.
Canadian dollar bullish sentiment by large speculators has steadied since early August, after having seen both the net long tally and net long percentage advance in the prior 3 months. After a brief bout of consolidation, the USD/CAD, meanwhile, has retreated to a fresh 2-year low, closing under 1.24 on Friday. The most recent retail data indicates that the retail trading population has resumed fighting loonie strength once again. While this is a bullish development for CAD bulls, there is unfortunately not much more room until the retail population nears an extreme as seen in mid-August. Also, with weekly RSI diverging, further Canadian currency strength should be rather limited until the rather crowded net long position by futures speculators can unwind a bit.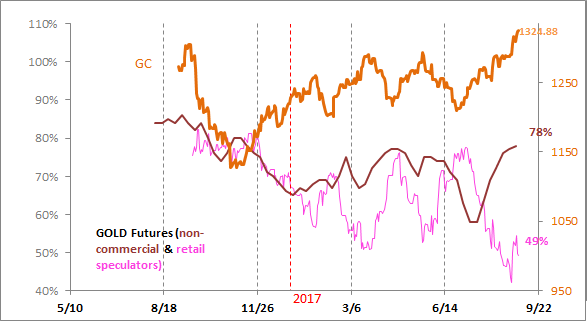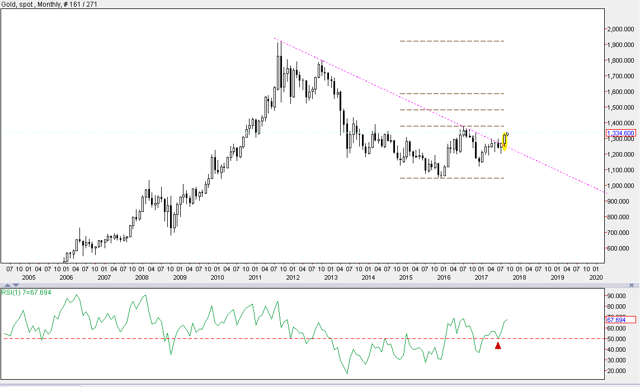 Gold futures sentiment continues to show improvement, as both net positions by total and by percentage ticked up for the 7th straight week. More importantly, gold futures have confirmed a monthly chart breakout of a 6-year bear trendline, which has gold bulls poised to re-test the 2016 peak at 1375 in the near term. After having broken down in mid-August to fresh lows of optimism, retail traders seemingly returned last week in fighting gold strength. Similar to the Canadian dollar's situation, however, there's limited room until retail positioning reaches an extreme low. Thus, once gold futures reach significant overhead resistance, a sizeable period of consolidation is likely to ensue, until overcrowded longs unwind a bit at that point.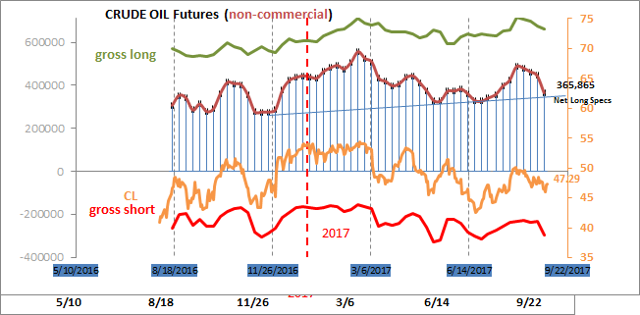 Crude oil futures dipped nearly 3% heading into the last week of the summer's driving season. Positioning by futures traders in the same period (8/22-8/29) also reflected the sudden nervousness felt by large speculators. Short positions leapt nearly 30% in just a week's time, a staggering move in positioning, especially that it occurred just before the full impact of Hurricane Harvey was known. Crude prices, however, would go onto stage a rebound once the reality set in following Harvey's devastating floods. While the rebound stabilized recent downward momentum, the technical outlook remains confined to a well-established range between 45 and 50. At this point, it is clearly too early to tell whether speculative sentiment has shifted lower or whether the latest COT report was a one-off. For the very near term, range-bound conditions should persist, unless an unforeseeable event takes place.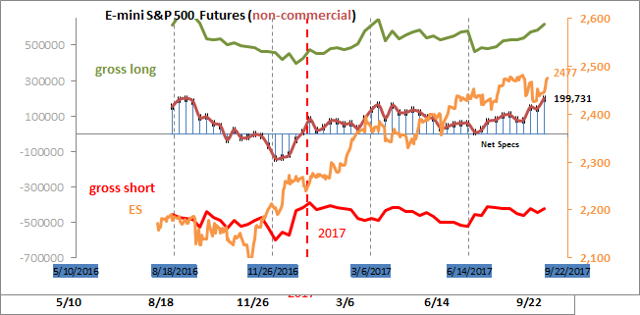 E-mini S&P 500 futures continue to edge higher towards last month's all-time high. Speculative sentiment has accelerated higher accordingly. E-mini S&P 500 speculators increased gross longs by 34K and covered gross shorts by nearly 23K. The weekly bump-up in the net long percentage to fresh multi-year highs suggests that large speculators are largely playing into further strength for the S&P 500. That said, the aggressive move in sentiment has not yielded a technical breakout for the S&P 500 (cash or futures) as of yet, and the biggest concern for all equity indices is weekly (chart) divergences once price action re-tests those highs. So far, of the major cash and futures equity indices tracked globally, only the Nasdaq 100 has achieved a new high.
While technology stocks have been the leaders for some time, they too are faced with weekly technical headwinds. That said, the trend remains up for stocks in general, but the technical reaction over the next few weeks will be critical in determining whether there's an immediate continuation or a more prolonged period of consolidation.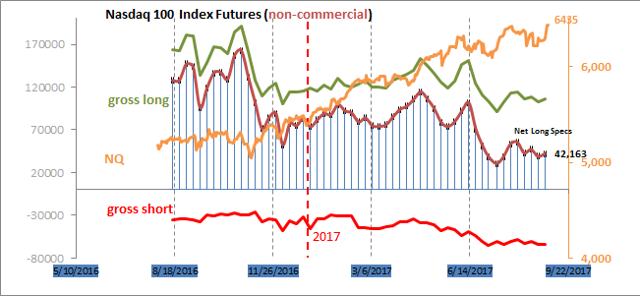 Nasdaq 100 futures speculators mildly added gross longs and left gross shorts unchanged in the latest COT report. This allowed the net long percentage to remain at 62%, despite a minor increase in the net long tally. The subsequent thrust higher in price action triggered a fresh all-time high, but is not reflected in the lethargic mood seen in recent speculative sentiment. Moreover, with technical headwinds such as weekly (chart) divergences potentially weighing, it suggests that Nasdaq 100 futures could struggle to make headway unless there's some sort of bullish news event that can trigger some technical separation from the August highs.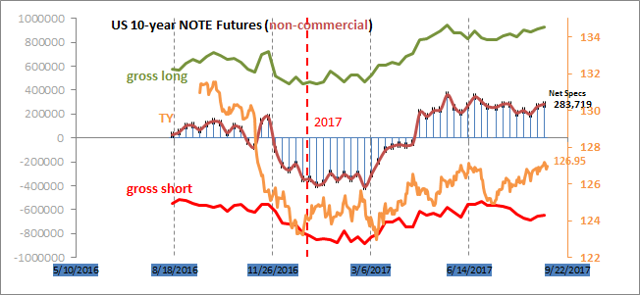 US 10-Year futures continue to grind higher, while speculators continue to slowly increase their net long position. According to the most recent CFTC data, speculators covered some (gross) short positions and added some (gross) short positions, allowing for the net long percentage to increase slightly to 59%. This has buoyed US 10-year futures to re-test the key June peak in the mid-127 region as US 10-year yields have re-tested 2.10%. The subsequent reaction seen last week, however, was telling and could hint of a potential base (in yields), given the weak technical move or slow grind that has unfolded over the past few months. More importantly, last week's (bearish) reaction by futures after testing the June peak could highlight another significant technical rejection that could lay the groundwork for a sustained move (by futures) back towards the May/July base at 124.80.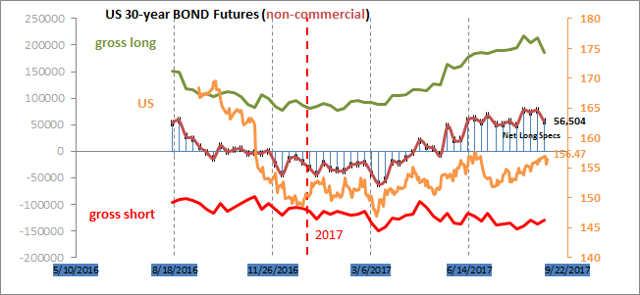 US 30-year futures speculators optimism stalled, according to the latest COT report, as bullish sentiment managed to pull back off its 2017 high. Gross longs finally dipped from their highest level since the Financial Crisis in 2008, while gross shorts decreased by roughly 8K. While the recent advance in price action has been steady and choppy on its latest move back to the June peak at 157.80, the reaction seen last week once re-tested was brief and triggered a brisk (bearish) reversal. The latest moves exhibited in sentiment and in price action both highlight potential ceilings that could steer US 30-year yields back towards 2.94%, then potentially 3.00% and higher.
Disclosure: I/we have no positions in any stocks mentioned, and no plans to initiate any positions within the next 72 hours.
I wrote this article myself, and it expresses my own opinions. I am not receiving compensation for it (other than from Seeking Alpha). I have no business relationship with any company whose stock is mentioned in this article.