Introduction
A wise man once said 'you should buy when blood is running in the streets' and whilst there's no real blood in the streets of the fertilizer sector, it looks like the entire investment community is completely disinterested in the entire sector. In a previous article, I already explained why CF Industries (CF) has now finally turned a corner with lower forward capex allowing it to generate a positive free cash flow whilst it waits for the oversupply to be absorbed by the market, and in this article, I'll have a closer look at Agrium (AGU) which aims to close its merger with PotashCorp (POT) in the next few weeks.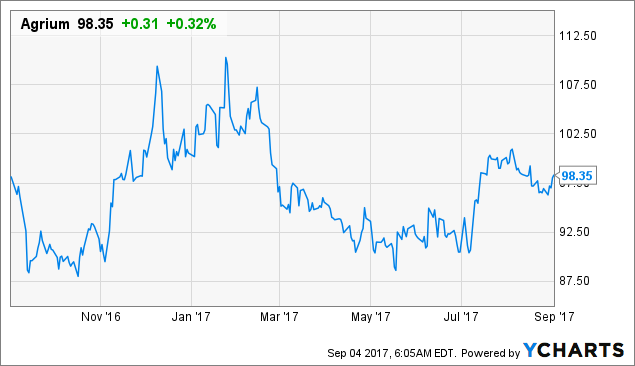 AGU data by YCharts
Both fertilizer companies seemed to be ignored by the market which seems to fail to understand a turnaround is happening right now and in Agrium's case, the company has reconfirmed its synergy target of $500M per year on a post-merger basis.
Agrium's first half was good, with an excellent performance of the retail segment
Agrium reported decent results in its second quarter (which is traditionally very strong) despite lower phosphate and nitrogen prices. As I explained in my CF Industries article, the nitrogen prices will very likely start to pick up from the end of next year on as the demand growth will outpace the supply growth rate.
Agrium reported a total revenue in the first half of the year of $9.04B which is indeed approximately 1% lower compared to the same period last year, but surprisingly its margins improved substantially as the gross profit actually increased despite the revenue decrease. The total EBITDA margin remained pretty stable at almost 10%, but when you look at how the separate divisions performed, it's clear Agrium's acquisition of a bunch of retail businesses last year is indeed paying off.

Source: half-year results
As you can see on the previous image, despite a 1.5% revenue decrease, the EBITDA increased by almost 4% resulting in an EBITDA margin of 13.5% compared to 12.85% in the first semester of last year.
This doesn't really mean Agrium is printing cash. Looking at the first half of this year, Agrium generated $63M in operating cash flow but after taking adjustments into consideration (working capital changes, tax due versus effective tax-related outflows etc), the adjusted operating cash flow was approximately $854M. A decent result, but keep in mind the second half of the year will be much weaker due to seasonal effects.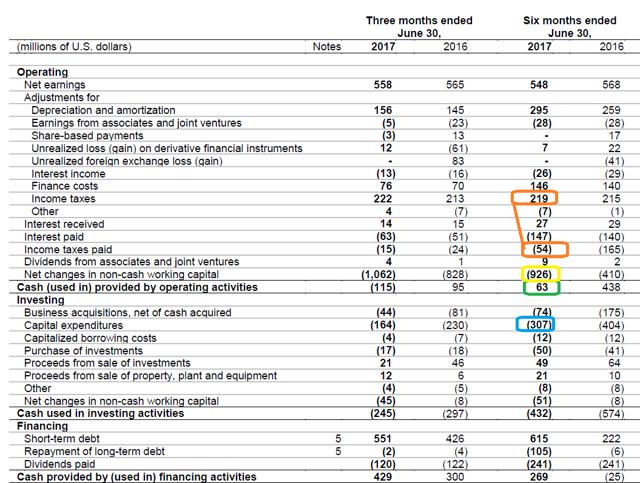 Source: financial statements
The total capex was $307M (the entire expected growth capex has already been incurred, the second half of the year will see Agrium spend approximately $300M on sustaining capex), resulting in a free cash flow of approximately half a billion dollar.
The merger with PotashCorp remains on track
Looking at the company's official full-year guidance, it doesn't look like the company will generate much (sustaining) free cash flow. In the next few calculations, I will use the midpoints of the official guidance.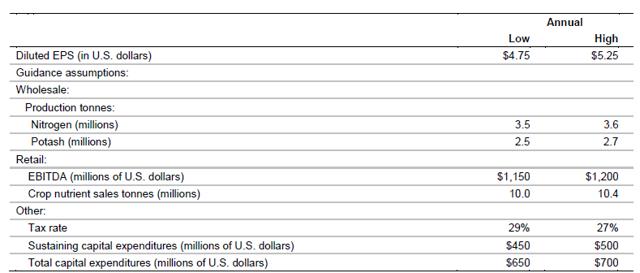 Source: press release
The official EBITDA expectation for the retail segment is $1.175B. Looking at the financial results and debt position, I would expect the full-year interest expenses to be approximately $200M, whilst the total tax bill will be approximately $275M based on the expected average effective tax rate (28%) and the earnings guidance. This would result in an expected cash flow of $700M, which needs to be increased with the expected net cash flow coming from wholesale activities (where I'm aiming for $140M from the potash segment and $300M from the nitrogen + phosphate segment), resulting in an anticipated operating cash flow of $1B (rounded down). After deducting the $475M in sustaining capex, Agrium will be generating a sustaining free cash flow of $525M.

Source: press release
That's fine and would cover the dividend, but keep in mind these results include merger-related expenses which are costing Agrium approximately $15M per quarter. These expenses won't stop the moment the merger is completed, but this effect should decrease , boosting the cash flow by $50M per year.
That's perhaps why completing the merger with PotashCorp of Saskatchewan is a very important milestone in Agrium's future. Not only will the combination of both companies perhaps have more pricing power in North America, but the expected annual synergy advantages will be a key driver for the combined entity. In its Q2 conference call, Agrium confirmed it's still expecting to generate $500M per year in operating synergies:
" And all I would tell you is that every day we get more and more confident that we will be able to deliver the $500 million of annual operating synergies."
When a CEO confirms he's 'more and more confident', it could be 'CEO-speak' to indicate there's a good chance to outperform those expectations (although it will take several years before we get to that point as it will require time to unlock those synergies.
Investment thesis
Agrium is in a pretty decent shape and the expected synergy advantages will allow the combined company to reduce its net debt at an even faster rate (as I would also expect the new entity to 're-set' the dividend expectations). On a standalone basis, Agrium seems to be generating $550-575M in adjusted sustaining cash flow which is fine to cover the $480M in dividend expenses, but doesn't leave much on the table to reduce its $5.3B net debt…
The key will be in securing higher nitrogen prices which might not yet happen in 2018, but is a very likely scenario in 2019. In Q2, Agrium produced nitrogen at $216/t and sold it at $312/t. Should it be able to sell its product at $375/t whilst allowing for a slight production cost escalation to $225/t, the operating margin would increase from $96/t to $150/t, resulting in an additional pre-tax cash flow of $189M per year.
Based on my back of the envelope calculations, the combination of Agrium and PotashCorp could be generating $1.6B per year in free cash flow (excluding potential price increases). Should the dividend yield be kept limited to 2.75% (based on the current share prices), Nutrien (the name of the combination) will be able to repay $800M per year in debt creating a snowball effect of lower interest expenses which will allow the free cash flow (and debt repayment options) further.
Disclosure: I/we have no positions in any stocks mentioned, and no plans to initiate any positions within the next 72 hours.
I wrote this article myself, and it expresses my own opinions. I am not receiving compensation for it (other than from Seeking Alpha). I have no business relationship with any company whose stock is mentioned in this article.