With the U.S. stock market again bouncing around all-time highs, I thought it would be prudent to revisit where price-to-earnings ratios for U.S. stocks stand relative to the rest of the world. Market participants need to determine whether these levels are justified given their respective forward expectations for economic and earnings growth.
U.S. stocks continue to be relatively stretched on a valuation basis, but have still managed strong performance thus far this year. There have been plenty of market naysayers on U.S. stocks, but as the calendar crosses into early September, we are standing at roughly a 12% total return on the S&P 500 (SPY).
In this article, I am trying to provide readers with a fact-based and balanced overall view of the valuation of the equity market, and trying not to strike the alarmist tones of market bears who have predicted two dozen of the last three downturns. U.S. stocks are not cheap relative to their global peers, but they do not look extraordinarily expensive either. As I wrote in a recent article, the price-to-book ratio of U.S. stocks is historically expensive relative to their European counterparts, but that differential is at least partly a function of market structure and industry composition between the U.S. market and Europe. Over long-time intervals, owning U.S. stocks has been and will continue to be a winning proposition. With these valuation exercises, we are looking to inform near-term positioning consistent with each reader's risk tolerance. This article offers another way of viewing the domestic equity multiples in a global context.
The first chart shows trailing P/E ratios by country. The trailing P/E ratios take the current index level and divide by trailing-twelve-month earnings excluding extraordinary items. The forward P/E ratios are the current index level divided by Bloomberg's Estimate for earnings per share for the next four quarters.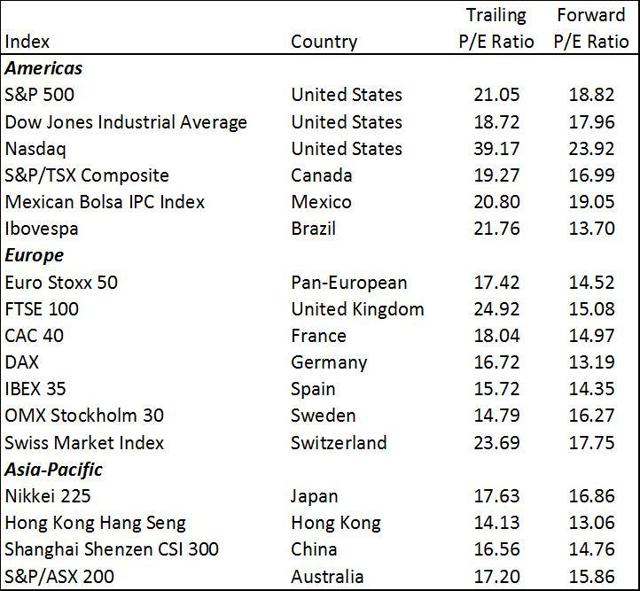 Source: Bloomberg (as of end of U.S. trading on 8/30/17)
The major U.S. indices, excluding the tech-focused Nasdaq (NASDAQ:QQQ), are roughly in line based on trailing earnings.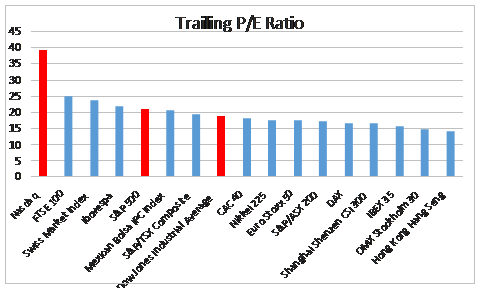 Source: Bloomberg
And look slightly elevated based on estimated forward earnings.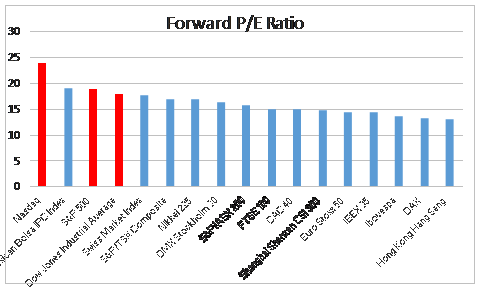 Source: Bloomberg
The valuations in the United States look fairly similar to the valuations in Canada. Valuations in the United States look slightly elevated relative to Europe, based on trailing and forward earnings. Part of the argument for expanded multiples in the United States is low prevailing interest rates. Rates are even lower in Europe, but multiples still lag on expectations of continued relative underperformance in economic growth. Multiples are similarly low in Japan, which faces its own unique secular and demographic headwinds, and where the ten-year JGB yields just 0.01%.
This data leaves me with a couple of takeaways:
Excluding the high-flying tech sector, U.S. equity multiples do not appear to be extreme outliers in a global context. In another article today on sector debt growth, I highlighted the growth of debt in the tech space and questioned whether that could be presaging a sector correction like we have seen previously in telecom, energy, and financials after rapid debt growth.
With the MSCI World Index (ACWI) and its ex-US counterpart (ACWX) also near all-time highs, perhaps absolute multiples are still stretched even if the U.S. is not an extreme outlier on a relative basis.
U.S. equities have largely outpaced global peers post-crisis, but the differences between trailing and forward earnings suggest that earnings growth is likely to be higher outside of the United States.
European stocks still generally look a little cheaper than U.S. stocks, and if the forecasted earnings growth occurs, they should outperform. An uncertainty discount likely continues to apply to stocks in euro-area countries, adding incremental uncertainty to the forward forecast. Given the strong gains in the euro in 2017 relative to the dollar, those systemic concerns appear to be abating.
The goal here was to provide another lens to examine U.S. valuations using data that is not always readily accessible for Seeking Alpha readers. There are many different ways to view earnings multiples. I have chosen two approaches and applied them consistently across indices. I will try to make this an update that I publish periodically if welcome to readers. Please share your thoughts on the results.
Disclaimer: My articles may contain statements and projections that are forward-looking in nature, and therefore, inherently subject to numerous risks, uncertainties, and assumptions. While my articles focus on generating long-term risk-adjusted returns, investment decisions necessarily involve the risk of loss of principal. Individual investor circumstances vary significantly, and information gleaned from my articles should be applied to your own unique investment situation, objectives, risk tolerance, and investment horizon.