Fast-growing restaurant stocks can be hugely rewarding, especially if one invests during the early part of development.
The purpose of this article is to enable investors to better assess whether Shake Shack (SHAK) has the potential to sustain its rapid early growth and its attractive returns over the next several years. I will do this by bench-marking it against a 'young Chipotle' (CMG), and by highlighting the companies' differences. This report is the second in the series.
Figures for Shake Shack are partly based on my forecasts for 2017-18, its third and fourth years post-IPO (January 2015), against Chipotle at a similar point (2008-09) following its early 2006 initial offering.
Unit Growth: Robust
Shake Shack's 30%-plus CAGR in restaurant count compares quite favorably to early Chipotle's, though on a much smaller starting base of stores.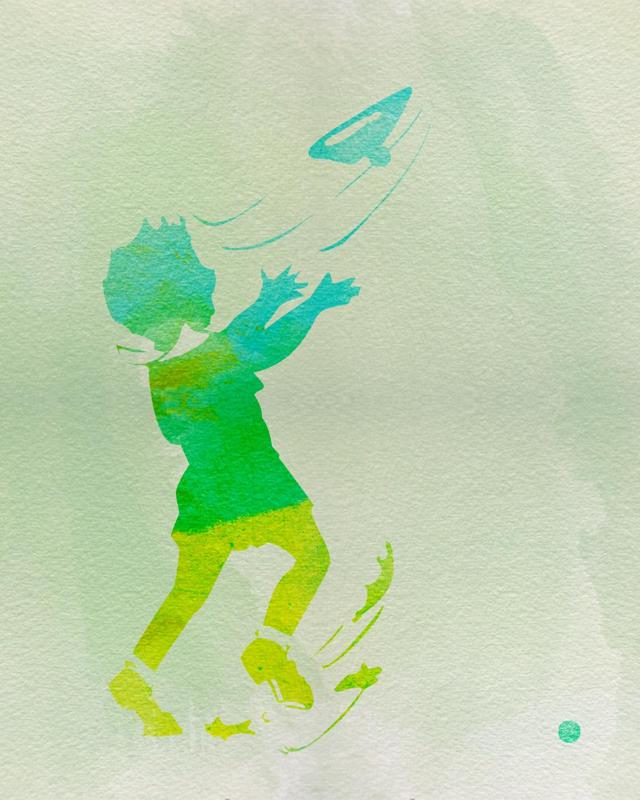 SHAK's unit expansion is impressive partly for its ability to grow internationally, via franchise – key shortcomings at Chipotle (where franchising and international never quite worked). Shack's recognition among foreign travelers visiting its flagship restaurants in gateway city New York facilitates franchise openings, where it's in more than a dozen foreign countries already.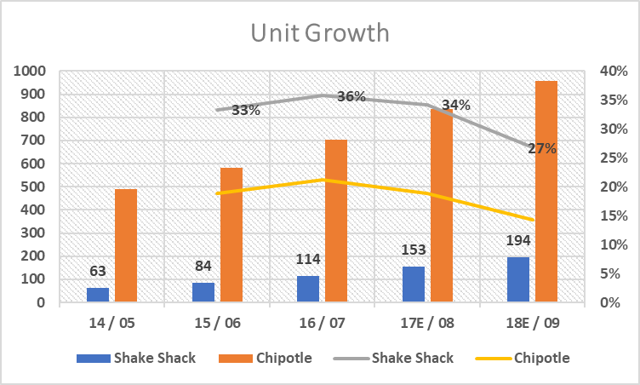 Source: Company SEC filings
A single franchise partner (Alshaya Trading) controls most SHAK foreign franchises. Limiting the number of franchise partners (via a single master licensing-like agreement) is mostly a positive, in my view. And the franchise agreement itself insulates SHAK from short-term concerns about cash flows or profitability at these geographically dispersed Shacks, while ensuring growth at no capital costs (to the parent).
Still, company-owned domestic units are Shake Shack's golden goose, despite the fast-growth, high-returns franchises offer.
With the current year's openings virtually 'in the books', unit expansion through upcoming December is relatively finite: 23-24 company-operated and 15 franchised (mostly international).
This growth in 2017 restaurant count should serve as a template for each of the next few years in that 1) more than half of all new Shacks will be domestic, company-owned; and 2) from 38 to 50 overall restaurants will be added annually.
Same-Store Growth: A Notable Weakness
Comparable sales growth is among, if not the most important measures of demand for a restaurant company.
Moreover, for Shake Shack, with its very small comparable base of stores still largely driven by sales intensive New York units, one must also consider (changes in) unit volumes for a more robust view into ongoing demand.
First-half 2017 'same-Shack sales' (i.e., comps) were down about 2%, as last December's price increases failed to offset mid-single-digit (%) traffic declines. (SHAK computes comparable sales based on units opened for at least 24 months, vs. the 12-month industry standard.) Compared to SHAK's recently lowered 2-3% forecast drop in same-store sales for 2017, my -3.3% estimate is a bit more conservative.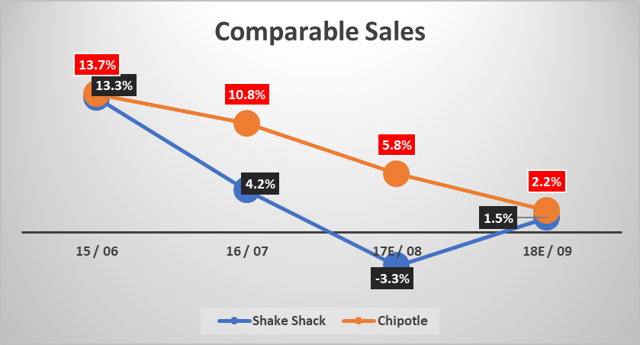 Source: Company SEC filings
It's reasonable to conclude that these sales declines in 2017 are being driven by restaurants opened in the past 24 months, and thus not in the NYC dominated-comp base. Of the 37 units in its June-Q comp base, about 15 of these restaurants are NYC stores (each with volumes about two times non-NYC counterparts): Q217's weekly average unit volumes across all 75 company units fell by nearly 10%, to $92K.
SHAK's very strong 2015 comparable sales have little relevance as it relates to broader, ongoing demand, since the 21 units in that year's comp base skewed even more strongly toward original New York City restaurants.
Since that IPO year (2015), comparable sales growth is only average, and well below early Chipotle.
As Shake Shack aims for 450 domestic units (vs. 84 at 6/30/17), investors must gauge the concept's strength outside of the Big Apple. So far, its record is hardly convincing.
Unit (Sales) Volumes and Profits: Very Impressive
But while sales growth at SHAK's existing units is thus far relatively unproven, absolute sales levels at its restaurants are quite strong. Average unit volumes (AUVs), currently above $4.5 million, rank SHAK well ahead of nearly all peers. Even for units outside of New York, AUVs are at least double early Chipotle.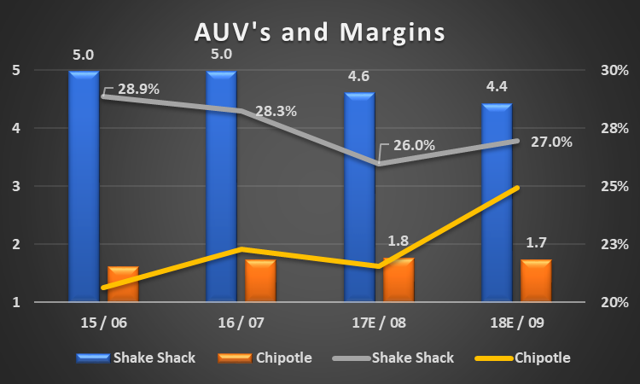 Source: Company SEC filings
At this early stage of Shake Shack's life-cycle, management's focus is squarely on growth – as it should be. Nonetheless, healthy growth requires attention to costs, and SHAK runs its restaurants pretty tight.
At the operating level, SHAK compares favorably to early Chipotle, with restaurant-level profits (RLP) trending more than 100 bps above CMG's.
In fact, the still-strong forecast 2017 restaurant-level profits at SHAK, down more than two percentage points from 2016's, represent its weakest level as a public company (and are being compared to Chipotle's best levels – to that point).
| | | |
| --- | --- | --- |
| | SHAK | CMG |
| | 2017E | 2009 |
| Food & Paper | 28.2% | 30.7% |
| Labor & Related | 27.3% | 25.4% |
| Occupancy & Other | 8.4% | 7.5% |
| Restaurant-Level Profit | 26.0% | 24.9% |
Deleveraging negative same-store comparisons accounts for most of this year's "weakness", highlighted by 'labor', a high fixed-cost item that accounts for the bulk of the RLP decline, with 'occupancy' also acting as a drag.
Yet even in its worst year, these projected profit levels at SHAK are extraordinary. It's worth reminding that the significant impact from Shack-owned units in the New York city area, which generates double the annual sales and have an estimated 5 to 8 percentage-point advantage in profits over Shack-operated restaurants outside of the NY-metro area.
| | | |
| --- | --- | --- |
| | NYC-area | Others |
| AUV ($M, est'd) | 7.4 | 3.6 |
| Rest. Level Profit ($M, est'd) | 2.2 | 0.8 |
| Rest. Level Margin (est'd) | 29.5% | 23.0% |
| No. of units (YE 2017) | 20 | 68 |
Near term (beginning in 2018), as same-store growth recovers, resulting operating leverage will help lessen the impact from the opening of less profitable company-owned units outside of New York. Longer term, unit sales and profitability will regress toward levels typical outside of New York (above).
While upside from SHAK's already stellar unit-level margins is likely relatively limited, there is visibility for the company to sharply reduce its corporate costs (% of sales), simply by leveraging its growing unit base.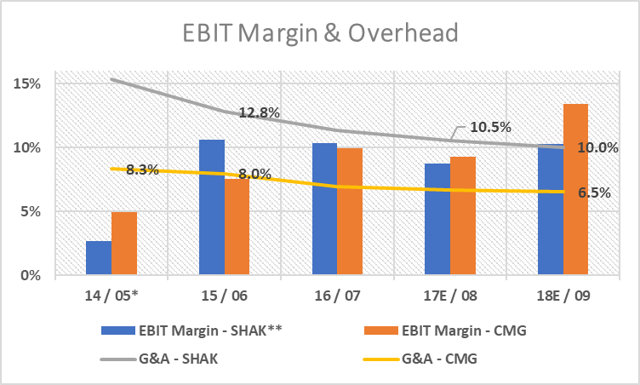 Source: Company SEC filings
Starting life as a public company with about 500 restaurants, Chipotle's cost structure acted pretty 'grown-up' from the time it spun-out from McDonald's (NYSE:MCD). By contrast, Shake Shack, still with fewer than 150 restaurants, should approach G&A of 7% to 8% (of sales, vs. ~10.5% est'd for 2017), provided it can more than double its system-wide units over the next 3 to 5 years.
Returns and Cash Flows: Formidable
Returns at Shake Shack are very strong, thanks mostly to significant unit profitability (described earlier), and despite relatively costly openings. Whether you're a shareholder or a (potential) franchisee, returns and cash flows matter – and will only increase in importance as the system matures.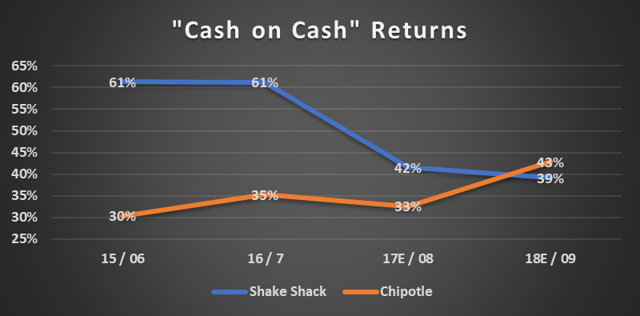 Source: Company SEC filings
The "Cash on Cash" returns (above) are essentially restaurant-level profits relative to opening/build-out costs – trending at $1.8 million (before pre-opening expenses). The above chart through 2016 is based on SHAK's overall restaurant base. My 2017-18E returns, though based on new or incremental units, are still extremely attractive.
Valuation
On any key measure, SHAK ($31) has a significantly lower valuation than 2008 CMG (itself undervalued - in hindsight).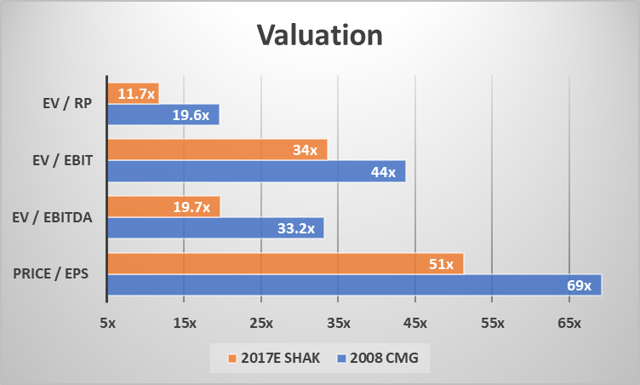 Source: Company SEC filings
Of the four comparative valuation measures above, I consider Enterprise Value (EV) to EBIT, at 34 times, to be most relevant, followed by EV/EBITDA (unadjusted). Note that on adjusted EBITDA, which excludes stock compensation, deferred rent, etc., SHAK currently trades around 17 times my 2017E figure.
Conclusion
I arrive at a $35 value for Shake Shack based on 15.3 times and 24.5 times enterprise values applied to my 2018 EBITDA and operating profit forecasts. This low double-digit implied return is not nearly enough to compensate for the key risks that 1) comp sales will continue trending downward; and 2) unit-level economics for Shacks in second-tier cities may prove disappointing.
Two key characteristics made Chipotle unique: 1) Staggering demand for its highly profitable product – which enabled rapid unit and comparable sales growth; and 2) ownership of nearly all its stores, allowing it to retain 100% of its system's staggering profits.
Shake Shack's unit base is currently split 55%/45%, between corporate and franchised (mostly international). In terms of being able to replicate Chipotle's profitable growth above, the company's ability to scale its franchise count internationally (at virtually no cost) helps offset early CMG's nearly 100% domestic, nearly 100% owned system (#2 above).
But I have serious concerns about the strength of fundamental demand beyond flagship NYC units (#1 above). While I recognize that SHAK's negative 2017 comps reflect a challenging environment (on a small base of stores), I also recall that Chipotle comp'd positive in 2009 even as established restaurant brands (Sonic, Starbucks, Yum, etc.) struggled with negative same-store comparisons.
Disclosure: I/we have no positions in any stocks mentioned, and no plans to initiate any positions within the next 72 hours.
I wrote this article myself, and it expresses my own opinions. I am not receiving compensation for it (other than from Seeking Alpha). I have no business relationship with any company whose stock is mentioned in this article.
Additional disclosure: This article is for information purposes only, and not a recommendation.