United Technologies (UTX) announced that it would acquire Rockwell Collins (COL) in a deal valued at $23 billion, which is the biggest acquisition that has ever happened in the aerospace industry. Let's look at what that means for investors of both companies.
The deal
United Technologies will pay a total of $140 per share for Rockwell Collins' shares, made up by $93 in cash and $47 in the form of United Technologies shares. That values Rockwell Collins' equity at $23 billion, which means that the deal's total value is $30 billion when we include Rockwell Collins' debt.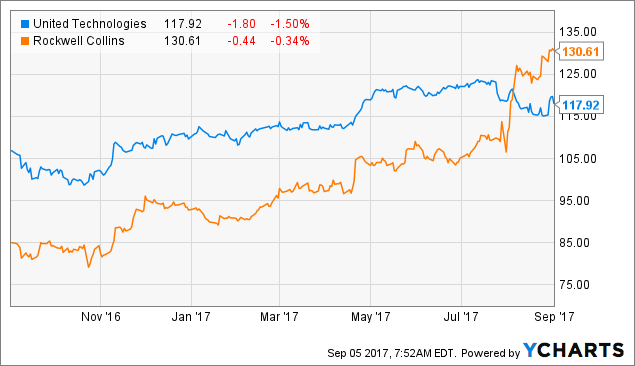 UTX data by YCharts
Shares of both companies are up year over year, especially those of Rockwell Collins, although they did not rise much beyond $130 per share in pre-market trading on Tuesday. The $9.40 spread between the current share price and the price investors will get once the deal closes means a potential return of seven percent if the deal closes in next year's third quarter (the two companies' estimate for the closing date).
Selling now thus may not be the best option, as investors can get a solid return going forward (8% annualized when we factor in the dividend) if the deal does indeed close, which seems likely.
Strategic rationale
For United Technologies the decision to acquire Rockwell Collins is easily explained: Rockwell Collins is a high-margin company that fits well into United Technologies' portfolio, as there is only very little overlap between the product portfolios of both companies. By acquiring Rockwell Collins United Technologies strengthens its product portfolio in areas such as avionics. After the takeover United Technologies has a much better negotiating position when it comes to deals with Airbus (OTCPK:EADSF) (OTCPK:EADSY) and Boeing (BA), as United Technologies would be one of the most important suppliers in the aerospace industry. There is also a lot of potential for cost cutting and other synergies, which will result in significantly higher earnings for the Rockwell Collins business going forward -- United Technologies has identified synergies of at least $500 million annually, which is a very big amount of money relative to Rockwell Collins' net earnings of $700 million over the last year.
Earnings impact
United Technologies has about $9 billion in cash, which is more than half of the company's cash portion of the deal ($15.4 billion):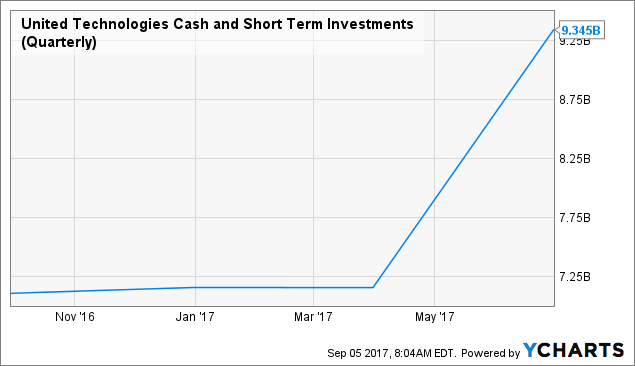 UTX Cash and Short Term Investments (Quarterly) data by YCharts
The company will likely issue less than $10 billion in new debt, which means interest expenses of $300 million annually -- or after-tax costs of $230 million. United Technologies will also have to issue about 64 million new shares to pay for the equity portion of the deal.
In return United Technologies gets the current and future net income of Rockwell Collins, which mainly consists of $700 million in trailing net earnings and an additional $380 million in net earnings due to the impact of $500 million in synergies (adjusted for taxes) -- even in a no-growth scenario United Technologies' net earnings are thus positively impacted by $850 million ($1080 in additional net earnings minus $230 million in interest costs).
Issuing 64 million new shares will mean that United Technologies' share count rises to 862 million, whereas the net earnings of the combined companies will total $6.2 billion -- United Technologies' pro-forma earnings per share number thus is $7.19, which compares favorably to the $6.64 in trailing earnings per share.
United Technologies states that the deal will be accretive to EPS in the second year after the deal closes, which can be explained via the fact that there will be some one time expenses in the first year (integration of the new business into United Technologies' divisions), and also due to the fact that the synergies will not play out immediately.
With my calculations from above as well as the statement from United Technologies management, I believe it is highly likely that shareholders of the company will benefit in the long run -- a better position versus Airbus and Boeing, high cost synergies and a very low cost of capital (due to low interest rates) make this a very compelling acquisition for United Technologies.
Takeaway
A takeover of Rockwell Collins by United Technologies was rumored about for a while now, and this week we got the news that it will indeed happen. The strategic rationale as well as the financials are sound, and it looks like this will be a good acquisition for United Technologies. Rockwell Collins' owners should think about whether they want to hold their shares until the deal closes, since it is likely that they will get a high single digit annual return whilst doing so.
Author's note: If you enjoyed this article and would like to read more from me, you can hit the "Follow" button to get informed about new articles. I am always glad to see new followers!
Disclosure: I/we have no positions in any stocks mentioned, and no plans to initiate any positions within the next 72 hours. I wrote this article myself, and it expresses my own opinions. I am not receiving compensation for it (other than from Seeking Alpha). I have no business relationship with any company whose stock is mentioned in this article.
Editor's Note: This article discusses one or more securities that do not trade on a major U.S. exchange. Please be aware of the risks associated with these stocks.