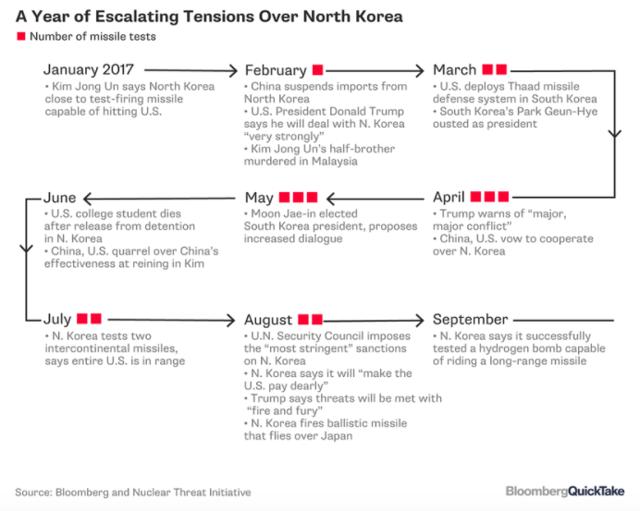 North Korea's claim that it successfully tested an H-bomb have dominated newswires over the holiday weekend. As the chart above shows, the nation has made a lot of waves in 2017. Predictably, international opinion is divided as to how to handle the situation.

The economic region closest to the North Korea threat has not been greatly impacted from an equity market standpoint. The South Korean equity index - the KOSPI - is down only 3.6% from its 52-week high. If we are to speak of complacency associated with N. Korea, clearly it is not isolated to US equities (SPY, DIA, QQQ, IWM).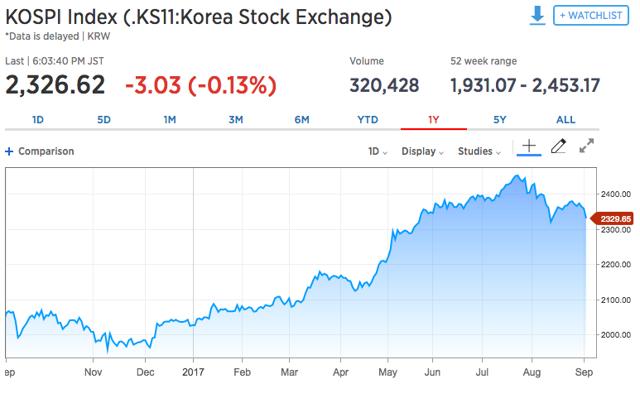 The precious metals - gold in particular - have gotten a boost in the wake of what turned out to be a fairly news-packed August. Gold is at one-year highs, and trading just around where it did in the immediate aftermath of Brexit.

The ECB meets this week, and the EUR:USD trade is cautious ahead as traders ponder as to whether the ECB will attempt to jawbone the currency lower after its heady rally over the past several weeks.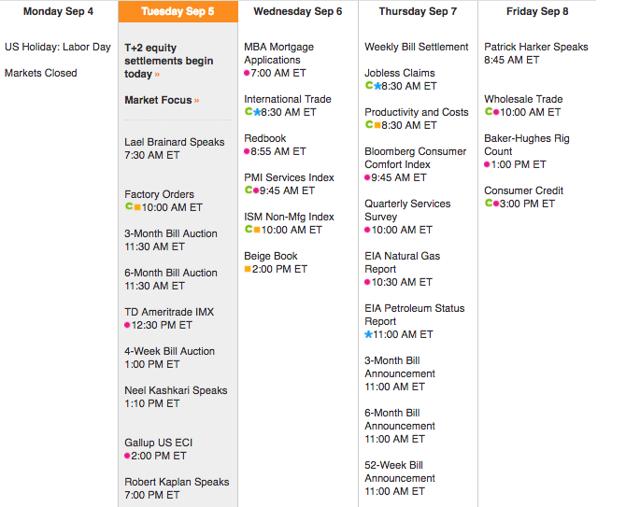 The CME Fedwatch Tool now assigns a 0% chance to a rate hike in the upcoming Fed meeting. If that assessment is correct, then there is not much in the way of a short-rate spin on economic releases for this calendar week. Last week's jobs miss appears to have put the final nail in the coffin for any notions of a September rate increase.
Shout Out
Today's mention goes to Evan Bleker's piece"Don't Sweat the Coming Market Crash".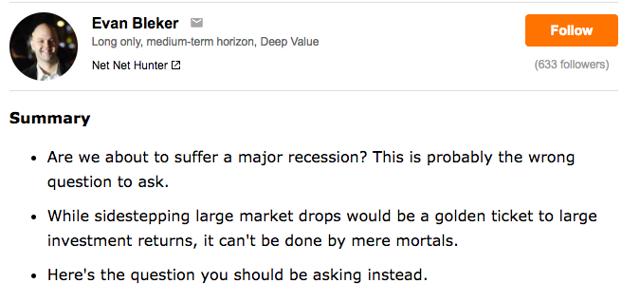 Mr. Bleker begins by confessing that if there were a way to time large market downturns, then it would absolutely be worthwhile to do so.
However, he turns to the Greats and lists some quotes that demonstrate that calling market downturns is not productive from any number of perspectives. Click the link to get all the quotes (some are more poignant than others in our view). But this one struck me as worth sharing:
'The last time I made any market predictions was in the year 1914, when my firm judged me qualified to write their daily market letter based on the fact that I had one month's experience. Since then I have given up making predictions.' - Benjamin Graham
The SA contributor goes on to site evidence that market timing has proven counterproductive (on an absolute return basis anyway) for mutual fund managers.
Then he gets to the meat of the issue:
Another dark finding is that market timers have a bad tendency of getting out of the market after it has fallen and into the market after it's already surged. This causes a market timer to not only suffer the large drop but also miss the inevitable bounce back up in price!
His final advice to investors is worthy of consideration:
What you're really after is earning the best returns possible to set up an exceptional life. Or, at least, what's what you should be striving for... or why bother investing?

The answer is fairly straightforward: Develop your emotional intelligence and stick to a solid high quality deep value strategy. It's really that simple.
The contributor has his own methodology for investing, apparently based on deep value investing. It was a good read that we'd encourage you to look at.
Thoughts on Volatility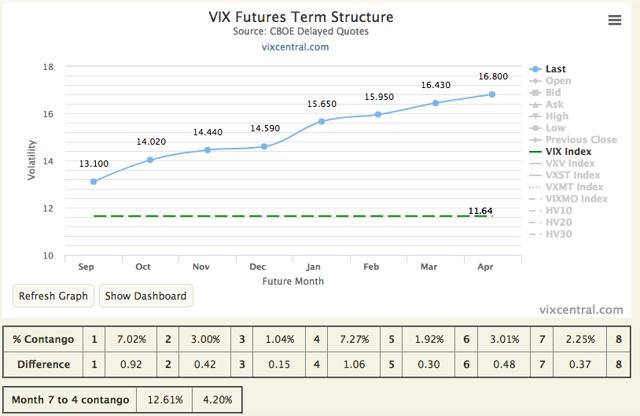 Spot VIX is definitely trading above its low that it set last Friday afternoon (10.05).
The F1 contract expires Sep19th, and at a current level of 13.10 it has gotten a bit of a boost since Friday's close of 12.625 (3.56%), but not much relative to what the contract is capable of.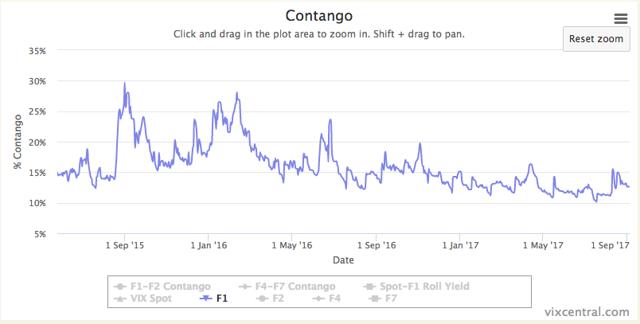 Last week the vol shorts (XIV) rocked volatility to a gentle sleep. Spot VIX almost made its way down below the ten-handle. Given all the tensions that have seeped into the news stream over the last several weeks, that is truly an accomplishment that speaks to just how ready the S&P 500 is to shake off anything like concern or jitters.
There are any number of possible explanations for this phenomenon. Our take is that this comes down to a case of muscle memory. Look at the lower highs and lower lows put in on the F1 contract above.
Now there is no express arbitrage-style link between F1 and spot VIX, because VIX is an index and not a tradable product. We do not mean for you to infer that F1 is somehow leading the VIX. If this is confusing, consider that you cannot buy a dividend yield; you can only buy a stock that carries a dividend yield. You don't buy yields, but rather bonds that offer a given yield.
The spot VIX is a carefully constructed and continuously monitored reading on a basket of options (calls and puts) on the S&P 500 equity index. It is difficult to replicate the VIX, though some assert that there are market players that can get quite close.
We've gotten some good comments out of readers in terms of their thoughts on how to use (if at all) some of the major available products. We'll include one such comment. It comes from Silent Trader, and it is a response to a post I (Adam) left (I'll include mine also for context):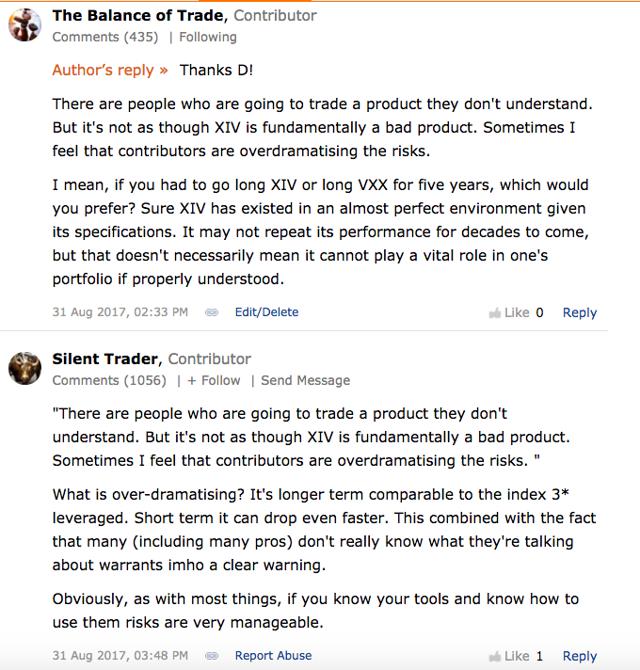 Our contention is that XIV really may deserve an ongoing role in an investor's portfolio. We just began a series looking more deeply at the XIV, and we'd of course welcome you to read it.
SilentTrader brings up an important point when he mentions that "Short term it can drop even faster" (than 3:1 vs. SPX that is). It reminds us of a modification of a popular US slogan:
"XIV doesn't kill portfolios; people kill portfolios."
Perhaps people are trading a product the risks of which they do not truly understand. In that respect we think that VXX is the "safer" bet. By and large most who trade with VXX understand by this point that it faces a powerful headwind.
Thank you for adding your thoughts on this ST. As for the 3:1 leverage, we'll be looking more into that as we explore XIV in the side-study we mentioned.

Launching out of the holiday-shortened week, organic at-the-money vol did get a kick in the pants over the weekend. The monthly straddle gained the most benefit from the new notch-up. This is because volatility scales to the square root of time. So the impact on a one-unit increase (or decrease) will create a larger magnitude in the monthly contract than the weekly contract, even though the increase in the volatility was about the same.
Buying vol looked like a pretty sweet deal to us last Friday with the monthly trading below 8. At 9.1 some kind of straddle/strangle product still looks like a buy. Except that we are trading in the lowest-vol environment in the history of the VIX, or its predecessor the VXO. We'd sell vol at around 10 and pick it up again if it got to around 8.25 on the monthly.
Conclusion
As always, thank you for reading. The North Korea event is the talk of the day, but thus far the market impact is quite mild.
Any suggestions on the MVB, trading insights, or just to say hi, we welcome your active feedback and participation.
Please consider following us.
Disclosure: I am/we are short SPY.
I wrote this article myself, and it expresses my own opinions. I am not receiving compensation for it (other than from Seeking Alpha). I have no business relationship with any company whose stock is mentioned in this article.
Additional disclosure: We actively trade the futures markets, potentially taking multiple positions on any given day, both long and short. It is our belief that the S&P 500 is meaningfully overvalued. As such, we typically carry a net short position using ES options and futures.