Solar energy, much to the chagrin of fossil fuel advocates, is now among the cheapest ways to generate electricity. The biggest argument against solar -- that it's available only when the sun shines -- is weakening as energy storage (especially batteries) increasingly comes into play. Watch South Australia; it's one of the first places solar and storage are being paired on a large scale.
Storage or not, unsubsidized wind and solar can now cost less than subsidized fossil fuels. Thus it's not surprising to see mainstream companies and even small electric co-ops getting involved.
As an aside: Last December, near our summer home in Michigan, a small 1.2 megawatt community solar project began operating even though Michigan is not a particularly good place for solar. (When I was growing up in the state I remember going weeks on end without seeing the sun in the winter.) I'll watch this one carefully. If this project is a success in cloudy Michigan it will be further confirmation that a solar eclipse of fossil fuels is in the forecast.
Looking at the U.S. as a whole, wind and solar (mostly wind) produced 10% of the country's electricity this March -- that's a significant bite into what was formerly fossil fuel's domain. Why is this happening? The answer is not because of rabid environmentalist pressure, it's happening because solar is now cost effective.
Below are today's cost comparisons of various energy sources. It's worth noting that technology will likely drive solar costs down even further.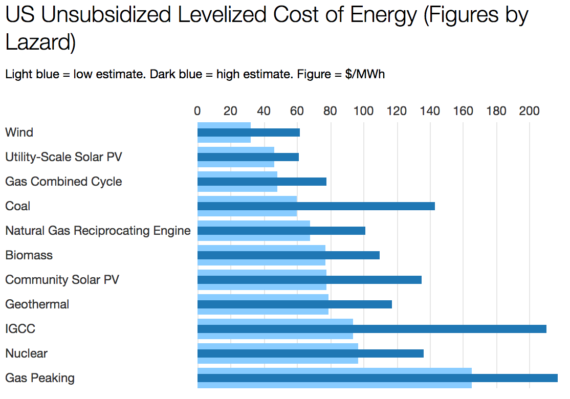 Bloomberg New Energy claims solar and wind will dominate in the future, picking up 72% of the $10.2 trillion to be spent on power generation by 2040.
President Trump is not big on renewables, of course, but look what's happening elsewhere.
Emerging markets take the lead
While renewable growth may be slowing in the U.S., it's picking up rapidly overseas and solar's focus is shifting to emerging markets -- China, India, Latin America, and elsewhere. Since emerging markets account for 90% of the world's population aged 30 or younger this is where the future lies.
Look at China, the world's most populous country. Not only does China have the most people, it's also the world's largest market for and manufacturer of solar equipment plus the country is now installing solar at a record pace. The world leader in carbon emissions, the Chinese are recalling in horror at their polluted cities so are making a strong push into renewables.
Climate change and environmental disasters - now showing at a theater near us all
Then there is the climate change thing. Many don't want to see it, but warming oceans and air have glaciers and polar ice caps shrinking, in the oceans, coral reefs are dying, and on land, coastal cities around the world are starting to flood. The culprit? Rising levels of the green house gas CO2. Two hundred years of steadily increased fossil fuel burning have now given us the highest CO2 levels in 400,000 years. Further ramifications? Just wait, we'll find out.
As these CO2 triggered disasters become more widely recognized, look for an even greater push into renewables such as solar.
Three Chinese stocks to consider
Though Canadian Solar (CSIQ) is headquartered in Ontario, Canada, I'm including it here as CSIQ, one of the world's largest solar companies, has the bulk of its manufacturing in China. The company sells solar modules that are used in residential, commercial, and industrial solar power generation systems. They also perform engineering, procurement, and construction work for solar power projects. Canadian Solar has become more geographically diverse in recent years and now has sales in Japan, China, U.S., Brazil, and elsewhere.
CSIQ's stock has bounced around a lot this year, ranging from a low of 10.3 to a high of 18.1. At time of writing the price is 16.1.
The company's financials show a trailing P/E of 38 and a forward P/E of 9.1. Annual sales, now at $2.7 billion, have grown at an average annual rate of 8.5% over the last 5 years. A note of caution: Debt to equity, at 3.2, is high.
For the sector, Canadian Solar has been around for a long time, has a strong global distribution network, and is one of the largest and most reliable of solar stocks. However, unlike many of its competitors, the company is placing its bets on the P-type multi cell technology rather than the more costly, but more efficient, mono cells. This may be a risk factor for CSIQ going forward.
Nonetheless, finviz projects Canadian Solar's EPS to average 33% growth a year for the next five years.
I discussed JinkoSolar Holding (JKS) in a recent article but as JKS is probably one of the most investable of Chinese solar companies and has strong emerging market exposure it's worth mentioning again.
JinkoSolar has a market cap of $900 million and sales of $3.29 billion. It designs, develops, and manufactures inexpensive polycrystalline photovoltaic modules. Sales are mostly in the Asian Pacific area, primarily in China.
JKS started the year at 15.9, had a strong move up in July, and is now consolidating around 28, a gain of over 80%.
The company's financials show a trailing P/E of 10.7 and a forward P/E of 14. The company has $7.86 in cash per share. Sales at $3.3 billion have grown an average of 23% annually over the last 5 years. Debt to equity is 1.64.
One of the world's top solar module manufacturers, JinkoSolar has grown steadily over the years. The company's appears to be delivering on its vision of delivering "the cleanest, most efficient and economic solar energy solutions." There seems to be both value and growth here but volatility is high so one might want to wait for a pullback before buying.
JKS is shifting several gigawatts of manufacturing capacity to the newer P-type mono-PERC cells panels. The company is solid, has a good history, and, if the past is any guide, will continue to do well.
Daqo New Energy (DQ) is a relatively unknown Chinese manufacturer of poly-silicon and wafers. Poly-silicon is a high purified form of silicon which used as a feed-stock in the production of the majority of today's solar cells. The company sells its poly-silicon to solar cell and solar module manufacturers. Although not the largest poly-silicon manufacturer it does has one of the lowest manufacturing costs and will likely do well under any differing tariffs.
Daqo's stock is up 18% this year. Market cap is $275 million, trailing P/E is 5.6 and next fiscal year's P/E is estimated to be 6.0. Total debt/Equity is 0.78
A cautionary note: Insiders own 76% of the stock so minority shareholders have little say in how the company is run.
So, why invest in Daqo? Well, it has a strong position in an essential material (poly-silicon), a compound which is needed for the most popular solar panels. Plus it's a low-cost manufacturer in a rapidly growing market and valuation is good for a growth company and has an established position.
Final Thoughts
Solar energy is now among the lowest cost sources of electricity and fast growth appears inevitable. The market is starting to recognize this and mainstream companies are jumping in. Since solar still generates under 1% of electricity worldwide, the growth potential is enormous.
China appears to be leading the way so forward in solar so investors may wish to consider positions in the companies profiled here.
Be aware, however, that though the communists are gone, China is still a centrally planned economy. This has both advantages and disadvantages for Chinese companies -- tariffs and subsidies can be imposed (or rescinded) by decree at any time. As a result there is a great deal of volatility and investors should monitor these stocks closely while maintaining a strong tolerance of volatility.
Disclaimer: This article is for informational purposes only and should not be taken as investment recommendations. Investing in stocks, especially foreign stocks, is risky and investors should use all due diligence and consult a financial adviser before investing.
Disclosure: I am/we are long JKS, DQ.
I wrote this article myself, and it expresses my own opinions. I am not receiving compensation for it (other than from Seeking Alpha). I have no business relationship with any company whose stock is mentioned in this article.