It is hard to avoid the fact that Argentine assets have lately been showing an outstanding performance. With local benchmark Merval at record highs and the country's sovereign bonds increasing in price all across the curve, most metrics indicate that confidence in Argentina has done nothing but grow, even against its emerging peers.
If we compare Global X MSCI Argentina ETF (ARGT) against iShares MSCI Emerging Markets ETF (EEM) it is easy to notice the decoupling, which was initially fueled by the Oct. 2015 presidential primaries that took place in the country.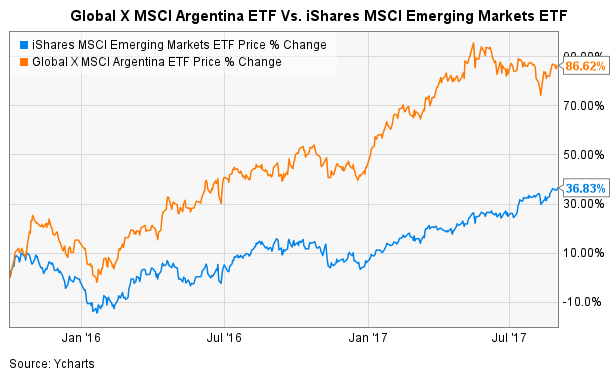 The choosing of these variables is not coincidental, as it shows not only the strength of this divergence but also that it has proven resilient to a major test: MSCI's late June decision not to reclassify Argentina as an emerging market.
This event is not a minor thing, as it clashes with important market expectations (and positionings) that were being built up prior to the decision. Market players were counting with big emerging market funds buying heavily into Argentina and driving prices even higher. Now they'll have to wait one more year at the very least.
All told, prices seem to have digested quite well the fact that Argentina will continue to remain a frontier market. But this might be influenced by good news coming from the country itself.
Electoral victory
This past month, President Mauricio Macri's administration was put on test as the country faced legislative primary elections. Despite a very tight victory (20,000 votes) by former President Cristina Kirchner, who was running for the senate, Macri managed to improve its 2015 election, renewing its confidence vote and guaranteeing the continuation of his policies.
Markets celebrated, and this can be noticed in the strong rise in dollar-denominated Argentine sovereigns, which has driven JP Morgan's EMBI+ index below 400 points again. Funding costs are now below their level prior to Donald Trump's electoral victory. This is quite a step.
Considering that the government should confirm its good electoral results in the upcoming Nov. elections, it seems that markets are buying into the idea that the political change in the country could last more than just a couple of years.
Prior to this election, many international funds were seeing the current government as transitional, lasting only one term and finalizing it with low support, if any. This assumption was an association with Brazil President Michel Temer, who is also doing the dirty job of normalizing the economy, with his political image taking a huge toll. Clearly, Argentina's electorate proved this assumption wrong.
So, there is still a bit more margin for compression. Argentina is still gaining lost ground, as it was well behind its LatAm peers for many years. Just consider that even with this drop, Argentina's EMBI index is still 125 points higher than Brazil. Average EMBI+ is at around 330 points, but the average for Colombia, Mexico, Chile and Peru is at 150 points.
What can certainly help an upcoming compression is that Argentina has started to show much better GDP numbers.
Activity levels
Argentina's latest official GDP growth numbers show that the country holds four consecutive quarters of positive GDP growth.
As of June, the country showed a 4% year-over-year growth while for the second quarter growth reached 2.6% against the same period a year ago. For the first semester, the country's economy grew 1.6% against the first semester of 2016.
With these figures, Argentina's GDP is expected to growth of 2.7% this year, the highest since 2011.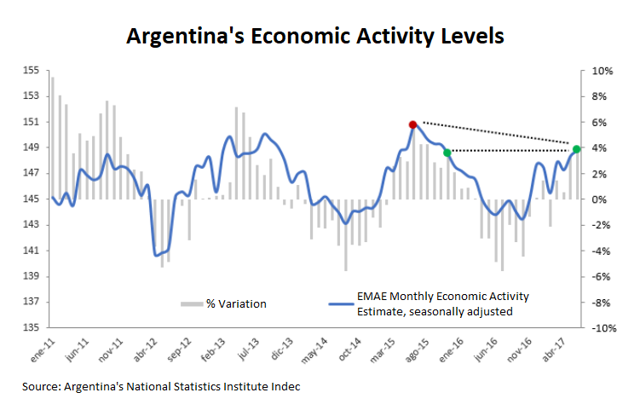 Now we can say with certainty that Argentina is on full recovery mode. This recovery began with quite some lag, but gained speed over time. Growth seems to be consolidating.
Activity levels now are higher than when President Mauricio Macri took office in Jan. 2016. This not only shows the positive results of his economic agenda, but also its continuation.
If Argentina manages to surpass its June 2015 activity levels, which is expected to take place during Q4 2017, the country would enter into growth phase.
Although this would not mean that the country will begin to grow at a high one-digit rate by any means, it would prove that the moderate recovery is consistent and sustainable.
Finally, it is worth considering that the main driver of this recovery has been investment, and not monetary or fiscal instruments as it was primarily used in the past. This is important, as this uptick should not create major imbalances that could turn into a ticking bomb looking forward in the event of internal or external shocks.
Time to place your bets.
If you're interested in learning more, make sure to "Follow" me and you'll receive all my future articles.
Disclosure: I am/we are long YPF.
I wrote this article myself, and it expresses my own opinions. I am not receiving compensation for it (other than from Seeking Alpha). I have no business relationship with any company whose stock is mentioned in this article.