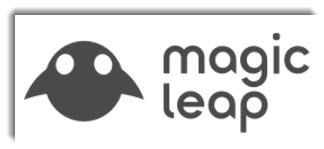 Quick Take
Technology company Magic Leap (MLEAP) may be in the final stages of readying its augmented reality [AR] headset for market introduction.
Magic Leap is believed to be developing a viewing device that enables users to superimpose virtual images onto what they see in the real world.
The applications for such technology promise to span consumer, business, healthcare and many other major industries, so Magic Leap's inscrutability may indeed presage a revolutionary product commercialization in 2017-2018.
Company and Technology
Plantation, Florida-based Magic Leap was founded in 2011 to develop wearable augmented reality devices for human visual use.
Management is headed by founder and CEO Rony Abovitz, who was previously co-founder and SVP R&D at MAKO Surgical Corp.
Below is a brief overview video of Magic Leap's technology:
(Source: UPHIGH Productions)
The company's technology is believed to include advanced 'dynamic digitalized lightfield signals' that can better merge virtual images with the real worlds.
The technology purportedly features a 'wearable projector' in the form of eyeglasses that track the user's eyes in order to more consistently display virtual images in real-time.
Market and Competition
According to 2017 market research report by MarketsandMarkets, the augmented reality market in 2016 was worth $2.39 billion in 2016 and is expected to reach $61.39 billion by 2023.
The forecast represents a CAGR (Compound Annual Growth Rate) of a staggering 55.71% during the period.
Major competitive vendors that are developing various types of augmented reality capabilities include:
A compelling summation of the qualities that a breakout AR device or system must provide is as Digi-Capital described it,
(1) hero device ( i.e. an Apple quality device, whether made by Apple or someone else)

(2) all-day battery life

(3) mobile connectivity

(4) app ecosystem

(5) telco cross-subsidization
Financials and Valuation
Since the company hasn't sold a single unit, it has no revenues. However, a 2Q 2017 publicly-disclosed valuation by investor Fidelity indicates it has marked the investment at around $4.5 billion in value, as the graphic below shows,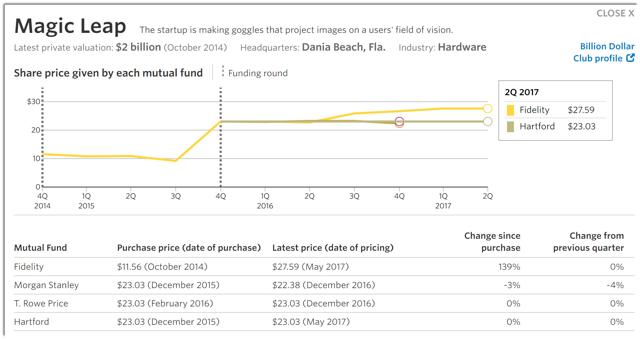 (Source: WSJ Startup Stock Tracker)
Magic Leap has raised almost $1.4 billion in disclosed financing from a large syndicate of venture capital, private equity and corporate investors including GV (GOOG), Qualcomm Ventures (QCOM), Andreessen Horowitz, Kleiner Perkins Caufield and Byers, Morgan Stanley (MS), Alibaba (BABA) and others.
Commentary
Magic Leap is a bit of an odd duck in the technology startup world.
It has a rising and already high valuation at $4.5 billion but doesn't have a dollar of revenues. This makes it a very high-risk play for its investor base.
They are betting on the strength of its technology and the many potential applications of that technology should the firm succeed in commercializing it.
The technology promises to avoid the problems with existing AR and VR goggles, that of nausea produced by sensory mismatch.
When its system launches sometime in 2017, consumers will be the ultimate judge of the quality of experience.
If the firm can deliver on the promise of its technology, a wide range of applications await it. We don't know how it will go to market, whether it will initially pursue a consumer market and license its technology for business use cases, or some other permutation.
The company's first financing round was in early 2014, and its investor base is largely composed of venture capital and strategic firms, so it may have a fair amount of additional time to introduce its technology to various markets before those investors will want to see a financial return.
That may be ideal for Magic Leap since the current IPO market is rather unappealing for consumer oriented technology firms.
So much of a startup's success is from fortuitous timing, and Magic Leap may be sitting out a skeptical IPO market while it executes on its augmented reality vision.
I write about M&A deals, public company investments in technology startups, insider activity, and IPOs. Click the Follow button next to my name at the top or bottom of this article if you want to receive future articles automatically.
Disclosure: I/we have no positions in any stocks mentioned, and no plans to initiate any positions within the next 72 hours. I wrote this article myself, and it expresses my own opinions. I am not receiving compensation for it (other than from Seeking Alpha). I have no business relationship with any company whose stock is mentioned in this article.