The California Senate on Friday enacted changes to the proposed legislation that effectively ended the bill. You can read the latest revisions here.
Phil Ting, State Assemblyman for the 19th District that predominantly covers the San Francisco area, introduced the bill in February to increase sales incentives of "compact" electric vehicles. When the wording was reworked to include all electric vehicles with BEVs heavily favored in the calculations, it was dubbed the "Tesla" (NASDAQ:TSLA) bill.
Incentives for zero emission vehicles (ZEV) play a major role in pushing buyers toward further adoption of EVs. When tax credits or incentives are reduced or discontinued the effects are immediate in lower sales. Hong Kong allowed a tax credit program heavily favored toward pricey EVs such as Tesla's Model S and X to end on March 31, 2017. Tesla's April sales in Hong Kong were reported as zero, none.
In the state of Georgia the end of a $5,000 state tax credit in July 2015 pushed EV sales off a cliff. Sales dropped from 1,426 registrations in July to 242 the following month, a decline of 83%. Efforts to revive the credit has been unsuccessful to date. Such rich tax credits favor the wealthy and that angers many legislators for better incentive distribution. At one time, Georgia had the second highest number of electric vehicles behind California with about 25,000 at the end of 2016.
The most common political viewpoint is if sales decrease dramatically the tax credit was only propping up sales that did not have wide consumer support. As we read in the final wording of AB 1184, there seems to also be a growing opinion that zero emissions should not be limited to EVs. The door needs to be open to other fuel options as well.
Conclusion
The issue in California on AB 1184 really seems to have come down to why should a state incentive be geared toward a company producing a very limited number of vehicles representing a very small number of recipients. Had the program been approved, $500 million annually could have been shared by as few as 33,000 buyers receiving the maximum of about $15,000. Buyers could have purchased a $35,000 Model 3 for about $20,000, the cost of an ICE Honda Civic.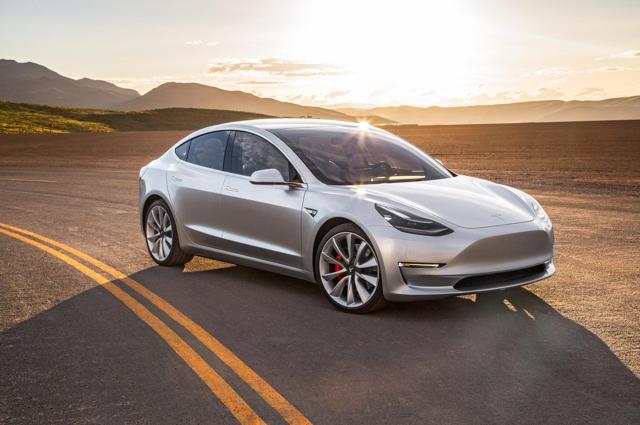 (source: Motor Trend)
Tesla increasingly talks about how much money their vehicles save over gas guzzling ICE vehicles. Why are those savings not enough to justify a purchase? By mid-year 2018 Tesla buyers will be facing a 50% reduction in the current $7,500 federal tax credit just as Model 3 production is approaching full steam. Since the Model 3 is a less expensive car, the reduction of $3,750 in tax credits is equal to about 10% of the purchase price and a much higher percentage than would apply to the more expensive models. How impactful that will be to sales is to be determined. But it will certainly not be a motivator for future sales.
When companies like General Motors (GM) just delivered a record 328,425 units in China in August (bringing their 2017 through August total to 2.38 million units) without incentives, why are U.S. taxpayers providing $7,500 incentives to a company with total global deliveries of less than 80,000 vehicles for all of 2016? Will the U.S. prove to be a repeat of Georgia as incentives are eliminated? All indicators point to a sharp decrease. This should be the point in time where logic returns and the Tesla share price falls to where it should be when compared to power house companies like GM that sell millions of vehicles and make billions of dollars in profits.
Disclosure: I am/we are short VIA PUT OPTIONS. I wrote this article myself, and it expresses my own opinions. I am not receiving compensation for it (other than from Seeking Alpha). I have no business relationship with any company whose stock is mentioned in this article.
Additional disclosure: I would like to thank all of my SA readers for making me the 2nd most read author of both the "Short Ideas" and "Consumer Goods" categories! I do my best to make my articles not only informative but entertaining and thought provoking as well. Thanks for appreciating my efforts. If you want fast access to all of my new articles please click the "follow" button at the top of this article.