The future for Lumber Liquidators (LL), as a stock and as a company looks very good. So far in 2017, the stock has risen 140%. After a stock slide in 2014 and 2015 which decimated the value of the company, the stock bottomed in 2016 and the market capitalization has rocketed off the lows. Investors are taking notice of the company's turnaround and long shareholders have been handsomely rewarded for their patience and faith in the company. Despite the share prices tripling since their recent lows, investors can expect more gains to come. There are at least 10 catalysts which will help positively affect the stock performance in the near to medium term.
1) Lawsuit Settlements
During 2014 and 2015, the company was rocked by a series of lawsuits which both damaged the brand and were expensive to litigate. These lawsuits are slowly but surely being settled. In 2016 a major securities suit was settled. The company also settled the CARB suit and actually won its Proposition 65 lawsuit and received a small compensation. In the first quarter of 2017, the company took a charge of $18 million as a provision for an expected settlement for the outstanding formaldehyde and abrasion related class action suits. While these lawsuits are not yet settled, the general consensus is that a settlement will take place within the next few months. Certain claims in the formaldehyde case have already been trimmed and the company has dismissed a large part of their legal team, likely meaning that a trial will not take place. At least one plaintiff has already voluntarily dismissed his suit against the company. Settling the two remaining large class action cases (Formaldehyde and Abrasion related) would be good for the brand and reduce legal expenses by millions of dollars per year.
2) Strong Management
After shuffling CEO's several times over the last 3 years, Lumber Liquidators has finally found a strong leader in Dennis Knowles. Mr. Knowles has 15 years of experience at Lowe's, having worked his way through the ranks. He is an operations guy, having formerly held the position of Chief Store Operations Officer and Chief Operating Officer at Lowe's. He is a bottom-up manager, meaning that he will focus on store level excellence to drive company wide results. The turnaround which he is leading will not be financially engineered. It will be driven by customer service, inventory management, sales, margins, productivity and marketing. It's a "back to basics" approach and it sets the company on track for long term growth. Anecdotally, I hear that Mr. Knowles left his former position at Lowe's after clashing with management. In my opinion, this would indicate that Mr. Knowles, at age 52, and as CEO of Lumber Liquidators, is now looking to use his skill and position to prove a point. He has the fire, charisma and power to not only revitalize the company but to surpass its former glory. Mr. Knowles has shares in the company and is eager to see the stock price rise as much as possible. On the numbers side of the management team, CFO Martin Agard is highly skilled and experienced, with a focus on driving margins higher and returning the company to growth and profitability. Various other management positions have also been filled at the company while the best members of the old guard remain. Listening to the conference calls we can definitely hear the excitement and vigor in the voice of the new, evolving team.
3) Stabilized SG&A
SG&A stands for Selling, General and Administrative Expenses and is the second largest expense of the company, after the cost of sales. SG&A can be considered the fixed cost of running the whole business. It is supposed to vary slightly over the year, based on store activity, but not much. On a year to year level it should increased based on the expansion of the store base. However, SG&A also encompasses legal expenses and head office overhead, both of which have little relation to day to day store operations. In 2013, SG&A expenses were running in the low $70 million range per quarter. In 2014, due to the addition of about addition of about 30 extra stores, SG&A costs were running in the high $70 million range per quarter. 2015 was a year filled with lawsuits and one time expenses. SG&A costs jumped to an average of $90 million per quarter, with the store base growing by less than 20. In 2016, various legal settlements were reached and legal costs rose dramatically. SG&A costs averaged almost $100 million per quarter. In the first quarter of 2017, SG&A costs were $112 million, but $18 million of this was due to a provision for a lawsuit settlement. In the second quarter of 2017, SG&A costs were only $92 million and management stated that this is a stabilized level which investors could expect to see for the next few quarters. This works out to about $240 000 of SG&A cost per store (385 stores) which is approximately the same level per store as seen in 2013 and 2014. With an SG&A cost in the low to mid $90 million range, the company is profitable and the fact that management believes SG&A has stabilized is giving the investment community a lot more confidence in the company.
4) Margin Increases
The most important factor affecting the company's profitability is margins. Since bottoming out at below 25% in 2015, margins have rebounded strongly and grown for 4 consecutive quarters. In the most recent quarter (Q2 2017) GAAP margins reached 37%. Removing one time items which temporarily benefited margins, in the latest quarter (Q2 2017), the margins were actually 35.5%. This was strong enough to make the company profitable and a major component in the recent stock spike from 24$ to over 37$. Given the current revenue rate, each 1% increase in profit margin increases profitability by about $11 million per year. In the Q2 2017 conference call, CFO Martin Agard specifically said that margins "will likely hold near current levels over the remaining quarters of 2017," directly referencing the 35.5% level. Furthermore, Mr. Agard stated that the medium term outlook for margins ("next series of quarters"), likely within the next year, would be to move margins into the upper 30% level. As revenue grows and margins continue to expand, profitability will increase dramatically. In 2013 and 2014, company wide margins were over 40%. The company has changed a lot since then. Installation service is a huge and fast growing revenue center for the company and those services have lower margins than simple flooring sales. It is likely that total margins will never get to the 40% range again, however, a margin rate in the 37% to 38% range is likely and since the company is posting record revenue numbers, we can expect overall profitability to return to previous levels in the near term.
5) Earnings And Revenue Growth
Net sales in Q2 2017 increased 10.7% over last year. Net sales in "comparable stores increased $21 million, or 8.8%, driven by a 5.3% increase in the number of customers invoiced and a 3.5% increase in the average sale." These are huge numbers. After posting a loss of $12.2 million in Q2 2016, the numbers were good enough for the company to post a surprise profit of $4.5 million in Q2 2017. After this seemingly miraculous comeback for a company that was written off by the majority of investors, the humble CEO, Dennis Knowles had this to say:
"Execution thus far has been for table stakes. The real work of uncovering and enhancing the value of Lumber Liquidators lies ahead of us, and I'm excited to work with our team to realize those opportunities."
A quick examination of the numbers would suggest that Mr. Knowles is absolutely correct. His team has stabilized the company, but the real prize is yet to come. Factoring in some very conservative growth in sales, store base and margins will lead to a profit explosion at Lumber Liquidators. Note that numbers below may be rounded. I use operating earnings rather than GAAP earnings per share as they are quicker and easier to calculate, since they omit various minor expenses and income tax expenses or benefits. Also, due to the losses which the company sustained in the last few years, income tax expenses will likely be low for the near future.
Current Situation (Q2 2017)
| | | | | | | | | | |
| --- | --- | --- | --- | --- | --- | --- | --- | --- | --- |
| Stores (#) | Revenue Per Store | Total Revenue | Gross Margin | Gross Profit | SG&A Total | SG&A Per store | Operating Income | Shares Outstanding | Operating Earnings Per Share |
| 385 | $684,416 | $263,500,000 | 37.00% | $97,495,000 | $92,300,000 | $239,740 | $5,195,000 | 28,394,000 | $0.18 |
Conservative Expectation for Q2 2018 (1 year from now)
Estimating 19 new stores, 4% revenue growth per store and 37% gross margin and SG&A per store staying the same
| | | | | | | | | | |
| --- | --- | --- | --- | --- | --- | --- | --- | --- | --- |
| Stores (#) | Revenue Per Store | Total Revenue | Gross Margin | Gross Profit | SG&A Total | SG&A Per store | Operating Income | Shares Outstanding | Operating Earnings Per Share |
| 404 | $711,792 | $287,564,052 | 37.00% | $106,398,699 | $96,855,065 | $239,740 | $9,543,634 | 28,394,000 | $0.34 |
Conservative Expectation for Q2 2019 (2 years from now)
Estimating 24 new stores (6 per quarter), 4% revenue growth per store and 38% gross margin and SG&A per store staying the same
| | | | | | | | | | |
| --- | --- | --- | --- | --- | --- | --- | --- | --- | --- |
| Stores (#) | Revenue Per Store | Total Revenue | Gross Margin | Gross Profit | SG&A Total | SG&A Per store | Operating Income | Shares Outstanding | Operating Earnings Per Share |
| 428 | $740,264 | $316,832,948 | 38.00% | $120,396,520 | $102,608,831 | $239,740 | $17,787,689 | 28,394,000 | $0.63 |
We can see that under the two estimates for 2018 and 2019, profit in the Q2 quarter will increase substantially. Operating earnings for Q2 2018 increase to $9.5 million and jump to over $17 million in Q2 2019. This is with a small margin increase, a same store revenue growth rate of only 4% per year and a small expansion of the store base of 6 stores per quarter (fewer than that for the balance of 2017). It also considers that SG&A expenses grow linearly with store growth, when in reality, those expenses should grow at a much lower rate.
Best Case Expectation for Q2 2019 (2 years from now)
Estimating 24 new stores (6 per quarter), 6% revenue growth per store and 38.5% gross margin and SG&A per store reducing to more normal levels.
| | | | | | | | | | |
| --- | --- | --- | --- | --- | --- | --- | --- | --- | --- |
| Stores (#) | Revenue Per Store | Total Revenue | Gross Margin | Gross Profit | SG&A Total | SG&A Per store | Operating Income | Shares Outstanding | Operating Earnings Per Share |
| 428 | $754,500 | $322,925,889 | 38.50% | $124,326,467 | $98,440,000 | $230,000 | $25,886,467 | 28,394,000 | $0.91 |
Under this bullish scenario, if Lumber Liquidators can grow same store sales by 6% per year and bump up the margin to 38.5%, while still only growing the store base by 6 new stores per quarter, while keeping SG&A expenses lower, then the company can expect to achieve over $25 million in operating profits in Q2 2019 alone, putting the company on a trajectory for achieving an operating profit of almost $100 million for the full year 2019. It would be a massive turnaround, but the numbers show that it is far closer than it appears. While there are many ways to poke holes in these calculations, the balance of this article will deal with many of those concerns.
6) New Store Openings
Lumber Liquidators has added 36 stores in the last 11 quarters, or just over 3 new stores per quarter. By any standard, this is an anemic growth rate. That is all going to change. With the return to profitability, management is free to expand the store base and to make up for lost opportunities.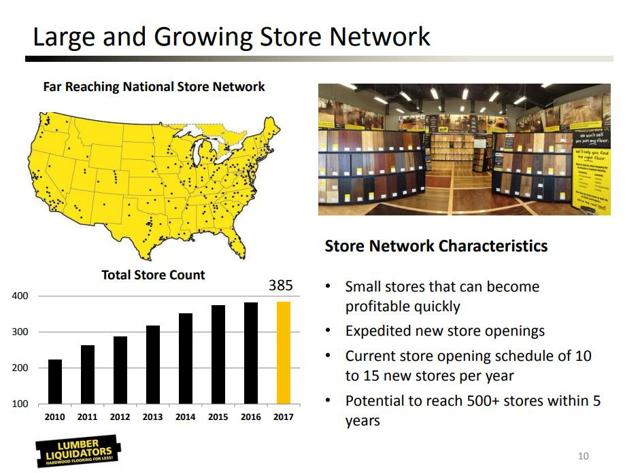 In May 2017, management stated a goal of having 500 stores by 2022. Given that there are only 385 stores now, that means the company is forecasting an addition of over 6 new stores per quarter from now until 2022. It's a reasonable and actually conservative growth rate when compared to past growth rates. It is likely that management wants to expand at a stable, yet conservative pace in order to take only the best locations and to avoid cannibalization while increasing total revenue and profit. That being said, the long term investor might not realize the full impact of the addition of 115 new stores over the next 5 years. The chart below gives you an estimate of what the company might look like in the not so distant future.
Estimate for 2022 (Full Year) All Values Per Year
| | | | | | | | | | |
| --- | --- | --- | --- | --- | --- | --- | --- | --- | --- |
| Stores (#) | Revenue Per Store | Total Company Revenue | Gross Margin | Gross Profit | SG&A Total | Yearly SG&A Per store | Operating Income | Shares Outstanding | Operating Earnings Per Share |
| 500 | $3,200,000 | $1,600,000,000 | 38.50% | $616,000,000 | $470,000,000 | $940,000 | $146,000,000 | 28,394,000 | $5.14 |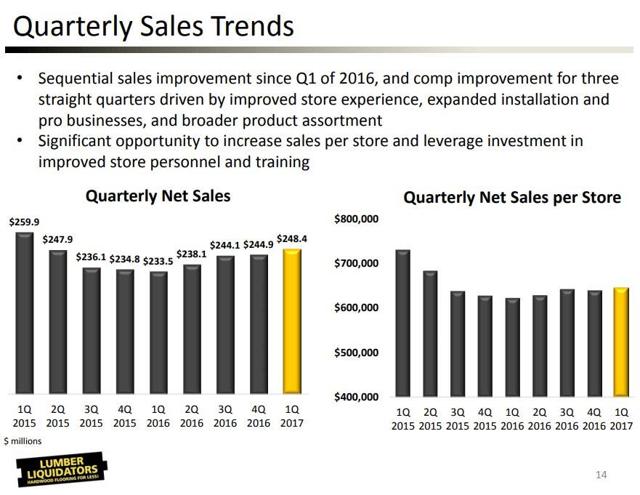 And for those thinking that the revenue per store figure seems too high at $3.2 million yearly for 2022, please note that it represents only a 4% yearly revenue growth rate per year and furthermore, in the years 2013 and 2014, revenue per store was commonly over $800 000 per quarter ($3.2 million per year). This number is definitely attainable in 5 years, and in reality should be considerably higher since the company is no longer only selling flooring, but also the installation services.
7) Rising Home Prices = More Renovations
Home prices in the USA are increasing. Mortgage rates are increasing. Housing is becoming more expensive by the day. Many people who locked in their mortgages at ultra low rates are eager to remain in their current homes, rather than buy a more expensive place and face higher mortgage rates. The time is ripe renovations. It's far cheaper to remodel a home and install new flooring and accessories, rather than buy a new place which has them. Home Depot (HD) just posted same store sales growth of 6.3%. Lowes (LOW) had a same store sales increase of 4.5%. Floor And Decor (FND) posted same store sales growth of 14.7%. Clearly, while the rest of the retail industry is suffering, remodeling and renovation sales are stronger than ever. According to Harvard University's Joint Center for Housing Studies, home-improvement spending is expected to reach its highest level in a decade by early next year.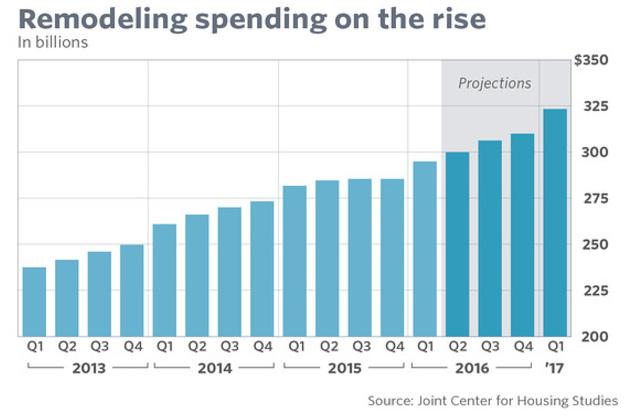 Things are going very well in the home improvement space and Lumber Liquidators will be expanding their store base and improving their value proposition to take advantage of the situation.
8) Hurricane Reconstruction
2017 is forecast to be one of the most active hurricane seasons in a decade. NOAA has already twice increased their estimate for the number of major storms. Hurricane Harvey has caused destruction throughout Texas and another named storm is forming as I write this article. It is a sad situation, however once the reconstruction effort starts, a lot of that money will flow towards new flooring and new wood accessories. It should be expected that Lumber Liquidators, given their value proposition, would attract a lot of new shoppers and increase sales, especially in the affected areas, substantially. In the Houston, Texas area, Lumber Liquidators has 7 stores. In the whole state of Texas, Lumber Liquidators has at least 30 stores. The majority of the company's stores are in the southern USA and the company is well positioned to help the renovation efforts in those storm battered areas.
9) Re-branding
Lumber Liquidators does not actually sell lumber. It sells flooring and accessories. Hardwood, engineered wood, vinyl, and composites. In the last conference call, the CEO was asked about his thoughts on re-branding the company to better reflect the type of products which they sell. CEO Dennis Knowles responded that a re-branding plan was in the works and had already started to be implemented in the marketing of the ProSales and Installation departments. A full roll out would take place once the legacy issues (lawsuits) were completely forgotten. The CEO specifically stated that a full re-branding is something that they are working on and anticipate to happen at some time within the next 3 years. I believe that a re-branding of the company, perhaps with a new name to emphasize the flooring products and their value proposition within the retail landscape will drive stronger sales and positively impact margins. In the overall business, it is something which will happen once all the behind the scenes work has been completed. As store performance is optimized, the store base expands and profits and margins reach critical mass, a re-branding of the company will add the final shine to the storefront.
10) The Buyout Rumor and High Short Interest
Every few months a new Lumber Liquidators buyout rumor spreads through the investor community. The usual suspects are that Home Depot, Lowe's or private equity will buy the company. This rumor provides some downside protection for the stock and usually causes the stock to rally about 5% every time it starts up. Lumber Liquidators is a large player in a niche market. It would be understandable for any large hardware retailer with deep pocket to consider buying the company and instantly expanding their customer and retail base. Given that the current Lumber Liquidators CEO and several members of the management team are former Lowe's employees, in my opinion, if a buyout should occur, Lowe's would be a likely purchaser. Furthermore, Lowe's recently acquired Rona, a large Canadian home improvement big box chain. For a company like Lowe's, to compete against a large rival like Home Depot, they must grow through acquisitions. It is likely that no buyout would occur before Lumber Liquidators' legal matters are completely resolved. In my opinion, Lumber Liquidators should remain independent and should not consider a buyout unless the terms are extremely favorable and take into account all future growth prospects.
Another factor which provides some buoyancy for the stock and acts as downside protection is the persistently high short interest in the company's shares. Even after the dramatic share price rise after the company announced Q2 earnings on August 1, there are still almost 7 million shares short (25% of the company float) as of August 15, 2017. At some point, the good news will start to accumulate and these shorts will have to cover by purchasing shares. While this situation cannot be used to predict a share rise, if you combine this with other factors mentioned in this article it suggests that there is little company specific downside risk to the stock.
Bonus
I believe that the company has the potential, over the next 5 years to further diversify the business in order to increase revenue while keeping costs under control. Over the last few years the company has remodeled their stores, moving away from the mini-warehouse design and towards a clean, sleek showroom model, in order to better market their offerings. The company has also said that they plan to open future stores in busier retail sectors rather than industrial parks. Both of these factors are increasing brand value and driving revenue. As other retailers close locations and downsize, Lumber Liquidators will be able to move into prime retail locations, likely at bargain rental rates.
Furthermore, I see potential for the company to open very small (under 1000 sq.ft) "showcase" stores in malls, strip malls and high traffic retail streets. These stores would have no warehouse and simply work as a venue to showcase the flooring and to take orders. All the fulfillment would be handled by the existing network of warehouses and distribution centers. This concept would allow the company to rapidly and affordably expand their store base above the 500 unit goal.
The company will also continue to actively grow their installation business and bulk sales to contractors (ProSales). These are the fastest growing areas of the company. A few years ago, both these revenue drivers hardly even existed.
Finally, I believe online sales will never really be a large business segment for the company. This should make the company relatively immune to the Amazon effect. However, a quick search shows that Lumber Liquidators has registered over 2000 Internet domain names, some of them in different countries and for various different product names. This shows the company is interested in growing their online presence and might also give clues as to where the company sees the potential for international expansion. The company is also very active in online marketing and judging by the amount of activity on their Facebook page, it suggests that they are leveraging those ads into customer interest and ultimately, sales.
Summary
Lumber Liquidators was a battered company and an unloved stock for several years. As the turnaround takes shape and profitability returns, there are some very compelling reasons to own this company. Shares have tripped since their low in 2016, however a lot of the good headline news is still to come. Investors have taken notice of many of the behind the scenes efforts to return the company to profitability, but growth, lawsuit settlements, a soaring remodeling and rebuilding market as well as a planned re-branding effort by the company are likely to continue to drive shares higher in the months and years to come.
Disclosure: I am/we are long LL.
I wrote this article myself, and it expresses my own opinions. I am not receiving compensation for it (other than from Seeking Alpha). I have no business relationship with any company whose stock is mentioned in this article.