Ventas REIT (NYSE:VTR) is probably the best-known healthcare REIT and enjoys a "blue chip" status among legion of investors. There have been quite a few bullish cases made recently on VTR, from Brad Thomas' to Rida Morwa's. We do not wish to reiterate the fundamentals of VTR from scratch as that has been done several times before. Instead, we will focus this article on the reasons we decided to pass on this stock. Hopefully, between our view and the more bullish-leaning theses out there, investors will be able to decide whether they would like to own the stock.
To start with, we would like to make a brief acknowledgement of what the bullish case for Ventas is all about.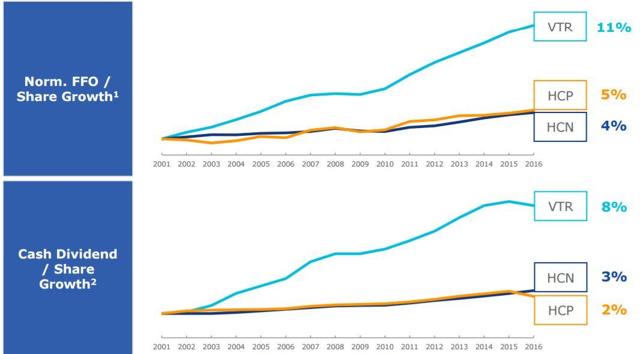 Source: Ventas presentation
That single slide says it all. Funds from operations (FFO) growth of 11% enabling an 8% growth in dividends over a decade and a half. In spite of seeing that, we found three reasons to disregard the bullish case.
1) The last decade has not been as kind
A lot of the growth in FFO came in the earlier part of the time frame (between 2001-2007). The last decade has produced closer to 3% compounded annual growth in normalized FFO.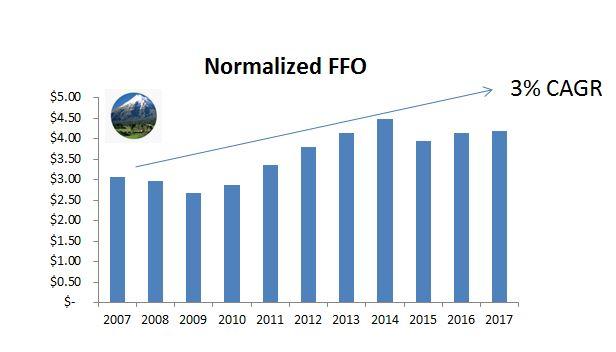 Source: Ventas annual reports
In fact, we doubt VTR will surpass 2014 normalized FFO in 2018. We think going forward, VTR will struggle to produce 3% CAGR in an environment of gradually rising rates and navigating a wrong asset mix. Which brings us to the fact that...
2) We really, really, really don't like the asset mix
55% of Q2-2017 NOI comes from senior housing.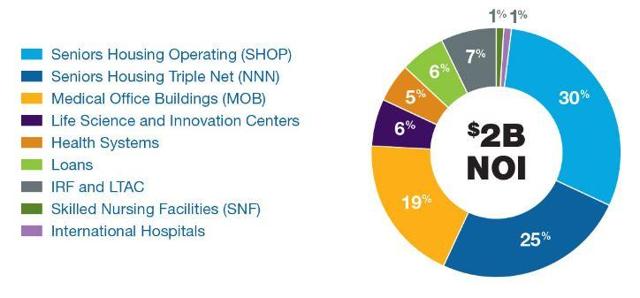 We started off sanguine on this sector a few months back, but our deeper research into this has shown a very alarming trend. The supply of new senior housing continues to expand at a very torrid clip.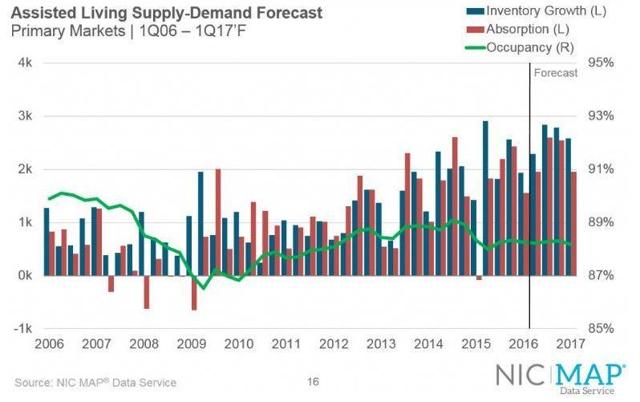 It appears as if the whole industry has embraced the mantra of "If you build it, they will come" (albeit very slowly, since they are seniors). With over 33,000 units under construction, this is a very big headwind for 55% of the portfolio. As NIC put it (emphasis ours):
The all occupancy rate for seniors housing, which includes properties still in lease up, was 88.8% in the second quarter, down 50 basis points from the first quarter. This placed occupancy 190 basis points above its cyclical low of 86.9% during the first quarter of 2010 and 140 basis points below its most recent high of 90.2% in the fourth quarter of 2014.

The quarterly decrease in occupancy stemmed from an increase in inventory of nearly 6,600 units, which outpaced a change in net absorption of 3,000 units. As the chart shows, the increase in inventory was the most in a single quarter since NIC began reporting the data in 2006.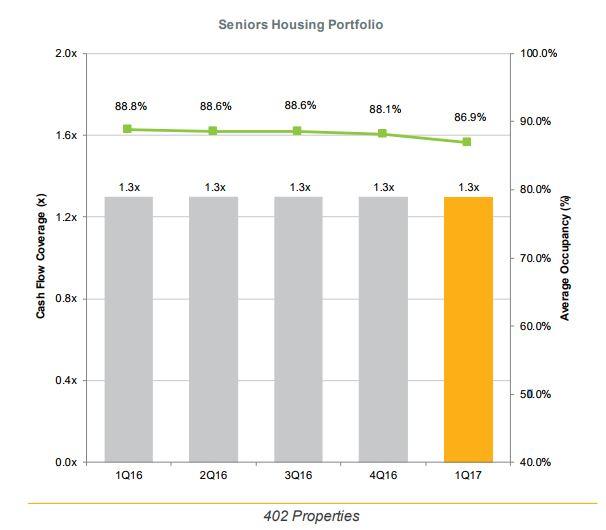 While exceptional management skills have kept rent coverage at decent levels, the occupancy levels are perhaps beginning to show this impact.
3) Ventas is not priced for the value it will provide
With a 4.5% yield and 2-3% growth, Ventas will still make shareholders money. However, at present its multiple of close to 16X normalized FFO seems a tad high for the value it provides to us. We also found its premium to NAV and implied cap rate not to our liking.

Source: Author's calculations
The 5.67% implied cap rate is quite low in our opinion and sucks any value out of the equation. Senior housing currently trades at around an 8% cap rate, and we think a 6.75-7% cap rate for the rest of the assets is probably fair. A blended 7.5% cap rate gives us a fair value of $43.44 for the portfolio. While we think the management at VTR deserves a premium, we are not paying a 50% premium over what we think is fair value of the portfolio.
Conclusion
While our negatives have been enough incentive to keep us away, we do not think this is a bad stock. On our now very famous scale of 1-10, where 1 would be "Avoid like the bubonic plague" and 10 would be "Buy like this is Apple (NASDAQ:AAPL) in March 2009," we would rate VTR a 5.0. It is not compelling enough to buy, but we can see enough of the overall bullish case for this defensive healthcare REIT to not recommend a sell either. Should the stock head lower, we may sell out of the money puts at a price we would be comfortable buying. In the interim, we are feasting on this healthcare REIT.
Note: Please note that this is not financial advice. Investors are expected to do their own due diligence and consult with a professional who knows their objectives and constraints.
If you enjoyed this article, please scroll up and click on the "Follow" button next to my name to not miss my future articles.
If you did not like this article, please read it again, change your mind and then click on the "Follow" button next to my name to not miss my future articles.
Author's update, September 6, 2017: The above growth does not compensate for the CCP spin-off. One way to look at it would be the recent price of CCP before the SBRA merger - about $28. With the 4:1 exchange ratio, that would be about $7 of equity per share of VTR. Assuming a similar profile, CCP could generate $0.40 cents of FFO of that equity, had it sold CCP properties and reinvested in its property mix. So, we would be at $4.52 FFO in 2017 instead of $4.12. That would be a 4.2% compounded growth and not 3%.