Having recently visited Seoul this week, I had a hands-on demo of Samsung's (OTCPK:SSNLF) Galaxy Note 8 to learn what Samsung is doing well for their newest product launch. It's no coincidence that the features announced in the Note 8 are also what we expect Apple to be launching soon; after all, Samsung is poised to be the premier supplier of OLED displays to Apple. Now that the next iPhone announcement date has been set for September 12, there are three things Apple must do to succeed with "supercycle" growth.
1) Wow us with Augmented Reality:
Samsung: The emphasis in Samsung's pop-up store demos in Korea is on its upcoming Augmented Reality applications. Since Google (GOOG) (GOOGL) recently launched the ARCore development platform, their answer to Apple's ARKit, Samsung staff confirmed to me in the demos that AR apps will be first released with an Android Nougat version for the Note 8.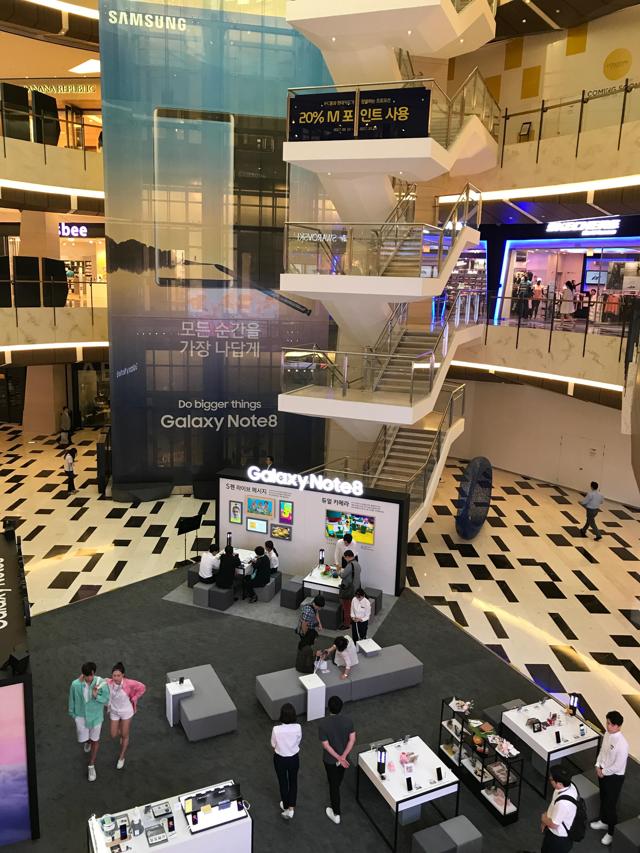 Until then, Samsung is showing their innovation with their own version of Google Lens which allows a user strolling along a busy shopping district to point the Note 8's camera to a distant restaurant and search the menu to order a meal to go or make a reservation, or point to a pair of trousers or dress from someone passing by and enable you to order a similar style of clothing in the same or similar color. As of now, this does not have the capability of recognizing logos to order the exact same item. I tried point and click shopping on my Under Armour logo athletic shirt and it could only find items of a similar style or color. However, the key convenience in this AI image recognition is the seamless ability to order any AI-rendered item using Samsung Pay (photo: Ed Valdez, Seoul, Korea).
Apple: Apart from the popularity of Pokémon Go, Apple will have the ability to jumpstart the AR industry with its upcoming iPhone 8. As Tim Cook has alluded, the new iOS 11 has the ability to transform Apple to be "the largest AR platform in the world overnight." With nearly 800 million active iPhones users worldwide, if only half of them upgraded to iOS 11, that would be 400M users who would provide a revenue boost for AR-based games, services and applications. According to Gene Munster, Managing Partner at Loup Ventures, AR could be the catalyst for doubling Apple services revenue from an estimated $30B in 2017 to $60B in 2022.
While AR may be the killer feature Apple needs to continue its revenue growth, we haven't yet seen a killer app. At least, it's promising to see a sneak peak of AR-based applications that have been announced as a preview to Apple's iPhone 8, three of which are:
IKEA: As Apple demonstrated in WWDC, the app allows you to select specific life-size furniture items to place in your own homes to see how they fit.
Food Network: This enables you to create unique digital desserts and then receive recipes so that you can make them yourself.
The Walking Dead – Our World: This is a location-based AR game that allows you to take on an AR mission in your neighborhood. By tracking footprints that lead to your favorite characters, you can dodge and attack zombies and also post some of your favorite AR screen shots via social media.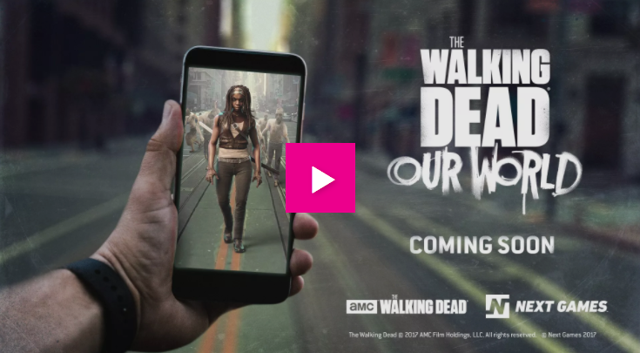 (video: courtesy of AMC)
Yet with so much dependency on the iPhone sales to fuel future growth, it's also time that we see the next product innovation from Apple. The iPod launched in 2001 and changed how we digitally consumed music. The iPhone launched the touchscreen smartphone era in 2007 while the iPad legitimized tablets in 2010 that eventually morphed into phablets. With the ongoing veil of secrecy, it's time that Apple wows us with AR by introducing their next AR-based product that could be AR glasses. Apple not only needs compelling applications to drive iPhone 8 adoption, it also needs a compelling roadmap for AR-based products and iPhone 8 accessories to establish supercycle growth. Besides Samsung, fast follower China brands of Huawei, Vivo, Oppo and Xiaomi are now set on innovating faster than Apple. Xiaomi already has upstaged Apple with a September 11 announcement date set for their next-generation Mi Mix smartphone.
2) Reach out to youth:
Samsung: As I visited the major mall areas from the IFC Mall to Shinsegae to the Starfield Coex Mall, Samsung's pop-up shops for the Note 8 were everywhere that mattered.
Even though Samsung continues to command a No. 1 market share for smartphones worldwide, their philosophy is more like Avis when they reach out to consumers: "We try harder." Whether they were speaking Korean or English, all staff were eager to share the enthusiasm about the latest Note 8.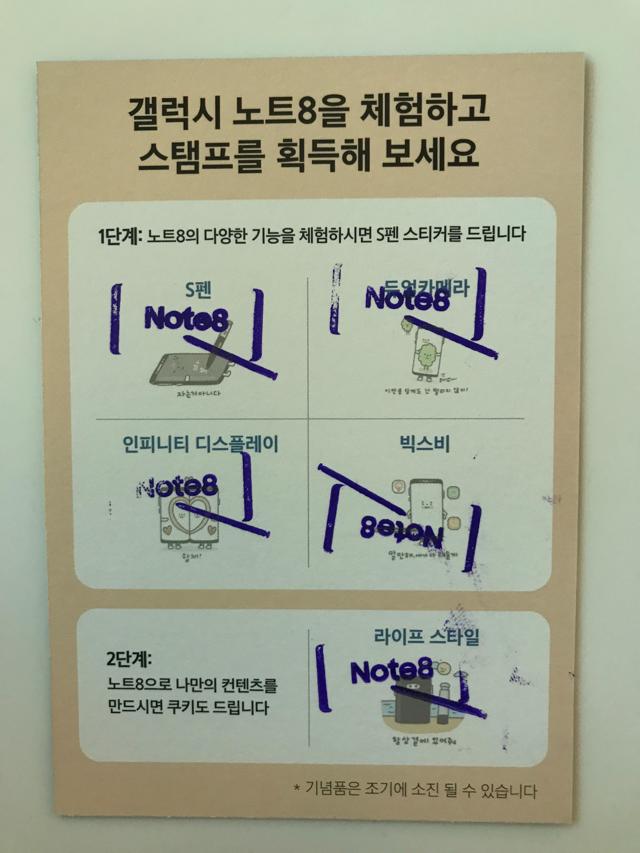 What's equally remarkable is that they gamified their demo areas to incentivize a shopper – if you visited at least four demo areas, you could receive a snack or a smartphone accessory.
They also had one demo station exclusively focused on children to build brand loyalty at an early age. While Apple has catered to children in the past as they built their brand within the US, there is no separate children-only demo area in Apple Stores - no dedicated digital sandbox where potential first-time users could let their imaginations run wild.
(Samsung Demo Card photo: Ed Valdez (Seoul, Korea))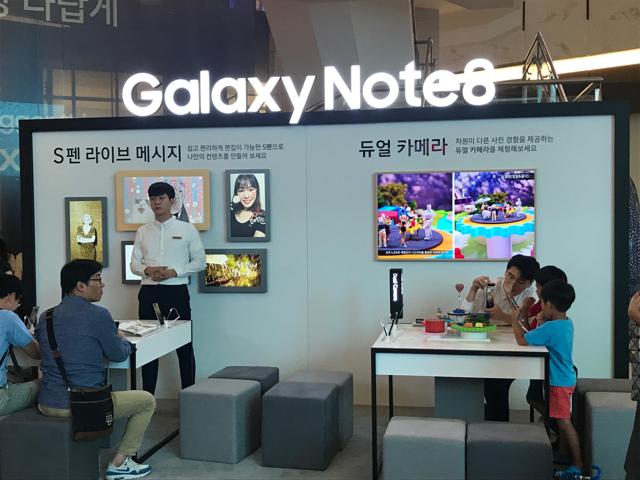 (Demo Photo: Ed Valdez (Seoul, Korea))
Apple: Apple has nearly 500 stores in 17 countries and they are aggressively expanding their footprint in China. Yet it has been at least two years since Apple last dominated K-12 schools with iPads. Near Apple's HQ, the San Jose Unified School District is standardizing on Google Chromebooks with at least 15,000 installed. Instead of the 1:1 iPad initiative that Apple pioneered for classroom use, school districts are buying Chromebooks which comprise more than half of all devices sold since late 2015 (starting from 1% market share in 2012).
It's now time for Apple to "think different" about moving beyond an Apple Store strategy to maximize its growth for first-time smartphone users. Apple expects consumers to visit Apple Stores rather than Apple staff going to where many new consumers are (as Samsung is doing with their pop-up stores in the busiest shopping areas throughout Asia). Since the vast majority of smartphone growth is the international market, Apple may benefit from a more focused outreach to densely populated shopping areas that have no Apple Store/Dealer presence. In addition, Apple needs to determine what it would take to regain mind share and market share for K-12 students whose initial exposure at using their devices often came from schools. With a 92% retention rate of Apple customers being extremely likely to upgrade their phones over the next 12 months, Apple is well positioned to recapture the K-12 market by utilizing AR apps in the classroom that could build long-term brand loyalty.
3) Execute flawlessly:
Samsung: Samsung Galaxy Note 8 is rebounding from last year's Note 7 exploding battery issue and its ultimate recall. Samsung's Mobile Chief Dong-Jin Koh avowed that Samsung is renewing its brand commitment with the latest Note 8: "Some of our rivals were initially skeptical about the bigger-screen concept, but now they are following us with their own phablet models. We will continue to lead the segment." Samsung may have stumbled last year, yet they are a quick study and have never been known to repeat mistakes. With an aggressive advertising and pop-up store campaign – "Do Bigger Things," they will remain aggressive out of the chute just waiting to pounce with market share gains if Apple cannot ramp up the iPhone 8 fast enough globally through the end of the year.
Apple: With OLED supply constraints, some Apple forecasters already have rolled back what was to be supercycle expectations for a very limited launch of as few as 2 million iPhones (JPMorgan). If that is the outcome, Apple will be repeating the challenge it had with the iPhone 7 launch as demand outpaced supply well through Black Friday in 2016. Yet other analysts, such as Morgan Stanley's Katy Huberty, are maintaining a supercycle outlook with a $183 price target on the stock. She asserts that China will be fueling the growth for Apple from the pent-up demand for a new form factor that hasn't been seen for three years. There are other supercycle analysts surveyed by Factset who expect unit sales of 241 million iPhones in the next fiscal year which would be about 16% higher than analysts' fiscal 2017 forecast of 208 million iPhones.
Ten years after launching the smartphone that changed the world, the key question for Apple is will iPhone 8 do the same? Will there be one more thing we can look forward to that can wow us on September 12 as Steve Jobs did in 2007? I welcome your comments and feedback.
Editor's Note: This article discusses one or more securities that do not trade on a major U.S. exchange. Please be aware of the risks associated with these stocks.