On Monday August 28 2017, Amazon (NASDAQ:AMZN) closed the deal (announced for the first time on June 16 2017) to acquire Whole Foods Market (WFM) for $42 per share in an all-cash transaction valued at approximately $13.7 billion, including Whole Foods Market's net debt. The deal would allow Amazon to enter into the brick and mortar food retail business and leverage on the supply chain offered by the 460 WFM stores. As a matter of fact, Amazon could use the WFM stores as pick up or distribution centers and therefore implement the e-commerce model of click and collect. The announcement of the bid was immediately perceived as a threat for all the food retail business and triggered a sharp stock price correction. The retail food industry could dramatically change from how we know it today.
The food retail industry has already been experiencing significant changes over recent years but the recent Amazon acquisition could represent an important milestone. The fast-changing technology and increasing appetite from consumers for online shopping and healthy food will certainly accelerate changes, and reshape all industry at a time when both pure online grocery and traditional brick and mortar retail are challenged.
The merger between Amazon and Whole Food would force the companies operating in the food industry to rethink about their current traditions business model and shift it towards a stronger e-commerce oriented model; failing to do that could drive them out of the business or make them struggle to survive in a new food retail market where competition will be fierce.
The first major impact of the merger will be on valuation which will be adjusted downwards for most of the market players. A second consequence may be represented by the industry consolidation as retail businesses will have to scale up in order to deal at best within the new competition environment.
The merger may create a disruption in the grocery industry which is still based on a traditional in-stores inventories. Amazon with its cutting edge supply chain know-how will disrupt the market but also make it more efficient in terms of inventory control and supply chain management through the introduction of the efficient instantaneous inventory ordering.
The implementation of the new supply chain model will also mean for Amazon less space needed to lease and therefore less money to spend on the monthly rent but also less cash tied up in inventory and a faster inventory turnover which will trigger a higher ROA.
Inevitably, not all the food retail companies will be able to implement the new supply chain model and thus there will be bankruptcies but also takeovers of distressed companies by more efficient and adaptive retail brands or Amazon itself which could aim to further consolidate its vertical supply chain in the US but also in Europe.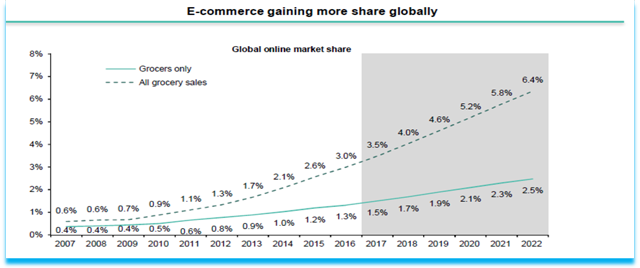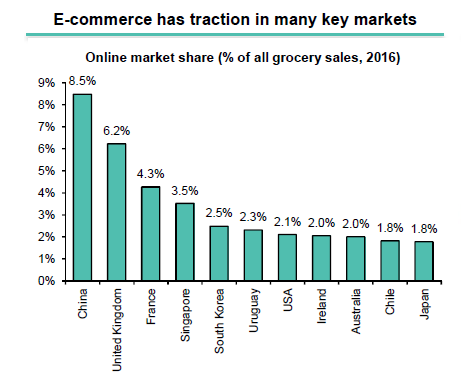 From the chart above we can see how China and UK lead the ranking among the most advanced countries in the on-line shopping.
Amazon is already an e-commerce market leader in the US and it is already present in the US grocery market, mainly with Amazon Fresh. Although recent market data is lacking, data for 2015 showed that Amazon was already the biggest player in online grocery in the US in 2015 with a 22% market share (USD 6bn in sales). Wal-Mart (WMT) was the runner up, with a share of 13%.
Overall the online grocery market can be still considered a niche market with less than 2% market share worldwide and it only represents 1.6% of the grocery retail market. According to Kantar Worldpanel, FMCG online sales only account for 25% of the shopping online. However, it`s expected the market to triple in size from US$48bn to US$150bn by 2025.
In the US online still accounts for a small part of the totally grocery online purchases although it is taking off rapidly especially among Millenials. Millenials is the generation more incline to spend online and according to Nielsen, 87% of US Millenials are already using or willing to use online delivery for groceries to their home although their purchasing power is lower than older generations.
So far the online shopper profile has been associated with high income people willing to pay a premium for the delivery but today online shopping is spreading its popularity regardless of income and sex.
The main two business models adopted in the e-commerce are those based on delivery and click & collect.
Surveys and studies have shown that the delivery model can be successful if adopted in areas with a high population density whereas the click and collect would work better in less populated areas where the so called last-mile delivery cost would be higher thereby compromising the overall profitability of the business. High internet access, competitive delivery charges and a high population density would be required in order to be successful in the online grocery market.
Online shopping enables consumers to sign up subscriptions for those products they usually buy regularly. The merger Amazon – WF can shift the subscription model also to the grocery where the subscription model is not well developed yet. Online orders would allow consumers to experience a much more simple, quick and convenient shopping experience making it less boring, and time consuming. Shoppers would also benefit from discounts when subscribing to planned regular purchases.
The challenge now is implementing the on-line subscription model to the grocery retail and that is why food retail businesses that not have yet in place an e-commerce platform should consider to do that promptly if they want to remain competitive with their peers and not lose market share.
The potential market for the online grocery is huge considering that only a quarter of American households buy some groceries online, according to the "Digitally Engaged Food Shopper" study from Food Marketing Institute and Nielsen.
The challenges faced so far in entering the online grocery have been posed by the need to keep food at 3 different temperature zone ( frozen, chilled and ambient) and by its easy perishability. That could explain its low online penetration (3% in 2015 vs. 15% for e-commerce).
The online grocery markets is expected to boom in the next decade. Grocery stores have generally lagged behind other retailers when it comes to innovation, said in a recent interview David VanAmburg, managing director for the American Customer Satisfaction Index.
Shoppers will have to be attracted to the traditional store based shopping experience by a much more interactive experience including for example food and beverages tasting (not feasible on line), dining experience (possibility of cooking and eating food grocery and food products on the spot), etc. Turning the boring food shopping into a fun and pleasant experience is the key and Whole Food is already moving in this direction by having already started to open some specialty gourmet stores like in Atlanta and in Manatthan.
Shops may also work as distribution centers for online perishable centers based on a "click & pick" model. As a matter of fact, retail distribution will be still needed to keep distribution costs efficient since distribution centers have to be in locations close to consumers and that could be also another main reason to have pushed Amazon entering the brick and mortar arena.
Another reason why the online giant Amazon got so interested in the grocery could also be because it's the most frequently purchased item. This finding however might not be new to Alibaba which in China has been already implementing a so called grocery e-commerce model.
Therefore, the key to innovation is called subscription grocery which is part of the grocery e-commerce or in other words the future of the food retail business and the new way we will shop.
The chart below shows very clearly how the e-commerce represented by Amazon is progressively eating up the store based sales. Some predict total Armageddon for traditional food retailers as they expect Amazon to completely change if not destroy the grocery landscape by integrating on- and off-line of both food and non-food. Amazon can use Whole Foods' 450+ stores platform as pick-up and/or delivery points for the new combination's more complete offering. It can provide a fuller, more diversified basket to both Amazon's and Whole Foods' clients and attract new customers.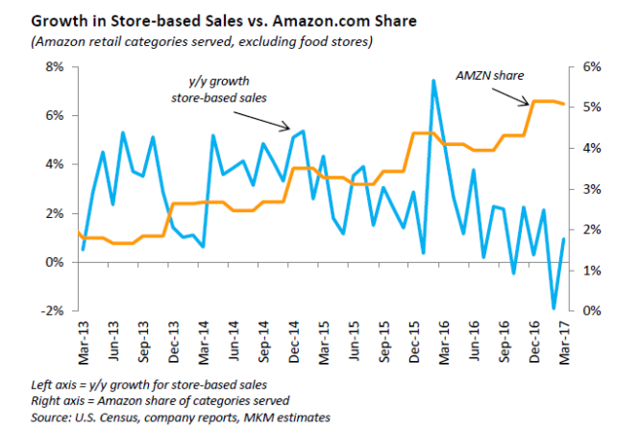 The Amazon- Whole Food merger will probably benefit consumers who will see a further reduction in prices driven by a competition increase and war price already started.
In conclusion, the Amazon-Whole Foods deal announcement validates the omni-channel model already adopted by some competitors and the pivotal role Food Retail will play in the future of e-commerce. The digitalization of the grocery retail seems inevitable and brick-and-mortar grocery retail businesses will have to adapt themselves to the new disruptive business model consisting of a multi-channel offer including both e-commerce and innovative store experience if they want survive in the new environment.
Editor's Note: This article discusses one or more securities that do not trade on a major U.S. exchange. Please be aware of the risks associated with these stocks.