Hi SA readers. This is my first article on Bitauto (BITA), I will address some critical factors and try to share my thoughts. The article will have four parts:
1. Background
2. Auto finance market in China
3. Bitauto's auto transaction services
4. Conclusion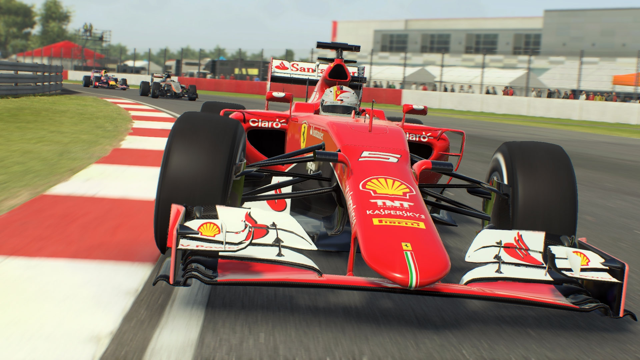 Background
In 2000, Mr. William Bin Li co-founded Bitauto as one of the first vertical auto websites in China. In 2002, Bitauto launched digital marketing services to new automobile dealers and advertising services to both dealers and automakers primarily through the bitauto.com website. Since then, Bitauto has been accumulating user data to help advertisers accurately target potential buyers. And In August 2010, Bitauto introduced auto information app QiCheTong on iPhone platform. The app was the first auto app that enabled its users to look up all cars information in China.
In November 2010, Bitauto went public in NYSE with an IPO price of $12.00 per ADS, raising $127.2 million. Bitauto was also the first Chinese internet auto company that went public in the US. Investors of Bitauto should have felt incredibly lucky because BITA appreciated more than 700% from 2010 to 2014. Behind the share prices was the impressive fundamental performance of the company.
Exhibit 1. BITA historical stock price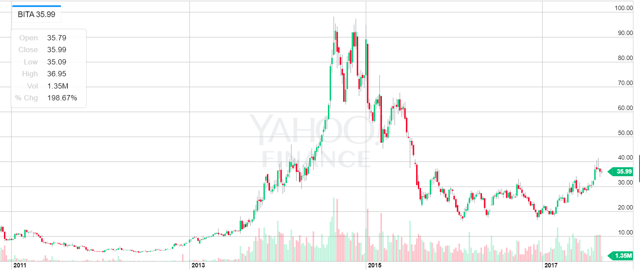 Source: Yahoo Finance
The company's revenue increased from RMB128 million in 2007 to RMB2.5 billion in 2015, representing a CAGR of 52.6%. Bitauto also saw operating margin expansion during 2011 and 2014. Rapidly growing revenue along with expanding margins pushed the share price to as high as $98.
Exhibit 2. BITA historical performance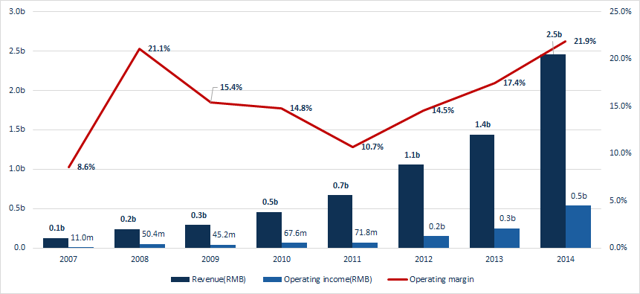 Source: BITA's annual reports
However, since 2015, Bitauto started investing heavily in its transaction business. Operating profit suddenly turned to negative and plummeted to negative RMB346.7 million in 2015 Q3.
Exhibit 3. BITA revenue and operating income 2014Q1 - 2017Q2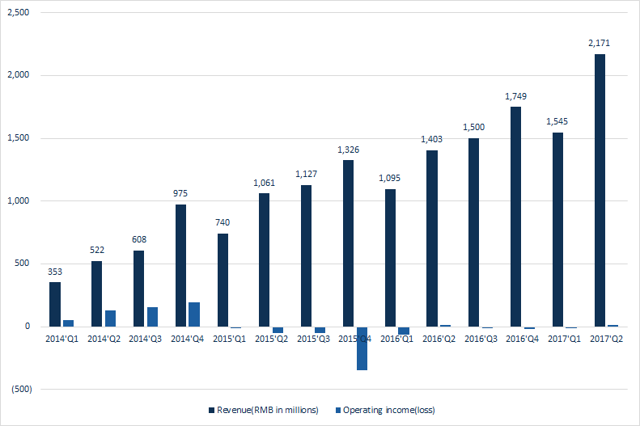 Source: BITA's quarterly reports
Corresponding with the company's deteriorating performance, its share price dropped to about $17.5 a share in February 2016 and stayed in the range of $17.5 - $30 for about one year. So how has the transaction business done after all the money injected into it? The transaction business has grown very fast, and the revenue generated from transaction services in 2017Q2 was RMB922.6 million, representing 42.5% of Bitauto' total revenue.
Exhibit 4. Transaction services revenue and YoY growth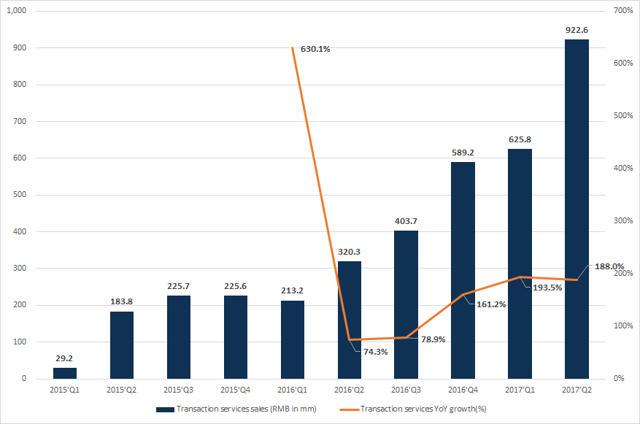 Source: BITA's quarterly reports
Under Bitauto's transaction service segment, there are two primary businesses, the online automotive financial platform services(taoche.com, daikuan.com), and Huimaiche.com. The financial platform enables users to borrow money from either Bitauto or its partners(commercial banks and auto financing and leasing companies), to purchase new/used cars, insurances, and other services. Huimaiche.com is an online C2B bidding platform which enables a potential car buyer to efficiently find a dealer, whose offer match his/her purchasing preferences regarding automobile model, color, and other specifications. After a potential buyer submits the details for the intended purchase, the dealers may participate in the online bidding. The customer could then choose and select the bidders, whose offer matches his/her order most, and proceed the transaction with the winning bidder. (Source: Bitauto's 2016 annual report)
Auto finance market in China
The Chinese auto market is by far the biggest auto market in the world. In 2016, 28 million vehicles were sold in China, compared with 17.55 million in the US. It has not only the biggest size but also an impressive growth rate. Chinese auto market grew 13.7% in 2016, and the US market grew 0.45%. However, the market is still expected to experience 5% growth given its low vehicle ownership. In 2015, the vehicle ownership rate in China was much lower as compared to other countries with a car density of 111 vehicles per 1,000 persons as compared to 825 per 1,000 persons in the US.
Moreover, the auto finance industry is experiencing even higher growth as those born in the 1980s and 1990s gradually become the key consumers of cars, changes in consumption habits will promote the development of automotive finance industry. The auto finance market in China was about RMB850 billion in 2015. Compared with mature markets like Europe, the United States, and Japan that have penetration rates above 50%, China's auto finance penetration rate is low, only 35% or so, indicating large room for growth.
Exhibit 5. Possession of Passenger Vehicles and growth(China)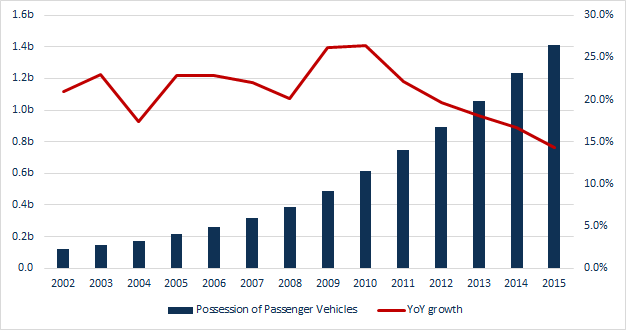 Source: National Bureau of Statistics of China
Bitauto's auto transaction services
Apparently, Bitauto saw the tremendous potential in the auto transaction market and decided they want a piece of cake. Bitauto started to participate in the financial sector in China and launched online automotive financial services in 2013. And in 2015, Yixin was incorporated as a subsidiary of Bitauto to better focus on the transaction service business. Now Yixin provides services to new cars transactions, used car transactions, car leasing, auto insurance, personal mortgage(cars as collaterals) and auto rewards credit cards. Yixin is also the largest online auto transaction and service platform in China.
Since incorporation, Yixin received three rounds of funding from JD.com(JD), Tencent and Baidu(BIDU), among other investors. In February 2015, JD.com and Tencent invested US$100 million and US$150 million, respectively, in newly issued series A preferred shares of Yixin Capital. Between August 2016 and October 2016, Tencent, JD.com, Baidu, together with certain other investors and Bitauto, invested in an aggregate amount of US$550 million in cash in Yixin Capital in exchange for newly issued series B preferred shares of Yixin Capital (source: 2016 Bitauto's annual report). In the most recent round, Bitauto, along with Tencent, China Orient AMC International, and SF Express founder Mr. Wei Wang, have entered into definitive agreements to invest up to RMB4 billion into Yixin. The transactions were closed by the end of May 2017. After the funding, Bitauto holds 100% of Yixin's common shares. But on a fully diluted basis, Bitauto holds no less than 48% of Yixin's outstanding share. In this funding round, Yixin was valued at $3.5 to $4.0 billion. Based on the mid-point of $3.75 billion, Bitauto's 48% share in Yixin is worth $1.8 billion. And it is rumored that Yixin is planning a $5 billion IPO in Hong Kong.
Let's take a look at Bitauto' transaction business. The revenue generated from transaction services increased from RMB29.2 million in 2015 Q1 to RMB922.6 million in 2017 Q2, accounted for 42.5% of Bitauto's total revenue.
Exhibit 6. Transaction services as % of total revenue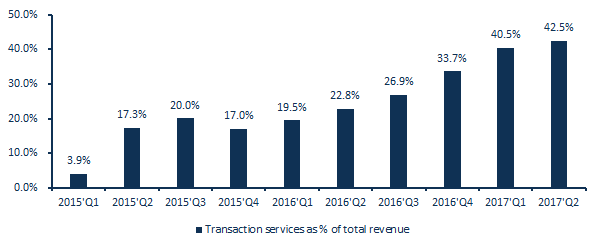 Source: BITA's quarterly reports
Regarding revenue generating transactions, Bitauto made money from 155,000 transactions in 2017 Q2, representing a 105% YoY growth. We should note that auto purchase has strong seasonality.
Exhibit 7. Number of revenue generating transactions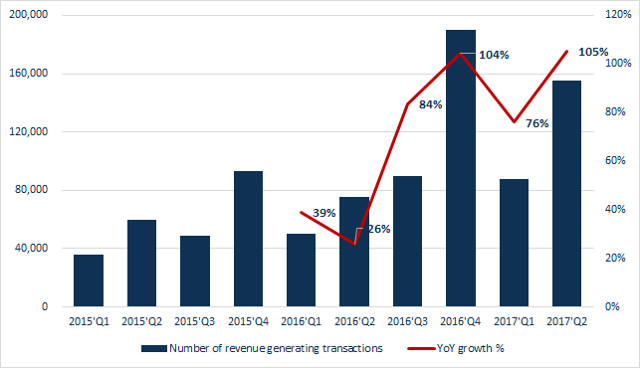 Source: Quarterly earnings conference call
As we can see from the previous charts, transaction service hasn't been very profitable. But in 2017 Q2 conference call, the management indicated that Bitauto would spin off huimaiche.com, which lost roughly RMB100 million in the first half of 2017. Moreover, the management anticipated that in the future more revenue would be generated from the platform business instead of the self-operated business. In the platform business, Yixin helps car buyers and lenders(banks and auto financing companies) facilitate transactions and Yixin charges fees for listing mortgage products and for providing risk management services for lenders. By utilizing its auto consumption data accumulated over more than a decade, Yixin can manage credit risk better than commercial banks. So it is a win-win situation for banks and other lenders to list their products on Yixin's platform. Yixin also provides auto insurances from insurance companies on its platform. Platform business by nature is more profitable and less capital intense. The management mentioned its own lending service had a net margin of around 20%, and the platform-driven business would have a net margin of around 30%; 30% to 40% of revenue from transaction services would be from the platform in 2017; also a much higher percentage was expected in 2018.
Exhibit 7. taoche.com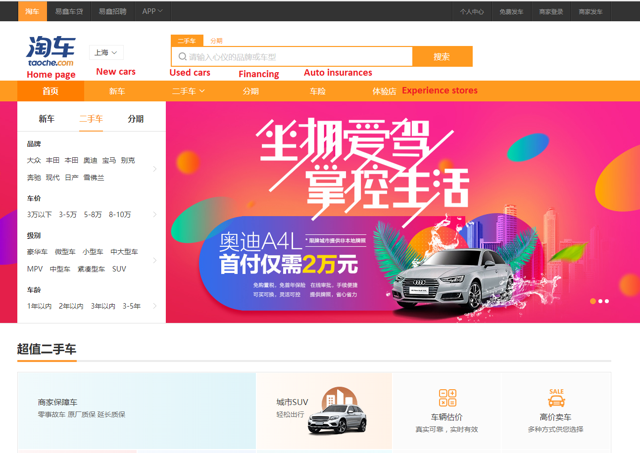 Also, we shouldn't ignore Yixin's innovations in the auto finance Market. In Q1, Yixin launched Kaizouba(means drive it away), which enables car buyer to lease a new car for one year with only 10% down payment. At the end of the first year, the buyer has the option of returning the used car or initiate a mortgage to buy the car. As the young people become the main force of car purchase, this kind of flexible products should be very attractive.
Moreover, Yixin also partners with local dealers(not with Yixin' own capital) to open "Experience Stores." Currently, there are 72 Yixin experience stores nationwide. Experience Stores serve as the offline physical centers for car buyers. It offers auto financing, new/used car purchase, car leasing, insurance and maintenance services. It combines the online and offline resources to serve every step of car purchase. Yixin plans to have 250 Experience Store by the end of 2017 and 500 - 100 stores by the end of next year.
Exhibit 8. Yixin's Experience Store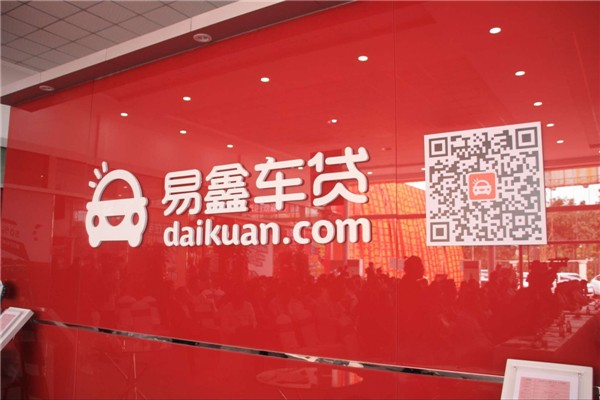 I believe Yixin's current focus is to grab the market share instead of profitability. However, operating leverage should emerge as the business grows. Ultimately the platform will be very profitable. Another potential benefit is as more banks and lenders list their products on Yixin's platform, advertising will be inevitable, providing additional monetization opportunity.
Conclusion
1. Bitauto's share price has suffered substantially since it started transaction service business in 2015.
2. Yixin has already become the largest online auto transaction and financing platform in China. It has partnerships with JD.com, Tencent, and Baidu, which lead traffic to Yixin.
3. Its focus on platform business will aid the business to become more profitable.
4. Yixin's ecosystem generates revenue from the whole cycle of auto transactions(new car purchase -> mortgage -> insurance -> maintenance -> sell -> used car business).
5. The online-to-offline "new retail" will give Yixin a strong presence in the industry.
6. Potential $5 billion will unlock Yixin's value. 48% of Yixin would mean about $2.5 billion and Bitauto's market cap as of 4:00 PM 9/1/17 is only $2.55 billion.
Disclosure: I am/we are long BITA.
I wrote this article myself, and it expresses my own opinions. I am not receiving compensation for it (other than from Seeking Alpha). I have no business relationship with any company whose stock is mentioned in this article.