Please take note this is only one aspect in weighing the attractiveness or non-attractiveness of the companies mentioned as an investment and should not be used independent of other factors. This article examines one segment of the companies' businesses, and other factors such as valuation are not addressed. This article is not a recommendation to buy or sell any stock mentioned.
Civil aviation is a sunrise sector in India, and competition is intensifying between Boeing (NYSE:BA) and Airbus SE (OTCPK:OTCPK:EADSY) (OTCPK:OTCPK:EADSF). While Airbus looks well-positioned to capture the narrow-body segment, the competition looks stiff in the wide-body segment, with both holding the potential to capture a decent share.
India's air travel market has been enjoying steady growth, with the number of passengers doubling since 2006.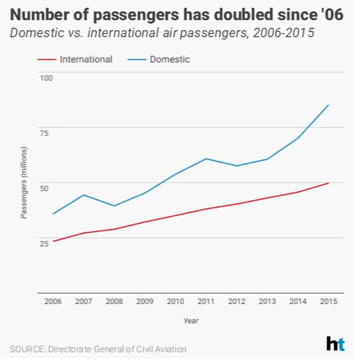 Source: The Hindustan Times
With 131 million passengers in 2016, India jumped four spots in as many years in the global air traffic rankings according to data from the International Air Transport Association (IATA).
The buoyant market has helped India's major airlines post profits after years of losses.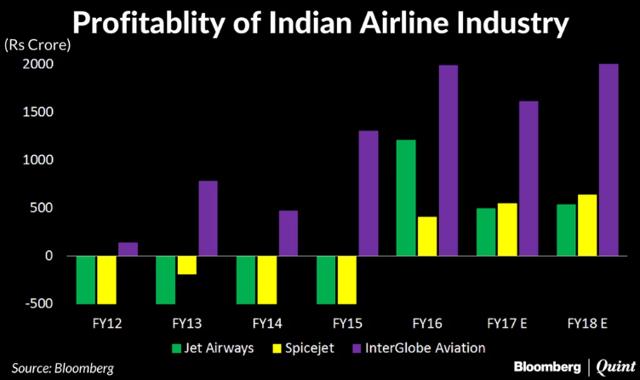 Source: Bloomberg
India is expected to continue enjoying robust gains in air passenger volumes going forward, driven by a growing economy, an expanding middle class and supportive government policy. Last year the Indian government overhauled the country's aviation rules, liberalizing norms for domestic carriers to fly overseas and putting forward regional connectivity schemes such as UDAN, all in an effort to boost air travel among India's expanding middle class, bolster competition and support regional connectivity.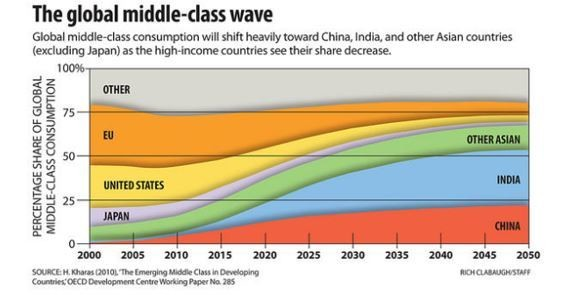 Source: WeForum

The potential has not gone un-noticed. With India emerging as the world's fastest growing major aviation market, the country is among the battlegrounds in emerging markets for plane-makers Boeing and its European rival, Airbus.
Fourteen years ago, Air Deccan ushered India to the era of budget air travel. Today, India's low-cost carriers dominate the country's airline market accounting for over 60% of flights in the country and they have been instrumental in driving the country's aviation sector growth over the past few years. The market share of LCCs such as Indigo and Spice Jet grew from 25% to over 65% in the past decade while full-service carriers (FSC) such as Jet Airways saw their market share drop from 70% to 35% over the same period according to Centre for Asia Pacific Aviation.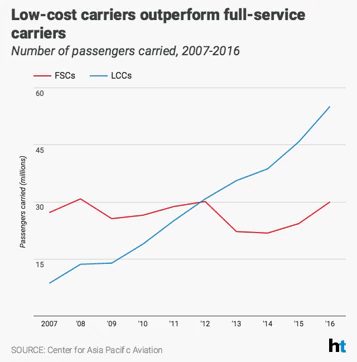 Source: The Hindustan Times
The rise of LCCs, increase in air travel demand and the focus on efficiency helped boost the market for single-aisle planes, which are the preferred type of aircraft for most carriers worldwide.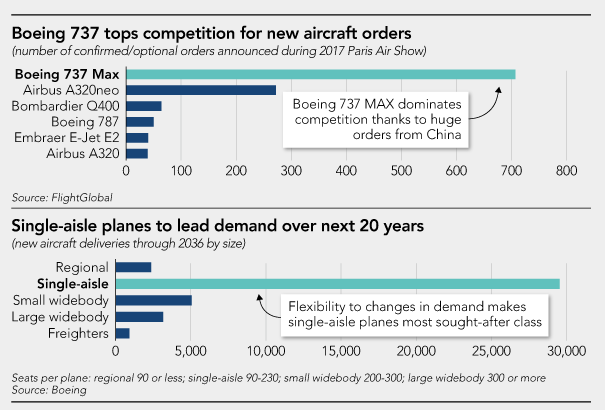 Source: Nikkei Asian Review
The trend is the same in India. Boeing forecasts India will require up to 2,100 new aircraft over the next two decades with over 80% of those planes (amounting to 1,780) expected to be single-aisle planes.
Airbus forecasts India to order over 1,600 planes over the next 20 years with three quarters of them expected to be narrow-body jets.
Boeing dominates India's wide-body plane market in India while Airbus is the leader in the country's single-aisle aircraft (also known as narrow-body) market and most of India's low-cost airlines prefer Airbus instead of Boeing. IndiGo, India's largest airline by market share, along with other Indian budget carriers such as GoAir and Air Asia India operate Airbus fleet. Vistara, a joint venture between Singapore Airlines (OTCPK:OTCPK:SINGY) and Tata Sons, which is not a low-cost carrier, also operates Airbus fleet. India's biggest airline, IndiGo, has 430 A320 Neo family planes on order, making the company Airbus's biggest customer globally for this aircraft.
Boeing has been fighting back. Following roaring sales of Airbus's A3201 Neo planes, Boeing launched the 737 MAX 10 single-aisle jet at an air show in Paris in June this year.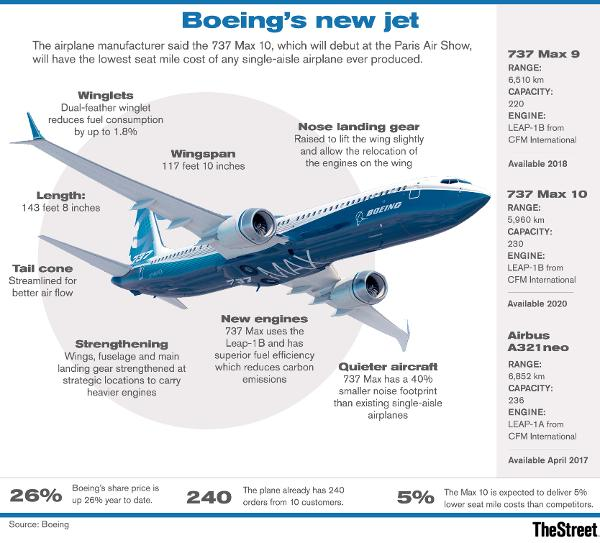 Source: The Street
With this effort, Boeing bagged an order from Spice Jet, a major Indian low-cost carrier, which placed a provisional order for 40 737 MAX 10 aircraft in an order worth US$4.74 billion at list prices.
However, Spice Jet is reportedly the only Indian low-cost carrier that has placed aircraft orders with Boeing and it remains to be seen if Boeing could successfully break Airbus's hold on the Indian single-aisle market.
Single-aisle planes such as the Airbus A320s and Boeing 737s tend to be the popular choice of aircraft for domestic flights in India and with India's domestic aviation market expected to continue seeing strong growth rates going forward, Indian airlines' appetite for single-aisle planes could increase as well, a positive trend for current market leader Airbus.
India's domestic air passenger traffic stood at 100 million in 2016, making it the world's third biggest aviation market overtaking Japan which had 97 million domestic passengers in 2016. India is behind China, which flew 490 million, and the United States, which flew 815 million, according to an industry report by think tank Capa Centre of Aviation. Domestic air traffic in India has notched growth rates of 20%-25% throughout 2015 and 2016.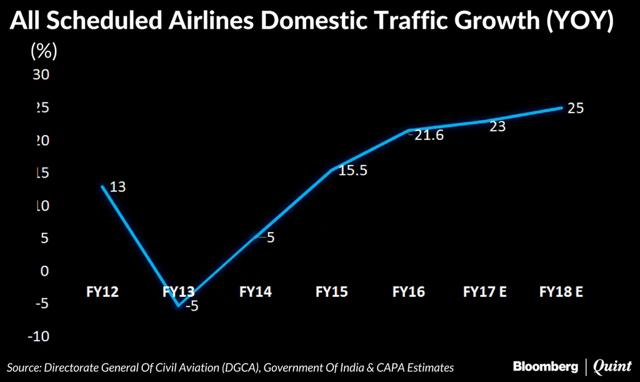 The Indian government's UDAN scheme which aims to boost regional connectivity will open new routes for airlines and boost domestic air traffic. To tap this opportunity, domestic airlines such as IndiGo and Spice Jet initially plan to deploy turboprop aircraft from manufacturers such as ATR (which is jointly owned by Airbus and Italian aerospace company Leonardo) and Bombardier (OTCQX:OTCQX:BDRAF). Spice Jet is purchasing 50 turboprop planes from Bombardier while IndiGo is purchasing 50 turboprops from ATR. However, as traffic along these routes grows over time, it may become viable to operate single-aisles, fuelling demand for such aircraft.
India's wide-body aircraft market is also a growth opportunity. With the exception of Jet Airways and Air India, all other carriers have a narrow-body fleet. With India's domestic air travel market on a steady upward climb, domestic routes that are not considered high-volume now, could become so in the years to come.
This opens the possibility of increasing demand for wide-body aircraft from Indian airlines. Air India and Jet Airways, two important Boeing customers in India, have both deployed wide-bodies on domestic routes to cope with slot constraints at some major Indian airports which are on the verge of saturation, and higher air traffic with most airlines seeing load factors of 80% (domestic air traffic had a particularly good year in 2016 with load factors hitting a record 90% for the year).
However, some hurdles will have to be overcome such as better airport infrastructure and MRO capabilities, which may restrict deployment of wide-body aircraft for domestic flights.
A bigger opportunity is likely to be in Indian airlines' hunt for international growth, which until recently had been restricted due to the government's 5/20 rule which required airlines to have operated for five years and have a 20-aircraft fleet before being permitted to operate international routes.
The rule was partially relaxed last year and now airlines are no longer required to have served for five years, although the requirement of deploying 20 planes or 20% of capacity, whichever is higher, still remains.
This policy change coupled with good prospects for international air travel demand has incentivized carriers such as Vistara and IndiGo to consider operating international routes. CAPA expects long-haul, low-cost operations to gain ground in the coming years with Indian LCCs driving growth. Wide-body planes usually fly international routes, opening an opportunity for Boeing as well as Airbus to capture orders from Indian airlines.
For instance, IndioGo management has made clear their international ambitions, and their enthusiasm towards acquiring Air India is reportedly due to the latter's wide-body fleet, lucrative flying rights and slots at international airports. If the deal with Air India falls through, India's biggest airline may be on the market for wide-body planes however it is premature to conclude whether Boeing or Airbus will profit from this.
Another Indian airline, Vistara, also has plans to launch international flights and given that it does not currently meet the government's 20-aircraft fleet requirement, the company is on the hunt for wide-body aircraft to fly international. Vistara, which currently operates an all-Airbus fleet has been reportedly scouting for Boeing-trained pilots, a sign that Boeing will probably win a new customer in India. CAPA expects Vistara to order 50 wide-body planes.
To conclude, the Indian aviation market is growing, and there is plenty of room for growth going forward. India's domestic air traffic is just about a quarter of China's, despite both countries having almost the same population. As India's middle class expands and per capita income grows, domestic air travel demand is likely to benefit as well, which in turn could support demand for single-aisle aircraft. The government's UDAN scheme, which aims to boost regional connectivity is spurring Indian airlines to deploy turboprop aircraft initially, but as traffic along these routes grow, it may be viable to operate single-aisles. Airbus currently has a stronghold on India's narrow-body market, with most budget carriers operating Airbus fleets, and given that single-type fleets tend to be more cost-efficient to operate and maintain, it remains to be seen if Boeing could break Airbus' dominance among India's budget carriers that dominate the domestic aviation market. Hence, in the foreseeable future, India's demand for single-aisle aircraft is an opportunity Airbus appears well-poised to benefit from.
India's wide-body aircraft market also offers a growth opportunity, though perhaps not as large as the single-aisle segment. With air traffic increasing on domestic routes, airlines may deploy wide-body aircraft on domestic flights, following in the footsteps of Air India and Jet Airways, which have both deployed wide-body planes on some domestic flights. However, airport infrastructure constraints may limit wide-body deployment.
Indian airlines' hunt for international growth may offer better prospects for India's wide-body demand. Growing air travel demand due to India's expanding middle class as well as a favorable policy environment have inspired domestic airlines to expand internationally. CAPA expects long-haul, low cost operations to increasingly gain traction in India with LCCs driving growth. Wide-body aircraft are usually used for international flights. Boeing dominates the wide-body market, but with the exception of Spice Jet, Boeing's popularity appears to be strongest among full service carriers such as Air India, Jet Airways and Vistara. With Indian LCCs rather than full-service carriers expected to drive India's international aviation growth, there could be stiff competition in this segment between Airbus and Boeing as they woo this crop of customers looking to expand their fleets to support their international ambitions. Which of the plane-makers will capture a bigger share of this market remains to be seen.
Editor's Note: This article discusses one or more securities that do not trade on a major U.S. exchange. Please be aware of the risks associated with these stocks.