Summary
Tax free municipal bonds.
CEF Connect is the place I visit in order to be able do the most informed mutual fund shopping.
Although I limit my shopping to tax-free municipal bond funds.
I find municipal bond funds especially attractive because their prices remain relatively stable, they are tax free, and by keeping a close watch it's possible to purchase funds earning attractive tax-free yields, which translates into higher effective yields depending upon each individual's income tax bracket and the particular tax consequences of the state and municipality in which they reside. This easy-to-use Tax Equivalent Yield Calculator will help you calculate your effective dividend yield in relation to your particular circumstances.
Consequently, municipal bond funds constitute the second largest portion of my investment portfolio. However, the fly in the ointment is the rising interest rates that promise to be coming right around the corner. However, as with most market realities, the rate rise could be a double-edged sword. As rates rise and the yield spreads narrow, prices of these bond funds will most naturally fall also. This might open up interesting opportunities for some attractive purchases.
However, I advise that potential buyers keep a close eye on the Fed to try to determine, as best as possible, how long and how high the interest rates might rise. This will be no mean trick.
Although I'm no expert, I have been able to make reasonably informed and intelligent municipal bond fund purchases by utilizing CEF Connect, one of my most useful and valuable research sites. Take a moment to log on to it and together we can explore how best to use it.
The linked page will open to the CEF fund screener. Click to start a new search. Click on 'Tax-Free Income' and check the 'High Yield and National boxes'. Then click 'View Funds'. At the far right, click on 'Distribution Rates', which acts as a toggle switch that with each click will change the list from the highest to lowest yields and back again. I recommend that you check this on a regular basis in order to snag funds that best meet your investment criteria.
The following screenshot represents just a small slice of a large scrollable fund data base. Notice the 'white button' at the bottom of the page. Move it to the right and it opens up a wealth of additional information about each fund.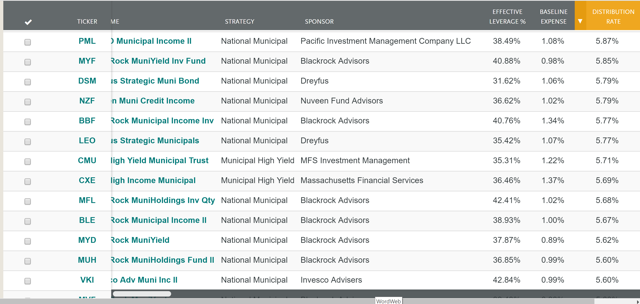 Better yet, when you click on a 'fund symbol' it opens detailed information about the particular fund that interests you. I clicked on PIMCO Municipal Income II (PML) and it opened to the following page, which is the broad overview of the fund.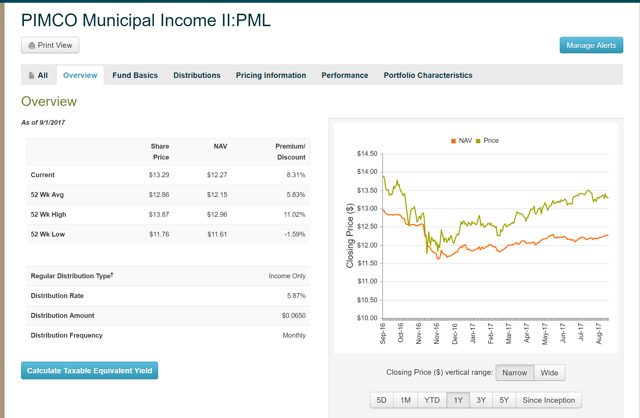 Notice along the top of each column is a heading which details Closing Price, NAV, Net Asset Value, and Premium/Discount. When the price of the fund is greater than its NAV you will effectively be purchasing the fund by paying a premium. Conversely, when the NAV is higher than the price, you are purchasing the fund at a discount. I prefer to purchase at a discount or close to par; although this decision is often determined by a variety of factors, being cognizant of the fact that investors are willing to pay a premium because a fund manager has a good track record and the particular fund is well run and has performed well over a long period of time.
Notice its 52-week performance to the left of the chart detailing the current year's market price movement in relation to its NAV. Below, take notice of the fund's distribution rate, amount, and frequency.
Toward the top of this page notice the gray colored bar that allows you to click on any further information about the fund that interests you. Click on 'Distributions'. You will see a bar graph detailing the past year's distributions and whether or not they increased, decreased or remained constant.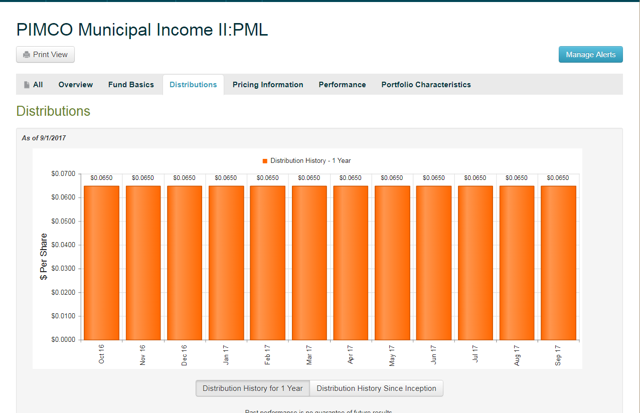 I always click on the 'since inception history' button below the chart to see how it distributed payments from the fund's inception. In the case below it shows that PML's distributions are at its lowest since inception in 2002.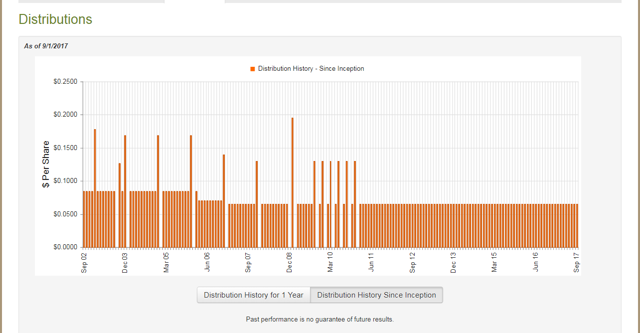 I conducted an extensive study of the distribution history of many of these funds to determine how distribution rates were affected by market conditions and Fed Fund Rates (the interest rate banks charge each other for loans) over time. I took a close look at how those funds were affected by Greenspan's 17-monthly interest rate hikes before buying any funds at all.
Further down the page, it provides information showing the breakdown of the distributions, which in this case, are derived from income, not ROC, Return of Capital. This indicates you are being paid with income, not out of your own capital investment. Something I find comforting.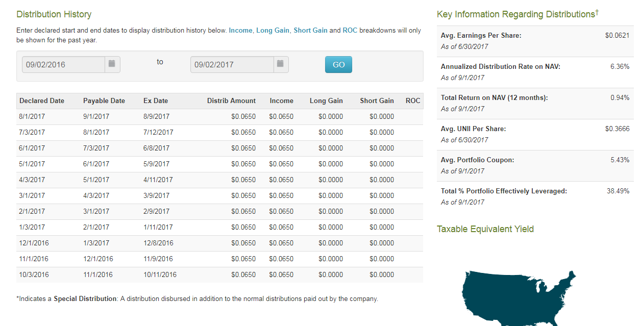 Click on 'Portfolio Characteristics', which will give you a detailed view of the makeup of the portfolio and ultimately its potential safety or risk. This is where you make your decision whether or not to invest in this fund. Pay careful attention to the Call Exposure and Credit Quality. I prefer a majority of the fund's portfolio be rated BBB or better, although, on occasion, I don't mind taking some risk to reap a greater reward. Once again the final decision is yours. This guide is designed to help you formulate an intelligent investment strategy and make wise and timely trades.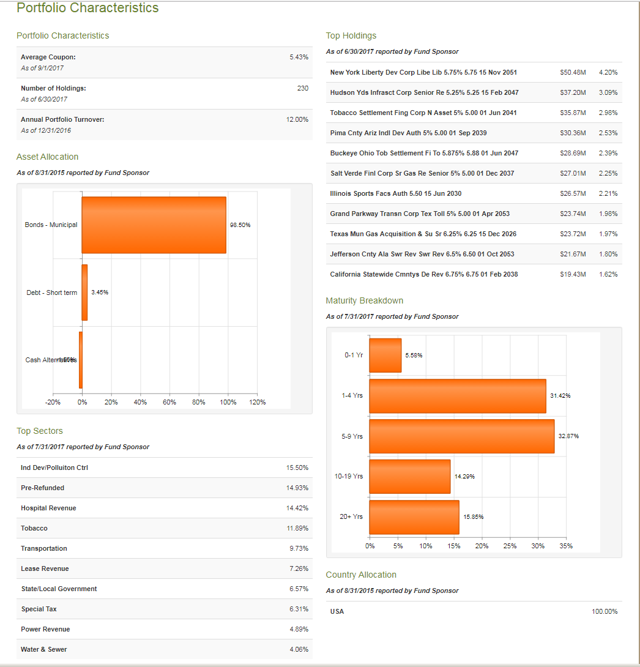 The following are a number of the funds I bought shortly after Meredith Whitney (bless her soul) panned them when she questioned the ability of the municipal governments to continue to pay. Many fund-holders panicked and rushed for the exit. I rushed in and pocketed the following at an average price that, at the time, earned me an average yield of above 8.25% that tax-free at my bracket was worth close to 12%. Ka-ching! Unlike fixed-income preferreds, distribution rates vary as do effective yields, which is the reason for the above at the time mention.
They are Eaton Vance Insured Municipal Fund (EIM), Deutsche Strategic Municipal Income Fund (KSM), MFS High Yield Municipal Trust (CMU), MFS High Income Municipal Trust (CXE), and Nuveen Municipal High Income Opportunity Fund, (NMZ), to name a few.
Now that I've given you the tools, it's your choice to utilize them or not.
Disclosure: I am/we are long KSM, CMU,CXE,NMZ, EIM. I wrote this article myself, and it expresses my own opinions. I am not receiving compensation for it (other than from Seeking Alpha). I have no business relationship with any company whose stock is mentioned in this article.