I was very pleased to read this recent article by Douglas Albo, who I consider one of the best CEF analysts out there, so imagine my dismay when I discovered that I was one of Mr. Albo's strawmen, because only half of my recommendation was cited.
Here's how it went down:
On January 11, I wrote a piece for Forbes recommending (PGP) as a buy based on its price relative to its historical premium to NAV (there was much more to it, but editorial limitations restricted the detail I could go into in that piece).
On January 30, Douglas Albo wrote this piece expressing his strong dissent, pointing out (rightly) that PGP is problematic because of its "recent NAV performance, which for a very highly leveraged fund in bonds and long S&P 500 futures had better be off the charts if you want to sustain a ridiculously high 17% NAV yield and a 70% market price premium. Unfortunately, PGP's NAV has been deteriorating for years and has flatlined over the past year".
On June 3, I wrote a follow-up for Forbes urging investors to sell PGP, writing that it was time to sell since the NAV was up only 10.7% but the fund's market price was up 41% YTD. Sorry for the self indulgence, but allow me to quote myself at some length:
Because of that big difference between the fund's NAV and its market price, investors who buy now are paying a 77.4% premium to NAV. In other words, for every $1 worth of assets in this fund you'll have to cough up over $1.77 in cash!

Worse, that huge run-up in PGP's stock price has slashed the fund's dividend yield (because you calculate yield by dividing the annual payout into the current share price).

While PGP was paying a 14% yield at the start of the year, it's now paying about 9%. And that dividend is far from safe: management cut the payout by 20% in October 2016, for the first time in the fund's history.

And make no mistake: another cut is coming soon.
In his most recent article published September 5, Mr. Albo did a follow up in which he called his PGP sell as one of his better calls of the year, and again citing Forbes (i.e., me) as the wrong bull on the fund.
Except that's not exactly how things went.
I was bullish on PGP from January 11 to June 3; during that time, the fund did this: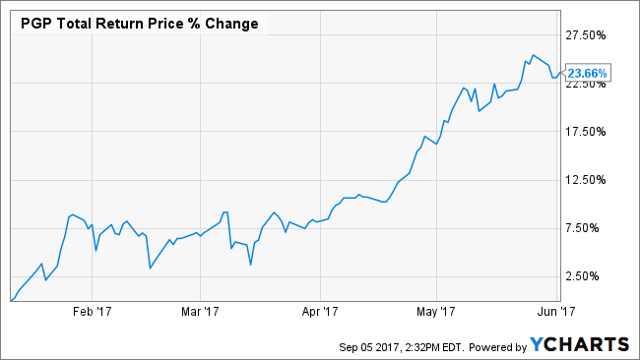 Then went bearish just before the fund did this: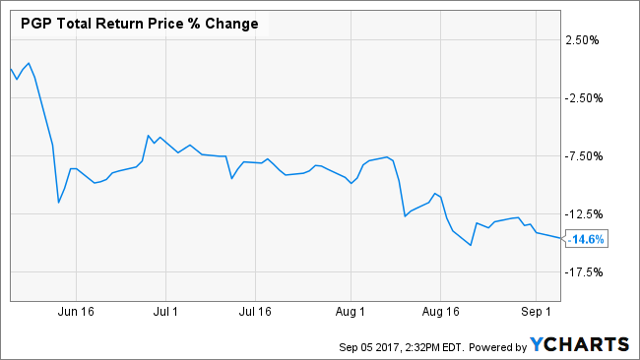 My short-term call on PGP had a lot more to do with timing than with fundamental faith in the fund itself as a buy-and-hold income producer. Most recently I explain why you can't just buy and hold PIMCO and call it a day.
Of course, Mr. Albo's recommendation to sell PGP at the end of January was the right call—it was just too early. From then until I turned bearish in June, the fund did this: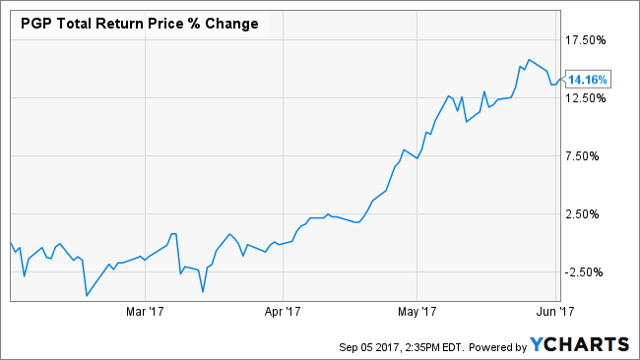 The important takeaway from this is that timing is extremely important when it comes to closed-end funds.
Why is that?
CEF performance at market price within an asset class will tend to over-exaggerate its index (which, in the case of PGP, would arguably be a hybrid of the S&P U.S. Mortgage-Backed Securities Index and the S&P U.S. High Yield Corporate Bond Index). Furthermore, an individual fund's volatility relative to its index will vary based on a variety of factors; for PGP, it and a few other similar high yield bond funds tend to err more towards outperforming both the index and its NAV when:
High-yield bond yields are falling at a vector greater than its 10 year historical average or rising at a vector greater than during bond corrections of similar time spans within the last 10 years
CEF discounts marketwide are falling, and discounts for taxable bond CEFs are falling faster than equity discounts
A dividend cut is recent (or has never happened)
Net investment income and/or NAV growth can sustain the dividend for the next few months (generally 3-6 months)
According to those criteria and some others, PGP looked like a clear buy in January and a clear sell in June. Similarly, the short-term total returns a CEF is likely to provide is going to be heavily dependent not only on its historical discount, but also the appetites of CEF investors, fundamental performance of the asset class the fund invests in, and broader macroeconomic trends. Timing purchases is crucial to enjoy these gains, although this more aggressive approach to CEFs is not advisable for all income investors.
With that in mind, the future for PGP does not look good. Maintaining its current 15.7% yield on NAV when high yield bond coupons are averaging less than 6% is surely tough, even for the brilliant guys at Pimco. While PGP hasn't announced a dividend cut yet, I remain confident that one is coming soon. Its low NAV growth, especially relative to other funds in the same asset class, and its disappointing NII (rolling 6-month coverage ratio is a weak 85.8%) suggest a cut is going to become more and more necessary unless the rate of interest rate change accelerates markedly in the next few months.
So, to make it clear again for the record: I remain negative on PGP as I was in early June, but PGP can very much be treated as a case study for the need for a multi-point analysis of CEFs before timing purchases.
Disclosure: I/we have no positions in any stocks mentioned, and no plans to initiate any positions within the next 72 hours.
I wrote this article myself, and it expresses my own opinions. I am not receiving compensation for it (other than from Seeking Alpha). I have no business relationship with any company whose stock is mentioned in this article.