This research report was jointly produced with High Dividend Opportunities co-authors Jussi Askola and Philip Mause.
At High Dividend Opportunities, we are value dividend investors, and as such, our favorite time to invest is when there is blood on the streets. When potential bad news arises, markets are prone to overreact and that downside volatility may often be exaggerated due to irrational pessimism.
In certain specific sectors, it may often be difficult for us to find investment opportunities that suit this investment philosophy, forcing us to look elsewhere. This is the case of the Office REIT market today. We find that high quality US office REITs often trade at sizable premiums to NAV and close to all-time highs, making them unappealing to us.
On the other hand, looking overseas, we find significant value in the UK office REIT market in which securities suffered a material sell-off following the Brexit event. Just because REITs are expensive in one market (US) does not stop us from pursuing opportunities in other geographical regions if we can identify better risk-to-reward outcomes.
This is how we came across British Land (OTCPK:BTLCY): a British Office/Retail REIT with a conservative profile. After extensive review, we decided to include it in our "Conservative REIT Portfolio" as our Office REIT Pick. While BTLCY is not a pure office REIT (It is 50% office/50% retail), we believe that the recent sell-off is caused by concerns over the London Office properties market. As such, we expect British Land to show strong correlation with the office market in the future, making it a suitable pick for our office REIT allocation.
The Buy Thesis
It is not the first time that we cover British Land. Back in November 2016, in a bullish article, "High Dividend Opportunities," Author Jussi noted that British Land was "a high-quality REIT selling at a low-quality valuation."
About half a year later, the opportunity remains sizable and our initial thesis remains intact. In fact, since publishing the initial thesis, British Land has kept increasing its cash flow, hiked its dividend, and lowered its debt, making it a stronger company than ever before.
It is rare to find blue chips trading at high discounts to NAV, so when we find one, we dig deeper.
British Land Is A Prime-Time Example Of A Blue-Chip REIT
Our definition of a blue-chip equity REIT is the following:
It must have a solid portfolio with superior fundamentals.
Geographically exposed to Prime Locations that can go up in price faster than the average.
It should also have a conservative balance sheet with relatively low levels of leverage.
Finally, management objectives should be well-aligned with shareholders and should have an excellent track record.
This certainly isn't the only definition but it fits the bill for us. If the portfolio, balance sheet and management criteria all check out, we are happy. Here in the case of British Land, we have no doubt that we are dealing with a true-blue chip and this is why:
1- Class A Office Portfolio Complemented By High Quality Retail
British Land is one of Europe's largest and best respected publicly listed REIT with a market in excess of £6 billion. It owns, manages and develops a portfolio of very high-quality properties focused on offices in London (50%), and retail around the UK (50%).
Being also real estate professionals, Authors Rida and Jussi have visited some of their properties in London, which are often landmark irreplaceable class A properties, and we have always been impressed. BTLCY's investment strategy focuses on creating what they call "places people prefer" to drive enduring demand for their properties. They target properties that are best positioned to benefit from key long-term trends such as population growth and urbanization, changes in infrastructure, sustainability and technology.
As a result, they continue to concentrate on properties that enjoy superior macro and micro environments as well as superior long-term potential for value creation. Often this type of property will trade at lower cap rates as a result of its superior investment characteristics, but will enjoy faster rental increases and higher value appreciation than average.
We can confidently affirm that this strategy is well reflective of our impressions during site visits. Here are a few pics of some famous properties that they own.
The Leadenhall Building: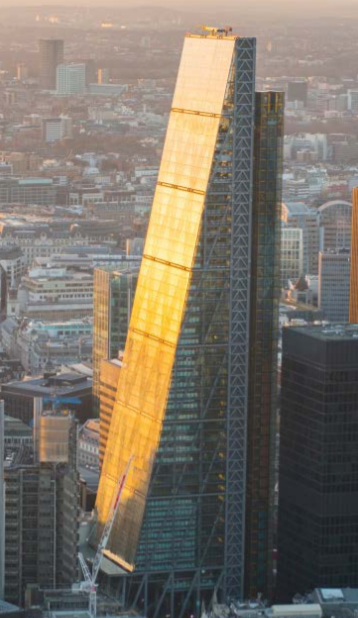 4 Kingdom Street: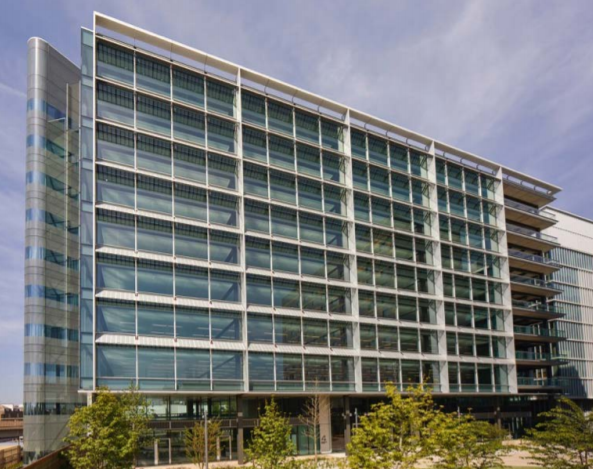 Canada Waters (Valuable location for mixed-use development in London):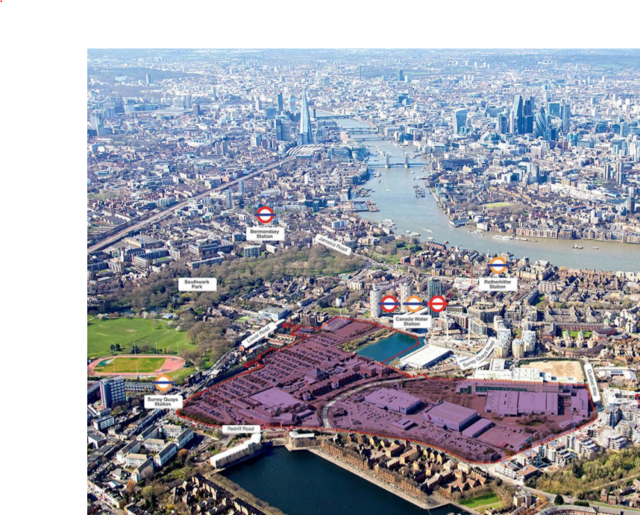 1 Triton Square: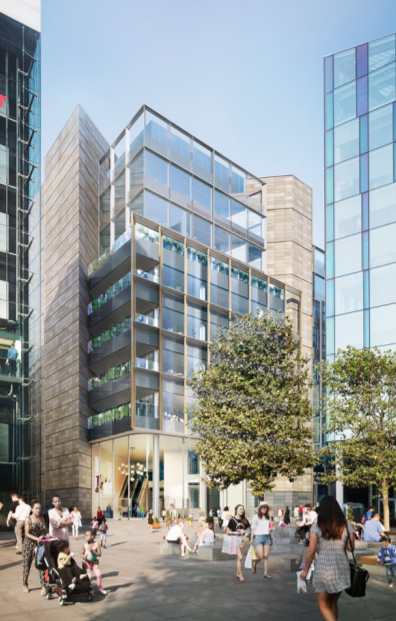 The financial results of the properties are also well reflective of this concentration on the "highest quality." The retail portfolio's rental growth has historically significantly outperformed the Investment Property Databank Index or IPD Index. The IPD UK index is the standard benchmark for investors to analyse the performance of property in the UK market. British Land even beat the IPD Prime Index showing strength at the property-level and superior fundamentals, which are reflective of high quality assets.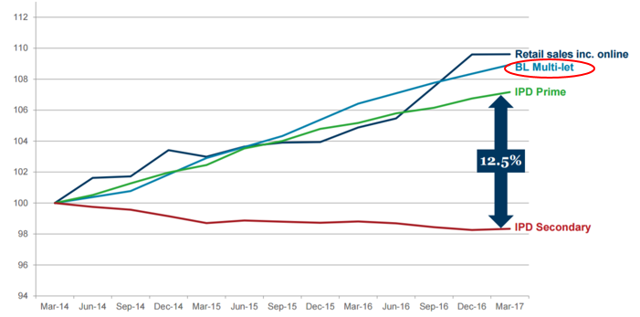 From a footfall standpoint, British Land's retail properties also show consistent and strong outperformance over UK Market benchmark: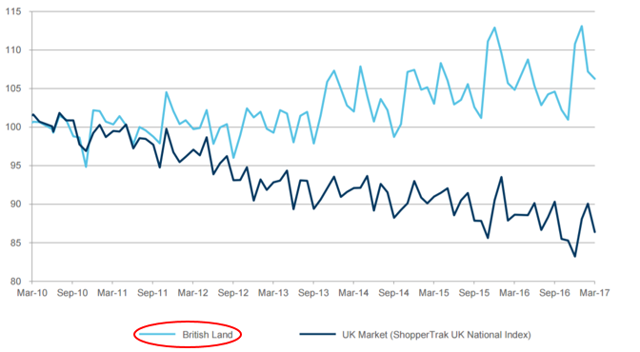 It demonstrates that the management of British Land is executing a strategy that has the potential to outperform its competitors and that its portfolio is well positioned to achieve superior returns in the future. By focusing on superior assets that enjoy competitive advantages, British Land has been able to keep its buildings at very high occupancies (99%) and convince its tenants to sign long-term leases. The average weighted lease length is today 9 years and is expected to provide a strong security of income for the next decade.
Our Conclusion: British Land suits our definition of blue chip at the portfolio level. Major metrics show significant outperformance over benchmarks, and the remaining average lease term provides defensiveness in times of uncertainty.
2- Conservative Leverage Ratio And Superior Management
British Land carries a debt-to-asset value of only 29.9%, which is low and reflective of a prudent investment strategy. It provides lots of flexibility for new acquisitions in case opportunities would present themselves in the short term as a result of Brexit. The debt portfolio is conservatively structured with a long average debt maturity of close to 8 years and a very low cost of debt financing of about 3.1% interest rate.

Moreover, the management is top-notch, and we can affirm that their reputation is strong.
This is not a surprise when you consider the historic track record of the REIT. Cash flow growth and dividend increases have consistently resulted in above average growth, resulting in excess value creation and NAV growth. The financial results from 2009 to 2016 are simply reflective of a very capable management team.
Our conclusion: The REIT also suits our definition of Blue-Chip from a balance sheet and management perspective. Assets are stronger than average, financing is very conservative, and the management team has a track record of significant outperformance = Blue Chip in our book.
3- The Dividend
British Land pays its dividends on a quarterly basis in British Pounds. Holders of BTLCY receive the quarterly dividends in U.S. Dollars based on the conversion rates of the British Pound at the time the dividends are due. British Land has been hiking its dividends ever since the financial crisis of 2008-09. In fact, BTLCY has hiked its dividend by 10.8% in the past 4 years alone.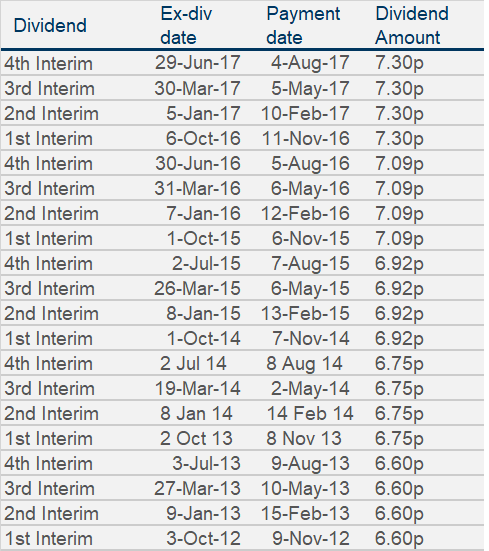 4- Valuation Disconnect Between Private And Public Real Estate Markets
Despite strong underlying results, British Land suffered from a massive sell-off dropping more than 25% since its highs in 2015:

Source: Google Finance
During the same time frame, the underlying NAV showed resilience with only little changes. During the first quarter of 2017, the NAV dropped by only 0.4% compared to one year ago. Prior to that in the second half of 2016, Properties were even slightly revalued upward. So, there is a clear disconnect between private and public market performance. One drops by over 25% and the other by a low-single digit.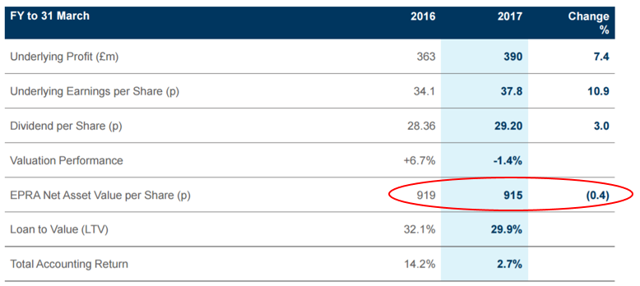 The current share price is 602 GBP compared to an underlying NAV of approximately 915 resulting in a 30% discount to NAV. This is very sizable and unusual for a blue-chip name that has historically traded much closer to its NAV.
Even more surprising is that the shares of British Land dropped so much while the Company posted strong results and favorable mid-term guidance. Year-on-year underlying earnings per share were up 10.9% in 2017 compared to 2016.
Dividends per share were also increased by 3% and were guided for further increases.
Lastly, the REIT issued a very encouraging 5-year outlook showing potential for further rental growth. Even excluding any medium-term development leasing, British Land expects about 18% rental growth over the next 5 years. If we include the potential cash flow from medium-term developments, this jumps to 35% forecasted growth rate over the next 5 years: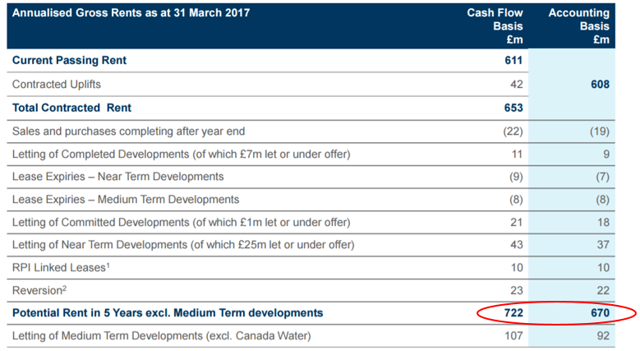 Markets can be irrational and have resulted in a unique buying opportunity for this company with a safe dividend of 5% (and increasing), in addition to a positive outlook, and a proven track record of value creation throughout cycles. The 30% discount in NAV is unwarranted.
5- Brexit Overreaction?
Immediately following the Brexit vote (06/2016), the stock market crashed with certain sectors including the UK REIT market suffering even more than average. The reaction of many investors was to sell off all their UK securities with the intention of leaving the UK and reallocating the capital into a "safe harbor."
Was this the right thing to do? We don't think so. While it is clear that Brexit will have some negative effects on the economy in the short run, we believe the long-term picture to be much brighter than how the media describes it. We believe London will remain the global financial center, trade agreements with the European Union are likely to renegotiated and remain favorable. We believe that the media greatly exaggerated the potential consequences of Brexit causing confusion and fear among the general public.
We would argue that the "sky isn't falling" regardless of Brexit or not. After all, the UK is the world's 5th largest economy and we believe it will remain as such in the foreseeable future. With or without the EU, the UK's industry and economic power will remain strong in the long run. Many of the relationships that the UK has today will not be broken. They will just be reformulated or simply continue to exist. So, the actual practical effects of Brexit are probably significantly less than what people are anticipating.
People tend to forget that not all countries in Europe are part of the EU, good examples are Norway and Switzerland, which are doing just fine without being members. You could argue that they are actually doing much better than most other EU countries and one reason explaining that is the higher flexibility that they enjoy in developing their own economic policies. Norway and Switzerland are both some of the richest countries on earth and not being part of the EU may even give them a certain competitive advantage.
Therefore, we believe the markets to have overreacted to a large extent. What the market failed to consider is that British Land is financially strong and has contracts signed to generate income for the next 9 years. The real short-term risk for British Land is hence substantially lower than what many people might have anticipated when selling their shares.
The long lease agreements provide significant protection to the REIT and its shareholders and guarantees a stable and sustainable income even during occasional "crises" like Brexit. Tenants will keep on paying their agreed rent and British Land will use that liquidity to acquire new properties if opportunities present themselves.
As such, if property values were to decrease, this could even become a chance for the company to buy cheap properties, which may result in stronger performance for long-term shareholders.
The British Pound Is Also Opportunistic
Another consequence of Brexit is that the pound lost about 13% of its value relative to the US Dollar, making UK assets even cheaper for US-based investors.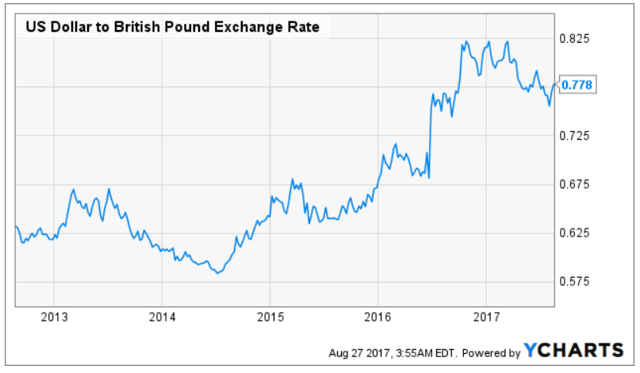 Source: YCHARTS
Already pre-Brexit, the currency translation was very favorable to US investors relative to historic average levels. Now, post-Brexit, the British pound trades at close to its 10-year lows and offers a very attractive entry point for the US-based investor. At GBP/USD of 1.29 (or USD/GBP of 0.77), the potential for upside alone from a currency perspective is significant if the currency translation was to revert to its mean level in the future.
In this sense, Brexit really created a "double discount" in the form a cheap currency, and cheap price-to-NAV for British Land.
OTC Status
BTLCY is an ADR that trades in New York "over the counter" or OTC, with its share price mirroring the share price of the stock in London (BLND.L), after taking into account the Foreign Exchange effect for the British Pound/US Dollar. Readers will notice that the volume on BTLCY is low, but this should not be of concern. The share price moves together with the British price listing, and there are always market makers, and therefore it is easy to buy and sell.
Withholding Tax On The Dividend
Also readers should note that there is a 20% withholding tax on dividends received from a U.K. REIT, but these are likely to be used to reduce your U.S. taxes.
Risks
BTLCY is trading at very cheap valuations, and we believe that risks are well accounted for. Still, we would like to highlight some of these risks:
Foreign Currency Risk: Investing in BTLCY means that investors are taking Foreign Currency risk of the British Pound. Any further weakness of the Pound will result in investment losses. We believe however that the British Pound is currently trading at very favorable rate compared to the U.S. Dollars, and that there is upside risk potential rather than downside risk.
Further Brexit Risk: The U.K. is currently negotiating with the European Union an exit from Europe, and the negotiations have been "messy" to say the least. Should the U.K. fail to put in place an orderly exit from Europe, perceived risks could increase and put further pressure on U.K. stocks.
Recession Risk: The performance of Property REITs is usually dependent on the state of the local economy. REITs tend to underperform when the underlying economy hits a recession. Having said that, global recession risks are at their lowest since the last financial crisis. Therefore, the risks of investing in property REIT companies are currently pretty low.
Final Thoughts
High quality U.S. office REITs trade today at their NAV or even in some cases at sizable premiums. In comparison, British Land appears very opportunistic trading at a 30% discount to estimated NAV despite strong underlying fundamentals.
Markets are famous for overreacting and we do not believe this time to be any different. Brexit created uncertainty and the market hates uncertainty. It creates downside volatility over the near term, but as investors realize that fundamentals remain strong, we expect them to reevaluate the valuations of UK REITs upward.
One year has now passed and it is clear that high quality property values are not crashing down. Opposite of that, they show high resilience and the appetite for UK property remains elevated despite the current uncertainty.
British Land is a prime-time blue chip REIT that is perfectly positioned to profit from any change in market sentiment. Its 5% dividend yield appears safe and given the positive management guidance, we can expect it to keep growing.
Our Final Conclusion: 30% discount to NAV, blue chip, safe 5% yield, positive guidance, track record of outperformance: what else do investors need in a REIT?
===
If you enjoyed this article and wish to receive updates on my latest research, click "Follow" next to my name at the top of this article.
About "High Dividend Opportunities"
High Dividend Opportunities is a leading and comprehensive dividend service ranked #1 in dividends and Income on Seeking Alpha, and is dedicated to high-yield securities trading at attractive valuations. It includes a managed portfolio targeting 7-9% overall yield - and a selection of the best high-yield Master Limited Partnerships, BDCs, U.S. Property REITs, Preferred Shares, and closed-end funds. Our "Core Portfolio" has returned 55.4% since January 1, 2016 (figure as of June 30, 2017). We invite readers for a two-week free trial currently offered by Seeking Alpha to have a closer look at our investment strategy, our Top Buy list and our extensive report on the "Best High-Yield Stocks and Securities For 2017." For more info, please click here.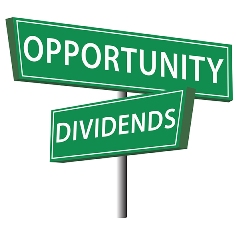 Note: All images/tables above were extracted from the Company's website, unless otherwise stated.
Disclosure: I am/we are long BTLCY. I wrote this article myself, and it expresses my own opinions. I am not receiving compensation for it (other than from Seeking Alpha). I have no business relationship with any company whose stock is mentioned in this article.
Editor's Note: This article discusses one or more securities that do not trade on a major U.S. exchange. Please be aware of the risks associated with these stocks.